As a boy, Dennis Wideman didn't dream of playing in the NHL. In fact, he barely watched the pro game at all.
Growing up in Elmira, Ont. — one of the many small, rural communities that surround Kitchener and Waterloo — Wideman was too busy navigating the perils associated with his two older brothers to waste time daydreaming about becoming a pro hockey player. When the eldest Wideman brother, Darren, first started playing contact hockey he used Dennis (eight years younger) to practice his body-checking form, knocking him into the deep freezer in the family's unfinished basement — and then lining up to do it again and again.
"So… that was fun," says Wideman, laughing at the memory. "I probably got hurt a few times."
Despite the sibling-inflicted bruises, Wideman's early days as a practice dummy would one day help shape and define the NHL career he never dreamed of.
After playing more than 800 NHL games, Wideman retired last season after lingering as a free agent in the shadow of a controversial collision with a linesman. But now, with the aftermath of that incident still ongoing, Wideman is trying to move forward with life beyond the NHL. As an assistant coach with the Ontario Hockey League's Kitchener Rangers, Wideman has returned to his small-town roots, raising a young family and reflecting on how he first learned to love the game.
This season, home is where the hockey is. Experience Rogers Hometown Hockey.
Through his last few seasons as a defenceman with the Calgary Flames, Wideman knew that his time in the NHL was likely coming to an end. Hockey was changing and in his early 30s, he was too old to be the kind of player who could change with it.
"The game was going to younger, faster kids. And that's not exactly my game," he says with laugh.
Then, during a game in late January 2016, Wideman collided with linesman Don Henderson in what some interpreted as a deliberate cross-check. Moments earlier, Wideman had been hit hard in the corner and suffered a concussion. He denies striking Henderson intentionally. The NHL suspended him for 20 games, of which he served 19 before an arbitrator reduced his penalty to 10. (He was refunded the money he forfeited for the extra games missed.)
Henderson, who believed the hit was intentional, suffered a concussion and injuries to his neck and back in the incident, and later sued Wideman and the Flames.
Wideman played out the final season of his contract with Calgary the following year, knowing it was likely his last. The incident with Henderson and the subsequent lawsuit had left an asterisk next to his name.
Still, he held out hope that another team might give him a shot. But it never came. Wideman was skating with the Kitchener Rangers in the fall of 2017 when he decided it was time to call it a career.
"That's not the way I wanted my career to end. That's obviously a tough part of [retiring]," he says. "But I'm happy with the way my career went."
And it was fitting, Wideman felt, that he was beginning a new one so close to where it all began.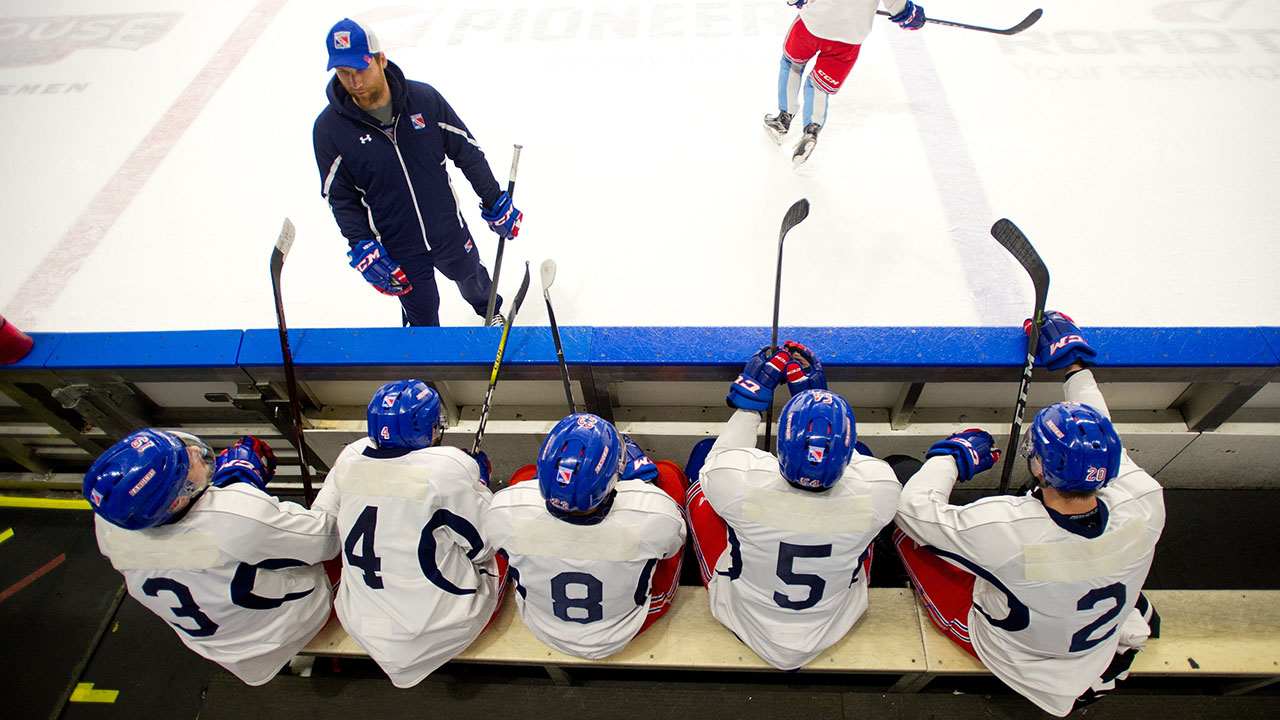 Growing up, Wideman attended only one Rangers game at the storied "Aud" in Kitchener, where Rogers Hometown Hockey makes a stop this weekend. The beloved franchise was almost too big for a kid from Elmira to connect with. And as far as Wideman was concerned, his tiny town was the centre of his hockey world.
So Wideman and his friends would head to the old Elmira Arena on Sundays to watch the Jr. B Elmira Sugar Kings play. Both of Wideman's older brothers, Darren and Dale, played for the local team. One day, Wideman hoped to pull on a Sugar Kings sweater, too.
Back then there was no expectation of any of them getting to the NHL and making millions of dollars. Like many families, the Widemans spent most of their time at the rink, with the three boys and their younger sister, Tracy, all playing on competitive teams. Hockey was just a part of life in rural Ontario, Wideman says.
"We were in a small town and everybody was playing, because that's what everybody does. And when you're too old to play minor hockey you play Jr. B if you're good enough — and then you get a job."
At home — a house on the edge of the farm that Wideman's father, Glenn, grew up on — the family didn't have cable and was only able to get four channels on its TV. The only NHL games they ever got to watch were on Hockey Night in Canada on Saturdays. And even then, Wideman was usually outside playing road hockey with Darren and Dale or his friends.
In that way, Wideman says, hockey was simply about fun — as rough and aggressive as that could be. Along with his turns getting checked into the deep freezer, Wideman also learned to fight in basement brawls with his siblings and friends, wearing gloves and helmets while working out the finer points of getting an opponent's cage off.
"I was on the losing end of that quite a bit, I'm sure," says Wideman.
Hometown Hockey celebrates the roots of NHL success
October 03 2018
It wasn't until his minor-hockey days (with Woolwich Township and later Guelph) were over and he joined the London Knights in the OHL, that he started to think about the next level. When he looks back on the people who had the biggest influence in getting him to the NHL, he credits Mark and Dale Hunter, who own and run the Knights franchise.
Wideman was drafted by the Buffalo Sabres 241st overall in 2002. But despite being criticized as too small and slow for the league, he carved out a successful NHL career on the blue line, enjoying his best years with the Boston Bruins.
His love of the game, though, was always rooted in memories of home. That's where his family and lifelong friends remained. And through all of the ups and downs of an NHL career that took him to St. Louis, Boston, Florida, Washington and Calgary, home is where he always turned for support.
"I know a lot of players that grow up in a bigger city… they [weren't] lucky enough to have the same kind of support system back home that I was lucky enough to have," Wideman says. "If things weren't going well, there was always someone to call… and keep me grounded — so that made the career quite a bit easier for sure."
But even now, as he reflects on his NHL career, the incident with Henderson still lingers. The courts have since set aside the lawsuit to be handled by an arbitrator within the league. Wideman says he can't comment on the incident, but admits it's still something that hangs over his head.
"It's obviously there. It's in my mind," he says. "But what happens is going to happen, so we just have to wait and see what goes on with that."
After retiring, Wideman planned to take some time off before making his next move.
But Jay McKee, Kitchener's head coach and his old teammate from St. Louis, asked Wideman if he'd be interested in joining the staff. He'd long considered the possibility of one day becoming a coach. He just didn't think it would happen so soon. But Wideman saw the opportunity as a chance for a new start in the game while raising his own family (he and his wife, Lindsay, have three kids under five).
Last season, Wideman's next act began with the Rangers going all the way to the OHL Western Conference Finals, losing in double overtime in Game 7 to the Soo Greyhounds. And watching it from a whole new angle, Wideman found himself loving the game all over again — back home, where it started.