While he's quickly earning a reputation as one of the NHL's dirtiest players, exemplified by his recent two-game suspension for a brutal elbow to the head of reigning Norris Trophy winner Drew Doughty, Matthew Tkachuk should probably be getting more press for his strong play than he has so far.
In one of the strongest rookie crops in recent memory, Tkachuk is sixth in rookie scoring, which likely takes him out of the Calder race that he would be a major contender for in most seasons.
Tkachuk's offensive stats are impressive for a teenager, as he leads the Flames in points per 60 minutes at even strength with 2.26, and is second in primary points per 60 minutes after Johnny Gaudreau. His offensive skill has added an extra spark to his line with Mikael Backlund and Michael Frolik that has transformed it from one of the best possession lines in the league to one of the best lines — period.
Stanley Cup Playoffs on Sportsnet NOW
Ready for playoff hockey? Stream every single game of the 2017 Stanley Cup Playoffs with Sportsnet NOW.
Speaking of possession, Tkachuk leads the Flames with a 56.2 Corsi For percentage, +6.8 relative to his teammates. And he's second to Mark Giordano in Goals For percentage at 5-vs-5, with the Flames boasting 59.2 per cent of goals while he's on the ice, +19.5 relative to his teammates. Most shocking about that Goals For number is Tkachuk's PDO is a shockingly reasonable 100.4, meaning it's not the percentages swinging in his favour driving those numbers.
With all that said, it can be difficult to isolate how much a single player is contributing to a line, so let's take a look at Tkachuk's individual contributions compared to his linemates.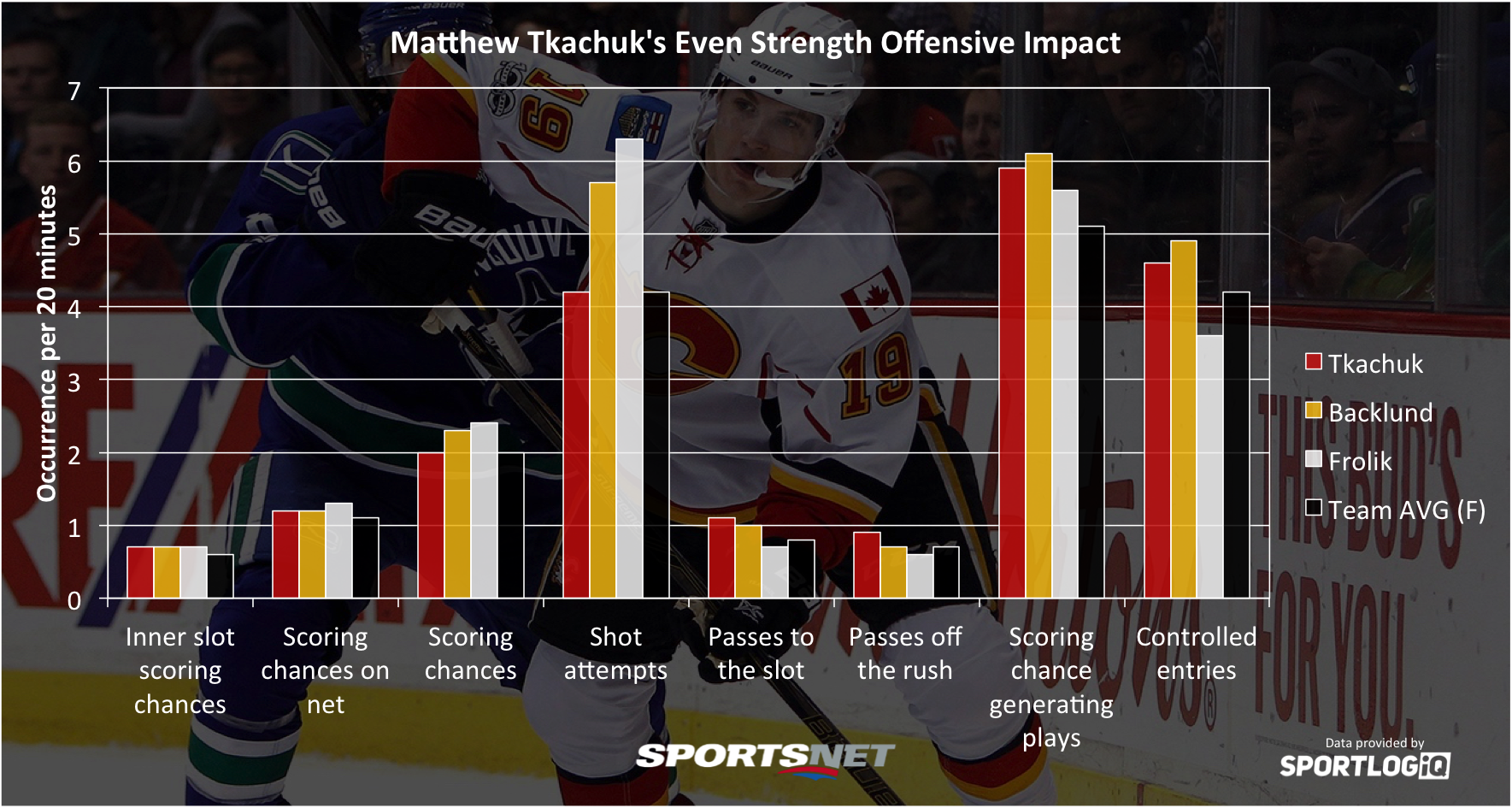 Tkachuk's offensive-play breakdown matches up pretty well with his production, as he's the tertiary shooter on his line but the primary playmaker. Overall, Backlund creates more than Tkachuk does, but that's not a surprise considering how strong a player the former is, and the fact that the latter is a teenage rookie.
Frolik, meanwhile, is the main shooter on the line, but it's interesting to note that Tkachuk gets as many inner-slot or high-danger scoring chances as either of his linemates, which makes sense since he has an affinity for the area around the net.
If there were any way to improve this line further, which isn't really necessary, it might be to have Tkachuk carry the puck into the zone more often. Backlund currently creates more clean entries than Tkachuk does, but Tkachuk is significantly better at finding players off the rush with passes, which is one of the most dangerous offensive plays in hockey, and a relatively rare talent in the NHL.
There are still things Tkachuk needs to work on. For one, he doesn't win as many battles for loose pucks as you would expect for a player who is willing to elbow a superstar in the face, but that could change as he gets older and stronger. Overall as a rookie he's keeping pace with two veterans in their primes, and part of one of the best lines in the NHL.
That deserves some notice, even if Tkachuk seems intent on distracting everyone from it with slew foots and elbows.