There was a time Bob Murray grew so frustrated with his Anaheim Ducks this season that he set out on an amateur scouting trip to clear his mind.
Of course, there was also a practical reason to get on the road after a Ducks team with sky-high expectations basically no-showed October.
"I was looking at high picks," Murray, the Ducks general manger, told Sportsnet during a recent interview. "I like to do that anyway – it's a way for me to get away from the team to do my thinking instead of being around all the time – but yeah, there was a time when I was thinking about something else."
The only logical thought now in Southern California is chasing the Stanley Cup.
No NHL team has played better since Christmas than the Ducks, who more than held their own during a 2-1 shootout loss to the league-leading Washington Capitals on Monday night. That halted a franchise-record 11-game win streak and dropped them to 18-1-2 during an unbelievable stretch where Anaheim has improbably moved atop the Pacific Division standings.
Even though that's a place many expected to find them when this season began, it's worth reflecting on how they got there.
Part of it is due to a change in philosophy from Murray, a fun-loving but fiery personality who logged more than 1,000 NHL games on the Chicago Blackhawks blue-line. He still thinks like a player, but wants to act less like one.
"I've never been one to be overly patient, as most people know," said Murray. "It's something I've tried to get better at over the last few years."
That helps explain why he spoke out in favour of coach Bruce Boudreau after a 1-7-2 start and continued resisting change when the team slid back to last place in the Western Conference in mid-December.
The way Murray saw it, his underperforming star players were largely to blame for the predicament. And deep down he believed that the Ducks were still good enough to contend after coming within one game of reaching the Stanley Cup final last spring.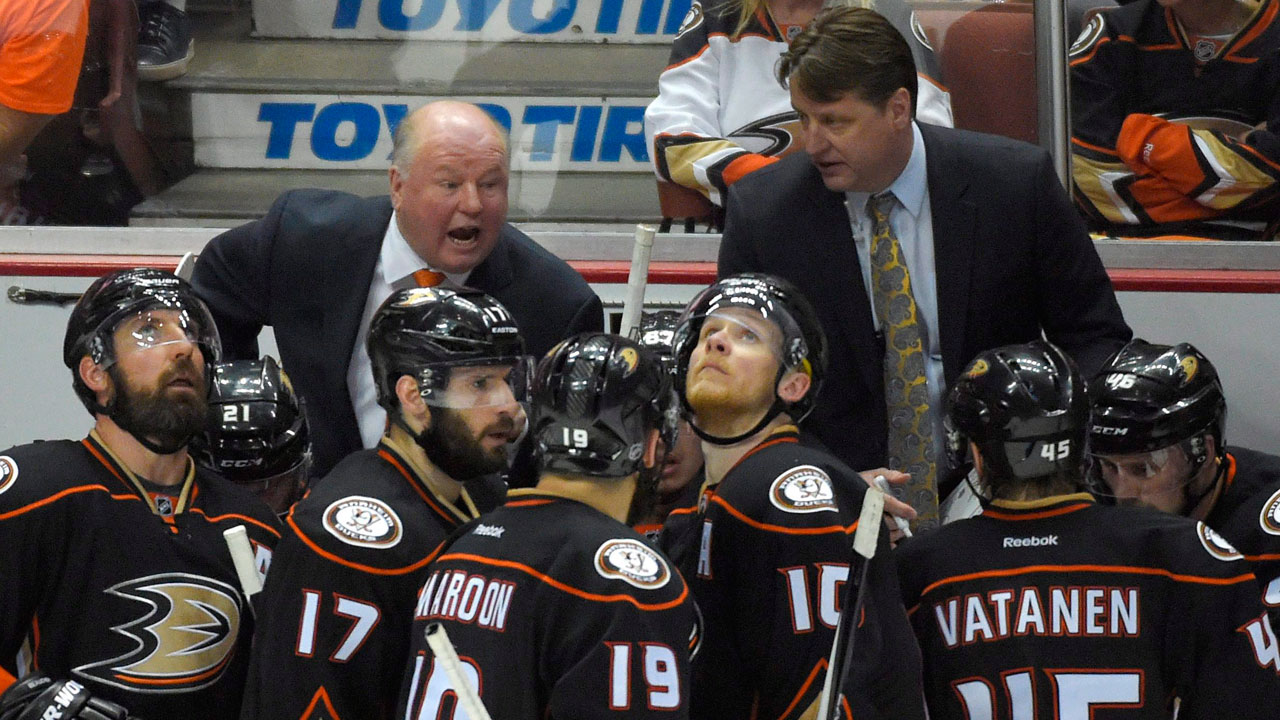 It was a more stoic approach than most would expect from the Anaheim GM.
"I think you get older," Murray explained. "I think I spend more time now looking at how – instead of just reacting as a player would. Instead of just reacting, I started studying what other GMs have done in the past with situations like that. And you go back and you look at the really good guys and kind of wonder what they would do.
"You talk to a few of them and see how they would have handled it. Instead of acting like a player, I guess you're growing up and maturing."
What gets Murray particularly excited about his team now is the way it has tightened up defensively. Sure, Ryan Getzlaf and Corey Perry have both rebounded from slow starts and helped propel the turnaround, but he believes a change in overall approach better positions the Ducks to challenge the big dogs in the Western Conference.
Oddly enough, it has been a shift championed by Boudreau.
He became the fastest coach in NHL history to win 400 games largely by encouraging wide-open hockey, but the message at Honda Center has changed over the past couple months.
"Bruce has bought into the defensive thing, too," said Murray. "Bruce was a very gifted offensive player, he was talented, and he likes a team to score goals. I've actually heard him down there lately talking to (the players): 'OK, if we're going to play, it's got to be third man high all the time.'
"He's started to push the buttons defensively more."
Perhaps it is an acknowledgement that as good as the Ducks have been, the details have to be a littler sharper to survive a playoff gauntlet that will almost certainly include stops in Los Angeles and Chicago.
Those changes could have come externally, but the hope from within the organization is that everyone will be stronger for having gone through the tough Game 7 loss to the Blackhawks last spring and the disastrous start to this season.
"I think our team had to learn how to live with a little bit of success and I'm hoping last summer was a good learning lesson for them," said Murray. "I hope they understand that if they want to be like the Chicago Blackhawks or the L.A. Kings, you enjoy your win for awhile and you get back to work. Chicago's the best example of that.
"I don't think we quite knew what to do in that regard. You're not going to blame the coach for that, it's probably as much my responsibility as anybody for not getting through to our players."
Murray tinkered slightly at the trade deadline by adding forwards Jamie McGinn and Brandon Pirri, but his most difficult decisions lie ahead.
There are restricted free agents due for significant raises at every position this summer – Hampus Lindholm and Sami Vatanen on defence, Rickard Rakell and Pirri at forward, Frederik Andersen in goal – and not enough dollars in the budget to go around.
"We're going to have an interesting off-season around here because we've got a lot of good young players, so it's going to be tough keeping them all here," said Murray. "But that's for the off-season.
"That's not today's problem."
Today, finally, the problems are few and far between.