With their first draft pick at No. 22, this is the deepest the Edmonton Oilers have chosen since taking Jordan Eberle 22nd in 2008. With no second-round pick or expansion draft issues, it is likely Edmonton retains its first-round choice.
With Connor McDavid and Leon Draisaitl in the NHL, the Oilers wish to follow the Pittsburgh model of drafting cheap, dependable players in support roles.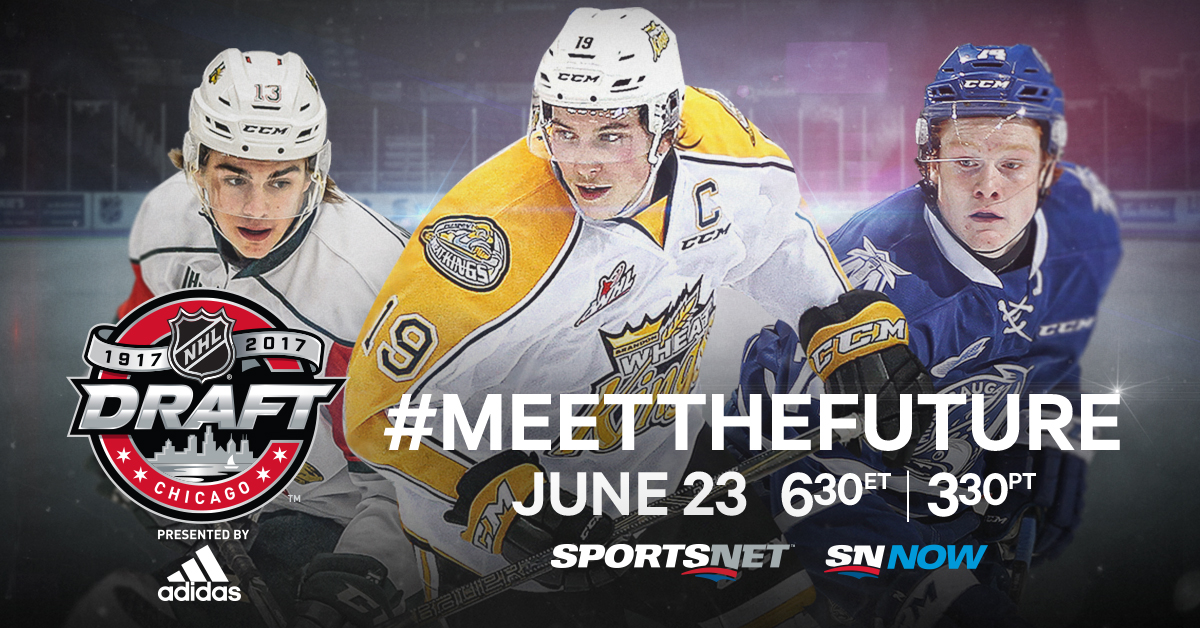 2017 draft picks
22
82 (from STL)
84
115
126 (from VAN)
146
177
208
Top 3 prospects currently in the system
Jesse Puljujarvi, RW – The six-foot-four Finn just turned 19 and, pending Eberle's status, could benefit from some more time in the AHL.
Tyler Benson, C — One more year of junior eligibility. Injuries limited him to just 30 and 33 games respectively last two seasons. Tons of skill, but terrible luck staying healthy.
Ethan Bear, D – A 70-point defenceman in Seattle (WHL) last season, turns pro this year. Can he make the next step?
Two players who may be available in Round 1
Kristian Vesalainen — If he's still there at 22 Edmonton would be thrilled. At 6-3, 203 pounds, the big Finnish left-winger playing for Frolunda in Sweden similar to Jesse Puljujarvi. He has good wheels, great size and a heavy shot — all of which means he could be off the board well before the Oilers' turn to draft arrives.
Kailer Yamamoto — A Johnny Gaudreau prototype, Yamamoto had 42 goals and 99 points for WHL Spokane, his hometown team. He's really tiny at 5-8, 153 pounds. But so is Gaudreau, and the new game has opened the door to someone Yamamoto's size — providing the speed and skill is there.
Dimitri Filipovic provides entertaining and thoughtful dialogue about the game of hockey with an analytical edge. Not as nerdy as it sounds.
Best 22nd overall picks in NHL history
Bryan Trottier — Drafted by the Isles in '74, Trottier won six Stanley Cups, the Calder, Art Ross, Hart, Conn Smythe and King Clancy Trophies. Fastest player in NHL history to reach 400, 500, 600 and 700 points, since surpassed. Hall of Famer. Earned a seventh Cup as an assistant coach with Colorado in 2001.
Claude Giroux — At the '06 draft, the three players picked ahead of Giroux were Mark Mitera (ANA), Dave Fischer (MTL) and Bob Sanguinetti (NYR). Giroux has 575 points. That trio has six.
Rick Kehoe — A Leafs pick in '71, he notched ten 25-goal seasons, including 55 tucks for Pittsburgh in 1980-81. Just four career playoff goals though.
Other notable picks at 22nd overall
• Montreal selected Max Pacioretty 22nd overall in 2007
• Philadelphia selected Simon Gagne 22nd overall in 1998
• Montreal selected Brian Engblom 22nd overall in 1975, one year after the Winnipeg Jets drafted him 22nd overall in the 1974 WHA draft.
Worst 22nd overall picks in NHL history
Tyler Biggs — The poster boy for GM Brian Burke's "truculent" new Leafs, Biggs is buried in the ECHL and currently unsigned.
Marc-Antoine Pouliot — Oilers swapped picks with New Jersey in 2003 so the Devils could move up and get Zach Parise. The Oilers prefered Pouliot, a surname that has just not worked well in the Alberta capital.
Kenny Spangler – Leafs pick in '85 and a kid I grew up with in Edmonton. Destined for Maple Leaf Gardens, Spangler had to settle instead for eight seasons in Flint.
History of picking 22nd overall
Jordan Eberle, RW – Ironically, Oilers GM Peter Chiarelli just traded away Eberle and his $6 million contract to the Islanders for Ryan Strome. He was a fine draft pick though, with five seasons of 24 or more goals by the age of 27. A long-term NHLer here, Eberle does what so many can not: score goals on a consistent basis.