Last summer, Edmonton Oilers general manager Peter Chiarelli took a calculated risk: He traded Taylor Hall for Adam Larsson.
The calculation was that Larsson, already a veteran defensive defenceman at the age of 23, would do more to help the Oilers win hockey games than Hall. The risk was in giving up one of the league's best five-on-five scorers for a player even Chiarelli acknowledged was more complementary piece than franchise cornerstone.
"Adam Larsson is a very good defenceman," the GM told 630 CHED's Bob Stauffer in October. "He may not be a ready for primetime No. 2, but he will be in our time and I feel he can grow into that."
The final results of Chiarelli's grand gamble will take years to play out, but already we're starting to see the impact the trade has had on Edmonton.
If we look at goals for and against, Larsson is a failure as a stabilizing presence. Edmonton is nearly a full goal worse per hour when he's on the ice at 5-on-5. For an analyst devoted to goal differential, the real credit on the back end must go to free agent addition Kris Russell.
---
Want to stream all 82 Oilers games this season? Sign up for Sportsnet NOW
---
Fortunately for Larsson, most analysts don't spend a lot of time on on-ice goal differential over short time periods. The reason is that those numbers do a terrible job of predicting the future.
Larsson is actually a strong example of this. A year ago in New Jersey, the Devils had a whopping 0.946 save percentage when Larsson was on the ice, and allowed just 1.4 goals against per hour. This year in Edmonton, the Oilers have a 0.905 save percentage when Larsson is on the ice, and are allowing nearly 3.0 goals against per hour, a more than 100 per cent increase.
Studies have repeatedly shown that defencemen have virtually no control over save percentage, which is why those goal numbers tend to bounce around. It doesn't make sense to blame Larsson for his team's awful save percentage when he's on the ice this year, any more than it made sense to credit him for his team's awesome save percentage last season.
This is why shot metrics are so popular. Goal numbers may fluctuate wildly, but for the most part a player who helps his team out-shoot the opposition this year will do so again next year. More importantly, over time that goal number generally falls in line with what the shots show.
Superficially, Larsson's numbers aren't great, but it's important to take context into account. He plays against top opponents. He gets more shifts starting in the defensive zone than the typical defenceman. All of these things need to be accounted for, and once they are his pairing has actually been pretty good.
The funny thing is that the Oilers already had a pretty good defensive pairing. Edmonton's results with Larsson in that slot this year don't look much better than their results with Mark Fayne in the same position last season: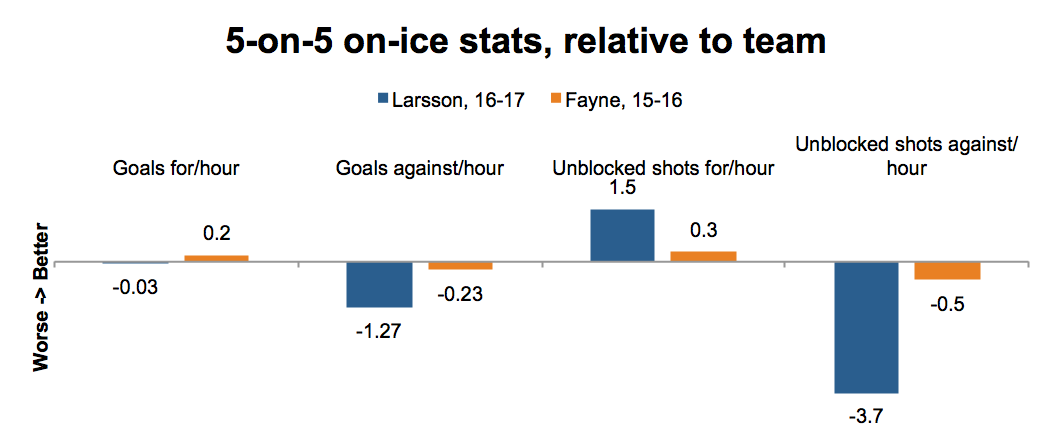 As we've noted, the goal numbers aren't especially meaningful, so Larsson badly trailing Fayne there doesn't really say much. More telling are the shot numbers.
The Oilers are a little better at generating shots when Larsson is on the ice, but much worse at giving them up, and on balance the team takes a noticeable hit when he's out there in tough minutes. With Fayne on the ice last season, Edmonton didn't take that same hit.
It's important to note that these are relative numbers — all else being equal, it's more difficult to keep up with a good team than it is with a bad one, and the 2016-17 Oilers are a better team than the 2015-16 group. It's also worth recognizing that Fayne tends to be underrated; although visually unimpressive his teams have a long history of being better when he's on the ice.
Nevertheless, it's hard to be blown away by Larsson's early work. The Oilers' shutdown pairing hasn't improved by nearly as much as the rest of the team has. He doesn't personally contribute a lot with the puck, and those tenuous hopes that his high on-ice save percentage meant he was brilliant at reducing opposition shot quality have been dashed.
That's a difficult result to square with the price Edmonton paid to add him.
A year ago, the Oilers had a remarkably diversified attack at even strength. Connor McDavid was the second most dangerous 5-on-5 scorer in the league on a per-minute basis, and his regular linemates ranked in the top 100 of NHL players. Taylor Hall was just outside the top 10, and linemates Leon Draisaitl (21st) and Teddy Purcell (106th) were also highly dangerous.
This season, it's a very different story.
McDavid remains lethal at both even-strength and on the power play. He's just a whisker back of Sidney Crosby as the league's most efficient 5-on-5 scorer. He's also scoring more than seven points/hour on the power play, a level just three players hit last season.
Unfortunately for the Oilers, McDavid is basically a one-man show. Not one other Oiler, not even his regular linemates, ranks in the top 100 in the league by even-strength points/hour. McDavid's 26 even-strength points are as many as Edmonton's next two players combined—and both of those players (Draisaitl and Jordan Eberle) have spent significant time on McDavid's line.
There isn't much question that the Oilers needed to upgrade their blue line last summer. What is in doubt is whether Larsson was a significant enough upgrade to justify gutting the team's secondary scoring.
It's too early to have a definitive answer to that question. Right now, though, it looks like Edmonton paid a hefty price offensively for a comparatively small upgrade on its blue line. The Oilers' year-over-year improvements would seem to have a lot more to do with McDavid's maturation than they do with the GM's signature off-season trade.