It's no secret that the Toronto Maple Leafs, while a strong contender in the Eastern Conference, could use some help on defence. Their left side is actually pretty strong, with Morgan Rielly having a great season and Jake Gardiner suddenly taking off, followed by a promising young player in Travis Dermott.
The right side however, is a bit more of a question mark. Ron Hainsey had a strong start, but has looked worse of late. Nikita Zaitsev has had a trying season after signing a long-term contract, and Roman Polak seems to have more of the coach's trust than Connor Carrick, which doesn't make a ton of sense, but that's the current situation.
One of the right handed defencemen who has been mentioned as being available at the deadline is the Vancouver Canucks' Erik Gudbranson, a hard hitting, 6'5" behemoth who will be unrestricted at the end of the season.
Gudbranson isn't a flashy add, but depending on what the Leafs' specific needs are at defence, he could be an option. Looking at where the Leafs are weak relative to the rest of the league, let's see how Gudbranson stacks up.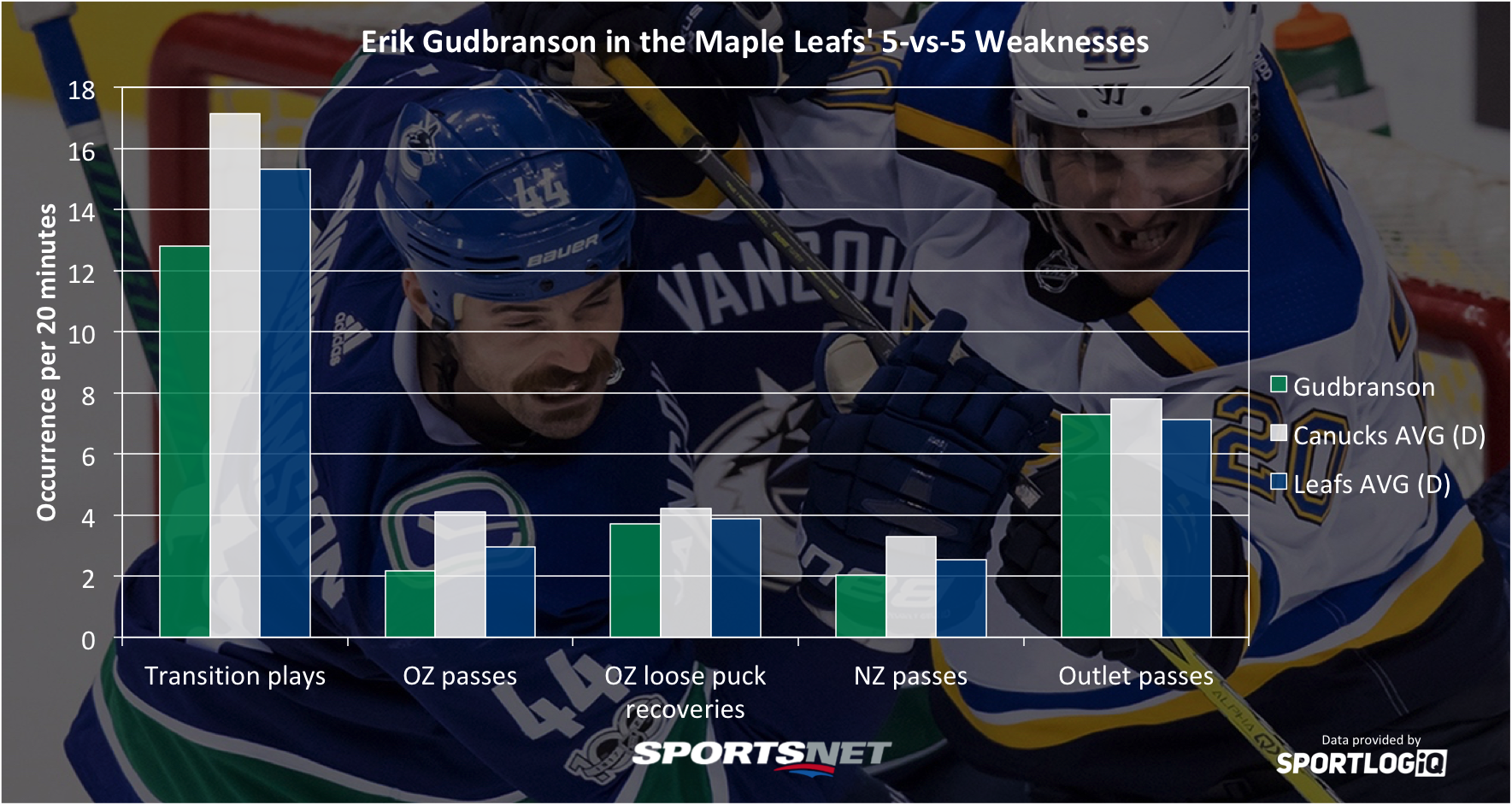 Surprisingly, while the narrative surrounding the Maple Leafs is that they need defensive help, their defencemen don't really rank poorly defensively, but offensively at even strength. And in transition, there are some issues.
The Maple Leafs rank 29th in transition plays by defencemen, 31st in completed offensive zone passes, 29th in offensive zone loose puck recoveries, 28th in completed neutral zone passes, and 31st in completed outlet passes.
The outlet pass issue is a big one, as that's the main way teams organize zone exits in the NHL, however it seems to be a systemic choice, because while 31st in completed outlet passes, the Leafs are second in completed stretch passes. What's odd is that they also have the worst stretch pass completion rate in the NHL, so they're attempting those at an absurd rate. It's an odd, risky choice.
Right away looking at the stats in question, it doesn't look like Gudbranson is the type of defenseman to help them out, because contrary to popular believe, they need a puck mover more than a bruiser.
But let's say for a moment that head coach Mike Babcock wants that type of player in the lineup at all times, someone to put the hurt on opponents and kill penalties. For the sake of argument, could Gudbranson be an upgrade on Polak?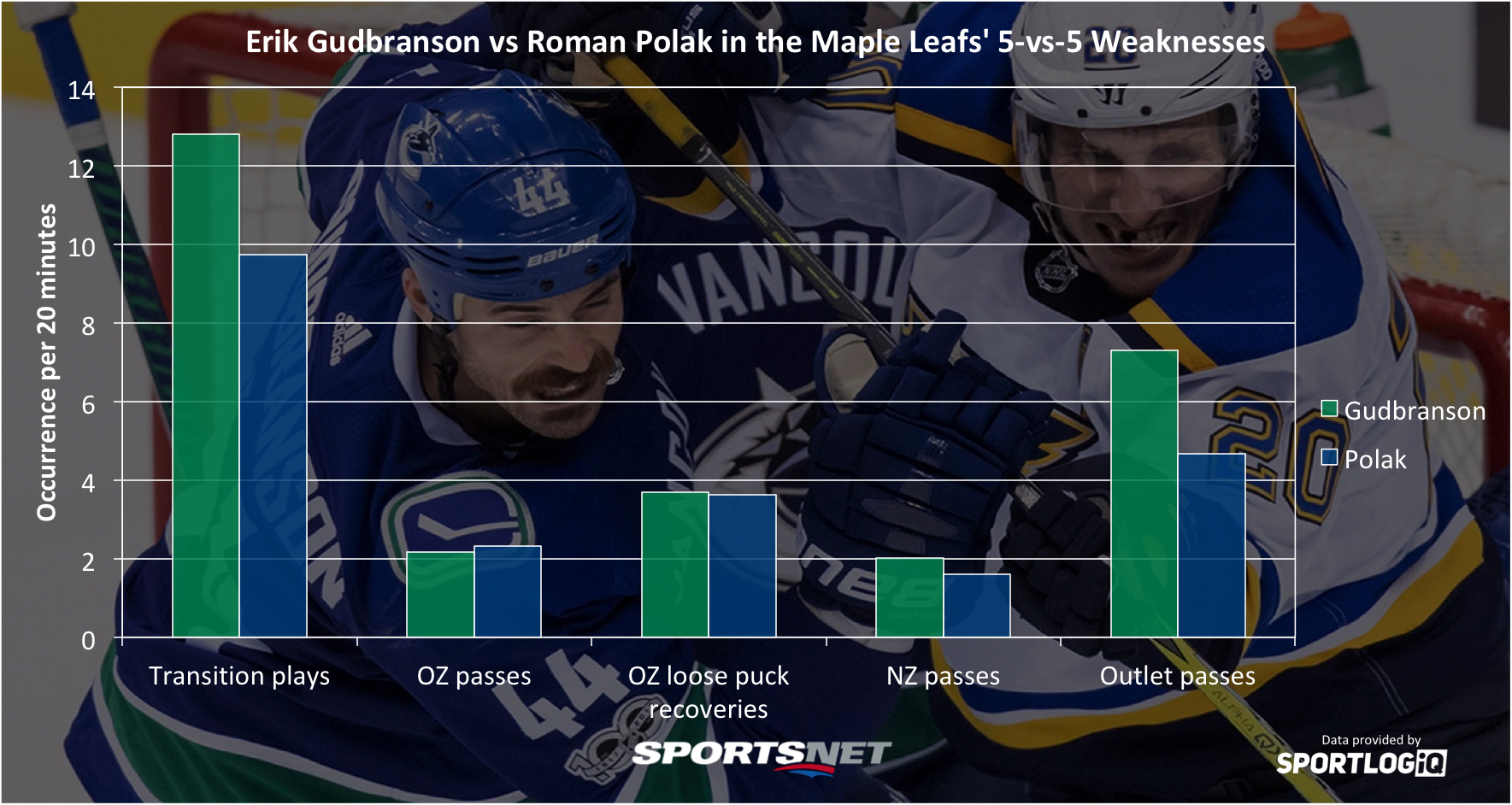 Comparing the players directly, Gudbranson certainly looks like he's got some advantages over Polak. He's significantly more involved in transition play for his team, and far better at exiting the defensive zone specifically.
That could help the Maple Leafs' third pair to avoid being stuck in their own zone as often, but surprisingly Polak is more involved offensively than Gudbranson is.
If Gudbranson were to be an extremely cheap rental, I could see this being a worthwhile upgrade, but the problem is that speculation about Gudbranson's market value has been that the Canucks want a second round pick, or even a low first rounder.
That's simply far too steep a price for a marginal upgrade to your sixth defenceman that remains below team average at the biggest weaknesses your roster has.