With the NHL regular season nearly wrapped up, it's time to look at which players are the leading candidates for major awards.
One of the most interesting to look at is the Frank J. Selke Trophy awarded to the NHL's forward "who demonstrates the most skill in the defensive components of the game."
This award hasn't exactly been awarded that way in recent years, favouring players who get it done at both ends of the rink. You don't see the Bob Gaineys of the world running away with this trophy anymore, you need to put up some points too. Luckily, in recent years the general public has more understanding of defensive contributions than in years past, and the best defensive players in the league are usually pretty solid offensively too.
[snippet id=3317575]
For NHL award voters, there are usually two prerequisites for this trophy: a healthy amount of time spent on the penalty kill, and decent faceoff numbers. I don't buy into the huge importance of penalty killing for this award, because playing on the PK doesn't mean you're good at it, and often coaches don't want their best forwards blocking point shots while short-handed, so I'm going to look at even strength exclusively.
Faceoffs are similarly overrated in terms of importance, and they skew the award heavily towards centres, so again, I'm not going to look at them.
Looking at a variety of statistics, I picked out five major contenders for the Selke this year, and we'll start by looking at their possession impacts and puck management relative to their teammates.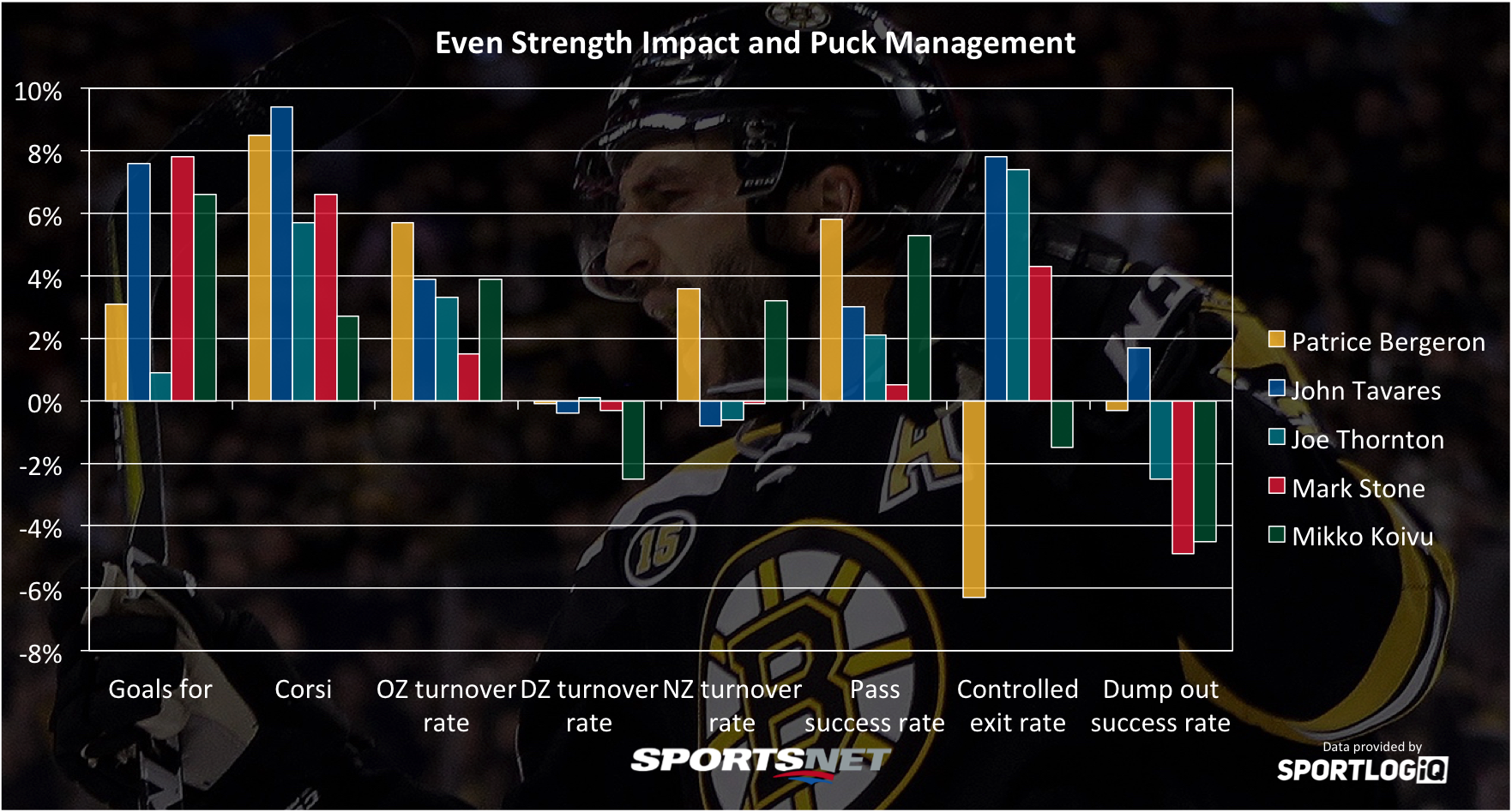 (Turnover rates are inverted so positive = good, and negative = bad)
The biggest surprise name on this list for most people is likely John Tavares, but he has had arguably the best season of his career, driving goal and shot attempt differentials better than almost anyone else in the NHL. Tavares also boasts the best controlled exit rate relative to his teammates, and when he can't exit with control, he also has the top dump out success rate, meaning less time stuck in his zone than almost anyone.
Mark Stone might be a surprise as well since he's a winger, but you can't ignore how different the Senators are when he's on the ice; his impact on goals is the biggest in the field.
Patrice Bergeron and Joe Thornton are perennial contenders for this award, and while both have had down years in the goals department, their possession impacts remain outstanding.
At 34-years-old, Mikko Koivu is still a two-way force, even though his 5-on-5 point production continues to taper off. At a glance Koivu looks to be in fifth place here, but that may change once we get into detail.
One thing to note here is that all of these players are either around team average or slightly worse in terms of defensive zone turnover rates, which to me suggests that they bear a lot of responsibility and get a lot of focus from opponents, making their jobs tougher.
But the Selke is about defence specifically, so let's look at how these players measure up in terms of simple defensive results.
For the last decade or so, no one has been better in terms of defensive results than Bergeron, he isn't the reigning Selke winner, but he owns that trophy. From the looks of it, he's not ready to give it up either, because once again he has the strongest defensive numbers of anyone.
Koivu's impact on goals against is identical to Bergeron's even though his impact on shot attempts is the weakest of the group. Depending on how you weigh these stats, Koivu's stock may rise significantly because of that.
The biggest surprise here though, is Tavares. It's not a huge surprise that Tavares would have a good goal or shot attempt differential, but the assumption from most would be that it's his offence that drives it. This season his defensive game has taken a huge leap to the point where his shot attempt suppression has been comparable to Bergeron. His goal suppression isn't quite as strong, but Tavares plays with Anders Lee and Josh Bailey most often, not Brad Marchand and David Pastrnak.
Breaking things down further, let's look at what these players are doing without the puck on their sticks.
When it comes to playing without the puck, Stone's value truly starts to shine. One thing to note with these statistics is that centres are typically much more involved than wingers are. They go deeper into the defensive zone to recover loose pucks, they are more aggressive through the neutral zone, and are more likely to get in lanes to intercept passes. All those things considered, Stone being one of the best loose puck recovering forwards in the NHL, and among the best in removing possession from opponents, speaks volumes to his quality defensive play. No winger in the NHL recovers more loose pucks or removes possession from opponents as often as Stone does, and only one centre does.
That centre is Bergeron, who ranks third in the NHL among forwards in loose puck recoveries and first in successful defensive plays. It's kind of absurd how often Bergeron is gaining possession when you consider how often he already has the puck. No one in the NHL who has played 750 minutes or more this season as a better shot attempt differential than Bergeron's 61.1 per cent.
Also showing strong here are Tavares and Thornton, who do a lot of their defensive work in the offensive zone. By keeping the pressure on and not letting teams win the puck in their own zone, and stopping breakouts, Thornton and Tavares have strong defensive impacts without having to play in their own zone as often.
Koivu meanwhile, seems to spend a bit more time defending in his own zone, and as a result leads the group in shot blocks.
It's a lot of data to process, and how you would vote for the award is subjective based on your weighing of the stats and your eye test, but for me, no one has quite caught up to Bergeron yet. My top three if I was voting today would be Bergeron, followed by Stone and Tavares. Tavares specifically has seen such strong evolution in his game over the years that I hope he wins a Selke in the future, but for now it's still Perfect Patrice.
[relatedlinks]