James Neal was near the top of my list of players teams should avoid on July 1, with his shot rate hitting a decline over the last three years and his goals following suit.
A big reason why I had him on that list was his reported rejection of a six-year deal with an annual cap hit of $6.5 million that the Vegas Golden Knights offered him during the season. The assumption was that he would be looking for north of $7 million per season, perhaps on a longer term.
When James van Riemsdyk signed a five-year deal with the Philadelphia Flyers worth $7 million per season though, that may have cut the market value down for Neal, and he ended up signing for $5.75 million for five years with the Calgary Flames.
For a player who can pot about 25 goals per season and isn't a liability elsewhere on the ice, that's not bad value, at least at the beginning of the contract. Since Neal's shot rates are already declining and he's signed until he's 35 years old, there's a good chance that the back half of this contract won't look great, but how does it impact the Flames short term?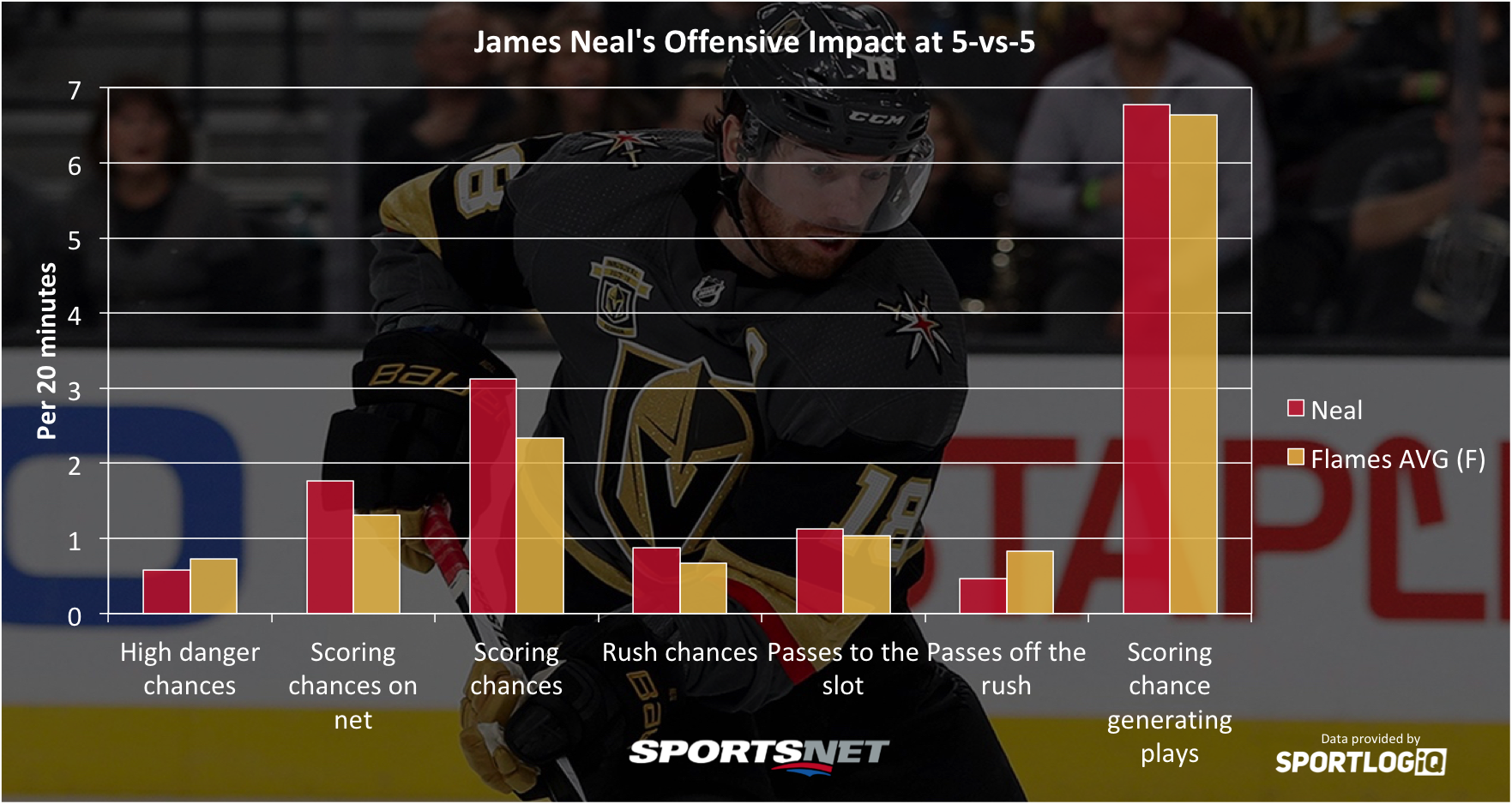 At 5-on-5, Neal's 3.12 scoring chances per 20 minutes were actually 19th-most in the NHL last season, with the only Flame who produced more being Sean Monahan, who pushes 30 goals every season. That adds some scoring ability to a Flames team that didn't really have trouble generating chances last season, but really struggled to finish plays off.
Neal more than replaces the scoring chances lost in dealing Micheal Ferland, though he doesn't replace Ferland's net-front presence. The indirect swap exchanges some high-danger or inner-slot chances for high-slot chances, which might make a lot of sense because Monahan does like to get in tight, and if both him and Ferland are at the goal mouth, it gives Johnny Gaudreau more limited passing options.
One area that is of particular interest is Neal's ability to get scoring chances off the rush, an area that the Flames could take advantage of to a great degree, since only the Chicago Blackhawks completed more passes off the rush than the Flames did last year, so you may see Neal stepping into a whole lot of one-timers off the rush this season while playing his off side.
Surprisingly, Neal is also a pretty decent playmaker, at least better than he gets credit for, completing passes to the slot at a top-six forward level, which should help if he slots on that top line with Monahan and Gaudreau like I'm assuming.
If Neal fits into that top right-wing spot, that also allows the Flames to not use the newly acquired Elias Lindholm as a winger, and instead run a centre corps of Monahan, Backlund, and Lindholm, which is a dangerous group opponents will have to deal with on a nightly basis, not to mention the newly signed Derek Ryan, who is a strong third-line centre in his own right.
The Flames definitely took an immediate hit on the back end with the Dougie Hamilton trade, but overall they seem a little deeper this year, and considering the fact that they should have made the playoffs this past year but got enormously unlucky, they're a team to watch out for in 2018-19.