With July 1 just around the corner, the floodgates for player movement are set to open.
As is generally the case, being overly aggressive this time of year can be a risky tactic for general managers. Unrestricted free agents typically come with an added cost, so the team that lands their services tend to pay a premium above the sticker price to lure them away from other potential suitors.
That's the general rule, but there certainly are exceptions. With most of the available money circling around the obvious names atop the free agent list, there are bound to be others that fly under the radar and go for less than the value they'll provide their new teams.
Below we'll get into a couple of names that check both boxes. Here are some players that could prove to be bargains, and a few that it might be best to stay away from.
BARGAIN TARGETS
Dimitri: Thomas Vanek
All it takes is one overzealous team to inflate the market for a free agent, but if recent history is any indicator Thomas Vanek figures to be available in the bargain bin for any prospective shoppers.
Having now remarkably played for eight different teams over the past five seasons, Vanek has been bouncing around the league as something of a gun for hire ever since being bought out by the Wild in the summer of 2016.
For whatever reason, interest in him at this point appears to have dried up. Just last summer, he was sitting around on the open market up until September 1, eventually being poached by the Canucks for an eminently affordable one year, $2 million bargain. Even after a thoroughly productive stint in Vancouver to start the campaign, the Blue Jackets were able to steal him at the trade deadline for nothing and the Canucks weren't able to cash him in for a single asset of note.
[snippet id=3317857]
At both of those stops he showed he's still got plenty left in the tank as a difference maker offensively. Playing next to Brock Boeser in Vancouver, he was able to serve the puck up to the lethal sniper on a silver platter through a combination of thinking the game at a high level, creativity, and dazzling playmaking talent. Once he got to Columbus, he was able to revitalize Alex Wennberg and Booner Jenner, both of whom were woefully underperforming. That trio dominated down the stretch, controlling 54.7 per cent of the shot attempts, and 57.4 per cent of the shots on goal at five-on-five. They outscored opponents by a lopsided 16-4 margin, with a 66.6 per cent expected goal rate that showed the success wasn't a fluke.
Vanek's raw totals of 24 goals and 56 points are one thing, but his season looks even better when considering the context of how he got there. His 33 primary points at five-on-five were the 30th-best mark in the league, tied with players such as Matt Duchene, William Karlsson, William Nylander and Jamie Benn. On a per-minute basis Vanek was even better, shooting all the way up to 10th on the list [data via Corsica]:
| Player | 5v5 Goals Created Per Hour |
| --- | --- |
| Auston Matthews | 2.6 |
| Nathan MacKinnon | 2.45 |
| Connor McDavid | 2.3 |
| Evgeny Dadonov | 2.26 |
| Brad Marchand | 2.19 |
| Nikita Kucherov | 2.16 |
| David Pastrnak | 2.15 |
| Evgeni Malkin | 2.13 |
| Jonathan Marchessault | 2.12 |
| Thomas Vanek | 2.12 |
| Ondrej Kase | 2.12 |
| Filip Forsberg | 2.11 |
| Mathew Barzal | 2.09 |
Vanek is certainly an imperfect player, and always has been. Even at his apex during the Buffalo years he had his deficiencies outside the boundaries of the offensive zone, and the importance of sheltering him has only grown as he's slowed with age.
But at the assumed price it'll take to acquire him and the slot he'd presumably fill on a contending team's depth chart, he doesn't need to be perfect. If he's able to replicate anything approaching his production from last season, he'll once again be one heck of a bargain.
Andrew: Calvin de Haan
You don't need to dig too deep into Calvin de Haan's game to see why he should be one of the prized free agents available this summer. His impact on his teammates is extremely positive by every measure that matters, and it seems like teams recognize that even though he missed more than half of the season due to injury, with 10 or more teams expressing interest heading into July 1.
De Haan isn't a big-time individual scorer, so he can't really be called an offensive defenceman, but while he's on the ice his teammates perform at a far higher level offensively and defensively than when he's off.
The one drawback with de Haan is that he's only topped 20 minutes per game in one of the past four seasons — he averaged 20:38 per game in 2015-16. His ice time is that of a fourth or fifth defenceman more than it is a consensus top-four, which means some of the data is slightly less reliable. Can he maintain this kind of positive influence while playing heavier minutes?
For the past three seasons, de Haan's underlying numbers have been very steady and strong, so while there may be an unproven element there, that may just end up taking a few dollars off his contract. Considering he's still just 27 and playing at this level, de Haan is probably the best bet of all defencemen on the market this year.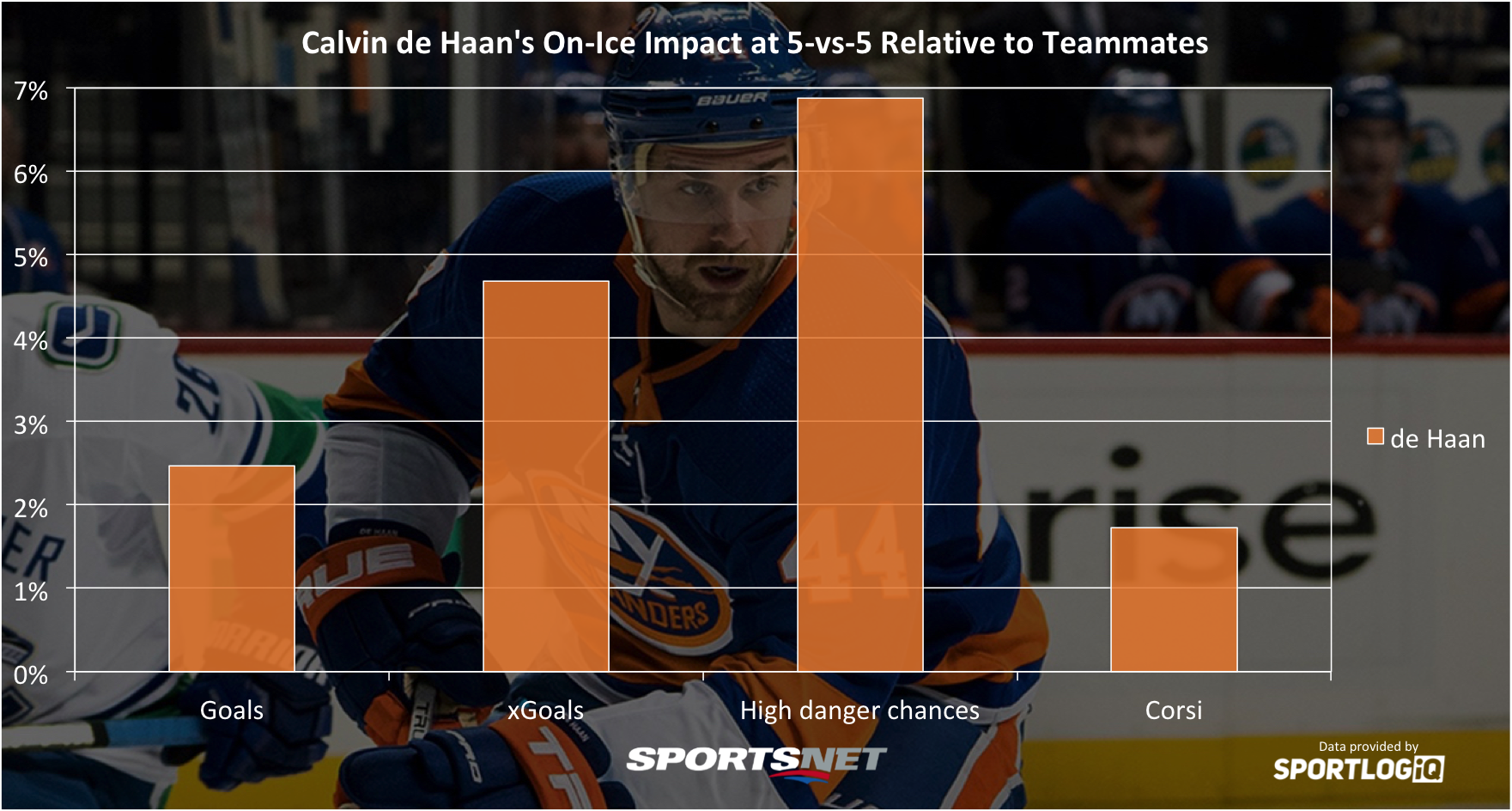 Dimitri: Michal Kempny
Going into free agency this summer, Michal Kempny has a couple of notable things going for him:
a) He just won a Stanley Cup. That type of distinction often carries with it an additional tax of sorts. Part of it has to do with the fact teams value players who have contributed to a winner. As overly simplistic as it may sound, part of it also has to do with the fact there's a recency bias involved with players we just watched compete under a bigger spotlight a couple weeks ago.
b) The crop of defencemen in this year's class is downright pitiful. There honestly aren't enough good players at the position to go around for everyone, which means most teams are constantly looking for upgrades and additional help. The issue is that with John Carlson off the market, unless you're a team willing to pay an exorbitant price for Erik Karlsson via trade, there really aren't many low-cost options that can actually make a tangible difference.
Like Berkshire notes, Calvin de Haan is one of those few intriguing free agents available, but even he is getting enough buzz and attention that now his asking price could skyrocket to the point where he stops being a bonafide bargain. Same with Mike Green, who could conceivably even get term on his new deal despite legitimate concerns about his age and health. After that you really start reaching, especially if you're looking for anything beyond a replacement level third-pairing type of defender.
---
Top 10 UFAs by position: C | LW | RW | D | G
---
c) Above all else, Kempny is actually quite useful in his own right. The fact he's a soon-to-be 28-year-old with only two seasons and ~125 total games worth of NHL experience is a complicating factor when it comes to concluding just 'how good' he really is, but the data we do have at our disposal is encouraging.
Whether it's been with the Blackhawks or the Capitals, his teams have done well with him on the ice at five-on-five. Overall, they've controlled 54.3 per cent of the shot attempts, 54.3 per cent of the shots on goal, 56.8 per cent of the goals scored, and 55.7 per cent of the expected goals. Some of that success obviously has to do with the sheltered role he got to play in Chicago, though he showed himself to be perfectly capable in a bigger role next to Carlson during Washington's title run.
Where he really thrived during the post-season was with the puck on his stick in the transition game — he was excellent breaking out of his own zone:
| Player | Exit Attempts | % Exit with Possession | % Failed Exit |
| --- | --- | --- | --- |
| Dmitry Orlov | 251 | 56.18 | 13.94 |
| Michal Kempny | 150 | 54.00 | 12.00 |
| John Carlson | 268 | 50.37 | 11.19 |
| Matt Niskanen | 222 | 48.65 | 15.32 |
| Christian Djoos | 125 | 47.20 | 16.80 |
| Brooks Orpik | 126 | 25.40 | 20.63 |
Kempny isn't a particularly flashy player. He won't often dazzle, and if his first two campaigns are any indication he likely won't put up big point totals. But whatever he is doing well seems to lend itself to improving his team's performance whenever he's on the ice.
A team looking for a player who can oscillate between the second and third defence pairing and actually do something beyond just filling up space on the depth chart could do a lot worse than Kempny, especially when you consider some of the other options out there.
June 28: Hockey talk heats up
June 28 2018
Andrew: Tobias Enstrom
Once upon a time, Tobias Enstrom was one of the most underrated top-pairing defencemen in the NHL, providing excellent two-way play on terrible teams. Age and injury have taken a bite out of him to be sure, and he's now more likely to play under 20 minutes per game than over and is best slotted as a fourth or fifth defenceman on a depth chart. But when he does get on the ice, his impact is still absurdly good, especially defensively.
At 5-foot-10, Enstrom isn't the type of player you think of in your head as a huge difference maker on the defensive side, but at even strength he was one of the most impactful defenders in the entire NHL last season. Not a single player who played at least 700 minutes allowed fewer high danger scoring chances against than Enstrom, and only three players allowed fewer passes to the slot against (Jake Muzzin, Steven Johns, and Matt Grzelcyk).
Enstrom is no longer a player who tips the scales on offence himself, but he doesn't detract from the offensive potency of his teammates either — and he happens to be the top defensive defenceman available in this class. At 33 years old, turning 34 in November, and with a history of injuries, Enstrom isn't likely to get anywhere close to the $5.75 million per season he was earning on his last contract, and his term likely won't be too big either. For the right price, he could completely change a second or third defence pairing from middling to excellent.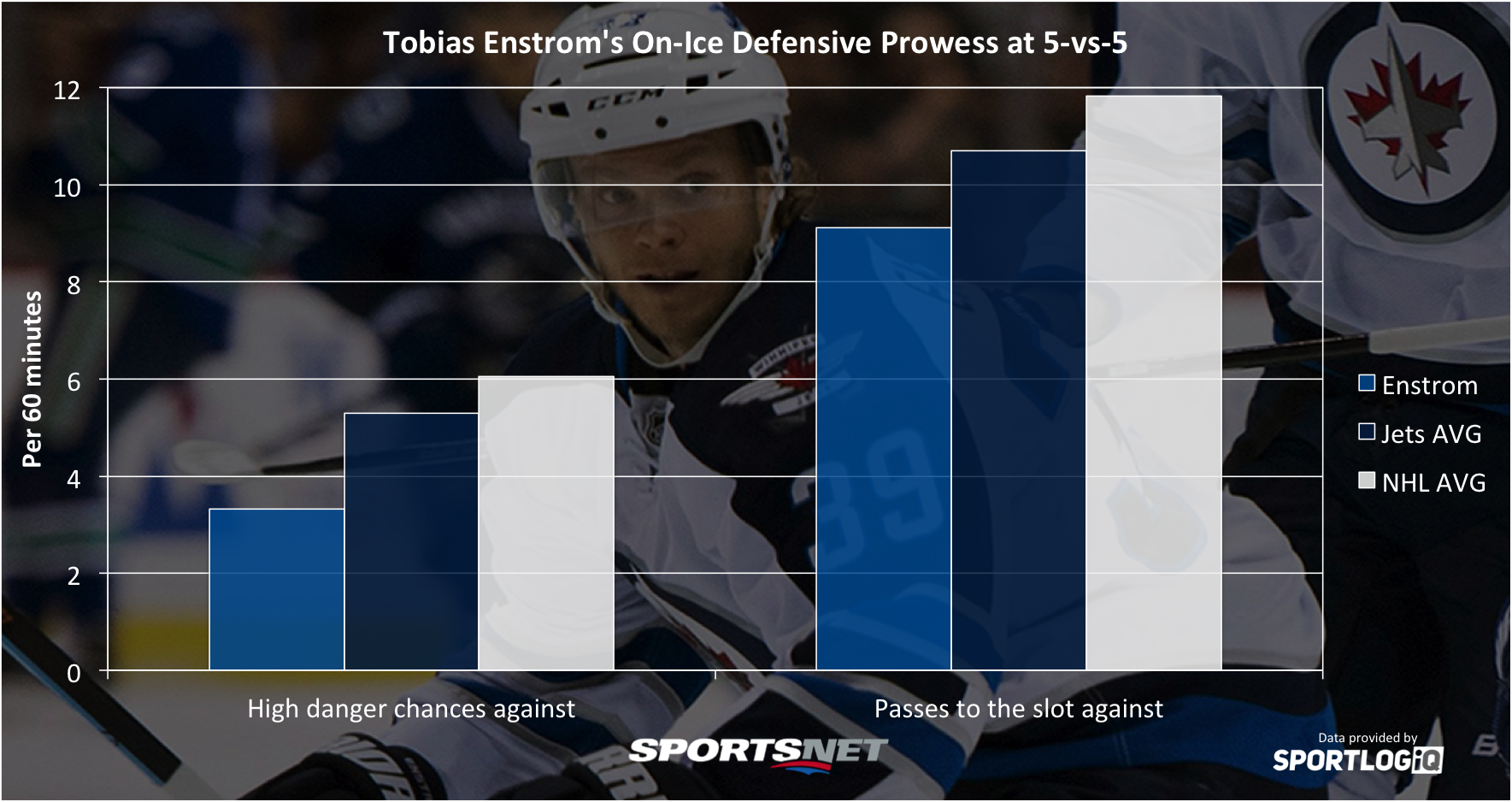 BUYER BEWARE
Andrew: James Neal
To be completely clear, I think James Neal is a very good player and I don't think an acquiring team will soon find out he's a bad one. But after he reportedly turned down a lucrative offer from the Golden Knights for around $6.5 million per season, my eyebrow raised a bit.
Word is he wants at least $7 million per year on a long-term contract, which is a little terrifying based on his career trajectory. As you can see below in his year-by-year shooting numbers, Neal is now three seasons removed from his peak, which lasted four years. He remains a strong shooter, and his decline has been a gentle one so far, but his dip from age 27 to age 28 was abrupt and since he turns 31 in September, general managers should keep in mind players over 30 often decline rapidly.
Neal isn't about to become a bad player overnight, but for $7 million per season you want 30-goal James Neal and that player isn't likely to appear too often in his 30s. Over the course of his next contract, Neal is more likely to be a 20-goal, 40-point winger, and you just don't pay those guys $7 million.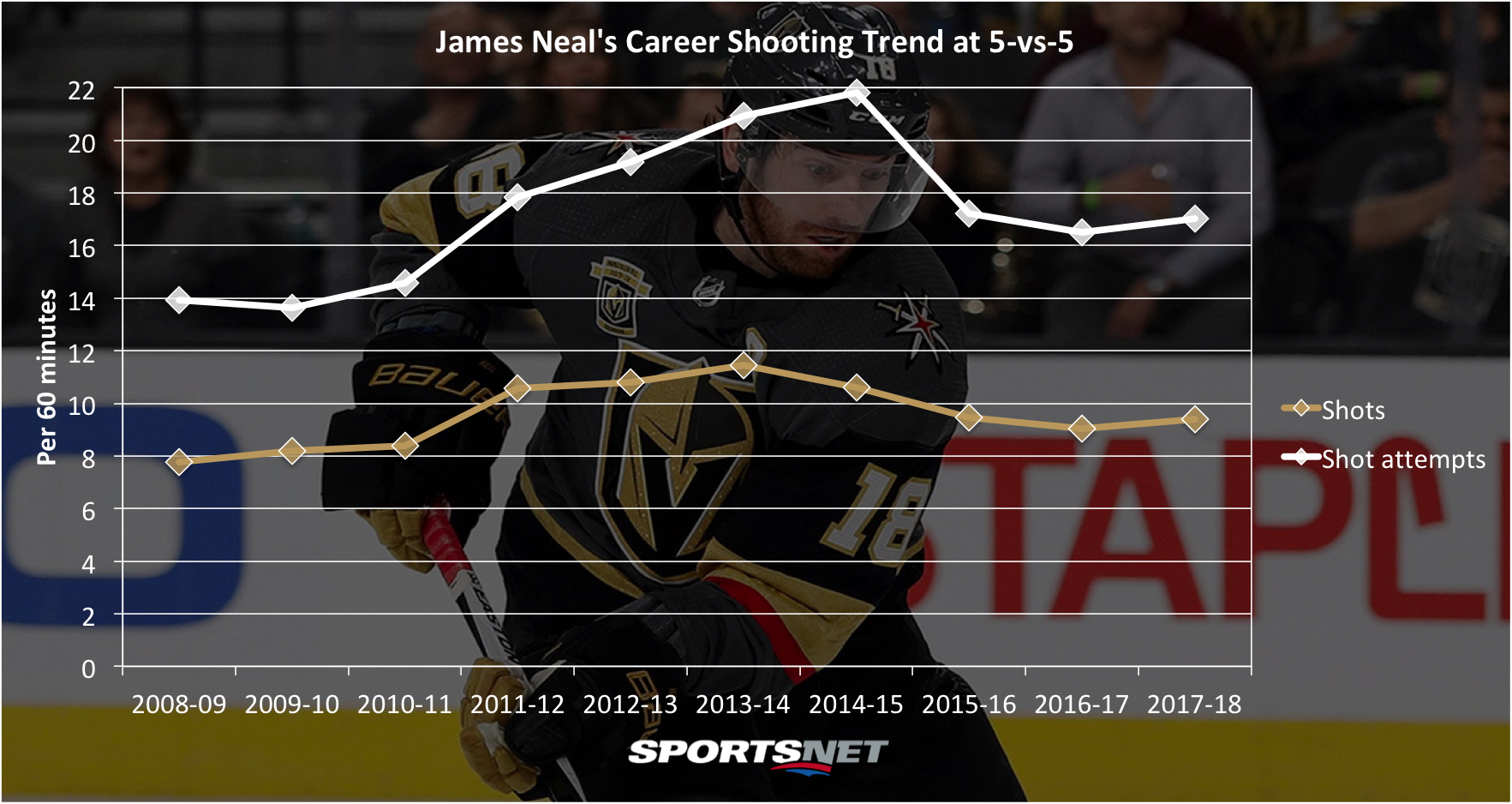 Dimitri: Cam Ward
May we all be so fortunate to get the type of unrequited loyalty and adoration that Cam Ward has received from the Carolina Hurricanes over the years, even if there's no real evidence to suggest his performance has been deserving of it for some time now.
All the way back in the 2010-2011, Ward was a legitimately terrific workhorse for the Hurricanes, stopping a sparkling 92.3 per cent of the shots he faced, while eating up a total of 74 starts. But ever since then it's been a precipitous decline, as he seems to have comfortably settled into the neighbourhood of being a well below average netminder.
To put his performance in perspective: he's given up ~10 more goals than we'd expect a league average goalie to have surrendered under the same workload for each of the past five seasons.
| Season | League Avg. Save % | Cam Ward Save % | Cam Ward Goals Saved |
| --- | --- | --- | --- |
| 2010-2011 | .913 | .923 | +19.76 |
| 2011-2012 | .914 | .915 | +4.46 |
| 2012-2013 | .912 | .908 | -1.2 |
| 2013-2014 | .914 | .898 | -11.56 |
| 2014-2015 | .915 | .910 | -8.07 |
| 2015-2016 | .915 | .909 | -7.63 |
| 2016-2017 | .913 | .905 | -10.78 |
| 2017-2018 | .913 | .906 | -10.21 |
An under-the-radar story to follow this season will be how everyone who's been affiliated with the Hurricanes' goaltending carousel in the past performs this season in their new environments. There's a theory out there that something related to Bill Peters' system was responsible for tanking the numbers of the team's goalies over the years, so it'll be interesting to see how Scott Darling and Ward do under different coaches and defensive structures in front of them, and how Mike Smith does under Peters.
Goaltending is strange, and the performance of players at the position is as volatile and unpredictable year over year as it gets in this sport. With so few other tantalizing options available at the position in this year's free agent class, and the name brand value that Ward still carries, there's no doubt he will land a gig somewhere else.
But based on the past handful of years of data, it seems reasonable to conclude that this is almost surely who Ward is at this stage of his career: a goalie who doesn't make enough saves to consistently give his team a chance to win.
[relatedlinks]
Andrew: Jack Johnson
Like de Haan, you don't need to dig very deep to figure out Jack Johnson. Throughout his career, Johnson has been a negative impact player on both the Los Angeles Kings and Columbus Blue Jackets. Last season was no exception, as the Blue Jackets were over nine per cent worse in high danger scoring chance and goal differential while he was on the ice as opposed to when he was off.
Johnson is a skilled player, a decent passer and someone who passes some people's eye test, which has lead to him playing top-four minutes throughout his career. But of late his ice time has fallen from 24:11 per game in 2015-16, to 21:49 in 2016-17, to just 19:33 last season, and despite playing fewer and softer minutes, he hasn't seen a rise in performance.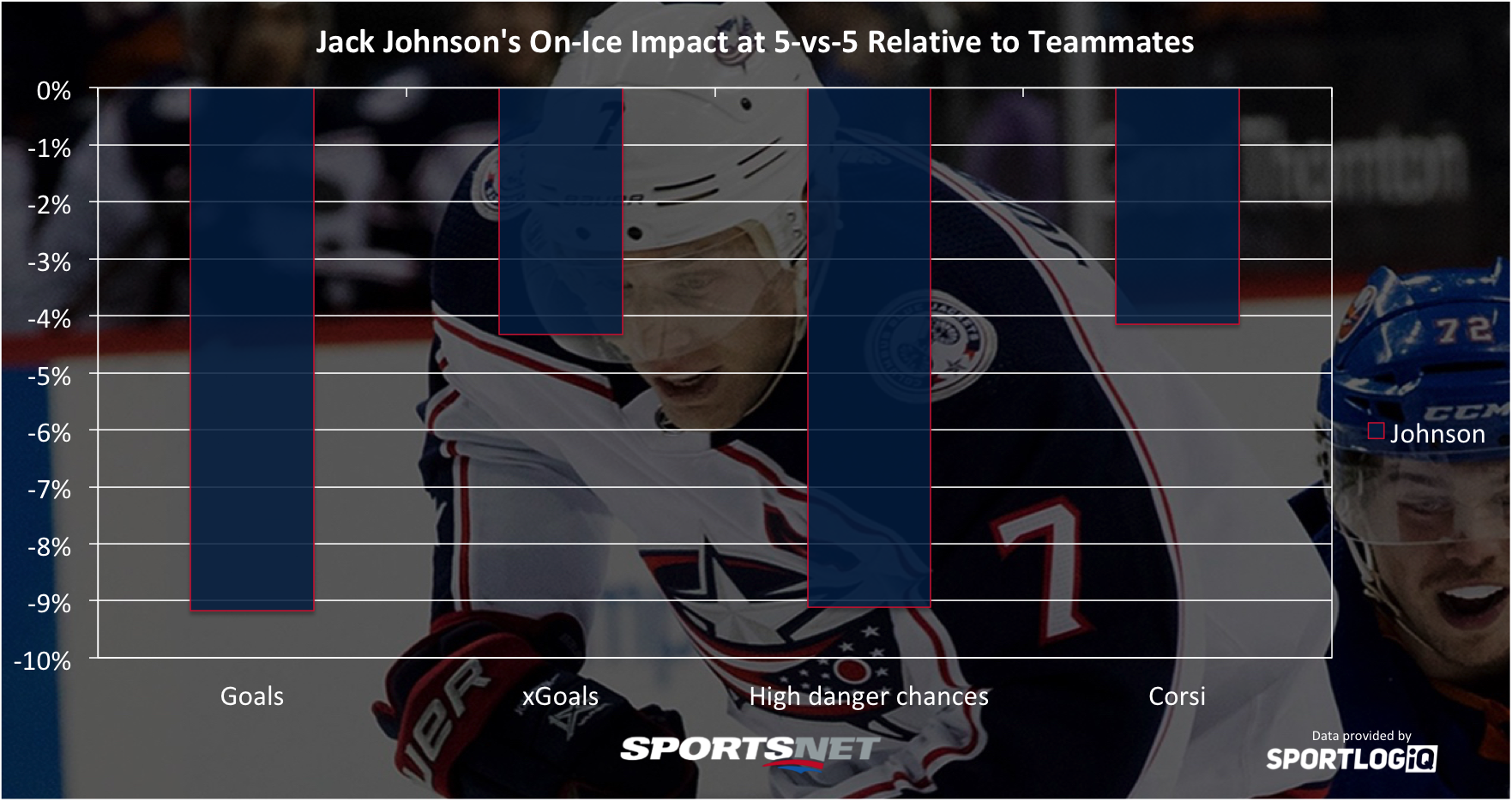 Add to this the fact his offence has dried up almost completely — he's coming off the worst year of his career with just 11 points — and you've got a player who doesn't move the needle offensively or defensively.
In my positional ranking project for Sportsnet, Johnson finished 108th of 163 eligible defencemen in terms of overall impact, with his closest comparables being Dennis Seidenberg and Brooks Orpik. Those aren't exactly flattering names. Those rankings didn't even include performance from this past season, which was a considerable drop in performance.
If Johnson is signed on a bargain contract that pays him like a third-pairing defenceman, and that's how he's deployed as well, it probably isn't disastrous. But it makes you wonder why a team wouldn't go with a cheaper, and possibly better, internal prospect option.
Dimitri: Michael Grabner
Including Michael Grabner here is a bit of a hedge because of how unique his case is. He's been a value contributor offensively over the past two seasons, especially considering that he was making just a measly $1.65 million in both of those years.
After potting precisely 27 goals in both 2016-17 and 2017-18, he figures to now cash in handsomely in a market that isn't exactly flush with scoring talent at the right wing position.
Whichever team winds up paying him should be careful about what they're expecting to get from Grabner. There's a couple of red flags: a) he shot an inflated 16.7 per cent and 16.2 per cent in those two respective seasons, and on a related note b) a disproportionate amount of his goals came in empty net situations:
| Player | Goals Scored | Empty Netters | % of Goals as Empty Netters |
| --- | --- | --- | --- |
| Michael Grabner | 54 | 11 | 20.37 |
| Eric Staal | 70 | 10 | 14.29 |
| Vincent Trocheck | 54 | 8 | 14.81 |
| Alex Steen | 31 | 7 | 22.58 |
| Patrick Marleau | 54 | 7 | 12.96 |
| John Tavares | 65 | 7 | 10.77 |
| Brad Marchand | 73 | 7 | 9.59 |
| Tomas Hertl | 32 | 6 | 18.75 |
| Alexander Radulov | 45 | 6 | 13.33 |
| Jack Eichel | 49 | 6 | 12.24 |
| Artemi Panarin | 58 | 6 | 10.34 |
| Jason Zucker | 55 | 6 | 10.91 |
It's not all bad. He hasn't had the benefit of padding his numbers on special teams, and with the type of speed he possesses it's plausible Grabner will continue to generate the type of looks that'll lead to a decent conversion rate. Seemingly every year we see a rise in the pace of play and the resulting physical requirements, and Grabner's game is well-suited to keeping up with that evolution.
That said, it's fair to wonder both how much substance there was to the numbers he's piled up, and how much of them he'll be able to replicate moving forward. Smart teams should be asking these questions. They should also be looking for the next Michael Grabner that they can get 54 goals from for just $3.3 million, as opposed to paying a premium for this particular player that they're two years late to the party on.