The Florida Panthers have been one of the nicer surprises of this NHL season. The team has a good mix of young talent from players and veteran leadership, a combination that currently has them third in the Atlantic division. Record-breaking Jaromir Jagr has been the one in the spotlight, but young stars like Aleksander Barkov and Jonathan Huberdeau are making their mark on the league too.
Still, when the team makes the playoffs this spring it will only be the fifth time in the franchise's 23-years in the league. What little history this franchise has could expand exponentially with this group, and according to former Panthers defenceman Ed Jovanovski, they are ready to take on that responsibility.
"This year they're taking that next step and if you look at the team, the way they're balanced, there's a lot of good, young veteran players," he said. "It's fun to watch and I think this part of town is craving playoff hockey."
Few people are more qualified to assess the Panthers and it's history than Jovanovski. Drafted first overall by the team in 1994, he spent seven of his 18 seasons in the league, bookending trips to Vancouver and Arizona. In 1,128 games he picked up 137 goals and 500 points. He's an Olympic gold medalist, with Canada in 2002. And as a rookie, he was part of the Panthers team that lost to Colorado in the 1996 Stanley Cup final.
When reached by phone from Florida, where he now lives full-time, the soon to be 40-year-old Jovanovski said there are some similarities between his team in 1996 and the one the Panthers ice now. But there are also some differences.
"You never can count the current Florida Panthers team out and that's the same as our team, we were always going to battle and be in games," he said. "Having said that, looking at the roster… I think the team that is playing today is more skilled than we were."
Aaron Ekblad is one player garnering a lot of comparisons to Jovanovski. Both players were drafted first overall and both were brought in to be the cornerstones of the Panthers defence. While Jovanovski says the two have texted a couple times, and had dinner once, he says the 19-year-old Ekblad seems to be doing just fine.
"He literally does play like a 20-year veteran," Jovanovski says. "He's a special talent, a very nice kid and a very humble kid. He has a bright future."
While Ekblad and the Panthers seem to have the future set, Jovanovski still hasn't decided what's next for him. After coming back from a near career-ending hip surgery in January of 2014, Jovanovski was excited to play out the final year of his contract and retire after the 2014-15 season.
But the Panthers had other plans and instead his final year was bought out by the team, leaving Jovanovski with no place to play and some tough decisions to make.
"It caught me by surprise a little bit," he said. "But I understand the new NHL and how it works."
Jovanovski and the Panthers didn't leave on bad terms. But in the end, he decided not to uproot his family again to play one final season. For the last year and a half, Jovanovski has been spending a lot time with his kids and hasn't taken another job in hockey yet, although he would like to one day. In fact, he hasn't even officially retired yet, a process that simply requires putting out a press release.
"I'll eventually get around to it," he said.
He's also finding he has more time than ever to watch hockey, whether it's going to Panthers games or keeping tabs on his other teams, the Canucks and Coyotes. Having played both before and after the cancelled 2004-05 season, Jovanovski was able to experience two very different eras of hockey. But to him it's no secret which era he prefers. Between the opening of the ice to allow the best skaters to make plays, to young players being more prepared than ever for the pro game, Jovanovski says there's a lot to like about the current NHL.
"I think the NHL today as we see it is probably in the greatest shape it's ever been," he said.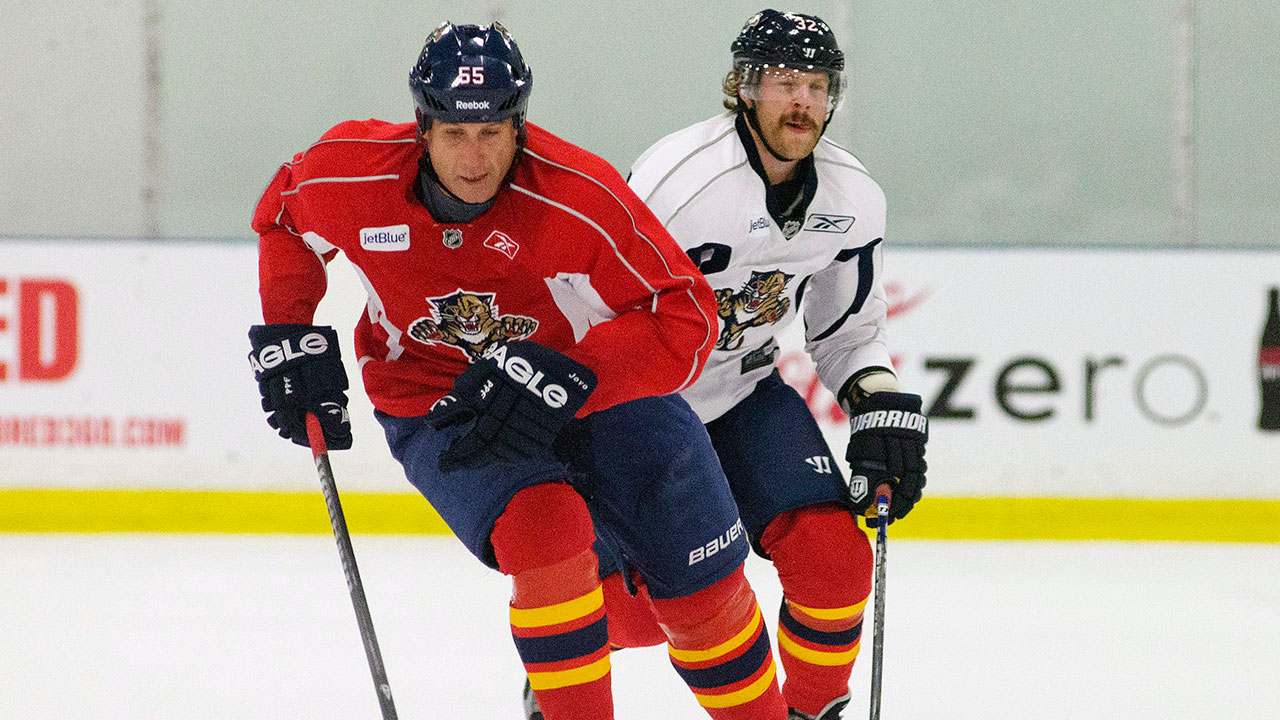 To celebrate 20 years since the franchise's only Stanley Cup final appearance, Jovanovski and some of his teammates and coaches will take part in a pre-game ceremony on Saturday ahead of the team's game with the Philadelphia Flyers. Jovanovski is excited to see his old friends, some that he hasn't seen since the team traded him to Vancouver in during the 1998-99 season.
As he settles into life after hockey, Jovanovski has spent a lot of time reflecting on his career lately and has nothing but good memories of his time in the NHL. But he's reminded just how difficult it is to win the Cup, something he never had the chance to play for again. Those memories have helped him come to terms with his career and now he has some advice for the next generation of players.
"Use every day as motivation to get to the next day, because it can be over quick," he said. "The game of hockey has given me everything I could ask for in life but at some point it's got to come to an end."