After a long, hot summer, NHL training camps are finally right around the corner, giving us our first opportunity to see how players who have changed teams mesh with their new linemates.
September can get a little silly with potential lines bandied about by fans, but it can be interesting to look at potential player combinations and see how they shape up on paper.
One of the advantages of microstat tracking is an improved ability to see how players play off of each other by identifying complementary skill sets. I've used them before to isolate which players should work well together, for example looking at which Maple Leafs wingers fit best with John Tavares.
Focusing solely on offensive chemistry, let's look at four potential duos that we could see in the regular season.
MONTREAL: MAX DOMI AND ARTTURI LEHKONEN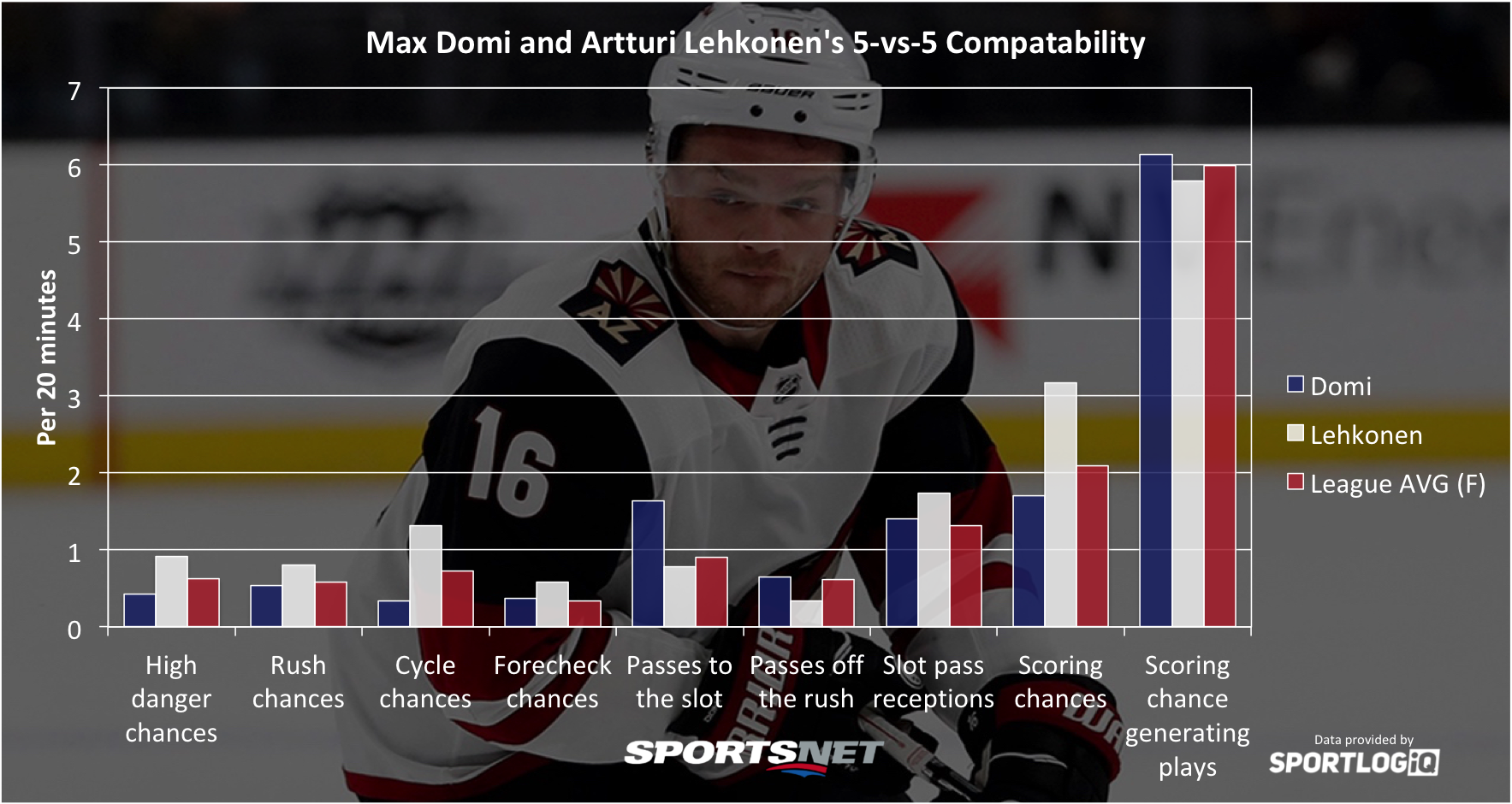 A much-maligned trade brought Max Domi to the Canadiens in exchange for Alex Galchenyuk back in June, and as I explained before, the public view of the trade doesn't really mesh with reality. While Domi certainly isn't anywhere close to the goal scorer Galchenyuk is, he's a really good NHLer and one of the league's best playmakers at 5-on-5.
One player I expect to benefit greatly from Domi's addition is Artturi Lehkonen, who was snakebitten last season despite being one of the NHL's premier high danger scoring chance producers. Lehkonen is a better than average shooter off the rush and forecheck, but where he really stands out is his contribution off the cycle.
Domi's high-level ability to make clean passes to the slot area, and Lehkonen's consistency in getting there, should produce a nice little feedback loop that could create a dynamite second line when you add in a premier puck retriever like Phillip Danault at centre. This is something the Montreal Canadiens desperately need.
ST. LOUIS: RYAN O'REILLY AND VLADIMIR TARASENKO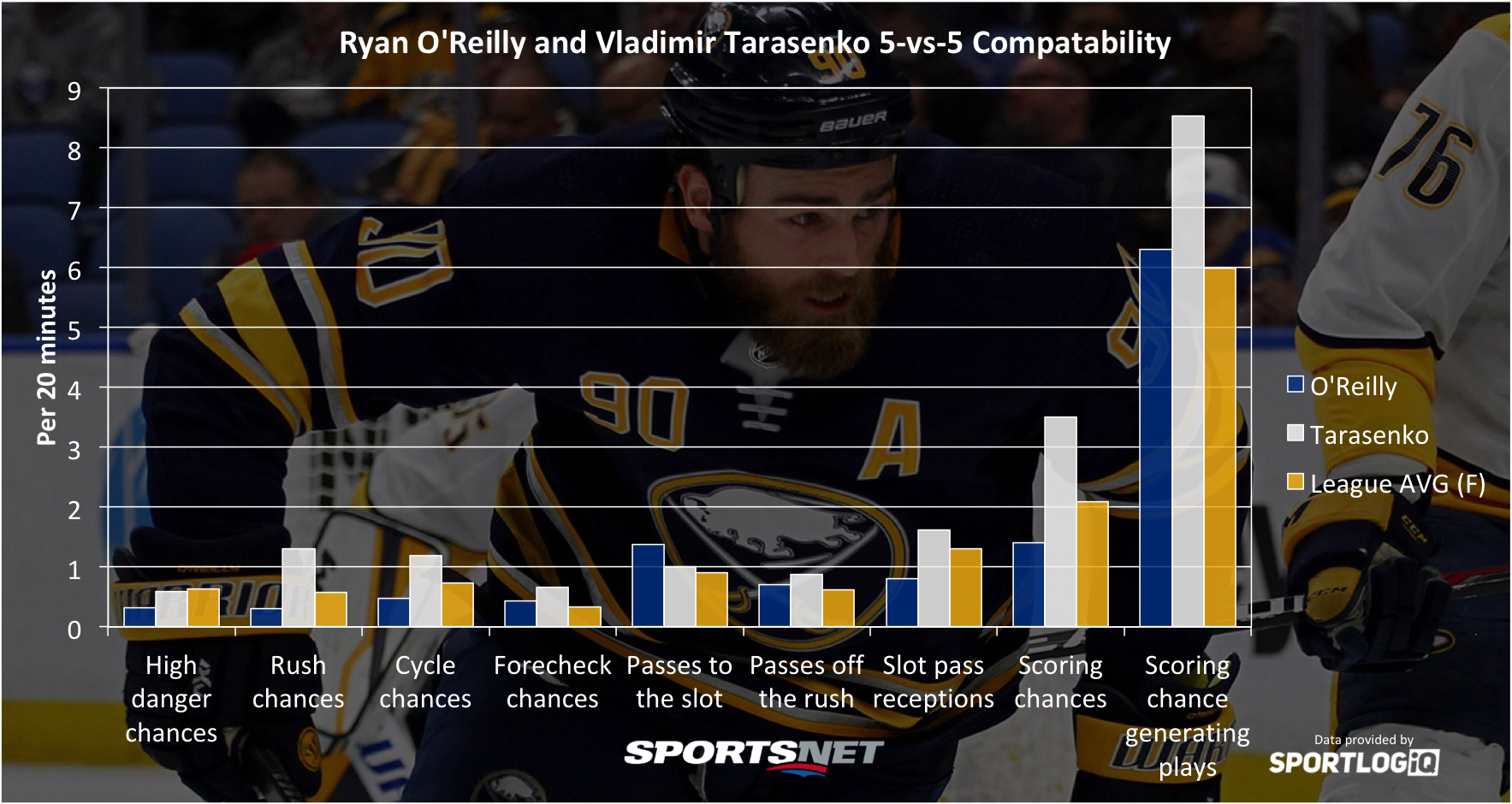 The St. Louis Blues made a big centre acquisition for the second straight summer, picking up the supremely underrated Ryan O'Reilly after adding Brayden Schenn in 2017. O'Reilly is a very good playmaker who did a lot with a thin lineup in Buffalo, and is one of the best three-zone centres in the NHL. Still, I don't think pairing him with Vladimir Tarasenko is an ideal match.
For starters, Schenn's breakout season lead to better playmaking numbers than O'Reilly, and to be fair playing with Tarasenko and Jaden Schwartz certainly gave Schenn more opportunity. But Tarasenko loves to attack off the rush, and I'm not sure O'Reilly can keep up with him there.
The duo could certainly work, but we already know Schenn is a fit. O'Reilly's presence gives the Blues an opportunity to create a tough-minutes line around him that can still score, while Tarasenko's line remains free to do damage without worrying as much about matchups.
CALGARY: ELIAS LINDHOLM AND JOHNNY GAUDREAU
Instead of penciling James Neal in to take Micheal Ferland's spot on the top line with Johnny Gaudreau and Sean Monahan, why not try Elias Lindholm? That way head coach Bill Peters can spread out the scoring and have Neal as a secondary threat.
It sounds great in theory, especially because the top line is built around the duo of Monahan and Gaudreau and the third wheel is mostly complementary. But, offensively, I'm not really seeing a fit with these two.
Ferland worked well on that line because he kept things simple and went to the net, but that isn't Lindholm's game. Gaudreau is a top-five playmaker in the NHL at 5-on-5, and he needs two players who can fire pucks, not just Monahan. Lindholm doesn't get into the slot nearly enough for to be that player.
Lindholm's strengths lie in smoothly transitioning the puck up the ice and being a strong defensive forward, which could probably help Gaudreau and Monahan a bit since they're both quite porous without the puck. But as far as creating offence goes, this doesn't look like a fit.
TORONTO: JOHN TAVARES AND MITCH MARNER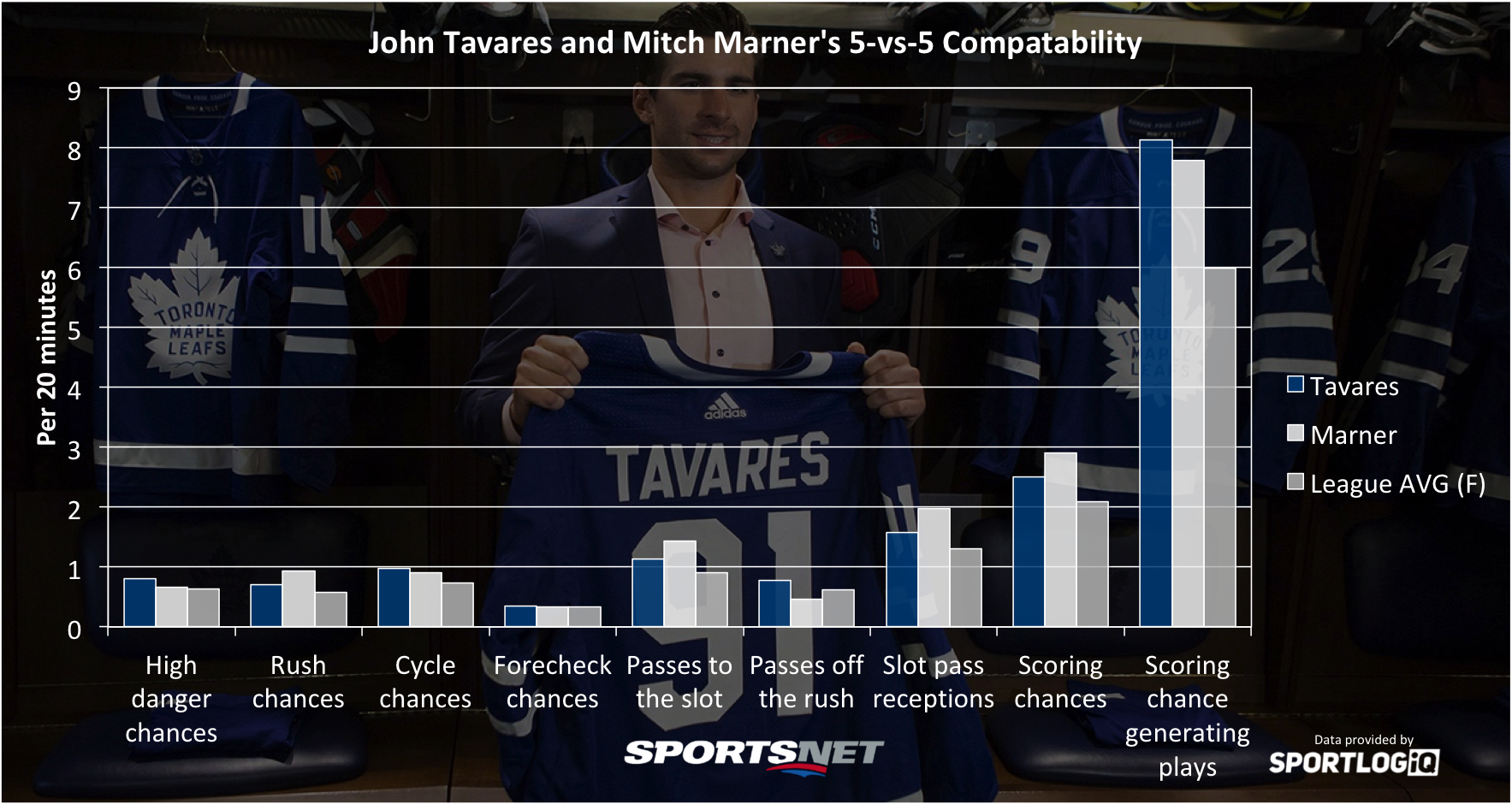 The marquee free agent signing of the summer, John Tavares will almost certainly line up with Mitch Marner on opening night for the Maple Leafs. I've already gone into why these two complement each other overall, but offensively it's an embarrassment of riches.
Tavares is often seen as a shoot-first player, but Marner actually shoots more from the slot. Going further, Marner and Tavares shoot and pass equally well. Marner loves to shoot off the rush, while Tavares likes to pass off the rush. Tavares attacks a ton off the cycle, and Marner's biggest playmaking advantage is threading the needle to the slot.
The Maple Leafs clearly stress slot passes, as only four teams attempted as many as they did last year, which should boost Tavares' goal scoring.
One thing that should be looked at in order to improve this duo would be to put a strong forechecker with them. This could augment the league average numbers these two put up in scoring chances created by forechecking, and as much as Mike Babcock loves Zach Hyman, it shouldn't be him.
Last season, per minute, Hyman was 188th in scoring chances off the forecheck, 257th in offensive zone loose puck recoveries, and 291st in defensive plays that strip opponents of the puck in the offensive zone. Hyman works hard, no forward in the NHL engaged in more puck battles in the offensive zone than he did, but he doesn't seem a fit on this line.
It's based on a small sample, but Andreas Johnsson was a loose puck hound in the offensive zone last season, and that could be a stellar fit.