Over the past decade or so as the general public started to understand new metrics such as Corsi, you could go through the list of free agents and pick out a few players who were undervalued by NHL teams. That could be because their point production wasn't great or they had a down season defensively, but because we can see strong underlying numbers, we recognize them as having more value than traditional numbers would indicate.
Routinely, those players would sign bargain deals they'd go on to outperform, which surprised anyone who wasn't aware of the underlying stats. While there's still some room for that, possession numbers like Corsi are more or less accepted in NHL circles now, and while players are paid for far more than shot attempts, it's a factor that isn't overlooked nearly as often anymore.
Nowadays, when I'm trying to find players who could be a bargain off the list of unrestricted free agents, I'm looking at specific utility that specific teams could use. One player for the same salary could be just okay on one team and a key player who changes everything on another. It all depends on where their strengths lie.
So with that in mind, I think this year it would be more interesting to take a look at some players who have specific strengths that could lead to them vastly outperforming their new contracts, depending on who signs them.
[snippet ID=3322139]
Attack off the rush
For any team that had trouble generating chances off the rush last season, and may need some help down the middle, there's a free agent out there who can solve a lot of your problems without costing a ton of money.
In an ideal world for the Winnipeg Jets, they would have brought Hayes back into the fold next season, but their salary cap situation is about to get extremely difficult to navigate with a series of high profile restricted free agents. So that was a pipe dream even if Hayes did want to stay. In order to recoup some value, the Jets managed to trade Hayes' rights to Philadelphia for a fifth-round pick on Monday.
That puts Hayes on the market, and while his profile was raised significantly last season with a career-high 55 points, it seems a lot of people around the NHL still aren't sure if he's a second- or third line-centre. That should make him a little more affordable than a productive centre usually is around this time of year.
Hayes has many positive attributes, but his biggest stand out impact is an ability to attack off the rush. The NHL game is getting faster and Hayes is among the NHL's best rush attackers.
He ranks within the top-30 in the NHL in scoring chances off the rush as an individual, top-50 in completed passes off the rush, top-30 in controlled entries, and top-20 in entries that result in his team getting a scoring chance.
The Jets ended up losing their first-round matchup against the Blues, but with how Winnipeg played this season that shouldn't have been a surprise. What wasn't expected was that the Jets played their best six-game stretch of 2019 in that series, and a big reason for that was Hayes giving them the capability to attack off the rush with multiple lines, which was an area of weakness for the Jets and a vulnerability for the Blues.
Hayes isn't a cure-all for a team that can't generate anything off the rush, but he would be an excellent addition for any team looking to augment that area.
Get to the net front
For a long time the net front king of the NHL was Wayne Simmonds, but age and injuries have slowed him down enough that he's a bit of a liability and only really moves the needle on the power play. Simmonds could still help someone, even though he was a bit of a bust in Nashville, but teams looking to score more goals from in tight should look in another direction first.
When John Tavares left for Toronto, I wondered if Lee could maintain the torrid scoring pace that he managed the previous two seasons. He couldn't quite hit 30 for a third straight season, but he scored 28 despite a dip in shooting percentage.
Lee dominates the area right outside the crease, especially on the power play. He's a top-30 forward in high danger scoring chances and deflected shots at 5-on-5, but on the power play he flexes his muscles to an absurd degree.
Lee produces the second-most goals from the inner slot area on the power play in the NHL, the second-most shots, and the second-most deflected shots. He's a monster who makes a power play far more effective and consistently cashes in.
The only NHL player who produced more from the front of the net last year than Lee? John Tavares.
Any team that needs a bit of punch on the power play or needs help generating more shots from in tight overall should be hotly pursuing Lee. He probably won't score 40 ever again, but even 25 from an area your team struggles to score from is going to make a huge difference.
Transition the puck
For teams that need help getting the puck going in the right direction, there are a few great options out there in free agency. For example, the best transition player in the NHL is available in Artemi Panarin, but if your team isn't ocean-adjacent and doesn't have seven digits in cap space to burn, you'll have to look at options for the middle of your lineup.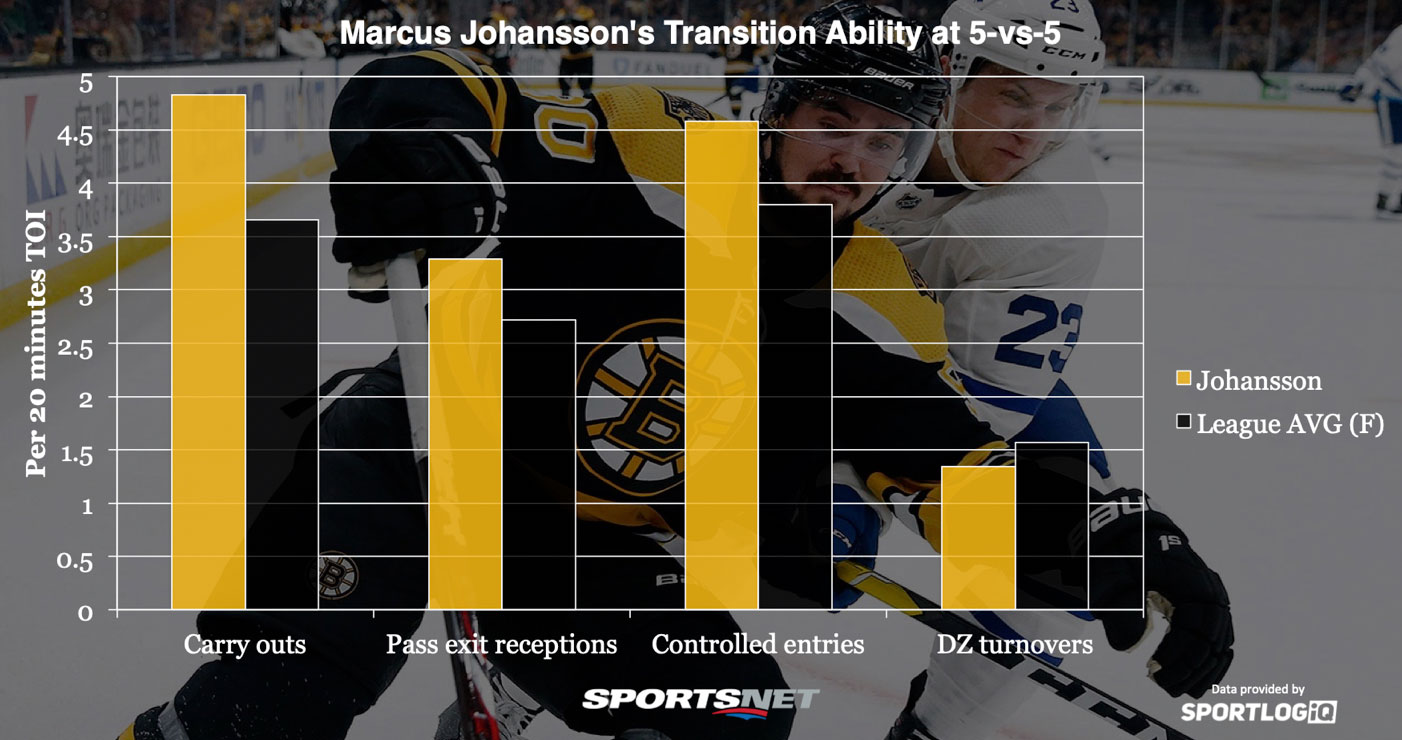 Currently helping the Boston Bruins in the Stanley Cup Final, Marcus Johansson is finally healthy for what seems like the first time in ages, and he's been excellent as a complementary player.
On the outside edge of his prime years after loads of injuries, you probably can't expect 20 or more goals and 50 points from Johansson anymore, but middle-six production in the range of 30-40 points looks very feasible for him. Along with the strong power play work he does, he's a facilitator for linemates to create offence by moving the puck up the ice.
Johansson is a top line forward in carry outs from the defensive zone, and when he isn't controlling the puck he's an excellent outlet option for his teammates. Combine his frequency of moving the puck out of the zone with his low turnover rate in the defensive zone, and you have a safe and effective transition player who produces offence at a pretty good clip.
There's almost no team in the NHL that couldn't benefit from his play.
Pass through coverage
Looking to find some playmaking ability low in the lineup for cheap? Perhaps from a player known for his defensive prowess? Look no further.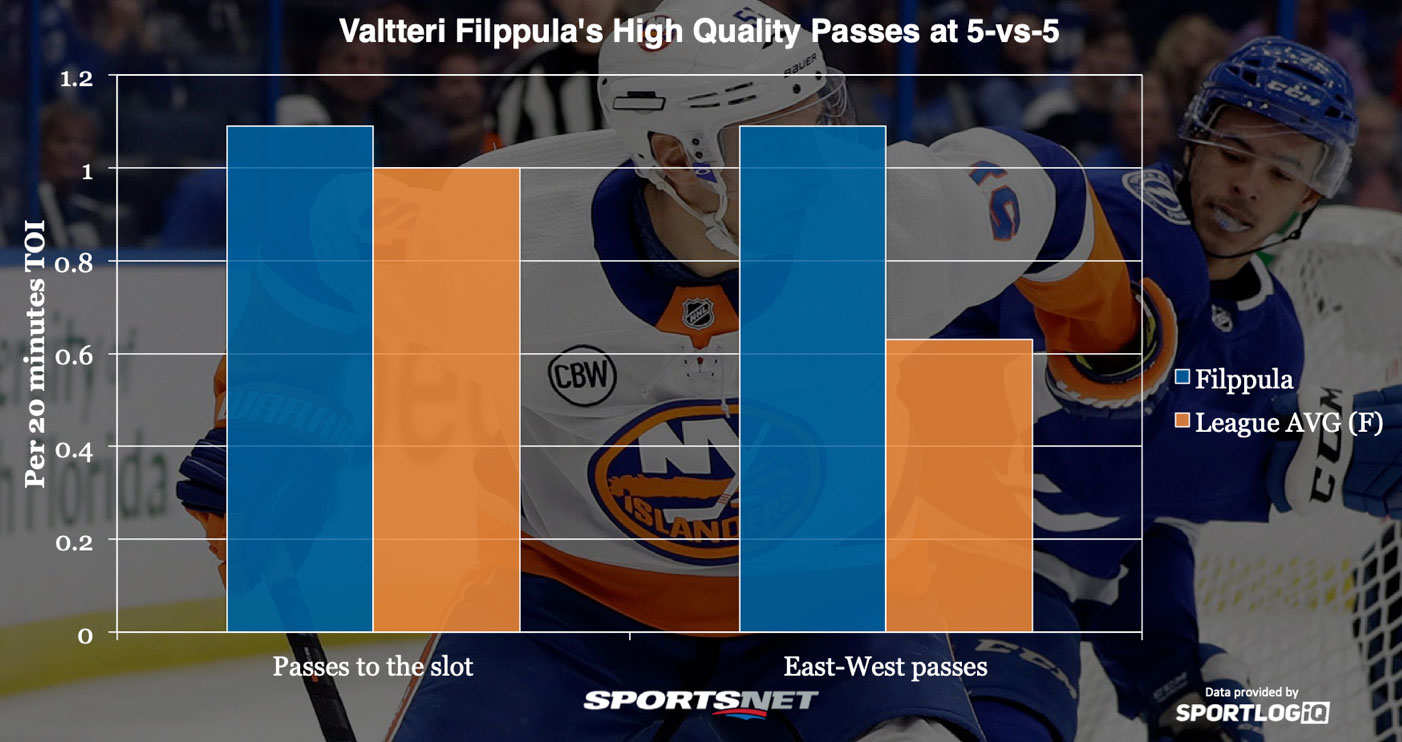 When the Islanders signed Valtteri Filppula last summer, you can count me among the people who were highly suspect of the move. Filppula had been injury prone and bad for several seasons, struggling for the most part since leaving the Red Wings, but he had a revelation of a season with the Islanders.
Healthy for once, and playing a role that suited him, Filppula was a strong third line centre for the Islanders. He didn't produce many points (31), but his underlying numbers were solid.
At 35 years old Filppula is older and slower than almost all of the big names on the market this summer, so he likely won't be commanding much in terms of salary or term.
A team that wants to add a bit of playmaking punch to the bottom of their lineup for the short term as young prospects develop could do a lot worse than Filppula, who might be in for an above average playmaking season in 2019-20 so long as he can stay healthy again.
[relatedlinks]