DENVER — More leadership for the Colorado Avalanche? Check. Added toughness? A big check _ especially in regard to the hard-hitting variety.
General manager Joe Sakic wanted to bulk up his team in experience and tenacity on the opening day of free agency. That's why he targeted big-hitting defenceman Francois Beauchemin and versatile forward Blake Comeau, who each signed three-year deals with Colorado on Wednesday.
"They don't want to come here to just play hockey. They expect to win. That's important," Sakic said in a conference call. "It's all about expectations and the compete level. They're going to be very valuable not only in our dressing room but really valuable on the ice."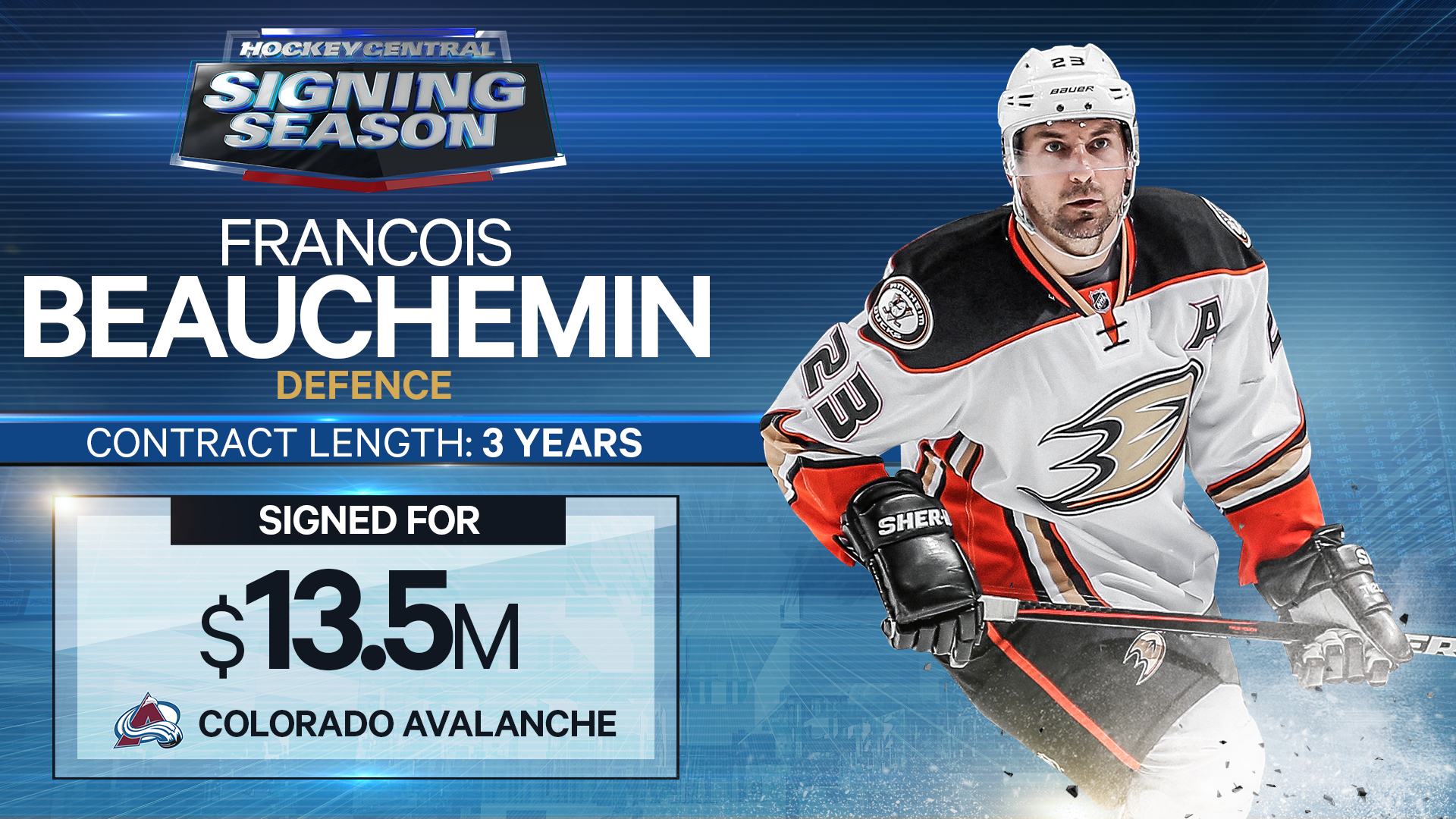 It was a difficult decision for Beauchemin to leave Anaheim, a place where he spent 8 1/2 of the last 10 seasons. But he wanted a three-year deal and the Ducks just weren't willing to meet those demands. So he signed with Sakic and will now be an integral part of coach Patrick Roy's plans to get the team back to the post-season.
"I know how great (Sakic and Roy) are," Beauchemin said. "You look at the Avalanche organization the last few years, they've been able to take steps forward to bringing a championship team back. I was really excited to see them want me with this club."
Sakic and Roy spent the last week retooling this roster. They weren't about to sit idly by after a sour season on the heels of such a sensational one in 2013-14 when they tied a franchise record with 52 wins. They picked up 29-year-old forward Carl Soderberg from Boston in exchange for a draft pick and signed him to a five-year contract.
Then, Sakic acquired defenceman Nikita Zadorov as part of the deal that sent Ryan O'Reilly to Buffalo.
All in an effort to try to keep up with the other teams — more specifically, the Stanley Cup champion Chicago Blackhawks — in the ultra-competitive Western Conference.
"We wanted to address size and our depth on our team, be tough to play against," Sakic said. "We feel we've done that."
Beauchemin will play alongside Erik Johnson on the blue line and be expected to log a lot of minutes. The 35-year-old Beauchemin averaged a team-best 22 minutes, 44 seconds of ice time per game for Anaheim last season. He also ranked second among Ducks defencemen with a career-high 11 goals.
He also brings post-season experience, having played in all 16 playoff games for the Ducks in 2014-15 and averaging 25:24 of ice time.
"We knew he was a good fit for us," Sakic said. "Excited we could work something out."
The 29-year-old Comeau scored 16 goals for the Pittsburgh Penguins last season, including five game-winners. And when describing Comeau, Sakic used phrases such as "skates hard" and is "good on the penalty kill." He also added that Comeau is a real "puck-possession guy."
In other words, he's a lot like O'Reilly, the player Colorado struggled to sign to a long-term deal and ultimately sent to Buffalo.
"Blake protects the puck, a super leader in the dressing room," Sakic said. "You can't have enough (leadership). And both of these bring that. They're leaders on their team. They're examples on the ice. They're veterans who come to work every day. They both bring that toughness we were looking for."
Sakic said he has no plans to bring back some of his own free agents like Jan Hejda, Ryan Wilson and Daniel Briere. He added the team's work was largely done after getting deals done with Beauchemin and Comeau — at least for now, anyway.
Beauchemin can't wait to start sending passes to speedy forwards such as Nathan MacKinnon and Matt Duchene, not having to stop them like he did with the Ducks.
"This is a hard team to play against, especially the last couple of years," Beauchemin said. "They're a fast-skating team and have a lot of scoring touch up front.
"Making that breakout pass to get out of our zone? That's been my game for 10 years and I'm going to keep doing that."
July 1, 2015
---
SIGNED BY
Colorado Avalanche
CONTRACT TYPE
Free Agency
SALARY CAP HIT
$4.5 million