It recently came to light that Nail Yakupov's agent requested a trade around the deadline, which has spurred a lot of conversation about who this looks poorly on, and whether Yakupov has failed to live up to the hype of being the first overall pick in the 2012 NHL Draft.
Yakupov's numbers pale in comparison to other Oilers first overall picks such as Taylor Hall, Ryan Nugent-Hopkins, and Connor McDavid, while Leon Draisaitl, the third overall pick in 2014, has already made a more significant impact than Yakupov.
It would be fair to say Yakupov has fallen behind his Oilers peers, with the big problem being consistency in defensive play. Of forwards with 1,000 or more minutes of ice time over the past four seasons, Yakupov ranks 389th of 424 NHL players in even strength goal differential relative to his teammates. This is largely due to the fact the Oilers give up an extra 0.73 goals against per 60 minutes when he's on the ice versus when he's off, which is the fifth-worst mark among forwards in the league.
But Yakupov isn't the only talented player with poor defensive numbers. Jamie Benn ranks eighth-last, Evander Kane ranks 10th-last, and Matt Duchene ranks 12th-last. The difference with those players is they're put in a position where they can produce enough offence to counteract their defensive issues, but that hasn't been the case for Yakupov, who does possess offensive talent.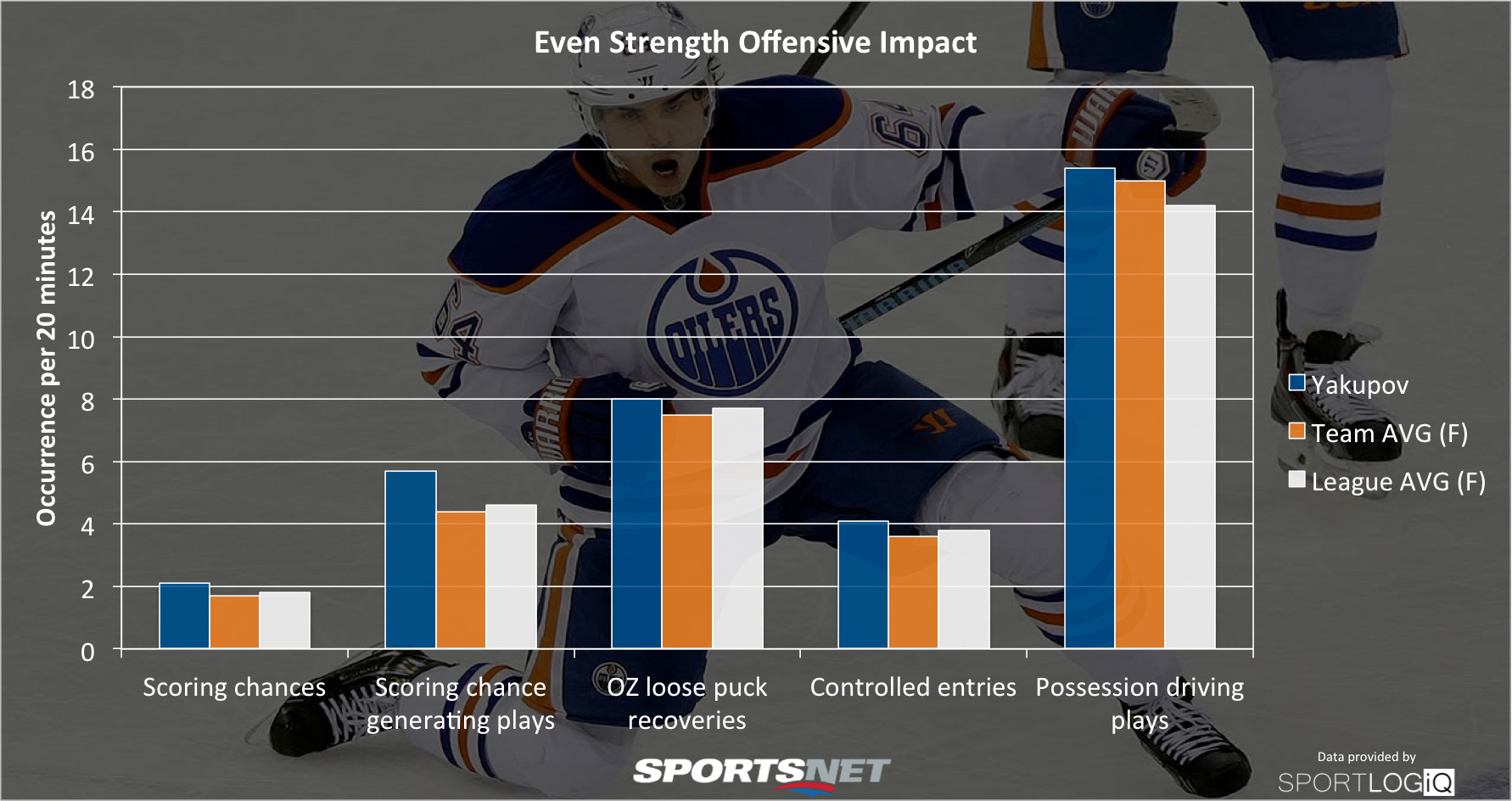 Yakupov is an above average offensive contributor in most areas, though his passing could use some work. Being safely above team and league average in individual scoring chances, scoring chance creation, forechecking, entering the zone with control, and driving play up the ice, makes Yakupov a de facto second line forward — at least on the offensive side of the puck.
Considering he was a first overall pick, he wasn't drafted to be a one-dimensional second line forward. But 2012 was a notably weak draft class, so comparing him to his peers might make a bit more sense than comparing him to the likes of Hall or McDavid.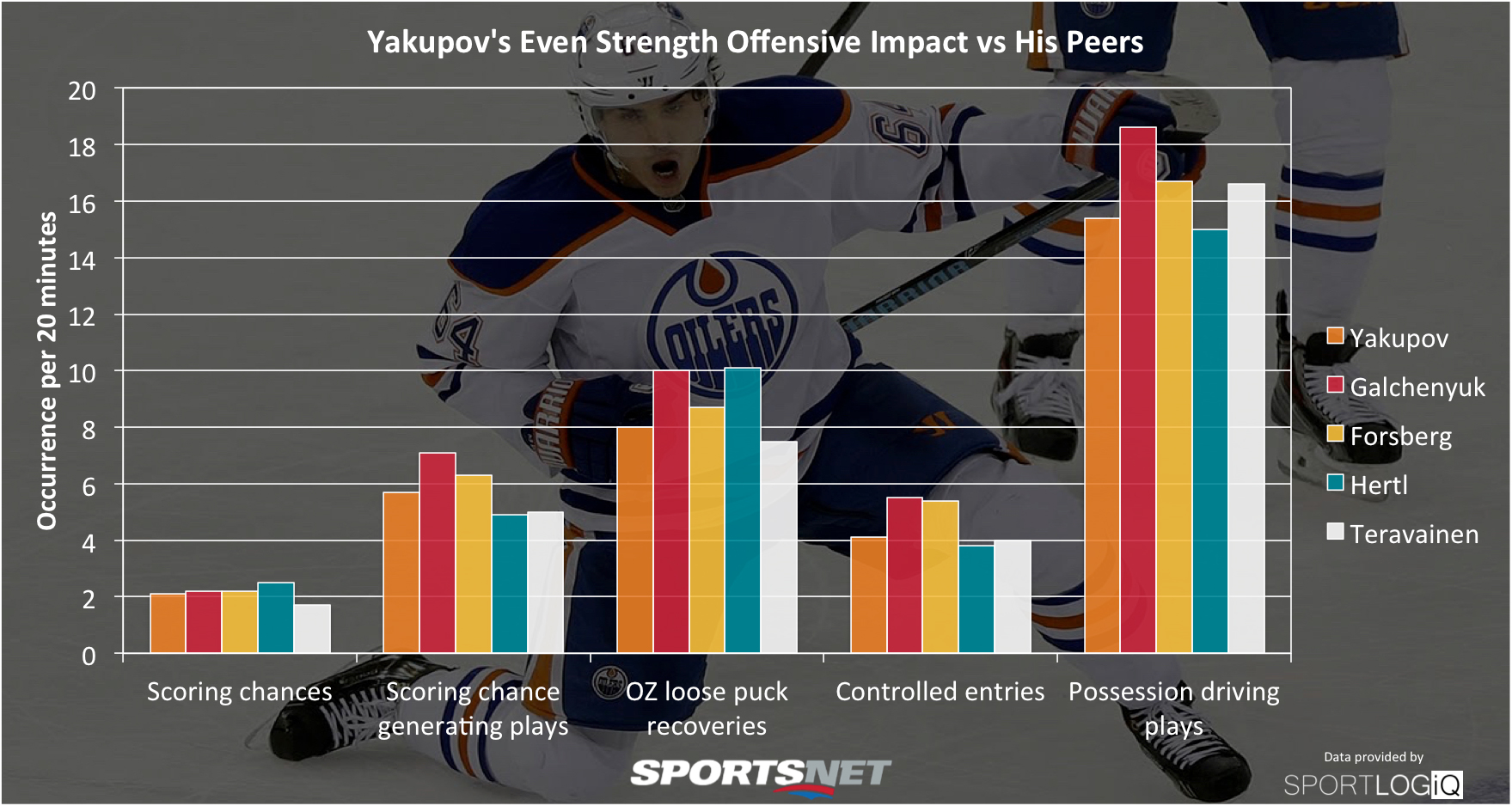 While it's true that Yakupov is very clearly not the best player of his draft class based on this season's data, we already knew that at the start of the year, so what we should really be looking at is how close he is to the pack. None of the other players are considered to be "bad."
Alex Galchenyuk and Filip Forsberg are clearly the class of the draft in terms of forwards, with Galchenyuk holding the edge overall. Yakupov, however, fits pretty well into that second group with Tomas Hertl and Teuvo Teravainen, excellent secondary line players with specific skillsets.
Both Hertl and Teravainen have had the advantage of breaking into the NHL on strong teams with veteran leadership, something Yakupov has not had at all. Edmonton made a miscalculation taking Yakupov first overall, but that doesn't mean he isn't a useful player.
So how can Yakupov help a team? In order for him to be at his best, he has to be the worst player on his line, meaning he needs to play with two legitimate top-six forwards, preferably one who are strong on defence. Yakupov could be a third line scorer, but in that role he may end up being a net negative because he'd have fewer opportunities to finish nice plays — his premier talent — and likely struggle more on the defensive side.
Yakupov isn't the game breaker he was expected to be when he was drafted, but he's a more than capable support player who most teams could benefit by acquiring.