Today's the day we officially hit the halfway point of the NHL season. We can no longer say "it's early." Now, it's late. For some teams, probably too late. We've got nine games on the slate tonight, including one all-Canadian matchup. But we'll start our roundup out West…
HNIC Game of the Night: Ducks at Flames
Tonight's top game is a playoff rematch from last year's opening round. It also may be a battle between two teams fighting for one spot in the tight Western race, as the Calgary Flames host the Anaheim Ducks in a Pacific battle with wild card implications.
The Flames recent struggles may have flown under the radar somewhat outside of Calgary, since they've yet to reach the sort of debacle-level depth we've seen in places like Edmonton, Montreal and Ottawa. But the Flames aren't all that far ahead of those teams in the standings, and lately they've been spinning their wheels as the Western playoff contenders slowly pull away from them.
Looking back over the team's last 15 games, it's not hard to spot the pattern. Beginning in December, the Flames would lose three straight, win two, lose three more, win two again, and then drop another three in a row. Even with a handful of loser points sprinkled in, that's not good enough to stay in the race, and it's seen the Flames go from holding down the last wild-card spot to being three points out.
Now we're back in the win phase of that cycle, with a pair of solid performances this week against the Blackhawks and Kings. That's encouraging, but now it's time for the team to break the pattern and keep the win streak going. They haven't been able to do that in a long while.
So what's going wrong? Some of the culprits are obvious. Despite two good games this week, the top line of Sean Monahan, Johnny Gaudreau and Micheal Ferland has largely cooled off after a strong start, and the rest of the lineup hasn't been able to step up and compensate. The special teams have been poor, especially a penalty-kill running south of 80 per cent, and the team doesn't spend enough time playing with a lead.
The Travis Hamonic trade still hasn't paid off. As much as we hate to say it, neither has the Jaromir Jagr signing, with rumours swirling that he could be shut down or even released in the near future. And fans have been grumbling about coach Glen Gulutzan, particularly his continued commitment to rolling four lines even when trailing.
That's a long list, but you could come up with a similar one for most teams. The NHL's mushy middle is a crowded one these days, and the Flames are firmly stuck in it for the second straight year. There are worse places to be, but this isn't what Calgary fans were hoping for heading into the season.
All of which brings us back to the Ducks. They're in that middle, too, although lately they've looked like a team headed for better things. Getting healthy has helped, as a brutal stretch of first-half injuries have mostly cleared up. It's probably too late for Anaheim to make a run at a sixth-straight division title, but escaping the playoff bubble seems like a realistic goal right now. They'd won three straight before dropping Thursday's shootout in Edmonton, so they're headed in the right direction.
The Flames are probably going to have to pass them to make the playoffs, so there should be plenty of urgency with a chance to gain some ground on home ice. Calgary hits the season's midway point with tonight's game, and they'd love to head into the second half with some momentum. To get it, all they'll need to do is manage something they couldn't back in last year's playoffs: Win a game against the Ducks.
[snippet id=3636339]
There's no point overthinking it this week. Matthews vs. Boeser is going to make for must-see TV.
The narrative writes itself. You've got last year's Calder winner against this year's mid-season favourite. Two-thirds of America's top line in international best-on-best competition for the next decade. The big market golden boy who gets wall-to-wall coverage against the West Coast kid who was only discovered last week.
And maybe most interesting of all for Vancouver fans, it's the sure-thing prospect who spent years as the presumptive first overall pick of his draft year against the kid who somehow snuck all the way down to 23rd. That's important, because for the last few years the conventional wisdom when it comes to the Canucks is that they needed a traditional rebuild, which by now is code for "finish dead last and win the lottery."
That makes sense; in today's NHL, bottoming out is supposed to be the only reliable path to a future franchise player like Matthews of Jack Eichel or Connor McDavid. And in a league where elite talent is everything as long as you're not the Golden Knights, those are the players you absolutely have to land if you're going to be ever contend.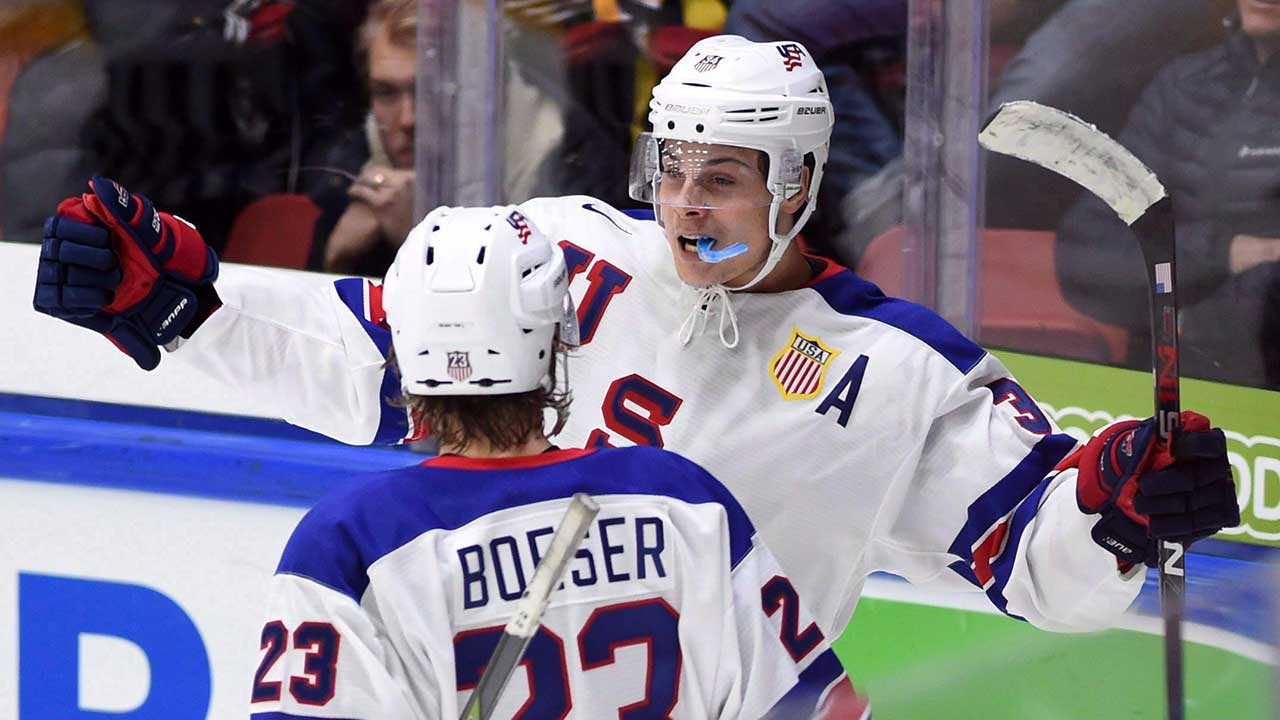 But what if you can find a true difference-maker with a later pick? That changes everything. Now you've got your anchor to build around, and as the Maple Leafs have shown, making the push back towards contender status gets easier, and maybe a lot quicker.
That's not to say the Canucks wouldn't be thrilled to win this year's lottery and pick Rasmus Dahlin. But it's no longer feeling like an imperative. If Boeser is the kind of player who can spend the next decade flirting with Hart Trophy consideration, the Canucks might not be the dreaded stuck-in-the-middle team they've looked like for the last few years. They could already be well on their way to mattering again.
Needless to say, that's a ton of pressure to dump on a 20-year-old kid with basically half an NHL season under his belt. There's still time for Boeser to settle into looking like a mortal who can't carry an entire franchise on his back. But these are exciting times for Canucks fans, if only because the possibility of brighter days ahead at least feels plausibly real right now. And seeing Boeser go head-to-head with Matthews is another opportunity for the rest of the country to catch up on the hype.
[snippet id=3638225]
Player in the spotlight: Ryan Nugent-Hopkins
There are a few reasons to keep an eye on Nugent-Hopkins as the Oilers head to Dallas to take on the Stars. Some are obvious. He's a good player, one of their top forwards, and when he's producing it means that teams can't just focus on shutting down McDavid. When McDavid, Nugent-Hopkins and Leon Draisaitl are all at their best, the Oilers are just about impossible to stop.
Given their record so far this season, it's fair to say that the Oilers have been stopped a few times, so getting everyone going at once has been an issue. But Nugent-Hopkins has been reasonably good; he's currently on pace for 58 points, which would be a career high, narrowly beating out a pair of 56-point seasons he had a few years ago.
That's good news and bad news, since some Oiler fans may have been holding out hope that Nugent-Hopkins would have the sort of breakthrough season where he did more than just take a small step forward. When you're the first overall pick in the draft, expectations tend to be high, and there was a time when Nugent-Hopkins seemed like a guy who could be at least a 70-point player, if not better. These days, it doesn't seem like that will happen. But even if we've seen the peak of his offensive output, he remains a solid two-way player who would fit well on just about any roster in the league.
[snippet ID=3322139]
That makes him attractive trade bait, and you can see where this is going. With the Oilers struggling and questions being asked about whether the team is deep enough on the wing, Nugent-Hopkins' name has come up in the rumour mill yet again. Some of that was inevitable – once Taylor Hall and Jordan Eberle were sent packing from the old guard, Nugent-Hopkins was next up, and with a $6 million salary through 2021 he's part of a salary cap squeeze.
So it was hardly a surprise when trade winds started to blow earlier in the season. The Oilers' recent slump certainly hasn't helped quell any of those rumours of pending changes. Lately, there's even been some speculation about a Nugent-Hopkins/Max Pacioretty swap, which would make at least some degree of sense for both Edmonton and Montreal. (The two teams hooked up on a much smaller deal on Thursday.) If that's not the right fit, some sort of move involving Nugent-Hopkins heading out and a winger or two coming in seems about right.
Or maybe nothing happens; it wouldn't be the first time we fired up the trade speculation only to see nothing come of it. But Peter Chiarelli isn't a guy who's afraid to shake things up, and the Oilers sure seem like they could use a jolt these days. So tonight, feel free to watch Nugent-Hopkins with your scouting hat on, and update your trade value rankings based on every shift. The deadline is just seven weeks away, so we might as well all get a few reps in.
Key subplot: Revisiting summer blockbusters
As expected, the league's holiday trade freeze was lifted last week without any major moves being announced. But we're getting to the time of year when bigger trades start to trickle in. The Seth Jones/Ryan Johansen swap came in early January 2016, while Devan Dubnyk went to the Wild midway through January 2015.
If any GMs are looking for a reminder of the risks and rewards of aggressive trading, todays' schedule offers a pair. In the afternoon, we get the Blues visiting the Flyers for the first time since last summer's Brayden Schenn trade. That deal has been a big part of the Blues' transformation into first-half success story. Schenn didn't come cheap, and the rebuilding Flyers probably don't mind converting him into two first-round picks, but he comes into this one with an impressive 42 points in 43 games, and may be the Blues' most valuable player. So swing away, NHL GMs, because sometimes a deal works out well for both teams.
Sometimes.
The other side of the coin will be on display tonight in Arizona, as Derek Stepan and Antti Raanta welcome their old Rangers teammates for the first time since their own off-season trade. That deal was supposed to signal the Coyotes' shift from perpetual rebuild to playoff contender. Instead, the season has been a disaster. That's not Stepan and Raanta's fault, although both have been merely OK. And it's not like Anthony DeAngelo, who went to New York along with a first-round pick in the deal, has had much impact. But in hindsight, it seems like it was the wrong deal at the wrong time for the Coyotes, and in the short term it didn't gain the Rangers much beyond cap space.
Even when deals don't yield immediate benefits, you have to at least give GMs credit for making big moves – as we all know, plenty of their colleagues aren't even interested in doing that much. But trading is a tricky game these days, and you never quite know how a deal will turn out. We'll get a reminder of that today. Here's hoping we get a chance or two to apply it over the next few weeks.
[relatedlinks]
From the archives
Since we've settled into a trading theme this week, here's a trivia question: How many deals can you name that saw a player traded for three first-round picks?
The list isn't a long one. Most people will come up with one obvious answer, which is Wayne Gretzky. That deal had other parts heading both ways, of course, but Gretzky was the centrepiece. But what about a more straightforward deal? Has any player ever been traded straight up for a team's next three first-round picks?
Yes, as it turns out, and tonight's meeting between the Bruins and Hurricanes gives us a chance to remember it. But it's probably not exactly the player you might expect.
Would you believe… Glen Wesley?
We have to go back to 1994, when the Hurricanes were still the Whalers. On Aug. 26, the Bruins sent Wesley to the Whalers in exchange for first-round picks in 1995, 1996 and 1997. It was a rare blockbuster between the two division rivals, and at first it was a head-scratcher.
[snippet id=3638287]
Wesely was a perfectly good player back then. He was only 25, and already had over 500 NHL games under his belt, many of them played alongside Ray Bourque. He'd nearly been a Calder finalist back in 1988, finishing fourth in voting, and he was coming off a career-best 58 points. He was exactly the sort of player most teams would have loved to add.
But for three firsts? Wesley had never been an all-star, or even received so much as a single Norris vote. The narrative at the time was that the Whalers' new owner had pressured their rookie GM into adding any vaguely recognizable name he could find in order to make a statement. The Whalers had overpaid badly, the conventional wisdom went, and it was only reinforced when all three picks ended up being in the top 10.
That rookie GM was a guy named Jim Rutherford, and that might be your first clue that this story doesn't end quite the way you might expect. The Bruins used those three picks on Kyle McLaren, Johnathan Aitken and Sergei Samsonov. McLaren was OK, while Aitken was a bust. Samsonov was a different story; he won the Calder in 1998 and had seven decent years in Boston, then was traded to Edmonton for the pick that turned into Milan Lucic.
But as for Wesley, he went on to play 13 more NHL seasons, all but seven games of which were with the Whalers/Hurricanes franchise. He never did get that all-star spot or Norris vote, but he was part of their Cup-winning team in 2006, and trails only Ron Francis for the franchise lead in games played.
Not bad for a guy many of us weren't sold on way back when. Worth three first-round picks? That's a different question, but the Hurricanes would argue that he was. They may not be wrong. So let's add to that to our list of lessons we can learn about trading for star defencemen: Sometimes they don't even need to be a star to be (maybe) worth the price.
[snippet id=3803149]
Oddly specific prediction
With everyone competing to see who can come up with the most negative take on their lost season, the Senators screw up all our narratives by beating the first-place Lightning in overtime.
Oddly specific prediction record: 1-for-13