If you're the sort of fan who enjoys a good trade rumour, these days it's all about the blue line.
That's not all that unusual – in today's NHL, it always feels like just about everyone needs help on defence. But for a change, we're not just talking about depth pieces or short-term rentals. Instead, it's some of the biggest names in the sport who are rumoured to potentially be available. In Ottawa, there's been talk that Erik Karlsson could move at some point before he hits free agency in 2019. Arizona is facing a similar dilemma with Oliver Ekman-Larsson. And the slumping Penguins are now reported to at least be considering a move involving Kris Letang.
That's not to say that any of those trades will happen, of course. But it's rare to even see names of this magnitude show up in discussions at all. After all, as we're so often told, nobody trades elite defencemen in their prime in this league.
Or do they? It turns out, trades involving top defencemen have been more common than you might think.
So today, let's crack open the history books for a look at some of the times in NHL history that an elite defenceman was traded in his prime. We're looking for guys who were established stars, which we'll define as already having at least one post-season all-star pick or multiple top-five Norris finishes in their career. We also want players who were still relatively young, which we'll say means they were 32 or younger. That rules out guys who were traded later in their career, like Brian Leetch and Ray Bourque, as well as some who blossomed into top-tier stars after they were traded, like Ryan McDonagh and Brent Burns. But it still leaves us with a surprisingly long list of candidates.
[relatedlinks]
Here are 10 times in the last 30 years than an elite defenceman was traded in his prime, and what those deals might teach us about what to expect from today's rumoured moves.
Paul Coffey
The trade: We have plenty of trades to choose from with Coffey, who was traded seven times. We'll go with his first, the 1987 deal that saw the Oilers send him along with Dave Hunter and Wayne Van Dorp to Pittsburgh for Craig Simpson, Dave Hannan, Moe Mantha and prospect Chris Joseph.
The reason: Coffey was a two-time Norris winner at the age of 26 and had been a key part of three Edmonton championships, but by the start of the 1987-88 season he was holding out in a contract dispute. The Oilers made him wait until November as they worked to get a top asset back; they found one in Simpson, a 21-year-old who'd been the second-overall pick two years earlier.
The result: This trade allowed Simpson to become the first player to ever score 50 goals in a season split between two teams. But over time, Coffey had the greater impact, including three 90-point seasons, and he helped the Penguins win their first Stanley Cup.
The lesson: Sometimes, your hand is forced and you just have to bite the bullet and do the best you can. Under the circumstances, the Oilers did OK on this deal.
Rob Blake
The trade: In February 2001, the Kings sent Blake and Steve Reinprecht to Colorado for Adam Deadmarsh, Aaron Miller, a player to be named later and two first-round picks.
The reason: Blake was a pending UFA and wanted big money, so Kings ownership decided to move him even though the team was contending for a playoff spot.
The result: The deal worked out great for the Avs, who won the Cup that year and then re-signed Blake for five more seasons. The Kings didn't get much from the deal – Deadmarsh had his career cut short by injuries and the picks turned into Dave Steckel and Brian Boyle – but did get Blake back for a few years at the end of his career.
The lesson: When a Norris-calibre player becomes available, sometimes going all-in pays off. The Avalanche had already traded for Bourque the year before, so they were firmly in all-or-nothing mode. They ended up with "all", and have a banner to show for it. Remember that when contenders start to hem and haw about the asking price for Karlsson or Ekman-Larsson being too high.
[snippet id=3638287]
Phil Housley
The trade: At the 1990 draft, the Sabres sent Housley, Scott Arniel and Jeff Parker to the Jets in exchange for Dale Hawerchuk. The two teams also swapped first-round picks.
The reason: Hawerchuk was the Jets' franchise player and all-time leading scorer, but he had asked for a trade after feuding with GM Mike Smith. The Jets managed to turn a bad situation into a top blueliner in Housley.
The result: Hawerchuk had five solid years in Buffalo, while Housley lasted just three in Winnipeg. But while the Jets may have lost the deal in terms of the two stars involved, they won the flip of first-round picks, turning theirs into Keith Tkachuk. (Buffalo did OK too, getting Brad May.)
The lesson: It's possible to move a top offensive defenceman for immediate help up front without getting any blueliners back and still come out OK in the deal. Possible, but as we'll see over the rest of this list, relatively rare.
Al MacInnis (and Housley again)
The trade: During the 1994 off-season, the Flames sent MacInnis and a fourth to the Blues for Housley and two seconds.
The reason: MacInnis was a restricted free agent vulnerable to an offer sheet, so the Flames took an opportunity to flip him for a player who at least had comparable career numbers.
The result: Acquiring MacInnis wasn't even the Blues' biggest blue-line move of the day, as they also signed New Jersey's Scott Stevens to an offer sheet. The Devils matched that one, but St. Louis did get MacInnis signed, and he stuck around for a decade.
Meanwhile, Housley lasted just two seasons in Calgary, although he'd return for three more later in his career.
The lesson: We hear a lot about a player's prime, and whether a star might already be on the decline when he hits the trade market; Letang is a good case of that right now. But MacInnis is the counter-example of a guy who was traded after hitting 30 and still had plenty left in the tank (including a Norris Trophy at the age of 35).
Of course, there's an even more extreme example of that…
Chris Chelios
The trade: One year after he'd won his first Norris, the Canadiens sent a 28-year-old Chelios and a second to Chicago for Denis Savard during the 1990 off-season.
The reason: Chelios had been hurt during a disappointing 1989-90 season, while Savard was two years removed from a career-best 131 points and was feuding with Blackhawks coach (and new GM) Mike Keenan. The Canadiens saw the swap as a chance to right a wrong, having famously passed on the Quebec-born Savard with the first-overall pick of the 1980 draft.
The result: Savard lasted three years in Montreal and helped the team win a Stanley Cup in 1993, but didn't come close to his Chicago numbers. Chelios won two more Norris Trophies in nine seasons as a Hawk, then played 10 more in Detroit. (Then he retired, OK? This never happened.)
The lesson: Don't chase past mistakes. Also, don't trade a player in his late-20s before checking to see if they have some sort of zombie DNA that will let them play another two decades.
Dion Phaneuf*
The trade: The Flames sent Phaneuf, Fredrik Sjostrom and Keith Aulie to the Maple Leafs for Matt Stajan, Niklas Hagman, Jamal Mayers and Ian White.
The reason: At the time, the move seemed odd – the 24-year-old Phaneuf's play had dipped somewhat, but the Flames didn't have to move him and the consensus at the time was that the Leafs had won the deal handily. (It's always fun to go back and find forum threads of Flames fans reacting to breaking news of the trade in realtime.)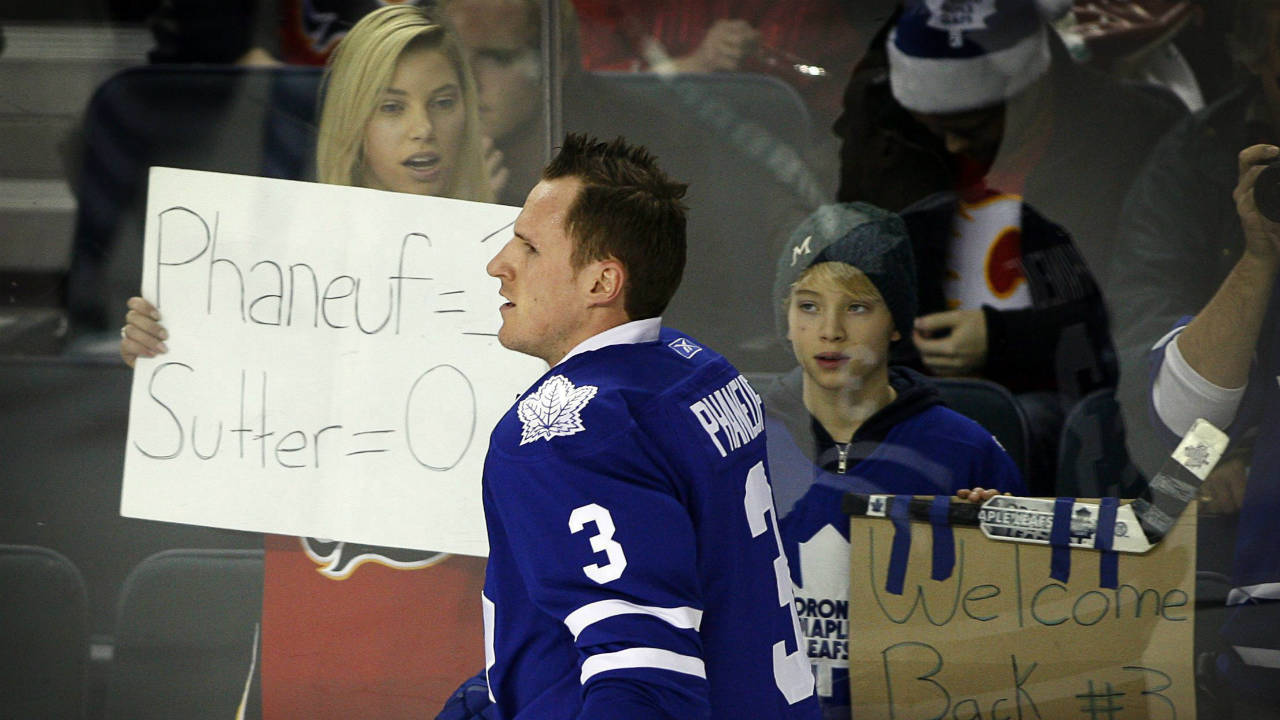 The result: None of the players the Flames got back had a major impact, although Stajan is still there to this day. But while Phaneuf was immediately anointed the next Leafs' saviour (and soon their new captain), he ultimately never lived up to the sky-high hype and big-dollar contract. He's still a useful player, but his Norris-candidate days seem long past.
The lesson: If MacInnis and Chelios teach us that and aging top-tier defencemen can still be productive for a decade or more to come, Phaneuf shows us that sometimes even a guy that's still in his prime may have already peaked. Buyer beware.
*Yeah, I know, but at the time of the trade he was at least a borderline elite defenceman; he was less than two years removed from being a first-team all-star and Norris runner-up at the age of 22.
Scott Stevens
The "trade": We're cheating a bit with this one, since Stevens was technically never traded during his career. But he did switch teams twice thanks to the league's free agency rules, including in 1991 when he was sent from St. Louis to New Jersey in what amounted to a league-mandated one-for-one swap for Brendan Shanahan.
The reason: The Blues had signed Shanahan as a restricted free agent, and under the rules at the time that meant they owed the Devils compensation. They offered a pretty darn good package of youngster Joseph and Rod Brind'Amour. But the Devils asked for Stevens, and an arbitrator agreed.
The result: The Blues were furious and Stevens initially refused to play in New Jersey before eventually relenting and lifting three Stanley Cups there as captain. Both players are in the Hall of Fame.
The lesson: Shanahan went on score nearly 600 more goals over the rest of his NHL career, and yet this transaction is still viewed as a franchise-defining win by the Devils. That serves as a reminder that when a defenceman is truly elite, it's almost impossible to move him and come out even, let alone ahead.
Chris Pronger
The trade: Shanahan was once traded for Pronger too (as well as for Coffey), but that was before Pronger had truly established himself as one of the league's best players. Instead, we'll go with the 2006 deal that sent him from Edmonton to Anaheim in exchange for Joffrey Lupul, Ladislav Smid, two firsts and a second.
The reason: Pronger had demanded a trade; while he never publicly specified his reasons, much of the blame fell on his wife, often in ugly ways. Whatever the story, Pronger's demand came just days after Edmonton had lost Game 7 of the Stanley Cup Final, and the Oilers were backed into a corner.
The result: The Ducks added Pronger to a blue line that already featured Scott Niedermayer and immediately won the Stanley Cup. The Oilers ultimately made out OK – one of the picks became Jordan Eberle, and they're still enjoying some of the benefits of the deal to this day. But by any measure, the Ducks came out well ahead.
The lesson: We'll cut and paste from the Stevens section: When a defenceman is truly elite, it's almost impossible to trade him and come out even. That's especially if your hand is being forced. Which is perhaps a good reason to make your move before things get to that point.
Larry Murphy
The trade: Like Coffey, Murphy is a Hall of Famer who gives us a few deals to choose from. But we'll skip past the 1989 North Stars-Capitals deal that featured three future Hall of Famers, and jump ahead to 1990. That's when the North Stars sent Murphy and Peter Taglianetti to the Penguins for Chris Dahlquist and Jim Johnson.
The reason: This one's a little hard to figure out, even in hindsight. Murphy was off to a slow start and the North Stars weren't good, so they changed the mix while getting cheaper and (slightly) younger by moving him. Hey, it's not like Minnesota was going to the Cup final anytime soon.
The result: Murphy was one of a jaw-dropping five future Hall of Famers that Penguins GM Craig Patrick added to the roster in the span of one year. While the Ron Francis trade that came later is more often remembered, this bit of robbery was almost as important to the two Stanley Cups that would follow. By the way, the first of those came in 1991 against… the North Stars. Oops.
The lesson: If you must trade your star defenceman to a team that's already poised to be the best in the league, at least make them give up something in the process. The rest of the league will thank you.
The trade: P.K. Subban for Shea Weber. You may have heard about it.
The reason: Some of us still aren't sure. But with Subban's no-trade clause days away from kicking in, the Canadiens felt they had to explore the possibility of moving on. When they had a chance to land a three-time Norris finalist in Weber, they jumped at it.
Meanwhile, the Predators were happy to grab a player who was younger, on a better contract, and quite possibly better.
The result: We're still less than two years removed from the trade, so we'll mark this as "to be determined". But so far, it's been advantage Predators, as many predicted at the time.
The lesson: It may be too early to tell, and there will be different perspectives in Nashville compared to Montreal. But many would look at the aftermath of this trade and see it as a reminder that top-tier defencemen in their prime are hard to come by, and you'll want to tread carefully when trading one away – or maybe think twice before talking yourself into moving them at all.