Gordie Howe has an excellent reason for ignoring you, and she is blonde.
She is also pretty, and younger than Mr. Hockey by at least 60 years, so it's understandable that the toughest nut ever to jam his feet into a pair of leather CCMs would elbow you aside to pose for a photo with an attractive fan. Then another.
His brain is fighting dementia, his body is fighting 86 years of hard work, yet Howe is sharp enough to playfully pass you over in favour of beauty.
It's all a ruse, of course. Howe never shunned anyone looking for something so simple as a minute of his time, a word or an autograph.
He totters back, gingerly holds your shoulder and whispers in your ear: "If you don't act stupid, you can't have fun."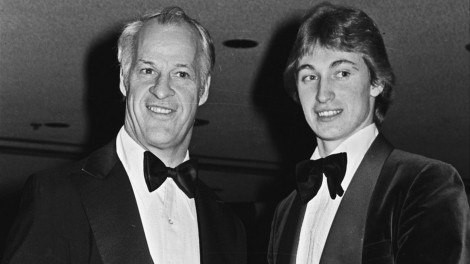 Howe was hockey's greatest ambassador not because he fulfilled every single autograph request and said "cheese" for every camera lens; not because he and his family raised millions of dollars for good causes; and not because he was publicly accessible long after anyone would have blamed him for retiring to live quietly.
No, Gordie Howe was the ideal emissary for the game because whatever function or fundraiser he attended, he created specific, intimate moments with strangers.
The man with the fractured memories would dole out unforgettable moments to anyone within a stick's length. Like his elbows and snapshots, his anecdotes were forever connecting with their target.
[pullquote]"I always know the people who know my father because they never talk about him as a hockey player. The thing they always talk about is how he makes people feel."[/pullquote]
Wayne Gretzky was a shy 10-year-old the night he met his hero. He had just wrapped a minor hockey season in which he scored 378 goals and 517 points in 69 games for the Brantford Nadrofsky Steelers and was set to be recognized on stage at a banquet.
But the MC who was to introduce him at the Lion's Club dinner forgot his responsibility, even though Wayne was right there on the dais, like a deer in headlights.
"So poor Wayne was standing near the microphone, not knowing what to say or do. Oblivious, the MC sat back down," recalls Wayne's father, Walter Gretzky.
Enter Howe, who picked up on the confusion and walked over. He snatched the microphone in his right hand and said, "Anybody that scores 378 goals doesn't have to say a single word. Wayne, just take your seat right here. Thank you, everybody."
Walter, now 78 and more than a bit of a hockey ambassador in his own right, says he'll never forget Howe covering for his son that night.
"When Wayne thought of playing hockey, he thought of one thing—Gordie Howe. That's all there was to it. There were no players other than Gordie Howe. That's why he always wore No. 9. The reason he's got 99 is because when he went to Sault Ste. Marie, someone else already had nine. The coach made a sweater with two nines on it so Wayne could still have a nine on his back for Gordie Howe," Walter says.
[pullquote]"Just talking hockey with Gordie Howe. Doesn't get any better than that." —Wendel Clark[/pullquote]
Pick just about any current or former NHLer younger than Howe and he'll have a similar story about the first time he met Gordie Howe.
Bryan Trottier has seven Stanley Cup rings and a vivid recollection of his initial contact with his fellow Saskatchewan scorer. A stud rookie with the New York Islanders in 1976, Trottier had soaked up hundreds of Howe's Hockey Night in Canada interviews and read every article he could find on the man.
"We all felt we knew Gordie before we met him, but he is even greater when you meet him in person," Trottier says.
At the 1976 NHL Awards, a 19-year-old Trottier not only accepted the Calder Trophy from his hero's hands, he spent the entire evening at a table with Gordie and his wife, Colleen. He felt like the luckiest billet in the world.
"They were so gracious, so kind, but at the same time so genuine," Trottier recalls. "I kinda felt like I was sitting with family. They were like, 'You're sitting with us.' "
A broad smile connects Trottier's cheeks as he reimagines the scene.
"I like that memory," he says. "He made me feel special."
Wendel Clark first met Howe as an NHL rookie playing for the Toronto Maple Leafs. Howe was at the Gardens watching his son Mark play for Philadelphia when he approached the long-haired kid with the mustache playing for the enemy.
"You're very honoured when he comes up and talks to you, being a rookie, only 18 years old. That's my best memory of Gordie," says Clark. "Just talking hockey with Gordie Howe—doesn't get any better than that."
[pullquote]"If you don't act stupid, you can't have fun." —Gordie Howe[/pullquote]
After beloved Maple Leafs goaltender Curtis Joseph made the unpopular skate west along Highway 401 to join the rival Detroit Red Wings in the fall of 2002, he got off to a rocky start.
"Going there was a huge adjustment, maybe because I'm from [Toronto] and was so emotionally invested in the Leafs," recalls Joseph.
"I wasn't playing very well, and Gordie tapped me on the shoulder. He said, 'You know, when I went from Detroit to [Houston], that first year I was a fish out of water.'
"It was nice to hear that from him, because you change teams and you hope it goes well, but sometimes it doesn't. That was his way of trying to make me feel comfortable."
[relatedlinks]
Over the years Howe promoted the game around the world and used his fame to raise money for causes ranging from Alzheimer's research to youth hockey to underprivileged children.
After an unusual form of dementia called Pick's disease robbed Howe of his soulmate, Colleen, he threw his support behind the Scotiabank Baycrest Pro-Am, an annual hockey tournament that pairs weekend warriors with star NHL alumni to raise money for Baycrest Health Sciences, an academic and care centre in Toronto that focuses on aging.
Since its inception, the tourney has raised more than $27 million. Denis Savard, Paul Coffey and Doug Gilmour are just a few of the all-stars who have skated for the cause, improving care for those stricken with Alzheimer's and helping investigate concussion prevention.
"The event is a prime example of what he does as an ambassador," says Savard, who counts himself fortunate to have played one NHL game against Howe in 1980.
"He's done a lot of great things on the ice, sure, but we know he's done some tremendous things off the ice, too."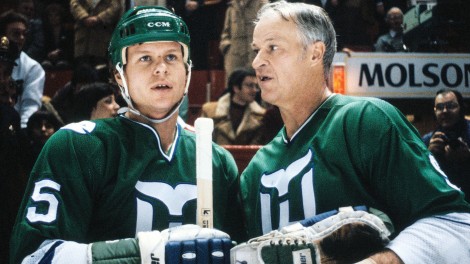 For all the praise he received, there wasn't a trace of the braggart in Howe, who spoke in soft tones and allowed his actions to do the shouting. He deflected compliments even better than shots from the point, and established the default hockey-player post-game interview stance by always spreading his wealth of glory to his teammates.
"That's the genuine side of Gordie," Trottier says. "How he treats kids and young hockey players and the respect he showed to referees when he played. If he got a penalty, he went right to the box. Didn't argue. That's huge to me. That's an ambassador for hockey."
In 2007, a 12-foot, 4,500-pound bronze statue of Mr. Hockey was placed in Joe Louis Arena. Another one, left elbow angled at an imaginary chin, was erected in Saskatoon.
In 2011, various groups rallied to have the New International Trade Crossing bridge that links Detroit to Canada named after Howe, but one could argue that the Ambassador Bridge already is.
In death, as in life, Gordie links.
Rabid fans to otherworldly players. Sharpie to hockey card. Competition to class. Money to cause. Fathers to sons to grandfathers.
"I always know the people who know my father because they never talk about him as a hockey player," says Gordie's son and former teammate, Mark. "The thing they always talk about is how he makes people feel."
At one of his final charity pro-am tournaments, Gordie Howe silently strode into a half-full arena bar overlooking ice pads full of amateur hacks enjoying the game.
Someone looked up from his hamburger and noticed him. Another did the same.
The clapping started slowly and swelled rapidly.
As Gordie passed through, a group of 30-some strangers instinctively rose up and gave him a spontaneous standing ovation.
Gordie didn't have to say a word. He just gave a little wave and walked out the other side and down the stairs.