What an honour. For the bridge, we mean.
The new, yet-to-be-built bridge linking Detroit and Windsor will be named after hockey icon Gordie Howe.
Prime Minister Stephen Harper and Governor Rick Snyder made the announcement in Windsor Thursday afternoon alongside three of Howe's children.
The Gordie Howe International Bridge, a project that cost $2.1 billion, will be the second bridge in the area linking Canada to the U.S. and is expected to be operational in 2020.
Fitting that Mr. Hockey, whose storied career reached its greatest heights with the Red Wings and is beloved in his home country of Canada, receives the honour. Howe has been undergoing treatment after suffering a significant stroke.
"I don't think you can think of a better person that symbolizes the [U.S.-Canada] relationship," Harper said. "It's great we're able to honour a living legend."
Back in 2011, Gordie's son, Marty Howe, told the Windsor Star that he wanted the bridge named after his father.
"It would be a nice honour to have the new bridge named after Gordie as he was born in Canada," Marty wrote in an e-mail to the newspaper.
"He crossed the bridge on his way to Detroit to start his long lasting hockey career."
According to the Detroit Free Press, the idea to name the bridge after Howe, now 87, came from an Ontario Trucking Association official, who suggested it at a hearing in Lansing, Mich., in the summer of 2010.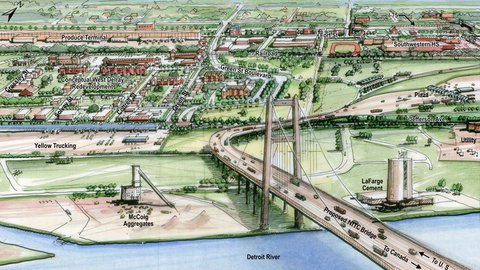 Prior to Thursday's announcement, the bridge was referred to as the New International Trade Crossing.
Howe's son Murray spoke Thursday at the announcement and relayed Gordie's response when he told him he would have a bridge named after him.
"That sounds pretty good to me," Gordie said.
Authorities want to build the bridge to alleviate congestion along the privately owned Ambassador Bridge and Detroit-Windsor Tunnel, which is too tight for tractor-trailers.
Authorities say traffic is impeding trade, but owners of the Ambassador Bridge say adding a span to the current bridge is a better option.
"Our mother and father's goal was always to be a bridge between people, and especially a bridge between the people of the United States and Canada," Murray Howe said. "This bridge will stand as a beautiful symbol of their efforts."
(image via Detroit Free Press, with files from CP)