A goal, an assist and a fight.
It is hockey's hitting for the cycle, its triple-double but with quadruple-double frequency. An individual Triple Crown all crammed into a single game, typically achieved by horselike men.
The irony of the Gordie Howe hat trick — fondly named after the most complete player the game has known — is that the man himself seldom registered them.
"Yeah, he's only had a couple of them. I don't know who called it that," Gordie's son, Marty, once told me. "The Gordie Howe hat trick should really be a goal, an assist and a cross-check to the face. That might be more accurate."
The goals (801) and assists (1,049) weren't an issue for Howe. Problem was, no one wanted to fight a man who, they say, never turtled but was built like one: hard on the outside, soft on the inside.
"I don't think anybody in his right mind would want to take him on," Bob Cole told Hockey Central, hours after Howe's death Friday.
"Gordie Howe hat trick? Ha," Glenn Hall told NHL.com's Dave Stubbs. "Gordie just kicked the [crap] outta the tough guys and then he didn't have to fight."
"He's a man of means and action, not a man of words," Marty Howe said. The threat of what he might do meant he didn't have to do it. "He's always been that way, brought us up that way. My mom did all of disciplining, so he didn't have to do that. He just took us fishing."
The Gordie is a glorious, memorable rite of passage for any self-respecting hockey player.
"As a player growing up in Saskatchewan, you were always more proud to have a Gordie Howe hat trick than a regular one," Wendel Clark said.
Wayne Gretzky had one. So did Sidney Crosby and Claude Giroux. Eric Lindros had six. Eight for Bobby Orr.
Connor McDavid broke his hand getting one in his draft year, sparking weeks of debate yet endearing the skillsy star to old-school thinkers and teammates.
Chris Neil perfectly celebrated his 900th career game with one in the fall. Brent Burns registered the NHL's most recent Gordie in March.
To scan the list of all-time Gordie Howe hat trick leaders—Paul Coffey, Keith Tkachuk, Wendel Clark, Lanny McDonald, Bobby Clarke—is to read the names of hockey players.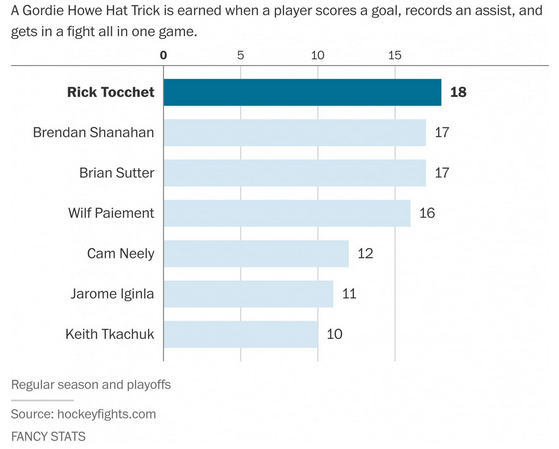 Named after the well-rounded, tough-as-two-day-old-grits Detroit Red Wings and Hartford Whalers legend, the Howe hatty has never been an official NHL stat. (Nor is it an official beer-league stat, but any hump with a jockstrap knows precisely how many he's had.) The Hockey News only began compiling GHHT statistics during the 1996-97 season.
Fittingly enough, that was the rookie campaign of today's active GHHT leader, Jarome Iginla (11).
Talented winger turned Penguins assistant coach Rick Tocchet (1984-2002) is estimated to have recorded 18 Gordies in his career (regular season plus playoffs). On his heels, unofficially, are Brian Sutter and Maple Leafs president Brendan Shanahan, once the league's chief disciplinarian, with 17 apiece.
"I'd never heard of it until I'd had quite a few of them," Shanahan told NHL.com back in 2010. "It didn't get media attention until four or five years ago. They started counting in my 10th year. One list had me at nine and then they went back and counted and found more. No teammate ever mentioned it to me until my last one.
"All of a sudden, someone would print these lists every time Gordie had a birthday. By then, I was too old to get more. Players might be more aware of it now. If you get two of the three, someone might say, 'Hey, all you need is a goal.' I think it happens more if you have a fight and one of those two other things. Nobody ever says, 'Hey, you've got a goal and an assist, go get in a fight.' "
Joe Thornton, Shane Doan, Rick Nash, and Corey Perry are among today's stars with at least three GHHTs in their careers. The goal-assist-fight trifecta has been achieved by the sportsmanlike (Pavel Datsyuk), the gigantic (Zdeno Chara), and the maligned (David Clarkson). Edmonton tough nut Steve Pinizzotto — he of two career NHL goals — registered this unlikely Gordie on Nov. 19, 2014, while making his season debut against his former club, the Vancouver Canucks:
According to the Official Guide to the Players of Hockey Hall of Fame, the first documented Gordie Howe hat trick belongs to Hall of Famer Harry Cameron of the Toronto St. Pats, who put a marker in each of a skater's highlight categories on Dec. 22, 1920, eight years before Howe was born.
As for Mr. Hockey himself, casual fans are often shocked to learn that the namesake has only two recorded Gordie Howe hatties himself. (Which is kind of like finding out later that Lou Gehrig only had symptoms of Lou Gehrig's disease.)
Howe posted his first GHHT on Oct. 11, 1953 when he fought the Toronto Maple Leafs' Fernie Flaman, set up a goal for Red Kelly, and potted one of his own.
The game sheets from the first "Gordie Howe Hat Trick" on October 11, 1953. #9RIP pic.twitter.com/QyYed9HESx

— #StanleyCup Final (@NHL) June 10, 2016
Later that season, on March 21, 1954, Howe repeated the feat, again versus Toronto. Number 9 scored the game's opener, assisted on a pair of Ted Lindsay snipes, and traded knuckles with Ted "Teeder" Kennedy.
That even the man for whom the trick is coined only notched two is telling of the Gordie's rarity.
While best estimates place the all-time GHHT leader with 18, the career mark for run-of-the-mill three-goal hat tricks is 50, set by Gretzky. Fifteen NHL players have scored at least 20 non-Gordie hat tricks; Jaromir Jagr is the active leader with 15.
Even scarcer is the Double Gordie, the albino alligator of NHL statistical phenomena.
Iginla and Adam Henrique each posted a Gordie Howe hat trick on March 9, 2012, fighting each other:
Prior to that one, the symmetrical Double Gordie had only been accomplished once before, making the event even less common than a goaltender scoring a goal. On March 9, 2010, Fedor Tyutin and Ryan Getzlaf fought each other. Tyutin also scored a goal and two assists that game, while Getzlaf notched one of each.
On April 5, 2012, San Jose's Thornton and Ryane Clowe recorded the teammates edition of the Double Gordie, each Shark notching a goal, an assist and a scrap against the rival L.A. Kings.
And the one and only Triple Gordie Howe hat trick occurred on Nov. 14, 1992. In a tilt between the Buffalo Sabres and New York Islanders, Tom Fitzgerald, Wayne Presley and Benoit Hogue each recorded at least one goal, one assist. All three players fought.
Three players checking off all three boxscore squares. Three times three. A fitting tribute to No. 9.