So many stories.
Wayne Gretzky was on Hockey Central at Noon on Friday, where he shared some of his fondest memories of meeting his boyhood hero, the late Gordie Howe.
"Not too many kids get to say their idol became a friend and Gordie and I obviously became good friends," said Gretzky.
Gretzky grew up in Brantford, Ont., a fan of the Detroit Red Wings and their greatest player, Mr. Hockey. The two finally met at a banquet when Gretzky was a pre-teen, resulting in a classic photo of Howe giving Gretzky a good bit of stick work.
"I was so scared," Gretzky recalled of his first face-to-face with Howe. "Let me tell you, I was so nervous standing there beside him thinking, 'Oh my goodness.'
"And ironically, I don't think I've ever told the story, it was sort of Gordie that orchestrated the picture and he was the one that said, 'OK kid stand here, I'm going to do this and (you) just look at the camera.'
"If he would have told me to jump in the pool with my suit on I probably would have done that. I was pretty enamoured by him but, oh my goodness, it seems like that picture was taken yesterday. I got to re-enact the picture I think in 1989."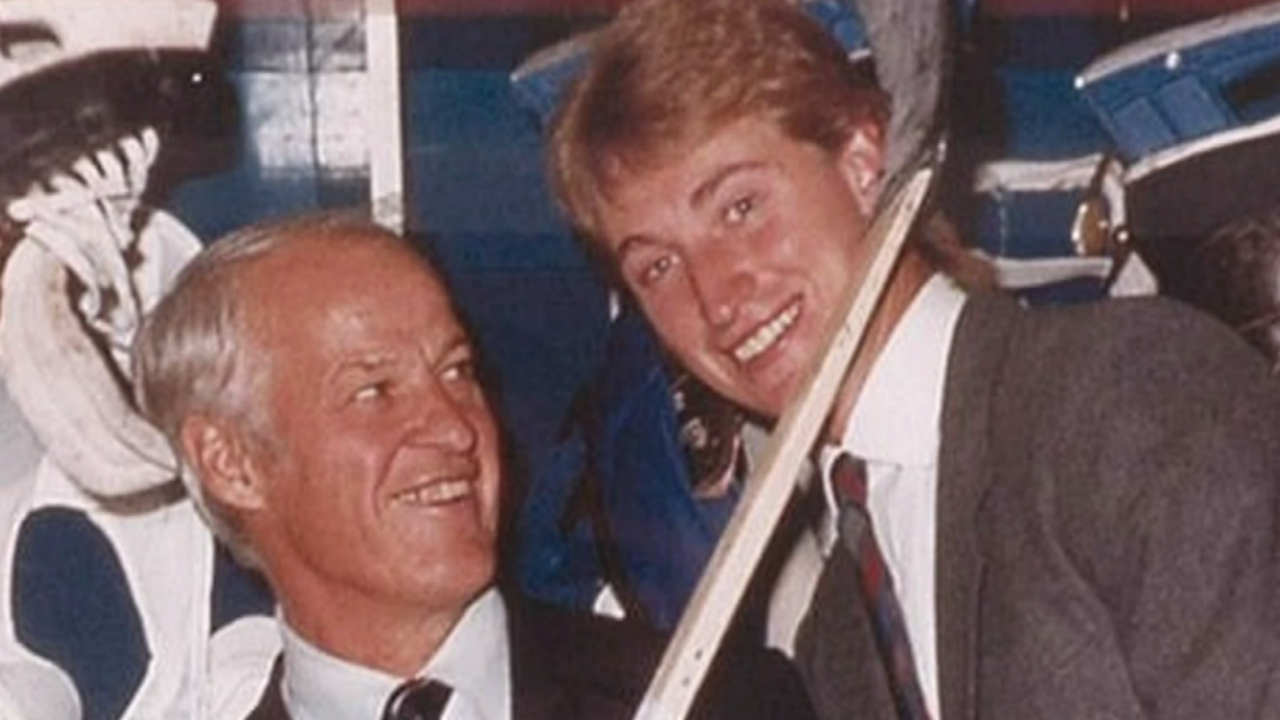 The two connected again at a charity dinner in Kitchener, Ont., the summer after Gretzky had signed his first professional contract. It was there where Howe gave Gretzky a little bit of wisdom on how to be a pro.
"We did the dinner and Gordie and I chatted, and the only thing he told me that night was, 'Now that you're signed you gotta work that much harder,'" said Gretzky. "And as we were pulling out, my dad had this old car and it wouldn't start, and Gordie came walking out and said, 'Kid, the first thing you do when you turn pro is you gotta buy your mom and dad a new car.' So the next day I went and I bought my dad a car."
Howe travelled with Gretzky and his Los Angeles Kings as it became clear that No. 99 was going to break Howe's all-time scoring record. Gretzky wasn't totally comfortable with the thought of passing Howe, given the significantly different eras the two played in. It helped that Howe was rooting for him.
"I remember my dad saying, 'You know you're a good person when you genuinely cheer for the other guy,'" Gretzky recalled. "And my dad said to me, 'Gordie Howe is genuinely cheering for you.'
"Those are sort of the special things that I'll always remember."
The Great One and Mr. Hockey did briefly cross paths on the ice as members of the World Hockey Association. It was there where Gretzky received his own first-hand experience of Howe's trademark on-ice nastiness.
"My first game I played against him I was so excited, I was playing for the Indianapolis Racers and he was playing on the New England Whalers," said Gretzky. "And he was winking at me the whole warmup. The first couple of shifts I remember I stole the puck from him and I was so excited I was skating the other way and all of a sudden this big stick just came smashing down on my thumb.
"I thought I broke my thumb and he took the puck from me and he said, 'Kid, don't ever take the puck from me again.' I said well, 'That's never gonna happen again.'"
Gary Smith was a goalie for the Racers back then, and Gretzky asked the veteran about the incident.
"I said, 'Smitty, I don't understand what just happened … he winked at me the whole warmup.'
"He said, 'Wayne, he's not winking, he has a blinking problem.'"