When he was running the Detroit Red Wings, Ken Holland used to kid about how having the best defenceman in the game — Nicklas Lidstrom — helped make him a smart general manager. It was one of the jokes that was really only funny because it was true.
So, with his first draft pick as the general manager of the Edmonton Oilers, Holland went back to his old strike out pitch, choosing Swedish defenceman Philip Broberg with the eighth overall pick in the 2019 National Hockey League Draft.
"If you're going to have a good team in the National Hockey League, you have to have a good defence," Holland said after Day 1 of the draft was complete. "Teams that go for long playoff runs have a good defence, big defence, deep defence."
Broberg, like all young Swedish defencemen, spoke of Lidstrom in hushed tones.
"(Lidstrom) is a legend. The perfect human," Broberg said. "He had 20 good years and in my mind was the best defenceman ever."
Jeff Marek and Elliotte Friedman talk to a lot of people around the hockey world, and then they tell listeners all about what they've heard and what they think about it.
With forwards Trevor Zegras, Cole Caufield, Vasili Podkolzin and Matthew Boldy all still on the board, the Oilers opted for the left-shot, 6-foot-3 Swede, a player believed to be the best skating defenceman in the 2019 draft class.
Why another defenceman (Edmonton took Evan Bouchard at No. 10 last year) and not a scoring winger for Connor McDavid and Ryan Nugent-Hopkins to work with?
"I'm certainly aware that we need forwards, but we need a good defence," said Holland. "I think back to our team in '08 when we won the Cup (in Detroit). We had Lidstrom, we had (Brian) Rafalski, we had (Niklas) Kronwall, we had (Brad) Stuart. A really top notch Top 4.
"All mobile, they could skate, handle the puck, get back, pivot and get the puck snapped back up into our forwards' hands."
We saw Broberg at the Hlinka-Gretzky tournament in Edmonton last summer. To watch him stop behind his goal, then take six or eight strides while transporting the puck — a gait that was smoother than silk — was literally jaw dropping. He is truly blessed with a stride that is, well, stunning.
"I've been skating with about six different skating coaches throughout the years," Broberg said. "I would come to Canada for four weeks every summer to train my skating. It's the hard work I've put into my skating is probably why I skate so well now."
Will he process the game at the NHL level? Will he be a 40-point defenceman? All are still questions.
"I would say I'm a two-way defender with good skating," Broberg said. "I like to move the puck and skate with it as well. I also want to improve my first pass and be stronger in the corners as well."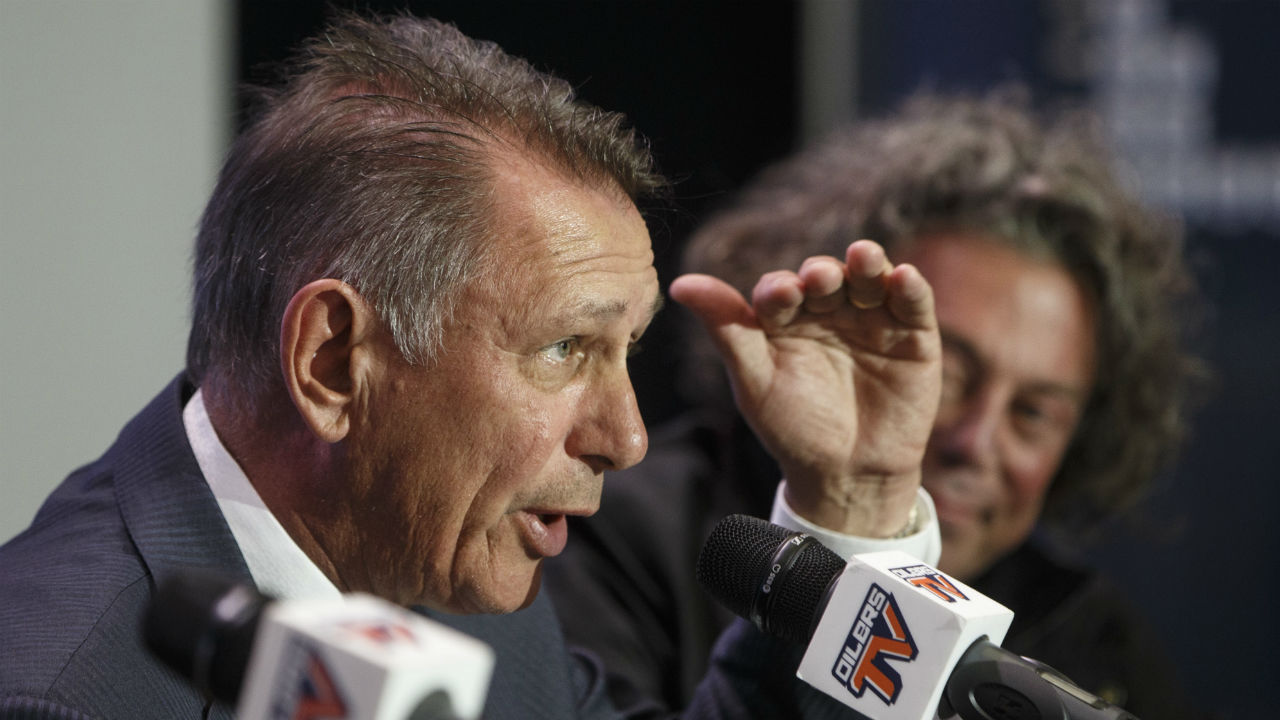 In a league that is all about skating, Broberg's ability to get around the rink is not in question. A stride like Broberg's has taken Jay Bouwmeester through over 1,200 NHL games, and now Broberg — the son of two civil engineers back home Orebro, Sweden — will try his luck in the NHL, eventually. He will play next season either in Skelleftea of the Swedish Elite League, or perhaps more likely in OHL Hamilton, which owns his junior rights.
"I've been waiting for this moment," Broberg said. "I started to get a feeling, but you never know in the draft. I'm so honoured right now to be an Oiler."
The Oilers, a team that has drafted inside the Top 10 in 10 of the last 11 drafts, has a nice stockpile of young defencemen, with the Broberg joining the 6-foot-3 Bouchard and 6-foot-2 Dmitri Samorukov, who are both turning pro in September. It's a nice crop, though one that won't impact the NHL for at least one more season.
When he does arrive, Broberg will join a defensive corps that includes countrymen Oscar Klefbom, perhaps Joel Persson, and Adam Larsson, who also has Skelleftea roots. Larsson and Broberg train at the same Skelleftea gym.
"It's the Edmonton Oilers. They have a great history. I want to be a part of that one day," said Broberg.
Which number does he prefer?
"Obviously, I like No. 5."