With two Norris Trophies over the past four seasons, there aren't many people who still need to be sold on 25-year-old Erik Karlsson being one of the top defencemen in the game. He's already topping lists as the favourite to win the Norris again this year, but more than that, he should be getting some love for the Hart Trophy.
There are some very real weaknesses to Karlsson's game, specifically the risk he brings. He uses his essentially unmatched mobility to make up for risky pinches, but he does get caught more often than his boosters are willing to admit. The problem is, that isn't Karlsson's fault.
The way the Ottawa Senators are currently constructed, Karlsson has no choice but to play a run and gun game, and more often than not, he's going to win that battle anyway.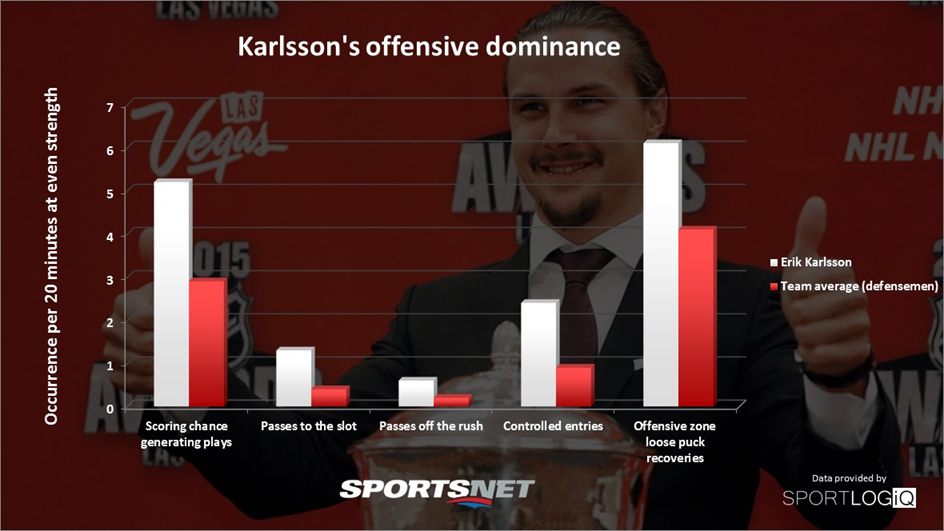 Karlsson blows every other Senators defenceman out of the water in terms of transition and offensive creation, but more impressive than that, he outperforms almost all of Ottawa's forwards too. Only Mike Hoffman and Mark Stone are involved in more plays that create scoring chances than Karlsson's 5.2 per 20 minutes, a mark that ranks him third in the NHL among defencemen.
Karlsson's 1.3 successful passes to the slot per 20 minutes ranks first in the entire league among defencemen, and he ranks second in successful passes off the rush, behind only Roman Josi.
Adding to this, Karlsson is third in the NHL in controlled entries and third in offensive zone loose puck recoveries among defencemen. When you take a look at all this, you begin to realize how much stress is on him compared to the league's other defenders.
Karlsson isn't just relied on to transition the puck up to the team's forwards, he's relied on to skate the puck up, enter the zone, create the scoring chances, retrieve the puck if they fail, and if he can't get the puck, bolt back to defend if he gets caught on the forecheck.
This style of play is going to lead to highlight reel mistakes from time to time; things that make Karlsson look like a liability, but that couldn't be further from the truth. Karlsson plays the third-most minutes per game in the NHL, and unlike Drew Doughty and Ryan Suter, he doesn't have the luxury of playing a simple game, because his team needs him to be dynamic on every shift.
Much has been made of Karlsson's lack of time in shorthanded situations over the years and though his results when playing on the penalty kill are exemplary, the question becomes how much can you put on one player? If you're wondering why Karlsson said he doesn't like 3-on-3, the sheer amount of work he has to do for the Senators each game might give you a hint.
One could make the argument that the Senators would be a better team if Karlsson played a more conservative game and hung back a bit, perhaps deferring his shots to forwards in better position more often. But with 26 points already, you'd better have a very detailed plan laid out.
And beyond that, if Karlsson didn't play the way he does now, the game wouldn't be as fun to watch.