Like regular season fantasy hockey leagues, there is more than one way to win a playoff league. Here are the different draft strategies to employ for fantasy playoff drafts, as well as a few tips to keep in mind.
A few tips to remember:
First, always know the draft settings. Figure out what the weight of the points are (How much are goals worth in relation to assists? Are there bonuses for game-winning goals? What are goalies worth?), and draft accordingly. There is no quicker way to sink a draft than employing the wrong strategy because the settings were not investigated.
Second, mind the bracket. For example, the winners of the St. Louis-Minnesota and Chicago-Nashville will face each other. While a drafter's hand may be forced at the end of the draft to take players from these four teams, there's no sense in taking David Backes in the second round and Mike Ribeiro in the fourth. It's guaranteed that no more than one of those players will make it to the third round. In effect, it limits upside.
STANLEY CUP PLAYOFFS: | Broadcast Schedule
Rogers GameCentre LIVE | Stanley Cup Playoffs Fantasy Hockey
New Sportsnet app: iTunes | Google Play
Third, be flexible with the draft. It's always recommended to have a strategy going in, but it's also important to be able to alter that strategy on the fly. If a fantasy owner plans on drafting mostly Tampa Bay players, and Steven Stamkos, Tyler Johnson, Nikita Kucherov, Ondrej Palat, Ryan Callahan, and Victor Hedman are all gone in the first two rounds, it is a bad idea to draft Vladislav Namestnikov or Cedric Paquette in the third round just to get a quota of Lightning players. There needs to be a Plan B, and maybe even a Plan C.
DRAFT STRATEGIES
Concentric drafting
If a concentric strategy is used, that means focusing on the two teams that the fantasy team owner expects to get to the Stanley Cup Final. Once those two teams are laid bare, branching out to the four teams expected to get to the Conference Final, two of which will see the roster mostly depleted by this point. After those four teams are pretty much all drafted, moving to the eight teams expected to get to the second round is the next step in this draft process. It's at this point where most fantasy rosters should be finalized, and it allows for a little more slack in which players should be drafted.
The concentric draft is probably the most widely-used strategy for playoff drafts. It's no secret that games played are a huge factor in postseason production, so most casual players will use this. While the teams that each owner expects to advance to each stage of the playoffs will vary, there won't be too much of a variance. Most drafters will have the same three or four teams to get knocked out in the first round, so the player pool will thin out quickly.
Contrarian drafting
This is a strategy that will be familiar with those that play daily fantasy games on sites like DraftKings. Contrarian drafting means only drafting players from teams that most expect to get knocked out fairly early, or at least from teams that are not Cup favourites.
This strategy is employed by drafting almost exclusively from one team — maybe two — that most drafters will stay away from. It can work very well –- fantasy drafters that did this in 2012 with the New Jersey Devils were handsomely rewarded. The same can be said for those who drafted almost exclusively New York Rangers players last year. Neither of those two teams were expected by the public to go as far as they did, but the fantasy owners who did rely on them probably won their leagues.
The advantage is that focusing on one under-the-radar team allows the fantasy owner to draft all of that team's top scorers. That wouldn't be possible with teams like Chicago or Tampa Bay. While it depends on individual opinion, the teams that I would do this with for this season are Detroit, Washington, Winnipeg, and Nashville.
---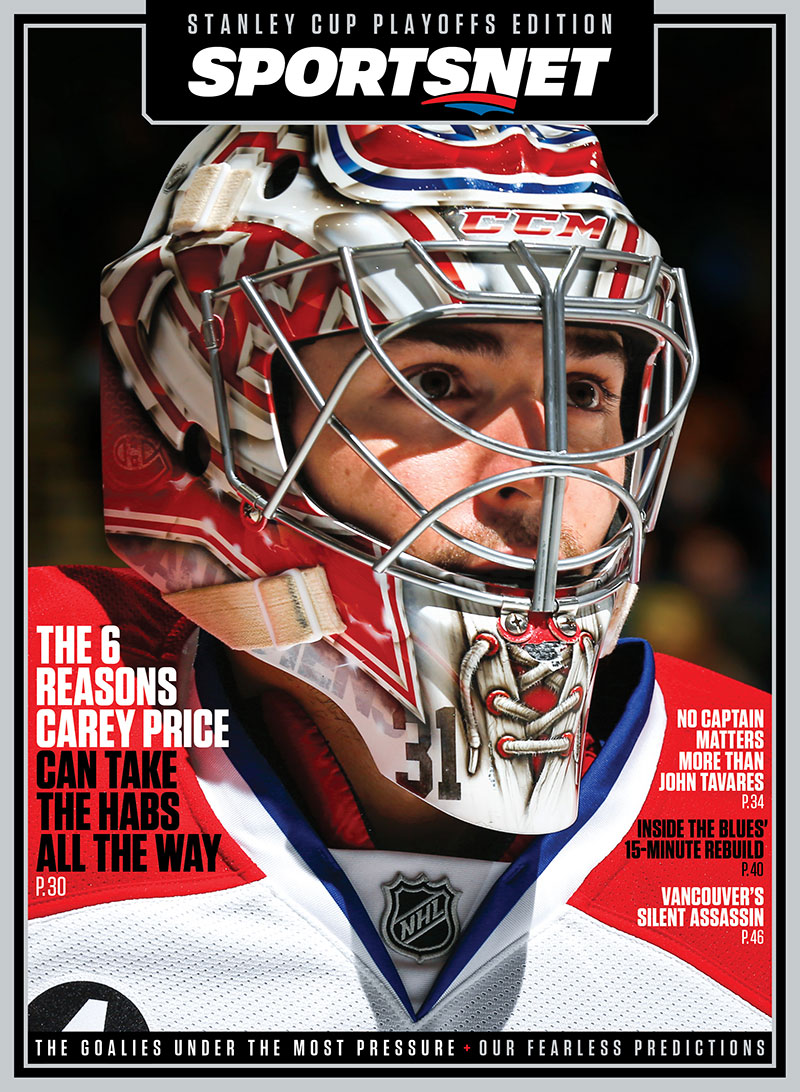 Sportsnet Magazine Stanley Cup Playoffs
Edition: The six reasons why Carey Price can take the Montreal Canadiens all the way. Download it right now on your iOS or Android device, free to Sportsnet ONE subscribers.
---
Balanced drafting
This type of drafting probably has the lowest probability of success. It basically entails just picking out eight teams that are expected to advance past the first round, and drafting players from these teams. There's less prognostication involved, meaning that figuring out which teams are going to the Final is not important for this kind of drafting. It's just whittling the player pool in half, and choosing the best player available.
It's hard to win this way because there's not much differentiation from the rest of the drafters. If Vladimir Tarasenko gets a point, it's likely his centre Jori Lehtera does too, and having just one of them means it's hard to pull away from the pack.
All told, I prefer the contrarian method of drafting. If an owner hits on the right team, it's a clean sweep. With concentric drafting, teams may be viewed similarly by drafters, which limits upside. With a balanced draft, there is not a lot of opportunity to separate.
Good luck with your drafts this year!