The Carolina Hurricanes announced Tuesday they will match the offer sheet Sebastian Aho signed with the Montreal Canadiens.
Aho agreed to a five-year, $42.27-million offer sheet Monday once he officially became a restricted free agent.
Carolina had a full week to make their decision, but as they alluded to in their tongue-in-cheek Twitter poll, it was an easy decision for the organization to make at the end of the day.
"This was an easy decision," Hurricanes general manager Don Waddell said in a press release. "Sebastian is one of the best players in the league and the centrepiece of what we're building here. We've spoken to him throughout this process and he's made it clear that he wants to be in Raleigh and be a part of this organization.
"It's our job to manage our cap space as our players develop and hit free agency. There was no concern at any point that we would not be able to match this contract. Once again, the Carolina Hurricanes should not be underestimated. We have a plan and all the resources to win a Stanley Cup."
The five-year term mean Aho is slated to become an unrestricted free agent at age 26, which is not an ideal situation from a Hurricanes perspective.
His $8.454-million annual salary cap hit, however, could end up being a bargain. The 21-year-old star forward led his team with 30 goals and 83 points in 82 games in 2018-19.
Waddell explained to reporters Monday he was "actually surprised it wasn't more" when discussing Aho's new cap hit.
"I know my summer just got better because I'm not going to spend all summer negotiating a contract now," Waddell added.
Had the Hurricanes not elected to match the offer, they would have received Montreal's first-, second- and third-round pick from the 2020 NHL Draft as compensation.
"This shows to our fans that [Canadiens owner] Geoff Molson, that we want to be a good hockey team," Canadiens GM Marc Bergevin said at his media availability Monday. "We want to win and we feel that this is the guy that we identified was going to help. He's a young player. You take a risk when you do that. … We felt even if it doesn't happen, we still have a very good hockey team."
Now that Aho's cap hit is back in Carolina, Bergevin and the Canadiens have just shy of $12 million in projected cap space, per CapFriendly, with restricted free agents Artturi Lehkonen, Charles Hudon and Joel Armia each needing new contracts.
July 2, 2019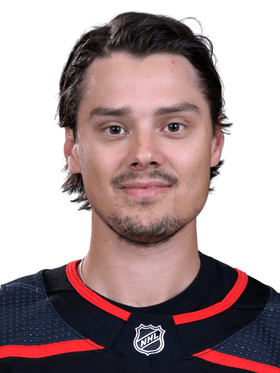 ---
SIGNED BY
Carolina Hurricanes
SALARY CAP HIT
$8.454 million