Approaching the mid-point of the season, we identified the biggest weaknesses for each of Canada's Western Conference teams that they could possibly address via trade.
Shifting over to Eastern Canada, we've got an expected contender, a surprisingly strong playoff bubble team, and Ottawa. Here are each of their weaknesses:
OTTAWA SENATORS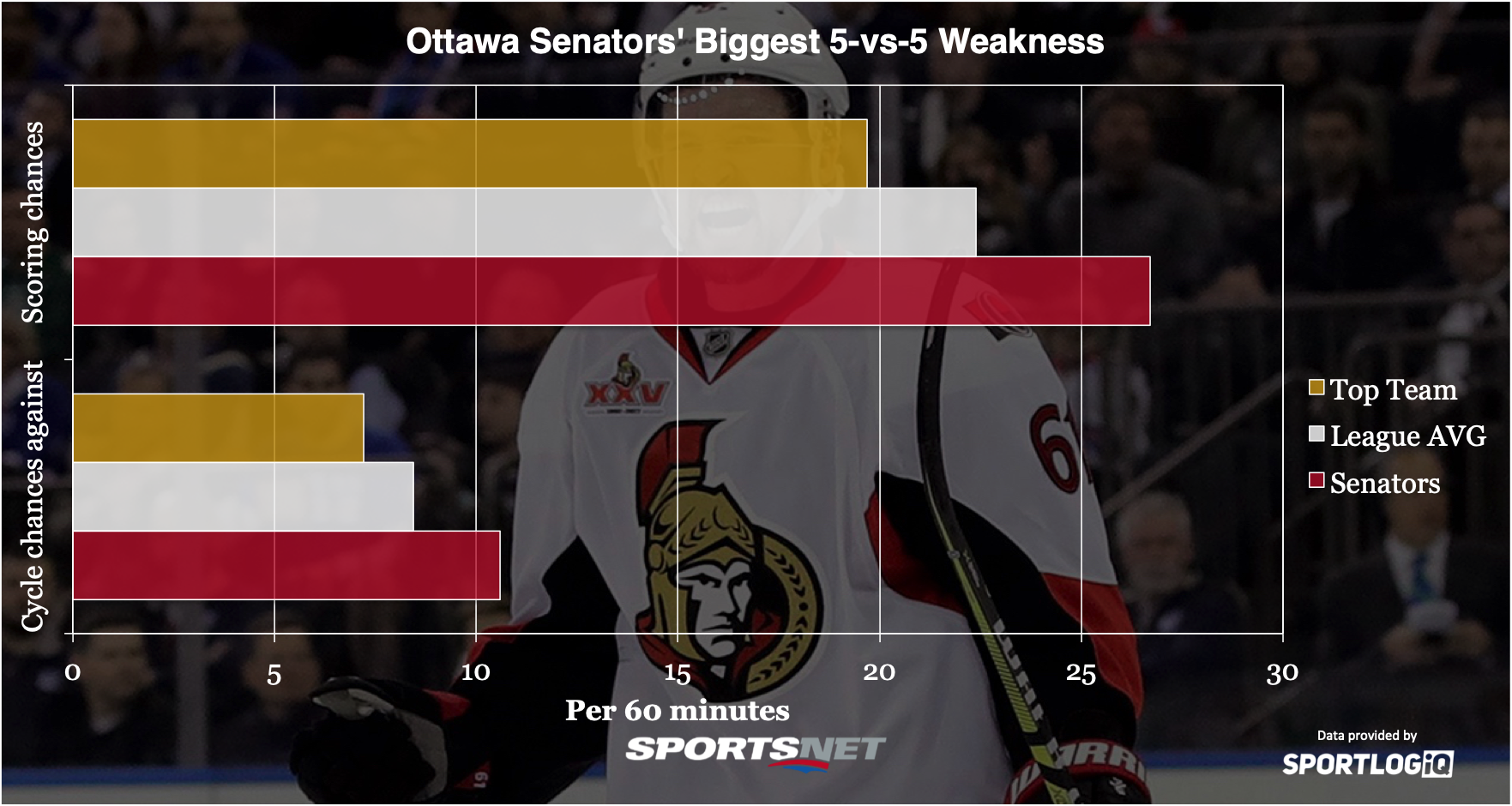 The Senators are barely below .500, and a big reason for that is Craig Anderson. His .907 save percentage looks about league average this year, but he's faced absurdly tough shots all season long.
In picking out a weakness for Ottawa, there were loads of different stats to choose from, but I thought it made the most sense to keep it simple. Surprisingly, the Sens are a pretty good offensive team, they move the puck well and have a few high-end scorers who can make things happen without much help from Matt Duchene and Mark Stone.
Where they struggle is defending. They give up by far the most scoring chances in the NHL, and not just at 5-on-5. Making matters worse is the Senators are extremely exploitable in their own zone on passing plays, which means Anderson has had to be active in making reaction saves. No team gives up more scoring chances with pre-shot movement than the Senators, and they're also bottom five in allowing chances off the rush, chances off the forecheck, and high danger chances.
All that combines to make it a really tough gig for goalies. The trouble for Ottawa is that I don't think this is an area they can address with one trade. Part of it is going to be systemic, but a larger part is that the roster, especially the defensive depth, is just awful. Unless you're a brilliant GM with a bunch of great prospects, that's not getting solved in one season.
[snippet ID=3322139]
MONTREAL CANADIENS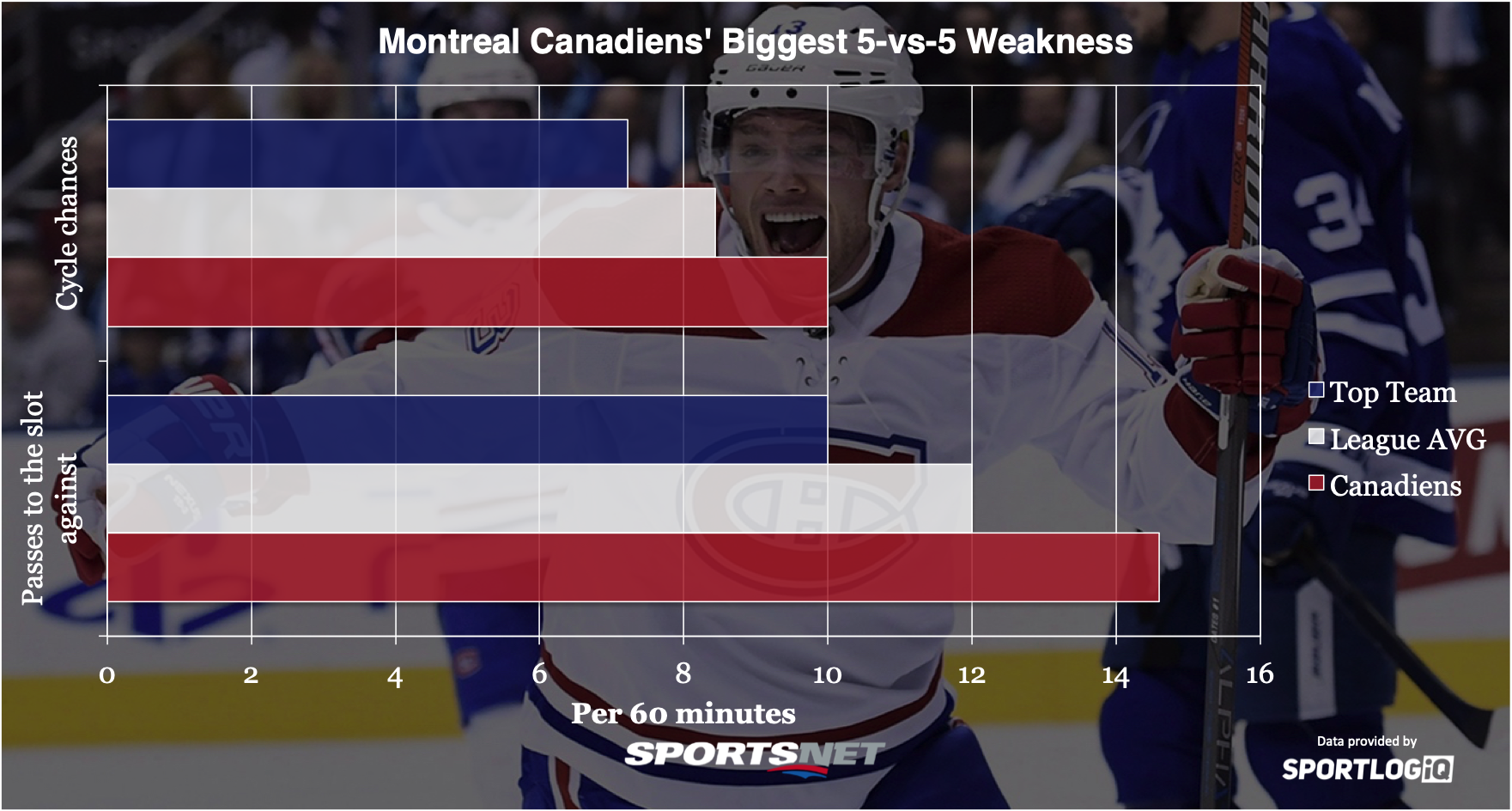 The Canadiens are riding high this year after the expectation coming into the season was that they would be amongst the league's worst teams, with the only saving grace possibly being a return to form from Carey Price. While Price has certainly been better than last season, he hasn't been great by any stretch, and the Canadiens are firmly within the playoff picture.
A big reason for that have been hot starts from new acquisitions Max Domi and Tomas Tatar, but established vets such as Brendan Gallagher, Jeff Petry, Jonathan Drouin, and others have been big boosts as well.
In terms of differentials, the Canadiens are a very strong team. With Price rounding into form and Shea Weber finally healthy, things are looking up, but not everything is rosy.
The Canadiens' biggest problem has been an issue that has plagued them for years now: they have a lot of trouble disrupting passes in their own zone and keeping those passes to the outside. Like the Senators, they give up a ton of chances off the cycle, which forces Price to always have to make saves in motion. And while Anderson gets 21 shots from the perimeter to boost his save percentage, Price gets just 17 — the Canadiens limit shots well, just not the right ones.
Those factors are a big reason why I'm not buying the whole "Carey Price is done" narrative. He's got a really tough situation to deal with, and while he hasn't been great, no goaltender has faced a higher percentage of their shots as back door chances over the past two years. Only so much can be expected from one person, and the Canadiens need to find a way to be better in their own zone if they're going to make the playoffs.
One way to improve the Canadiens' results quickly would be to get at least one left-handed defenceman who isn't best suited for the third paid — they haven't had one of those since Bergevin let Andrei Markov go. Maybe Victor Mete will get there by the end of the season.
TORONTO MAPLE LEAFS
The Maple Leafs are maybe the most dynamic offensive team in the NHL, but that starts with a lot of hoping and praying. They elect to use the stretch pass to exit their zone more than any team in the league and they are actually the worst team in the league at completing those passes.
Their 12.6 failed stretch passes per 60 minutes are three more than the next worst team in the league: the Detroit Red Wings. This is a big reason why the Leafs spend a bit more time in their own zone than you would expect of a team with that much offensive talent.
The Leafs do win more than their fair share of contested pucks in the neutral zone and have the seventh-best puck battle win rate there in the NHL. But the problem is puck battles are infrequent in the neutral zone and possession is far more often gained by a player simply getting to the puck first. So as a result, though their neutral zone puck battle stats are strong, Toronto overall recovers less than 50 per cent of loose pucks in this zone despite being great battlers.
Aside from simply losing the puck and seeing teams come right back at them on the counterattack, the Leafs also lead the NHL in 5-on-5 icings with 6.53 per 60 minutes. That's a hair over six and a half extra defensive zone faceoffs per 60, meaning Toronto's 51.8 per cent faceoff winning percentage is put to the test on plays that don't need to exist.
My guess on why the Leafs employ this strategy is that they see the benefit of a completed stretch pass getting to their talented forwards as worth far more than a failed one on the stick of an opponent. They could be right, too, but I have a feeling this strategy is a big reason why the Leafs, despite all their talent, continue to tread water in statistics like Corsi, where they're rarely ever far above 50 per cent despite the obvious talent on the team.
[relatedlinks]