As we approach the midpoint of the 2018-19 season, one thing I've noticed is that there have been far more in-season trades this year than in years past, and not just for AHL guys being shuttled around to fill holes for Calder Cup contenders or adding some character to help with prospect development. We've seen some actual NHLers on the move.
[snippet id=4269767]
No stars have been traded, and most good players that do get traded this year will be around the deadline, but we wanted to know what each of the Canadian teams should be looking for if they wanted to improve right now.
The first thing we need to isolate is each team's weaknesses. We'll start out West.
The Oilers are a strange team because as I was going through the data, they don't really have many big weaknesses relative to the rest of the league, they're just excessively mediocre in a lot of areas, which makes them mediocre as a team. The McDavid effect also hides some team weaknesses that can appear visually when he's not on the ice, but his impact is so great that as a whole roster, they don't show up in the data.
The Oilers do rank dead-last in neutral zone passes, and third-to-last in attempts, but how much of that is simply McDavid carrying the puck all the time? I can't say for sure that it's a weakness, so I settled on two areas where the Oilers are 28th in the league; winning puck battles in the defensive and neutral zones.
You can win, lose, or draw a puck battle, but the Oilers as a team really struggle to win contested pucks outside the offensive zone. I think part of the problem there is a lack of speed on the wings, meaning they're starting a lot of board battles as the second man in, which makes it tougher to win. I know I'm giving you a very unique and brilliant observation that the Oilers need better wingers. Sorry.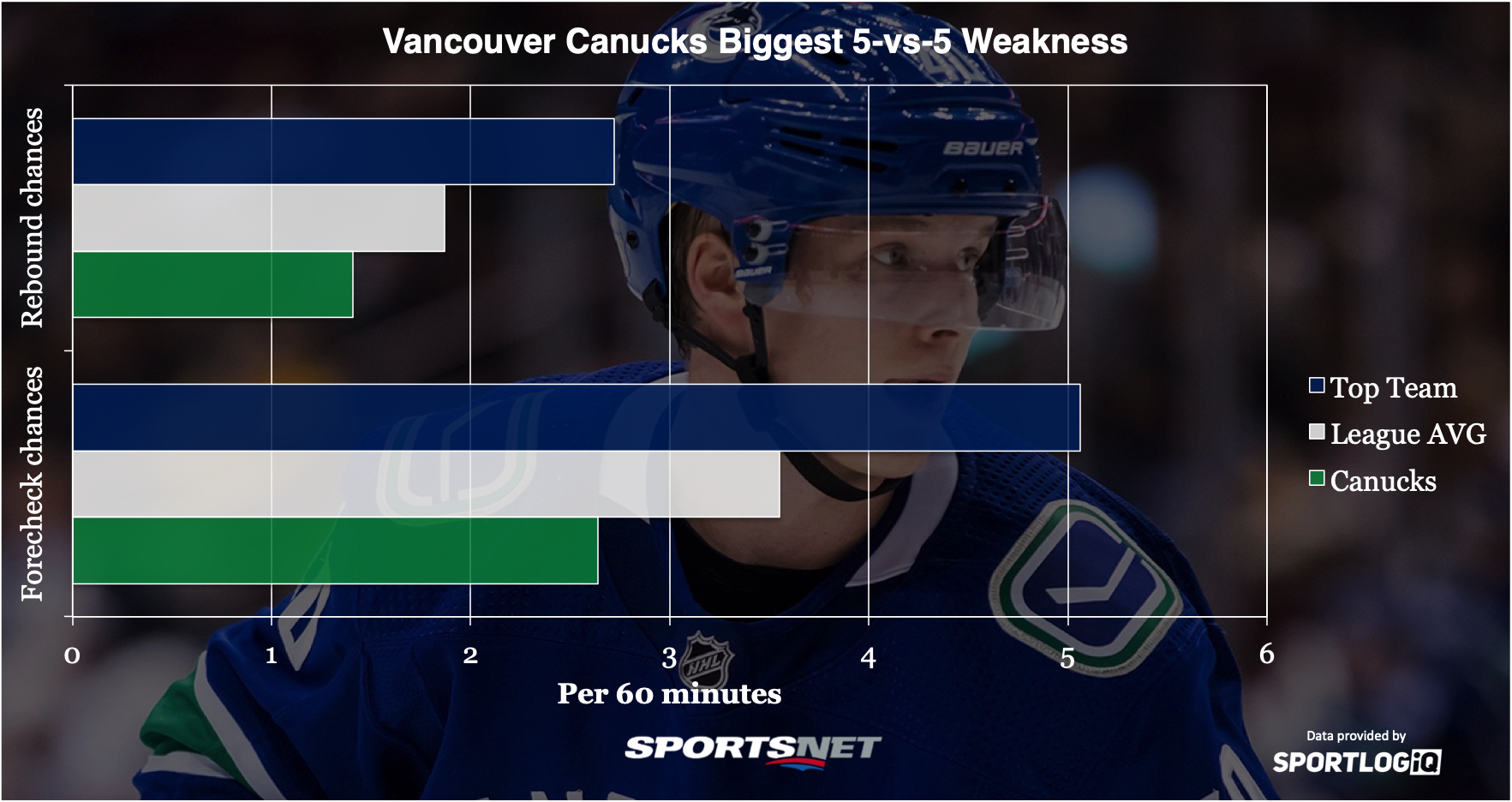 The Canucks are better than expected this season in a lot of areas, and Elias Pettersson has given them a legitimate star player to build around with an ongoing youth movement.
One area the Canucks lack in compared to the rest of the league, though, is their ability to fight for chances. Forechecking teams into giving you a scoring chance isn't something teams should rely on as a primary way to create offence — since it starts with the attacking team not having the puck — but the ability to create offence from a position of not having the puck is very valuable, and Vancouver struggles to do so.
Similarly, the Canucks struggle to get second chance opportunities off of rebounds, meaning they make it too easy for opposing defences to recover those pucks and clear the zone. The Canucks could use a couple skilled players who also don't mind getting their noses dirty along the boards and in front of the net to improve these areas.
Weaknesses are relative, and it's tough to find an area where a hockey club as good as the Jets ranks among the bottom teams in the league, but they've been a little defensively porous this year compared to last season.
The Jets have been particularly vulnerable when opposing teams gain the zone, and not just with possession. They allow the 10th-most chances against off the rush, but the second-most chances against off the forecheck, meaning they're vulnerable on dump-ins as well.
It's a little ironic that the Jets are such an excellent forechecking team, but struggle against forechecks as well. They're still excellent at breaking up opposing cycles, and teams have trouble hemming them in their own zone as a result, but right off of entries the Jets are vulnerable, an area they might miss Tobias Enstrom.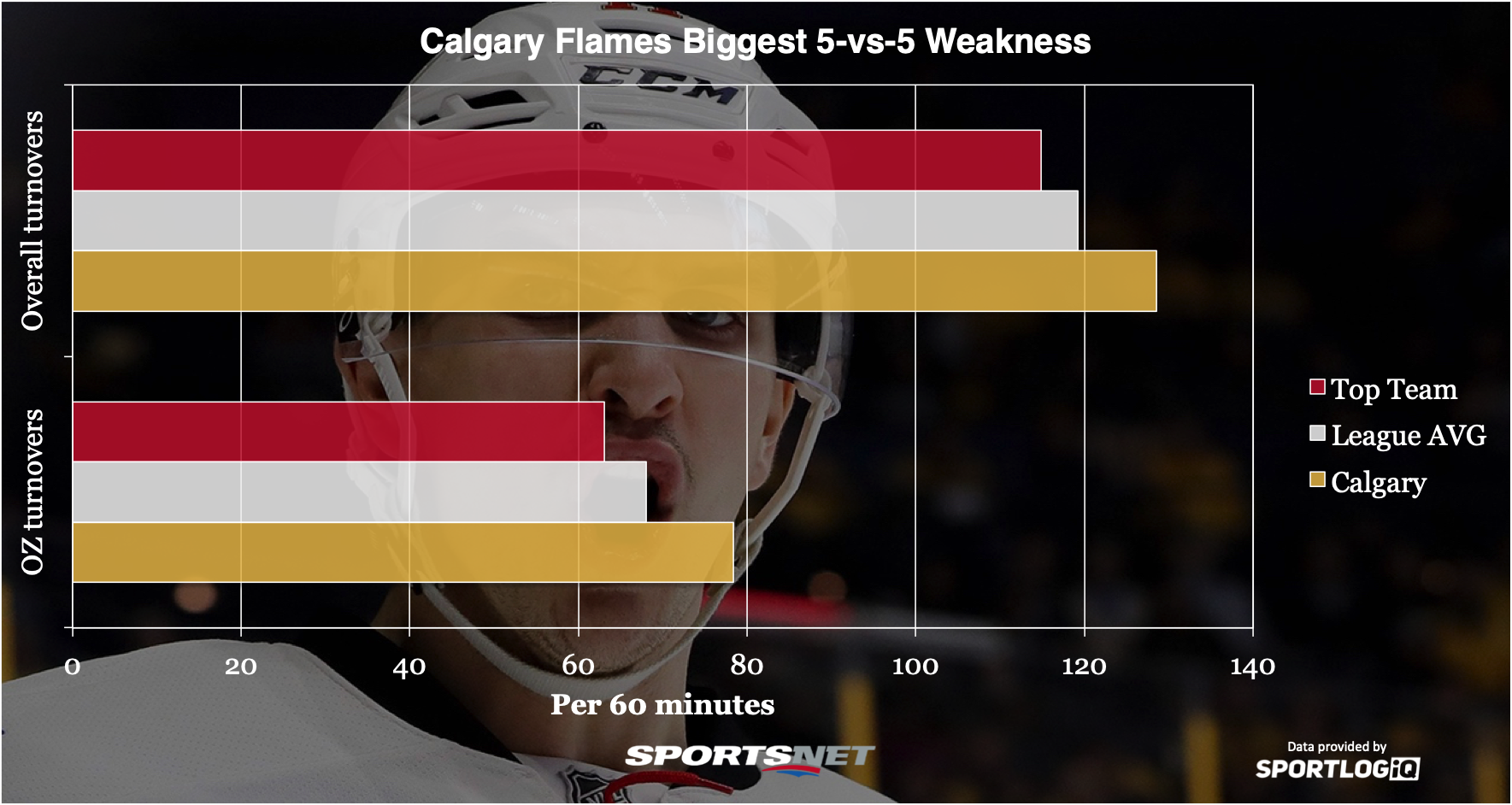 I looked long and hard for a legitimate weakness for the Flames at 5-vs-5 this year, because their system is very much my ideal of how NHL teams should work and just saying Mike Smith would be unfair. They make more and better passes than anyone else, they absolutely own controlled plays at both blue lines, and they create offence effectively in every way we can measure, including more passes to the slot than any other team.
The result of making so many plays with the puck, though, is that they turn the puck over in a raw form a lot. In fact, they commit more turnovers than any other team in the league, because they have the puck all the time.
Most of their turnovers are in the offensive zone, partly because they spend a lot of time there, and partially because the plays they're attempting there at high rates are high risk, high reward in nature. This Flames team is one to watch this year. They could be on to something special if the goaltending from Big Save Dave holds up.
[relatedlinks]