We're close to the end of the season now and with nearly a full year's worth of data to look back on, it becomes clearer which players have had great seasons that are bound to be repeated for the most part, and which players have had seasons that, while fully worthy of merit, are unlikely to re-occur in 2019-20.
There are loads of players who have everything go their way for one season to boost expectations only to come back to reality the next. I think it's important to keep in mind that the lack of sustainability in a single amazing season shouldn't take anything away from that success — the players still had those accomplishments.
On the flip side there are players who have brutal seasons where everything goes wrong, but the pull back to expected percentages can lead to a progression in a player's statistics the following season.
For me, the place to start in this kind of examination is always Corsica's on-ice stats page, sorting by on-ice shooting percentage at 5-on-5. From there you can look backwards to see what kinds of numbers the players were posting in other years and I like to look at their three-season average leading into 2018-19
Keeping things in threes, let's look at three players who have overachieved this season, and three that have underachieved, with both groups due to pull more towards their career averages in 2019-20.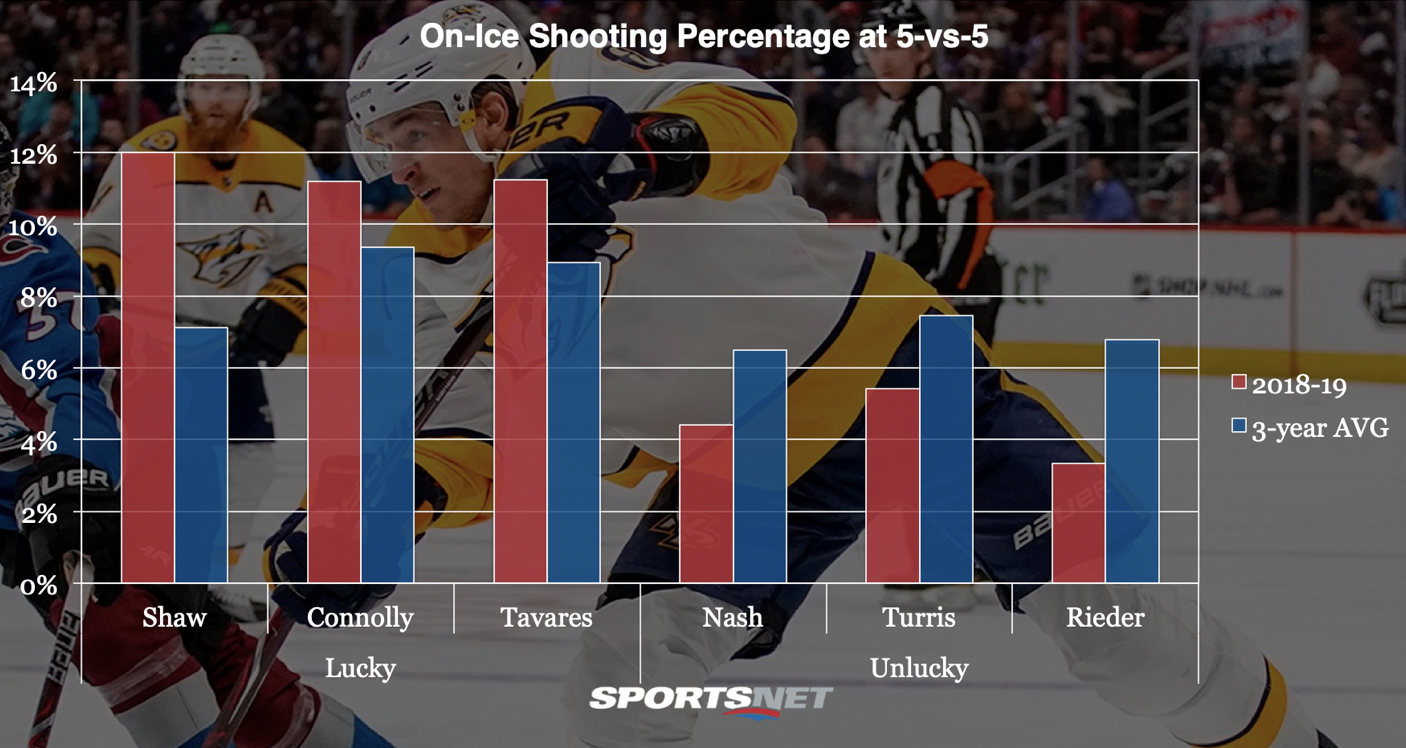 There were lots of players to choose from for the lucky side of this, but I picked three who stuck out to me as experiencing truly amazing seasons that shouldn't become a basis for expectation heading into next season.
John Tavares is in the midst of arguably the greatest first season for a free agent acquisition in league history, posting career highs in goals and points with 47 and 88 respectively, and his line with Mitch Marner and often Zach Hyman has been the heartbeat of the Maple Leafs' offence for most of the season.
At even strength Tavares has been on the ice for 81 goals at 5-on-5 and has points on 60 of them. However, the Leafs are scoring on 11.23 per cent of their shots while Tavares' line is on, and his average on-ice shooting percentage over the previous three seasons is 8.94 per cent. Close to nine per cent is already high for anyone in the NHL and Tavares does influence high shooting percentages, but a normal on-ice shooting percentage would bring him from 81 on-ice goals down to 64.
If Tavares maintains the same percentage of on-ice goals he gets points on next season, which is about 74 per cent, his 5-on-5 point production in an average season would be closer to 48 points than 60. Clearly regression for Tavares won't mean he'll suddenly not be not worth his $11 million contract, but 12 fewer points at 5-on-5 is significant, especially since he could see some regression on the power play as well.
With similar numbers to Tavares in terms of percentages, Brett Connolly is having a wonderful season in Washington, with career highs in goals and points at 22 and 45 respectively. But even more impressive are his 42 points at 5-on-5, which he's notched with just 55 on-ice goals to work with.
If Connolly's percentages flip back to his three-season average next season, he would see a drop in point production to 35 points at 5-on-5, which drives home just how great he's been this season because that would still be a career high in total points for him.
Senior Writer Ryan Dixon and NHL Editor Rory Boylen always give it 110%, but never rely on clichés when it comes to podcasting. Instead, they use a mix of facts, fun and a varied group of hockey voices to cover Canada's most beloved game.
The player due for the biggest regression, though, is Andrew Shaw. Shaw has been phenomenal in limited appearances for the Montreal Canadiens this season, posting a career high in points with 45 in just 61 games. Despite struggling with injuries, Shaw is just two goals shy of his career high from way back in 2013-14. He's been on the ice for a whopping 53 goals at 5-on-5 and he's accumulated points on 36 of them.
However, unlike Connolly and Tavares, Shaw is not typically a driver of shot quality at even strength. He does shoot from in close to the net, but his overall on-ice impact has been average at best offensively in his career. If he were to revert to his previous three-year average, he would lose 15 points off his total this season. Over a full season that would equal out to 29 points at 5-on-5, which sounds bad considering he's put up 36 in just 60 games, but including his current power play production pace that would be a 37-point season — the third-best of Shaw's career.
Since being traded to Montreal, Shaw has been a better player at 5-on-5 seemingly every season, and since Claude Julien started managing the bench, he's been less and less likely over time to lose his cool and get kicked out of games. That's all positive. And if the Canadiens' power play gets better next season, he may even hit 40 points again.
On the other side of the fence in looking at players likely to bounce back to some degree, I thought Riley Nash was one of the most under-the-radar great free agent signings last summer, so call me biased on this one but I've been shocked at how his season has unfolded.
Primarily a defensive player, Nash wasn't brought in to make the Columbus Blue Jackets an offensive powerhouse, but last week he scored his first goal since late November and just his second of the season, after posting career-best totals in Boston last season.
He would have ended up on the other side of this breakdown last season, but regression hit, then dragged him 15 steps past the average into no man's land. Nash has been on the ice for just 16 goals at 5-on-5 this season in 76 games, but to his credit he's got points on 10 of those.
Nash's on-ice shooting percentage is a disastrous 4.4 per cent, and while he's typically below league average in shooting percentage as a defensive forward, reverting to his three-season average would bring him up to 15 points at 5-on-5 next season, which is a 50 per cent improvement.
Jeff Marek and Elliotte Friedman talk to a lot of people around the hockey world, and then they tell listeners all about what they've heard and what they think about it.
Unlike Nash who is a defensive guy, Kyle Turris was brought in by the Nashville Predators to be an offensive contributor, and since the start of last year's playoffs it has not gone well to say the least.
Turris isn't a high-level performer anyway, but he's been incredibly unlucky with his current production. This season the Predators have scored just 20 goals when he's been on the ice at 5-on-5 and he's only grabbed 13 points on those goals.
Reverting to his averages over the previous three seasons would boost Turris up to 28 points over an 82-game season, which is a massive improvement, but still a pretty big disappointment for a player making $6 million against the cap.
Finally, who is the player due for the biggest progression on percentages alone next season? Look no further than Tobias Rieder, who was recently in the news when Bob Nicholson put the blame for Edmonton's season on his shoulders.
Rieder isn't the 35-point player he was a few years ago in Arizona, but he's an interesting candidate for a league minimum contract next year on a team that needs to fill a depth role. His 3.34 on-ice shooting percentage this year is absurdly low.
That shooting percentage is just under half of Rieder's three-season average and he's been on the ice for just 10 goals in 64 games this season, managing points on nine of those. Rieder hasn't been able to score himself, but while he's on the ice, what little scoring there has been goes through him. A reversion to his three-year average would double his point production. That won't make him great, but a depth player capable of around 22 points at 5-on-5 over 82 games is worth a look.