TORONTO — For those who bear the same Team USA crest on their chest, he goes by 'Jack.' Maybe 'Hughesy' on occasion, or something else in line with hockey's usual, predictable nickname customs.
But to longtime trainer and mentor Dan Ninkovich, the blue-chip talent likely to hear his name called first overall in the 2019 NHL Draft is simply known as 'Allen.' As in Iverson.
"Between him and I, I call him Allen due to his ability to change direction with the puck," Ninkovich says of Jack Hughes, referencing the NBA great whose deadly crossovers routinely wobbled the opposition with ease. "He knows how to find quiet ice, as well as demand the puck in the areas he feels most effective. He's a real student of the game."
Though now on the cusp of entering into the big-league picture via Friday's draft, some of Hughes' earliest days in a pro environment came at Ninkovich's BTNL (Beyond The Next Level) facility in Oakville, Ont., where Jack and his older brother Quinn — now a defender for the Vancouver Canucks — have trained for the past four years.
Ninkovich first met the younger Hughes when Jack was 12 years old, while the duo's father was a player development coach for the Toronto Maple Leafs.
A glance at the carousel of elite names who have suited up at the BTNL facility sheds light on the reason parents Jim and Ellen trusted Ninkovich with their talented sons' development: Leafs linemates John Tavares and Mitch Marner, two-time Art Ross Trophy-winner Connor McDavid, and two-time Stanley Cup champ Phil Kessel have all broken a sweat at BTNL, among a number of others.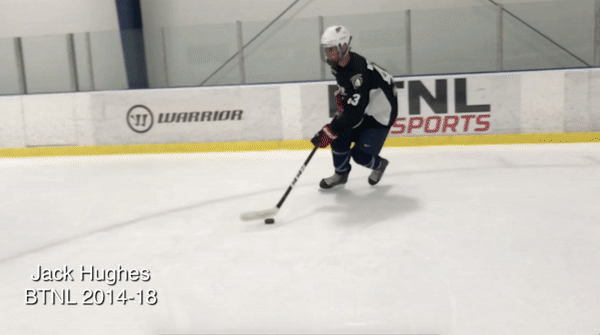 In fact, when Hughes saw the New Jersey Devils gifted the No. 1 pick in April's draft lottery, he spoke of his work at BTNL with another of Ninkovich's trainees — Hart Trophy winner Taylor Hall.
Hughes' own hours upon hours at the Oakville facility have helped polish his game into a dynamic, lethal combination of offensive prowess and two-way acumen. But much of what makes Hughes so lethal now was there from the start.
"His elusiveness, compete level and passion for the game," Ninkovich says of the aspects of the young centreman's skill-set that stood out to him back when they first met. "With the latter two being my main prerequisites when selecting players I want to invest my time with. He was one of those kids that always wanted to one-up you, no matter what activity we played, and I feel without that compete level you cannot become an elite athlete in any sport."
And now?
"He's almost unreadable one-on-one, effective on both sides. Just deadly in transition," Ninkovich says, later adding: "I personally love to watch his defensive game. He can disrupt zone entry with his tenacity and skating. When he's on his game, it's hard to execute any plan on paper, on both ends of the ice."
Ninkovich's work with the Orlando, Fla., standout — who's currently suiting up with Team USA at the IIHF World Championship in Slovakia, becoming the youngest American to ever do so — has focused primarily on reinforcing proper movement patterns, he says, in line with his philosophy of "efficient training-to-game transfer."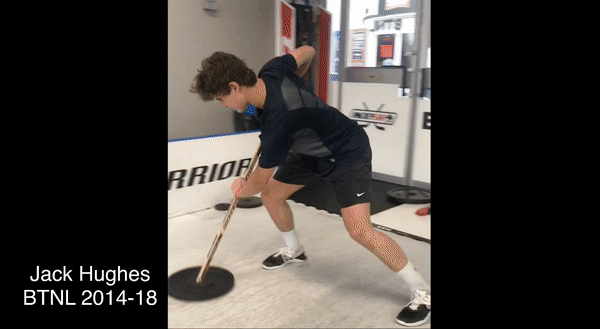 It's been a slow, steady grind, with Ninkovich electing to help Hughes continue building himself up consistently rather than in sporadic bursts.
"His training was systematic," says Ninkovich, who's quick to divert credit to the tireless work of Hughes' parents. "I am a big believer in the accumulation of small efforts year-round rather than dividing the training plan into seasons. You see, being a hockey player is a lifestyle.
"That being said, I don't even know what his ceiling is, because I feel we have only tapped into his potential."
Stickhandling specialist Brandon 'Pavel' Barber, who's worked with Ninkovich at the BTNL facility as well, went through the same gauntlet of on-ice drills and off-ice routines Hughes did — part of the 'Overspeed' program at BTNL that many a pro has dabbled in — to get a sense of their impact.
"The advantages of the drills is that they're mostly simple things done at very high speeds," Barber says. "Learning to combine skating and stickhandling without sacrificing the speed of one or the other, while making quick decisions, all while being aware of what is around you. It's high tempo.
"…When you have a player like Jack who's already advanced, it's so fun to train them because there's always ways to push further. I think these drills help him by forcing him to think and do quicker, but at the same time, build a level of consistency in skills other players may call 'low percentage' skills."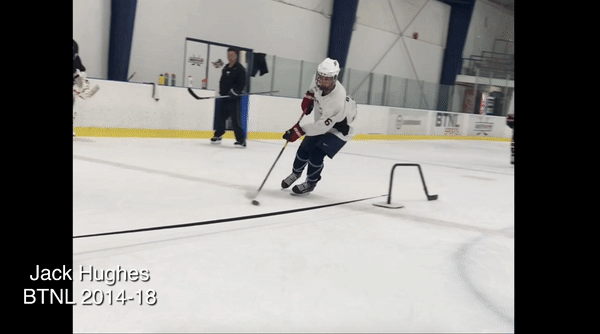 The tremendous year-over-year growth, with the help of Ninkovich and Co., has taken Hughes to dominant heights as of late.
In 2018-19, the young pivot put up his 190th point with the National Team Development Program to become the organization's all-time leading scorer, surpassing Clayton Keller's 189. A month later, at the 2019 IIHF World U18 Championships, he broke Alex Ovechkin's scoring record, posting a combined 32 points over his two appearances in the tourney.
Now, with his pre-NHL days nearing their close, Hughes remains the projected first-overall pick at the upcoming draft, with a fall to No. 2 seeming the worst-case scenario.
For Ninkovich, these historic efforts likely come as little surprise, as the longtime performance coach sees in Hughes the same fire he once saw in another premier talent that walked through his doors.
"I'd say [it's the] same development curve as Connor (McDavid)," he says. "Jack found his identity as a player early and has a desire to be the best. It's an elite frame of mind. You can't teach that.
"It's a law of attraction, so to speak. Everyone focuses on physical attributes, but it is the mental habits that separate the elite from the average."