There were only so many times per day Jason Arnott could rifle a tennis ball into the goalie net on the driveway. Whenever his mind yearned for a release from hockey, a young Arnott would venture to the backyard of his parents' Wasaga Beach, Ont., home to shoot hoops.
He had to be careful, though. The makeshift basketball court was the domain of his older sister and she defended it fiercely. Kari is five years older than Arnott and towered over him when the two were growing up. While the difference in stature didn't factor into games of 21, it certainly mattered during one-on-one matchups.
"She wasn't letting up on me, especially because I was her little brother. She wanted to show me she was the boss," Arnott recalls. "If I took the ball to the net, she would throw a high elbow at me and take the ball."
That competitive foundation served the siblings well — Kari went on to play basketball at Sheridan College in Oakville, Ont., while Arnott grew to become a feisty, dependable centre over 18 NHL seasons. Hockey was obviously Arnott's first passion, but he excelled in every sport he touched. By the time he attended high school in Collingwood, the site of this week's Rogers Hometown Hockey stop, Arnott was dabbling in football, wrestling, soccer, volleyball and golf, in addition to basketball and hockey.
"Hockey wasn't [the] seven-days-a-week thing that it is now," Arnott says. "You practised a couple times during the week and you maybe had one game here or there…. You had to fill your days up and be busy."
This season, home is where the hockey is. Experience Rogers Hometown Hockey.
Bert Crago, a longtime basketball coach at Collingwood Collegiate Institute (CCI), suggests that Arnott wasn't simply biding his time on the hardwood. He was actually a dominant forward who could score in bunches, hovering around six-feet tall by the age of 15 and oozing with athletic ability.
Crago knew Arnott played hockey, but wasn't quite aware of his skill level on the ice. So, when the time came for Arnott to leave CCI after Grade 10 and head to Lindsay, Ont., in pursuit of a pro career, Crago stepped in.
"I was trying to convince him to stay at Collingwood Collegiate and play senior basketball and he was telling me, 'Coach, you know what, I'm gonna go on and pursue my No. 1 love,'" says Crago, who's now retired. "So I'm giving him a hard time. I'm saying, 'Ah, don't do that. You'd be a really good senior boys' basketball player.'
"The joke ended up being on me."
The same episode unfolded on the high school football team. Arnott joined the squad as a linebacker in Grade 9 and, of course, stood out.
Head coach Dick Edwards and his staff noticed during first-year practices that whenever Arnott casually tossed the ball, it would sail with mechanic perfection. His footwork was impeccable, too, so the coaches moved him to quarterback. It paid off as he led the team to the regional finals at the end of his second year.
However, just as he was peaking in football, hockey hauled him away.
"One of my coaches — and he chuckles about it — bumped into Arnott in the hall and I think he was saying half facetiously, after we knew he wasn't coming back: 'Oh, you know, Jason, you could probably do well as a quarterback in a Canadian college,'" remembers Edwards, who's also retired. "But you don't have to be a Rhodes scholar to know that for a Canadian kid, a hockey road can lead to a lot more opportunity than a Canadian college quarterback."
Says Arnott: "I loved both [basketball and football] and I played every sport to the best of my abilities. But obviously, hockey was my No. 1 love…. It was always hockey, 100 per cent."
Ultimately, that avenue took Arnott to Lindsay, then Oshawa, Ont., where he spent two seasons with the Generals before being drafted by the Edmonton Oilers. The forward was traded to New Jersey in 1998 and enjoyed his best years with the Devils, helping the club to a Stanley Cup in 2000 by scoring the championship-clinching goal in double overtime of Game 6 against the Dallas Stars.
The ensuing moment is immortalized on a banner in the gymnasium at Arnott's high school. It pictures a drained Arnott — sporting two black eyes and a red Devils sweater — jubilantly hoisting the Stanley Cup.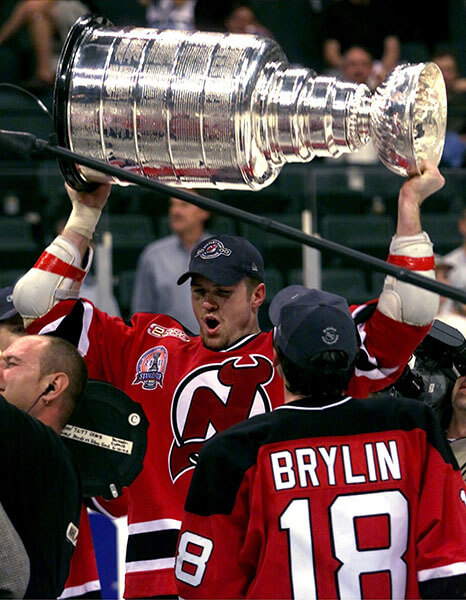 The over-sized banner was raised during a recent ceremony that inducted Arnott and others into the school's athletics hall of fame. He wasn't able to make it to CCI for the event, so Kari attended in his place. She's no longer playing competitive sports and currently works in parks and recreation, but the fire still smoulders when it comes to besting her brother.
When Kari texted Arnott photos of the banner, she made sure to include a few words that reminded him who was boss, in case he had forgotten after all these years.
"Any time something comes up where [it looks like] I am tougher than her," says Arnott with a laugh, "she always brings up, 'Remember that time I elbowed you and your nose was bleeding and you ran to Mom? I used to dominate you on the basketball court.'
"She gives it back to me."