WINNIPEG — Connor Hellebuyck is cashing in after a breakout season that saw him emerge as one of the top goaltenders in the NHL.
The Winnipeg Jets announced Thursday they've signed Hellebuyck to a six-year, US$37-million contract with an average annual value of $6.167 million. The 25-year-old from Commerce, Mich., was a finalist for the Vezina Trophy as the league's top goalie last season after appearing in a career-high 67 games, setting single-season franchise records for wins (44), shutouts (six), and save percentage (.924).
"Helly has always been projected in our mind as a No.1 goaltender and the goaltender of the future for us," Jets GM Tim Cheveldayoff said during a conference call. "We're very very excited we were able to come to a long-term agreement for now and for the future.
"Obviously the training and maturity that was in his game from the years prior to now is about becoming a pro."
Hellebuyck signed a one-year, $2.25-million deal with Winnipeg prior to last season. He posted a 9-8 record in this year's playoffs with two shutouts, 2.36 goals-against average and .922 save percentage as the jets reached the Western Conference final.
"This is exciting for many reasons," Hellebuyck said. "But mainly because I love it here and I want to be part of this team.
"I really believe this team has what it takes."
In 149 career NHL regular-season games, Hellebuyck has an 83-41-14 record with 12 shutouts, a 2.55 GAA, and .917 save percentage. His 70 wins over the last two seasons are eighth most in the NHL.
[relatedlinks]
Hellebuyck was a restricted free agent and had filed for salary arbitration before signing his deal. He said his goal now is to prove he's not a one-season wonder.
"I've always believed in myself and I have the right people around me," he said. "Any time something falters we know exactly what to fall back on.
"I expect the most out of myself and I want everyone to expect the most out of me because I want to bring my A-plus game every single night. If it's not A-plus, it's good enough to win and that's key for this team, everyone wanting to do more."
Hellebuyck's contract matches his jersey number but he said there was no special significance surrounding the worth of the contract.
"I knew that question was going to come," he said with a chuckle. "No, it's a great number.
"I think I was going for 73 (million) at some point. No, it's an exciting time to be in Winnipeg."
Hellebuyck was selected by the Jets in the fifth round (130th overall) in the 2012 NHL draft.
"It was a good fit for both sides," Cheveldayoff said. "There was a mutual desire to see if we could come to some sort of a long-term agreement right from the onset."
July 12, 2018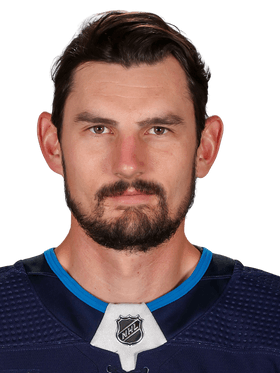 ---
SIGNED BY
Winnipeg Jets
SALARY CAP HIT
$6.167 million