If you've read anything I've written about him before, you'll know that I'm a big booster of the talent of Blake Wheeler.
Last season he began to be considered a top player at his position after a 91-point season and captaining the Winnipeg Jets to their best season in franchise history — both this current version and the one that became the Arizona Coyotes.
It took far too long for Wheeler to be recognized as a star player when you consider that only two right wingers in the NHL produced more points than Wheeler's 387 between the Jets going back to Winnipeg and the start of the 2017-18 season — Patrick Kane and Phil Kessel.
This season is no different, with Wheeler producing 23 points in 16 games, an incredible 118-point pace over an 82-game season.
Despite being primarily a playmaker in a position that heavily favours goal scorers in the model that I developed, I had him ranked fifth at his position coming into the season. With all this said, let's start from the position that Blake Wheeler is a star player, maybe even a superstar or franchise player.
From that perspective, beyond the point production, Wheeler did not have a great start to the season at even strength. If you don't believe me, let's look at his individual contributions so far this season relative to the team average among forwards.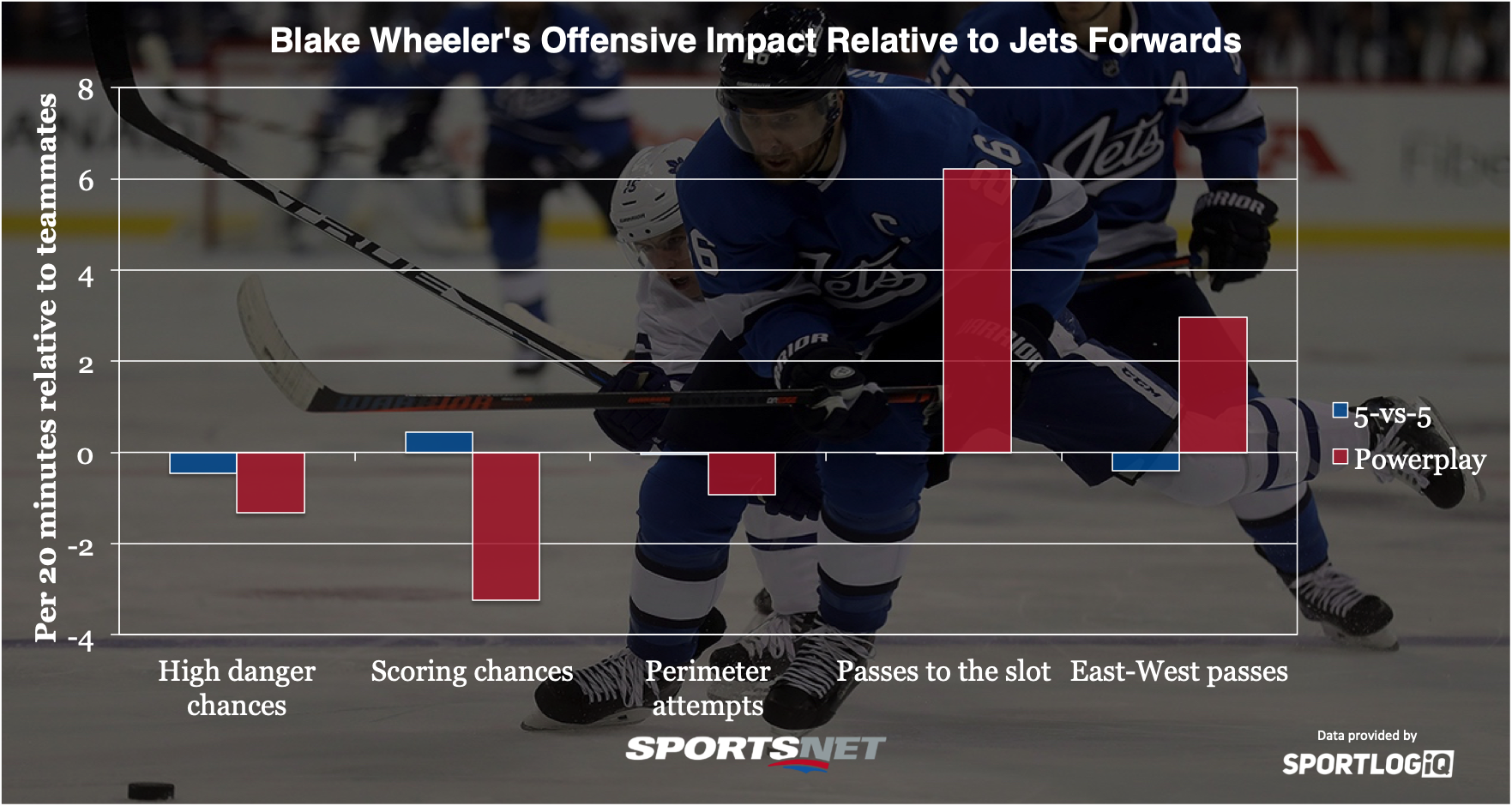 So far this season at even strength, Wheeler's getting slightly more scoring chances than the average Jets forward, but he's not connecting on many dangerous passes, and his shots are from relatively far out.
Essentially, when things are at evens, he's relied on his teammates to do more of the damage than himself, which is a strange thing for him, as he's normally been a dominant offensive player at 5-vs-5. But he's involved in creating three fewer scoring chances per 20 minutes this year than he was last year.
Those offensive issues haven't existed on the power play though, where he doesn't shoot much because he is the NHL's premier playmaker with the man advantage, challenged only by Claude Giroux league-wide.
Wheeler is currently involved in creating 25 scoring chances per 20 minutes played on the power play, just slightly behind Giroux's 28.2, which is the same top-two playmakers as last season.
With that known, it shouldn't be surprising that 12 of Wheeler's points are on the power play, all assists. While he probably won't continue to be on a pace for 62 power-play points this year, he was one of two players to hit 40 power-play points last season. Only Kessel had more at 42. Those two players were the first to hit 40 power-play points in a season since Nicklas Backstrom did it in 2013-14, and just the sixth and seventh players since 2009.
That power-play dominance can hide under-performing at even strength, which should make the Jets feel safe about that big contract they signed Wheeler to — which hasn't even kicked in — but his rough start is still a little concerning.
The question, then, is whether we'll see a hint of last season's Wheeler coming back, because while the point production is great, in order to compete for the Stanley Cup this year, the Jets will need Wheeler at his best. So how has his performance changed? Let's look at some on-ice numbers to see.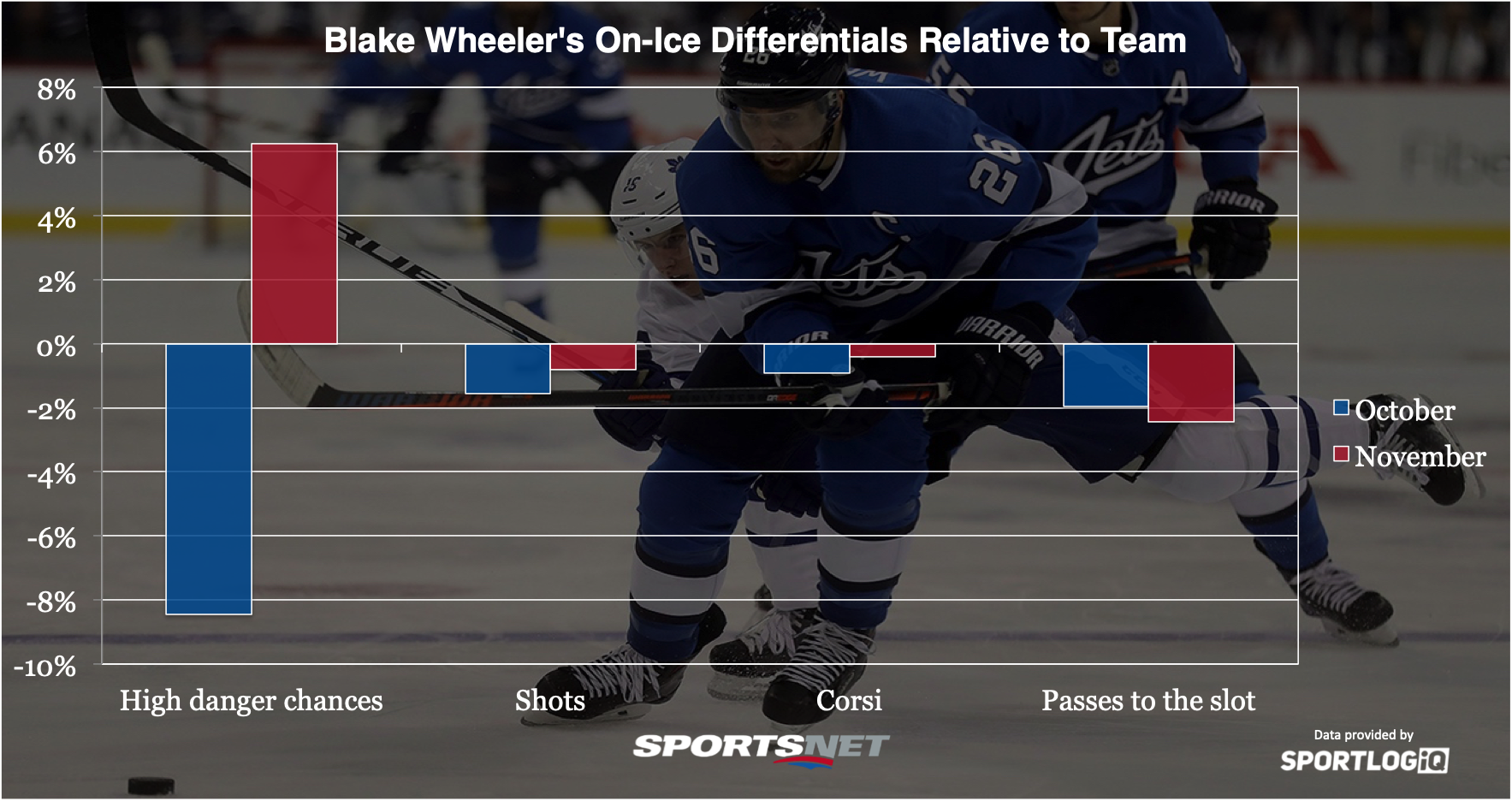 There's some level of improvement on shots for sure, especially in high-danger scoring chances, and what's notable here is that the Jets as a team have improved in all categories, so Wheeler has improved personally at a higher rate than the team around him, which is good.
Unfortunately, while Wheeler is typically excellent at controlling passes to the slot at 5-vs-5 as a particularly active defensive winger and a premier playmaker, it just hasn't been working for him there early this year, and he's still below team average in most on-ice performance measures.
It's a bit early in the season to be wondering if Wheeler is hitting a bit of a decline that most players experience in their early 30s, and the power-play production will paper over most warning signs for the average fan.
But if we get into December or January and Wheeler's typical ability to control shot- and pass-quality still isn't appearing, and the shot attempt numbers continue to be below team average, that big contract begins to look a little ominous.
[relatedlinks]