Heading into the Stanley Cup Final between the San Jose Sharks and Pittsburgh Penguins, there are a plethora of Conn Smythe candidates.
I've already taken a look at one in playoff dynamo Phil Kessel, who leads the star-studded Penguins in scoring with 18 points in 18 games. However Joe Thornton has as many points as Kessel in the same number of games, Sharks defenceman Brent Burns has even more with 20, and it's Logan Couture who leads the Sharks in scoring overall with 24 points.
However, none of those would get my vote if things were decided today, because right behind Couture is Sharks captain Joe Pavelski with 22 points, and most importantly; 13 goals.
While looking at Kessel, comparing him to the other leading scorers in the playoffs, one thing that stood out was how often Pavelski's points came with the game on the line. Updated for the games since that article was published; 72.7 per cent of Pavelski's point production in the playoffs has come with the game within a goal in the first two periods, or tied after.
Delving deeper into the way Pavelski plays the game, we can see part of why his career trajectory has been so odd, seemingly peaking in his late 20s and early 30s. Part of that is certainly playing more often with Thornton, perhaps hockey's best playmaker of the last two decades, but another is the way Pavelski shoots in general.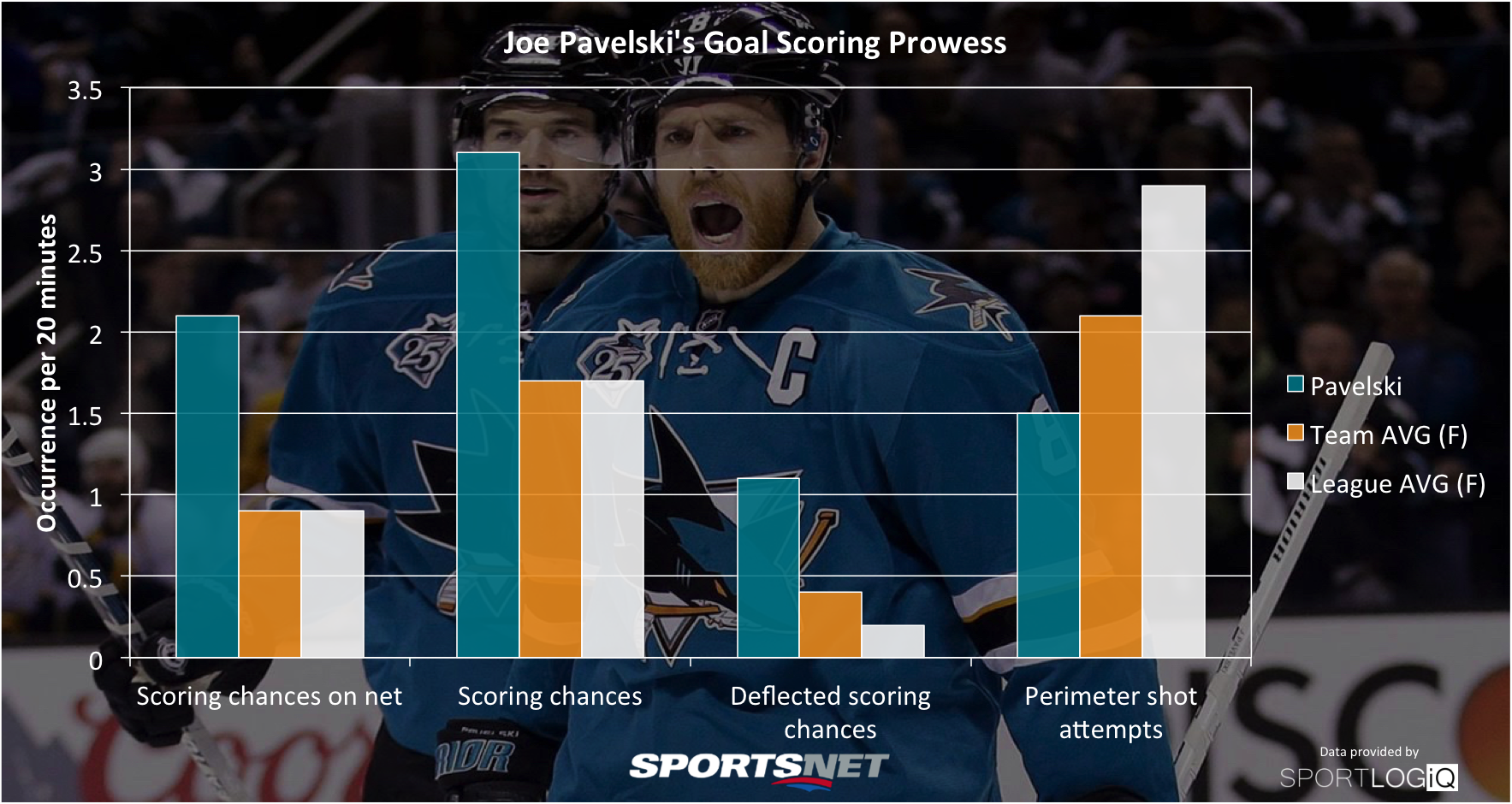 Only Patric Hornqvist has been registering scoring chances at a higher rate while at even strength than Pavelski has, same goes for scoring chances on net, but Pavelski truly stands out when it comes to deflecting pucks, something Sportsnet analyst Mike Johnson has pointed out often during broadcasts.
No player in the NHL is capable of deflecting pucks in the scoring chance area at the rate Pavelski does, with over a third of his total scoring chances coming off tips. In fact, he deflects over five times more pucks in the slot than the average NHL forward these playoffs.
Knowing that deflected shots are much more difficult for the goaltender to stop, this goes a long way to explaining Pavelski's high shooting percentage. However, he also possesses a deadly shot, with the skill to roof the puck from close in.
Pavelski is very aware of his strengths, which is why nearly 70 per cent of his shot attempts during the playoffs have come from within the slot, about double the amount of an average NHL forward.
Even more impressively though, 43 per cent of the shots Pavelski has got on net in the playoffs were from the inner slot, compared to an average of just 18.2 per cent for the rest of the league. That commitment to hang close to the net and take punishment, while fishing for loose pucks to grab, or incoming pucks to deflect, is startlingly unique among star players.
Essentially, Pavelski is the NHL's best net-front man. His hands are quick, and his hand-eye coordination is remarkable. Put him on a line with one of the best playmakers in the history of the game, and you've got of the top goal-scorers in hockey for the last half-decade.