Sharks management may have taken the "C" from Joe Thornton's sweater, but this is still his team, and he still plans to lead them to glory
By Dan Robson


oe Thornton's equipment hung in his stall, wet with sweat, taunting me. I'd watched him skate off the ice. I practically followed him into the dressing room. It couldn't have been more than a minute—and Joe Thornton was gone.
The interview had been arranged before I flew across the continent to meet him. It was a Tuesday morning practice and the Sharks were two days away from playing the visiting Vancouver Canucks. "I'm sorry," the Sharks media coordinator told me. "I don't think he's coming back." We agreed to try again the next day. This time I was right behind him. He stripped his gear with astonishing speed, helmet to gitch in less than 60 seconds. All muscle memory, that. I'd kept a distance, because I was raised well and it's simply impolite to hover over a man as he disrobes. That was a mistake. I glanced at my recorder to make sure it was ready, looked up, and again he was gone. "I'm sorry," the Sharks media coordinator said—Thornton wasn't coming back.
I relay this experience with no intention of disparaging Joe Thornton. It's only significant because he is known for his relaxed sensibilities and personable nature. Interviewing people who are close to him, I heard stories about "Jumbo" helping elderly women with their weights at the gym, becoming a godfather to the son of his Junior B trainer, and, despite living in California, being a St. Thomas, Ont., homebody at heart. But the generally jovial Joe has become a little less inclined to spend time entertaining the press this season. Consider Thornton's year and it makes sense: After the Sharks choked out of the playoffs again—blowing a 3–0 series lead over the Kings—Thornton was heavily criticized. He had just three points in the series. Sharks GM Doug Wilson publicly stated that he'd like the team to be younger—with clear implications for the aging centre. Rumours swirled that there was bad blood in the dressing room. The team took away Thornton's captaincy, instead giving an "A" to four players, including him. And then a reporter from the hockey-crazed media hub of Toronto comes to town looking for a sit-down interview. (Originally, I requested that we grab lunch together. Lunch!) Perhaps you'd quickly hit the showers, too.
Through 17 seasons, Thornton has been one of the most dominating players in the NHL. He sits just outside the top 20 in all-time assists—and will pass Dale Hawerchuk, Phil Housley and possibly Bryan Trottier before the season is done. He posted 76 points last season and is on the same pace this year. He's won the Art Ross Trophy as the league's top scorer, and has had back-to-back seasons where he's tallied more than 90 assists—something only Wayne Gretzky and Mario Lemieux had done. So there's a decent chance Thornton is heading to the Hall of Fame. The question is whether his name will be on the Cup that resides there. The Sharks have made the playoffs every season since Thornton was traded to San Jose from Boston nearly a decade ago but have never made it to a Stanley Cup final. Only a handful of points separate playoff-contending teams in the wild Western Conference. Getting a chance at the Cup this season will be as tough as it's ever been for the Sharks—and time is running out for Thornton. Still, he insists that through the winter of his career he intends to stay in sunny California. And despite the perception that he's clinging to a fractured franchise actively trying to build around a young core, inside the Sharks dressing room a different story is being told—that this team still belongs to Joe Thornton.
Faced with nothing but Thornton's drying gear, I turned from his vacant stall and searched for answers amongst the players who used to call him captain. Patrick Marleau, who was drafted right after Thornton went first to the Bruins in 1997, sighed when asked about the current state of things between Thornton and the team. (During the recent leadership shuffle, Marleau—who served as the Sharks captain from 2004–09—lost his role as assistant captain.) "It really doesn't change us," he says of the leadership shuffle. "We're all in it together. I think [Thornton's] held himself professionally. Guys need to look at that and emulate it." They certainly still look to Thornton for levity. His high-pitched, all-consuming laughter, as teammates describe it, continued to fill the dressing room through the first half of the season. And his teammates appreciate it. "He gets the locker room laughing and howling," says Matt Nieto, the sophomore left-winger who plays on Thornton's line. "He's one of the funniest guys I've ever played with." That big personality makes him a pillar of the team, whether he wears the "C" on his sweater or not. "He's kind of a clown around the locker room, but when it's time to be serious, he's the guy we lean on," says defenceman Marc-Édouard Vlasic. "He's a great leader, a great friend."
True to form, Thornton was laughing when he called me a few weeks after my trip to San Jose. His cheerfulness took me by surprise, considering I'd been somewhat of a pest trying to connect with him. Jumbo waxed nostalgic about the game that became his profession. About growing up in St. Thomas, watching the local Jr. B team—the Stars—thinking they were just like the Toronto Maple Leafs; and about making that team as a 14-year-old. "You don't have to carry your stuff home anymore," he says. "You get your laundry done. It's a huge deal." When asked about his favourite moments in the game, his mind stayed with those early years, like the time his team won a Silver Stick tournament in minor hockey, or playing for the Stars against their rivals, the Stratford Cullitons, with teammates he still considers among his closest friends. He laughs, thinking about his two older brothers and their backyard-rink battles on Crescent Avenue. What he's most grateful for today, he says, is the family he's built in San Jose—his wife, Tabea, their two young kids, and their recent addition, a floppy Bernedoodle named Indy. "I wake up every morning and say, 'I get to go play hockey,'" Thornton says. "It really is that cool for me."
Thornton downplays losing the captaincy with a lighthearted chuckle, even while revealing the way he learned about the decision. "It was actually our beat writer who told me," he says. "That's how I found out. It was kind of weird … He just texted me and said, 'Do you have any comment? You're losing your "C."' And I said, 'Oh, I did?' It was just one of those things."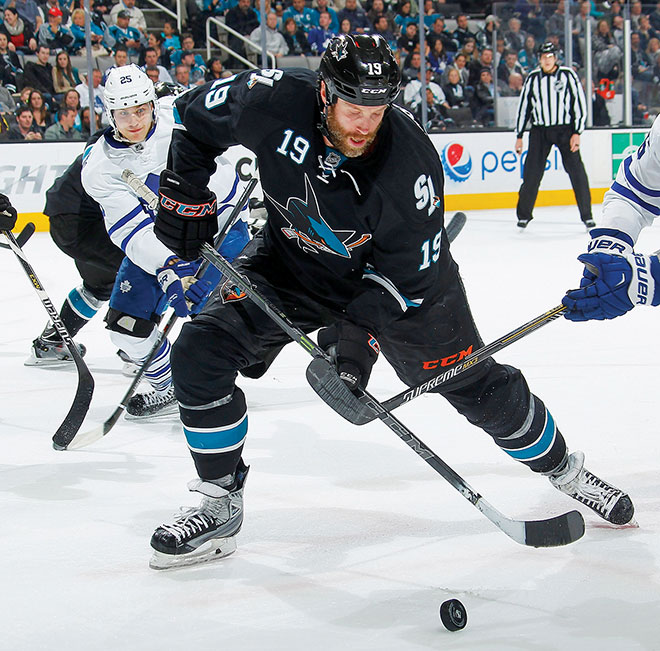 It wasn't the first time Thornton had been singled out for his team's disappointing results. When the Boston Bruins blew a 3–1 series lead over the rival Montreal Canadiens in the first round of the 2004 playoffs, it was a disaster for Thornton, who didn't score a point in the series. Critics said he wasn't the kind of serious leader the organization needed. Thornton played for HC Davos in Switzerland (where he met Tabea) during the lockout season the following year. Upon his return, Thornton once again looked like a star, but he was sent to San Jose in exchange for three marginal players. He went on to win the Hart Trophy that year—the only man to win the MVP award while playing for two different teams in a season. Years later, the architect of that trade, Bruins GM Mike O'Connell, defended the team's decision. "I asked myself if Joe Thornton could lead us to the Stanley Cup and my answer was no," O'Connell told the New England Hockey Journal, adding that the Bruins knew they could build around young players like Patrice Bergeron who have the "championship character" it takes to win. The Bruins won the Cup in 2011.
Today, Thornton seems to be in the middle of a similar divide with Sharks management. He and Marleau—together the cornerstone of the team for nearly a decade—both signed three-year contract extensions last January. But the team hit a new low last spring with that embarrassing exit from the playoffs. After losing game seven, Thornton's look of complete dejection was made into a heartbreaking GIF that went viral. It was a brief glimpse into the agony of losing year after year, of the constant grind of playing the scapegoat, of hanging the gear back up in your stall, dripping the sweat of another lost season. "You think about it and still wish it could be different," Thornton says. "You think you have it right in the grip of your hand."
In June, Wilson told the press that some players had informed the GM the team felt more like a bunch of "co-workers" than teammates—and that he thought the franchise needed to rebuild and become a "tomorrow" team. By stripping Thornton of the captaincy, it looked like the organization was doing everything it could to push him and his no-trade clause out the door.
The rest of the team found out about Thornton losing the "C" through the press as well, and his phone was immediately flooded with texts from confused, concerned teammates. "We were like, 'Are you OK, man?'" says Adam Burish, a veteran fourth-liner who was in his third season with the Sharks before recently being sent to the AHL. "'We still love you. You're still the man to all of us.' To me that's all that matters—what we think."
Management framed the move as an attempt to disperse accountability on the team. And it did seem to have a galvanizing effect. Before training camp this year, the players organized a trip to Lake Tahoe, something they had never done before. No members of the coaching staff or management were invited. The players spent two days putting everything out on the table. "It was all team stuff. We didn't go and play golf," says Burish. "All right, you read this, you saw that—let's talk about it, let's vent." They dealt with the elephant in the room, Jumbo the former captain. "Don't worry about me. I'm a big boy," he told them. "I'm all good."
When the season started, Thornton says, he stopped thinking about the "C" entirely. "It stung for a day and then life goes on," he says. "It's not that hard at all, to be honest with you. It's not going to change who I am or how I play. At the end of the day it's just a piece of felt on your sweater. That's it." John Thornton, his older brother and agent, told me that Thornton still considers himself the Sharks' leader. "A Boy Scout badge means nothing on the shoulder of a hockey player," John says, adding later: "He believes in his team. That's the only reason he's there."
The part that's hard to let go of, though—the thing that hurts much more than the loss of a letter—is his team's chronic disappointment in the playoffs. The constant feeling that the team is good enough to get there but just can't find its way. "It doesn't matter if it's five years ago or this year," Thornton says and sighs. "They all sting the same." Those who have seen how the losses wear on Thornton aren't fooled by the smiling front he tends to put on. Chris Bailey, a police officer in London, Ont., played novice hockey with Thornton in St. Thomas and the pair have been close friends since. He's never seen Thornton go easy on the idea of winning. "Everything he does is game seven to him," says Bailey. "Whether we're playing golf, cards or rock, paper, scissors—he wants to win. That's the only time he shows his emotion."
As the trade deadline nears, Thornton's name is bound to hit the headlines again. There are several teams that would happily add him to their roster in exchange for some fresh talent to bolster a Sharks core built around young stars Joe Pavelski and Logan Couture. The speculation that Thornton would agree to waive his no-trade clause is just too juicy to ignore. But he insists it won't happen: "I don't know how many years I can play, but I want to retire as a Shark," he says. Thornton still believes that this team—his team—is his best chance at breaking a playoff curse that's followed him through nearly two decades and finally getting to raise the Cup. But anything less, and it's one more season of scapegoating Joe.
Photo credits: Steve Babineau/Getty; Getty