John Scott was an NHL All-Star, then he wasn't, then he was again. It's been quite a journey for the veteran enforcer.
A campaign that started with Sportsnet's Jeff Marek and Greg Wyshynski of Yahoo's Puck Daddy blog gained traction and pushed Scott to the front of the league's fan voting process. No one ever expected Scott to be an All-Star.
Pressure from the NHL and a controversial trade almost sunk Scott's All-Star Game debut. Scott opened up about the situation and his journey from junior B cast-off to controversial NHL All-Star Game captain in The Players' Tribune.
Scott acknowledged that he's out of his element among the game's biggest superstars. Blame a flawed voting process. Scott only ever wanted to be treated fairly:
From the story:

But while I don't deserve to be an All-Star, I also don't think I deserve to be treated like I've been by the league throughout this saga. I'm an NHL player — and, whatever my set of skills may be, that I'm an NHL player is no accident. I genuinely believe that when I'm on the ice, or even just the bench, I make my teammates feel safe to do what they do best.
Does that make me an elite player? God, no. Am I going to be nervous as hell when I step onto the ice on Sunday — and I'm playing three-on-three, with Tarasenko whizzing by over one shoulder, and Toews putting the moves on me over the other? Of course. Will I be the worst skater in the game? I mean, probably.
But at the same time: this isn't Charlie and the Chocolate Factory. I'm not some random person off the street, and I didn't win a golden ticket to "play hockey with the stars." I won an internet fan vote, sure. And at some point, without question, it was a joke. It might even finish as a joke. But it didn't start as one. It started with a very small pool, out of a very small pool, out of the very, very smallest pool of hockey players in the world: NHLers. That was the vote. A fan vote, an internet vote — but a vote from among the 700 or so best hockey players in North American professional sports.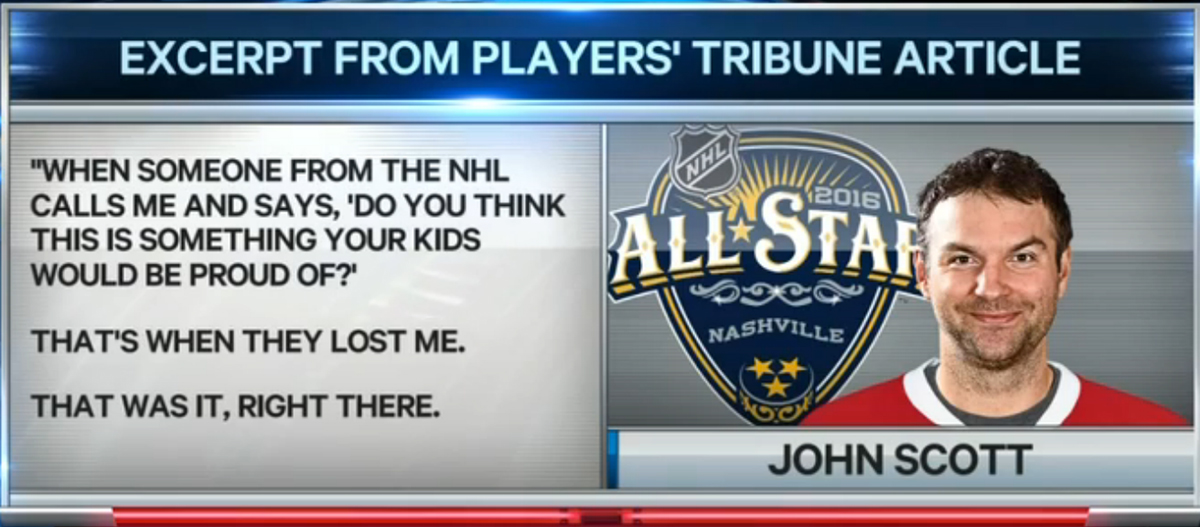 Scott's path to the NHL was hardly conventional. Unlike many of his peers who literally fought their way up the ranks, Scott admitted he hadn't been in a hockey fight until the age of 23.
Look, I get it. I'm 6-foot-8. Everybody's first question is always, "Were you beating kids up back in youth hockey?"
No. Of course not. I was a stay-at-home defenseman. Never the best player. I got cut from every Junior B team I tried out for. The coaches kept saying, "Too big. Too slow."
I was like, too big? What the hell am I supposed to do about that?
So I got faster. And I did just enough to get myself a scholarship to play hockey at Michigan Tech University. The way I saw it, I would never make the NHL, but I'd have an engineering degree. By 30, I'd be sitting in an office at GM back in sleepy Ontario, in my suit, and happy as hell about it.
Scott put off his plans to work for GM when an opportunity to play for the AHL Houston Aeros presented itself. Then, the NHL came calling. Scott wrote about how he blew his first chance to appear on Hockey Night in Canada when he forgot to carry his passport. He tried to talk his way on to the plane, but the attendant was having none of it.
I begged the airport attendant. I showed her my driver's license. I showed her pictures of me in my hockey jersey. I laid the Canadian accent on thick.
"Ma'am, I'm a Canadian citizen! I need to get on that flight. I'm suppose to play in the NHL tonight, eh?"
Nope. She wouldn't budge. I was crushed. I mean, that's not an easy call to make to an NHL team. "Hey, crazy story, uh … I don't have my passport."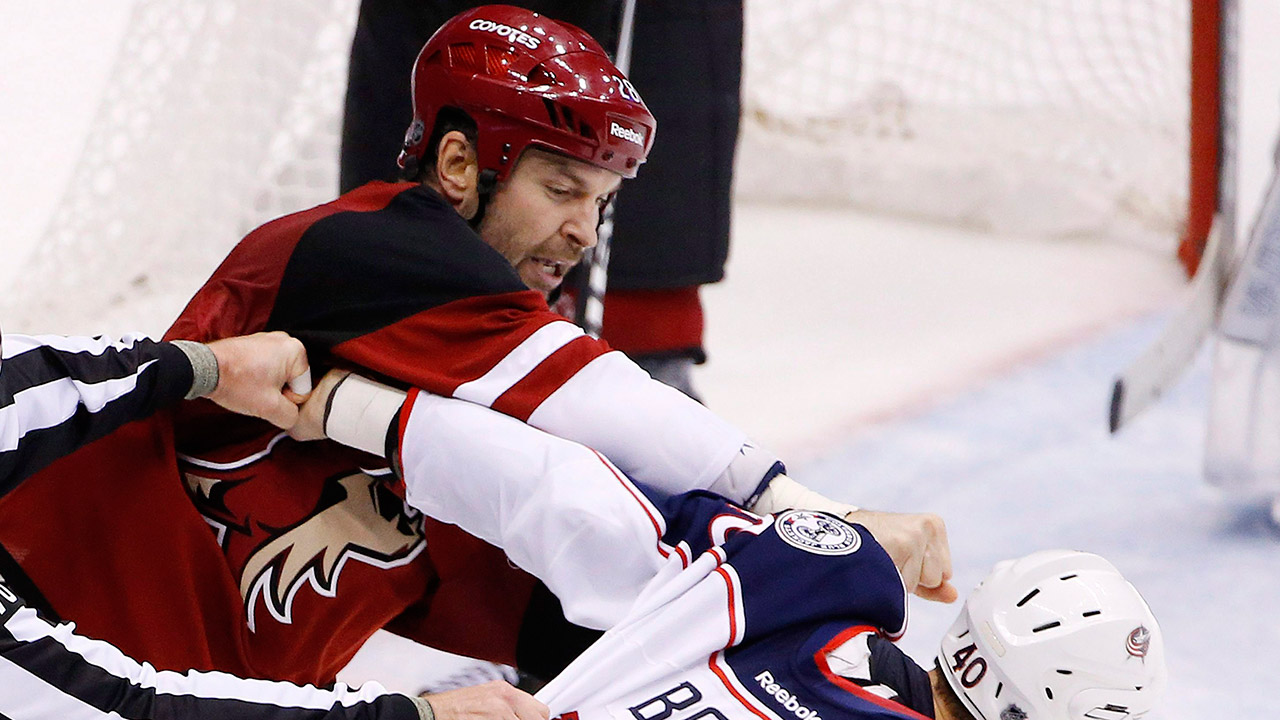 It's a fantastic, honest read from Scott. He pulls no punches in recounting the trade that sent from the Arizona Coyotes to the Montreal Canadiens and, at least temporarily, derailed his All-Star plans.
Read John Scott's story in its entirety at The Players' Tribune.