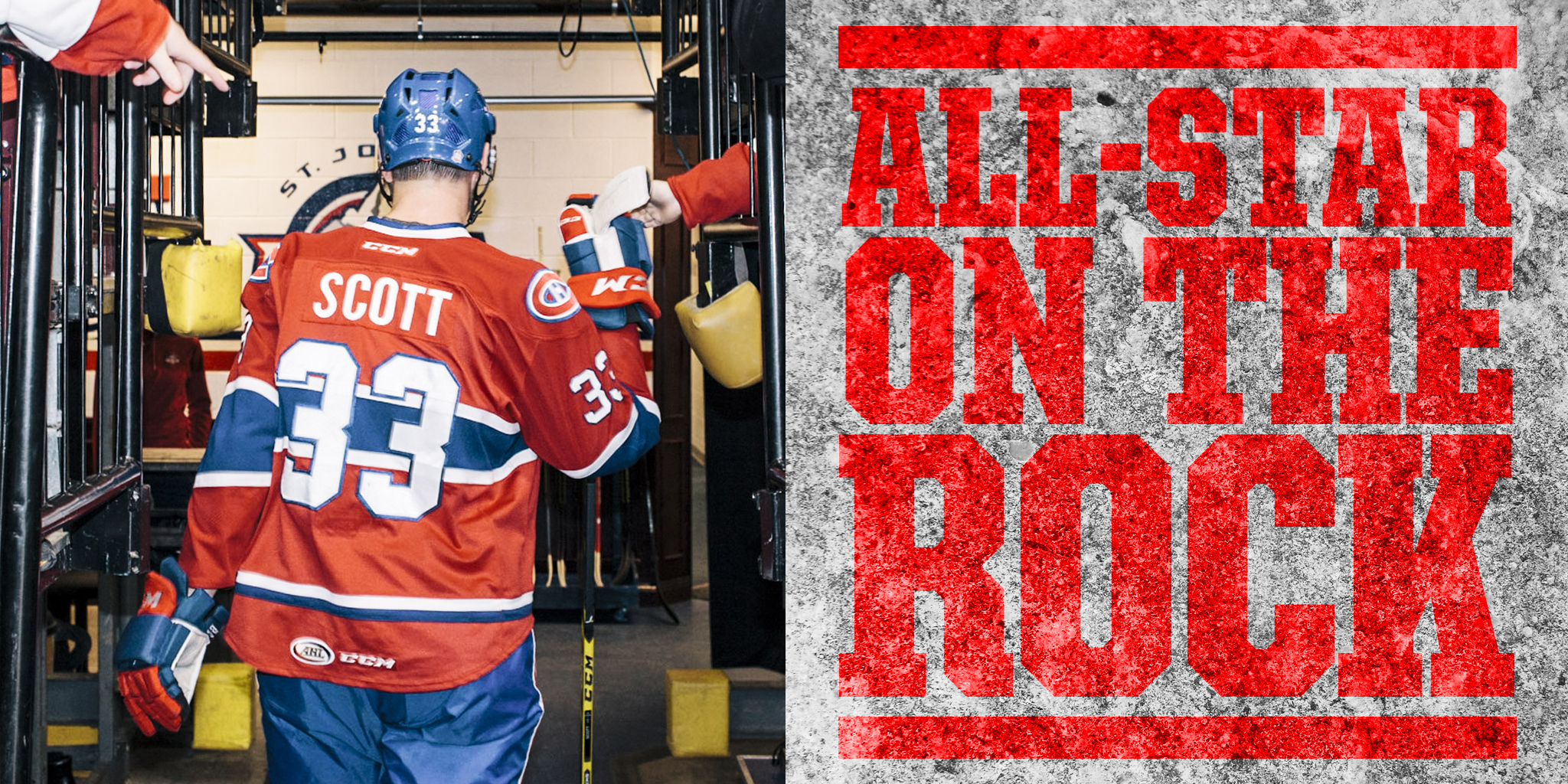 From All-Star Game MVP to the hinterlands of hockey, it's been a crazy few months for John Scott. He lets us inside his wild ride.
By Kristina Rutherford in St. John's, N.L.
Photography by John Kealey
THURS., MARCH 10. 11:25 P.M. NST, CHRISTIAN'S BAR
An open-mouthed cod is starting to thaw and drip onto the floor of the oldest bar in St. John's. This fish would be a star at a derby, measuring about the length of your arm and with a solid girth. And it's staring at John Scott.
The cod's handler, a man dressed head to toe in green rain gear who minutes earlier was singing and dancing with a paddle, has ensured that fish and NHL All-Star are face-to-face, possible only because Scott is kneeling on the floor. That reduces him to about the height of the fish's carrier.
A huge grin is plastered on Scott's large face. He folds his arms behind his back, then he leans in, closes his eyes—this has to be as romantic as possible—and plants a kiss on the cod's upper lip. Scott laughs, he kisses the fish again, and then he throws his arms up and yells: "Woo!"
John Scott is, in his own words, "up for anything." Like this Screeching In, a Newfoundland tradition for visitors to the Rock. He's totally game. But he wasn't prepared for what happened to him this season. A couple months ago he was the biggest story in sports when fans voted him into the All-Star Game, a joke that didn't amuse the NHL. After he was named captain of the Pacific Division All-Star Team, the Arizona Coyotes traded him to Montreal and he was promptly sent down to their farm team, the St. John's IceCaps. One day, Scott was playing for an NHL team contending for the playoffs, the next he was on the fourth line of an AHL team, 3,811 km away from his wife and four daughters.
And this is where we find him now: The Former Biggest Story in Sports, in the twilight of his career, on his eighth pro team, playing out the end of a year-long contract with no idea where his next pro hockey stop will be, if anywhere. He hasn't seen his newborn twins in weeks, the IceCaps are well out of the playoffs, and the long road trips on the bus aren't exactly a welcome change. But by virtue of his unfathomable January, Scott is this team's most visible player: His jersey T-shirt is the item by the front door in the team store; he's the featured player in the recently-released trading cards; and he's the guy they promote in their in-game ads for The Keg. Yet he is still very much a newcomer. Between two all-star breaks (NHL, then AHL) the birth of his twin daughters (Feb. 5) and a bunch of road trips, he's been in the city barely a week. And so today, on his first of back-to-back days off, John Scott is playing tour-guide and tourist in St. John's. So let's go back to the start of the day.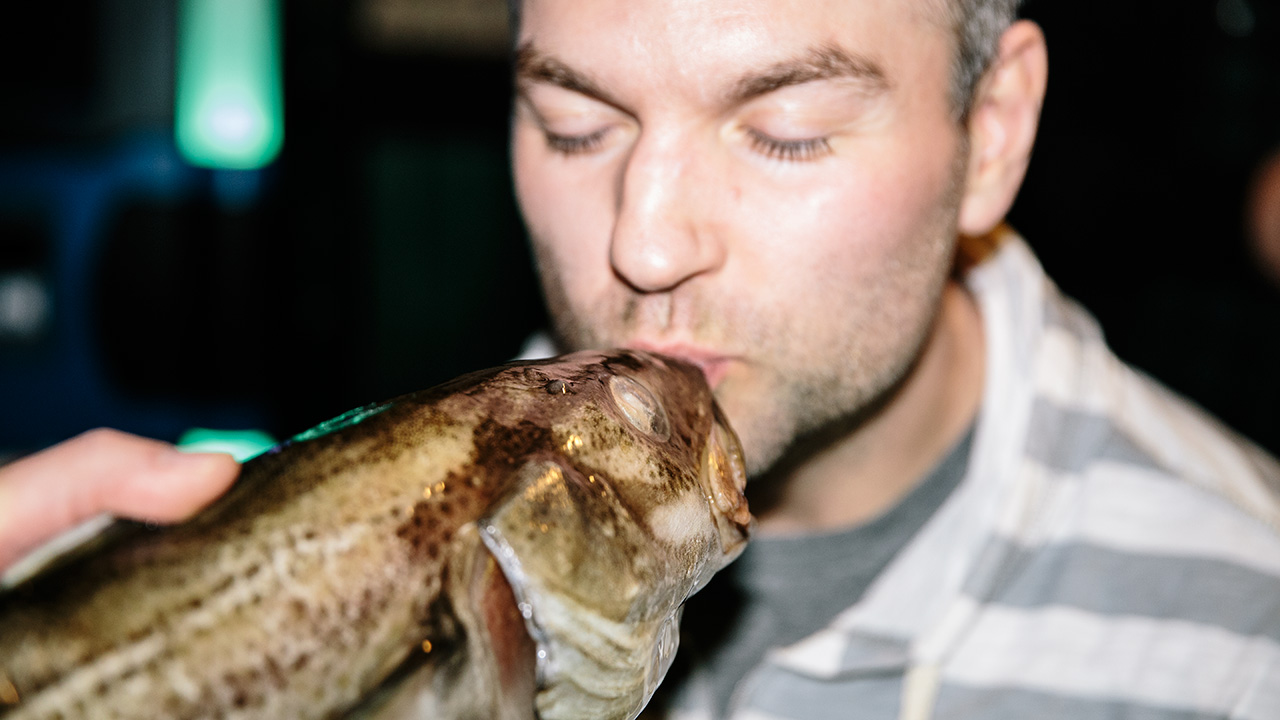 9:31 A.M., BREAKFAST
The text comes in at 9:30 sharp. "Late on the first day… Not good."
It's from John Scott.
He is impossible to miss, six-foot-eight and 260 lb., standing on the sidewalk in front of his apartment building, smiling. Scott is wearing a straight-brimmed Blue Jays ball cap, jeans, winter boots and a Nobis winter jacket with a fur hood, a freebie from the All-Star Game. ("Free stuff is the best part of being semi-famous," he says.) He's already ripped the cuff on one of the sleeves.
He climbs into the truck, full of questions about how everybody's doing, with commentary on the zigzagging streets of St. John's, how he heard the houses were painted different bright colours so drunk sailors could easily locate their own, how he and the guys are excited about getting Screeched In tonight. (His first question when asked if he'd be up for getting Screeched In: "Can I invite my teammates?") He sings along to a Jason Mraz song playing in the truck—"I'm youuuurs"—while he gives directions to the restaurant he chose for breakfast. You quickly forget you're sitting next to the MVP of the NHL All-Star Game.
At Blue on Water in downtown St. John's, Scott settles into a booth and orders oatmeal, a bagel with salmon and a salad. When John Scott goes out to eat, he gets two main courses "always." The reaction from waiters and waitresses usually sounds something like this: "And the ribs?"
Scott likes doing interviews, maybe because he's the middle of three boys, the so-called attention-seeking child. But he hasn't said yes to even half the requests that have crossed his agent's desk, partly because there've been hundreds. And frankly, he's a little tired of talking about Arizona and the trade and the All-Star Game. "I say the same thing every time," he says, eyes wide, sipping on coffee. "Seriously. I'm not reinventing the wheel every time I do an interview. 'So, Nashville, what was that like?'" he says, imitating reporte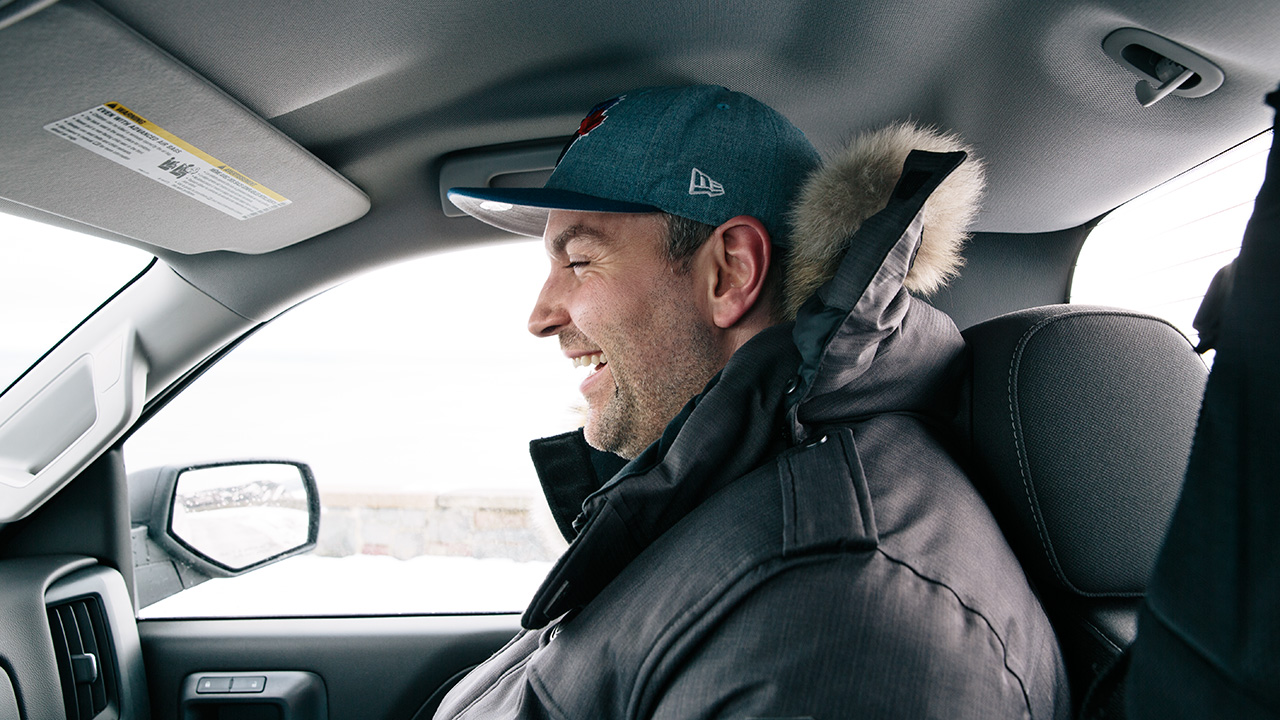 But that's not where conversation begins this morning, not with the stuff we already know about John Scott. "My childhood was pretty typical," he says, but in the next breath he points out his family moved from Edmonton to St. Catharines, Ont., to live with his grandparents after a tornado ripped out their trailer when he was five. And that he was a twin, but the other baby didn't make it. Boy or girl, he was never told.
"My family's not very emotional," Scott says, chewing on oatmeal. "We don't talk about deep stuff. The first time I heard my dad say 'I love you' was when I was, like, 22." This father has a different approach than his own dad: "I say it all the time."
These days, though, it's over FaceTime.
Scott is atypical of his family in a lot of other ways. Neither of his brothers eclipses six feet. (Jamie is older and "the tough one"—he once smacked Scott in the face with a baseball bat; Curtis is younger and a construction superintendent, just like dad.) His father is six feet and his mom is five-foot-five. Somehow their son is the IceCap whose sticks are so long they almost don't fit inside the wooden stick rack outside the dressing room.
Scotts aren't known for their athleticism, either. Growing up, Scott's dad told him he was a rower, except it later came out he never operated a paddle. "He was a coxswain," he says, laughing. "I'm like, 'You didn't row.' He was the little weenie in front."
It wasn't until he played Jr. B that Scott realized he might make hockey a career. He never really dreamed of the NHL growing up. When he was in Grades 9 and 10, he quit playing competitively because he felt burnt out. Instead he played a couple seasons of high school and house league, and lit it up: The big defenceman who never scored in rep had a few four-goal games. "I was, like, really good those two seasons," he says, smiling.
Scott has finished his meals, and the waitress comes by to collect the plates. His are clean, but he swipes an unfinished sausage off another and pops it in his mouth. Can't let that go to waste.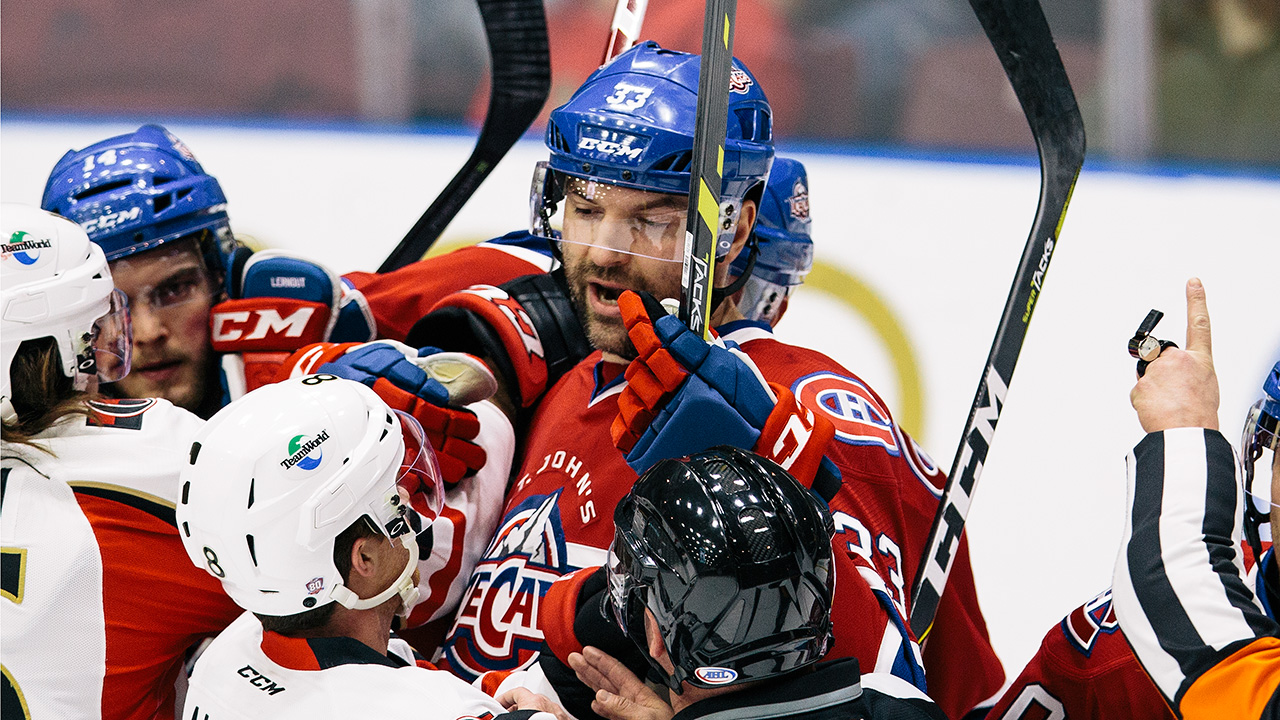 11:00 A.M., SIGNAL HILL
This is a "must-see," if you ask John Scott. The harbour and boats and brightly painted houses are below, and the city looks like a postcard cut out of rock. It's the view from Signal Hill, a popular spot for tourists, though we're the only ones here on this windy Thursday.
"Beautiful, isn't it?" Scott says, looking over the harbour, hands in his jacket pockets. "Take your time, enjoy it."
He was here a couple weeks earlier with his in-laws and his two oldest daughters, four-year-old Eva and two-year-old Gabriella. (Gabby has Scott's genes: She looks just like him, and she's already as big as her older sister, projected to be six-foot-two, though her dad doesn't believe she'll hit that height.) His wife, Danielle, and month-old twins, Estelle and Sophia, haven't visited yet, and they won't: It's really not possible to take that newborn show on the road.
Danielle calls from the family home in Traverse City, Mich., a couple hours later. He asks if she got much sleep (no) and when he finds out Eva was running around outside in the rain, he asks, "Was she all muddy?" Later still, he scrolls through his phone looking at pictures of his daughters. One twin has a birthmark on her upper thigh, but he can't remember if it's Estelle or Sophia.
Scott widens his eyes and says "stress" four times when he talks about how difficult this has been on his family, his being here. When he and Danielle found out they were having twins, they freaked out, then prepared, nested and got comfortable—in Arizona. And then everything went haywire.
He and Danielle met in college, both engineering students at Michigan Tech, and got engaged at 22 after less than a year of dating. He asked her out "a bunch of times" and she turned him down until finally he saw her one night at the bar wearing sweatpants. She'd just broken up with her boyfriend. "I got her when she was vulnerable," he says, smiling. Scott liked Danielle because she was different from the girls he met through hockey: "She doesn't put up with shit."
From Signal Hill, it's over to home ice, Mile One Centre, for a quick pit-stop. Scott walks through the big wooden door of the team's locker room and he's greeted by a few teammates who just finished an optional skate: "Big John!"
Scott is the oldest IceCap at 33, one of only three players on the team north of 27. At 28, alternate captain Bud Holloway is in that group. He's among a couple of IceCaps sitting on a couch in a room off the dressing room, watching curling on TV. "This is Big John's hangout," goalie Zach Fucale explains.
Holloway says Scott was a "quick fit" with this team, even if he came with limelight the IceCaps had never seen before: When Scott first arrived fans chanted "MVP!" every time he set foot on the ice, attendance spiked, and he had supporters at away games, though that's died down. "Getting to meet John is amazing, hearing all his stories," Holloway says. "He's an NHL player."
Well, not right this second. Right now, he's an AHL player who's had 10 different linemates in 15 games. He's also scored a goal for the IceCaps, and has assists in back-to-back games. He points this out in the truck as we leave the rink. "Your timing is great for this story," he says, straight-faced. Then he breaks into a smile. "You're here for my point streak. Career high!"
(One game later, Scott's point streak ends, but he scores his second goal as an IceCap a night after that.)
The nicest goal John Scott ever scored was last season, when he was a Shark. It was in San Jose—one of six NHL teams he's played for, where Joe Thornton christened Scott "Biiiiig"—that he registered a career-high three goals in a single NHL season.
The beauty came against Washington. "I was in the slot and went shelf over [Braden] Holtby's shoulder," he says. Later, while he's eating cheesecake, he remembers another detail. Ovechkin skated by the bench, looked at him and said: "That was a nice fuckin' shot." Scott raises his eyebrows. "Ovie," he says, smiling.
Scott remembers every detail of every goal he's scored in the NHL, who was in net, how it went in, if it was "legit" or not. You probably won't meet another eight-year veteran of the league who can do the same.
"Five goals—how can you forget?" he asks, raising his arms. "I have pre-season assists I could tell ya about."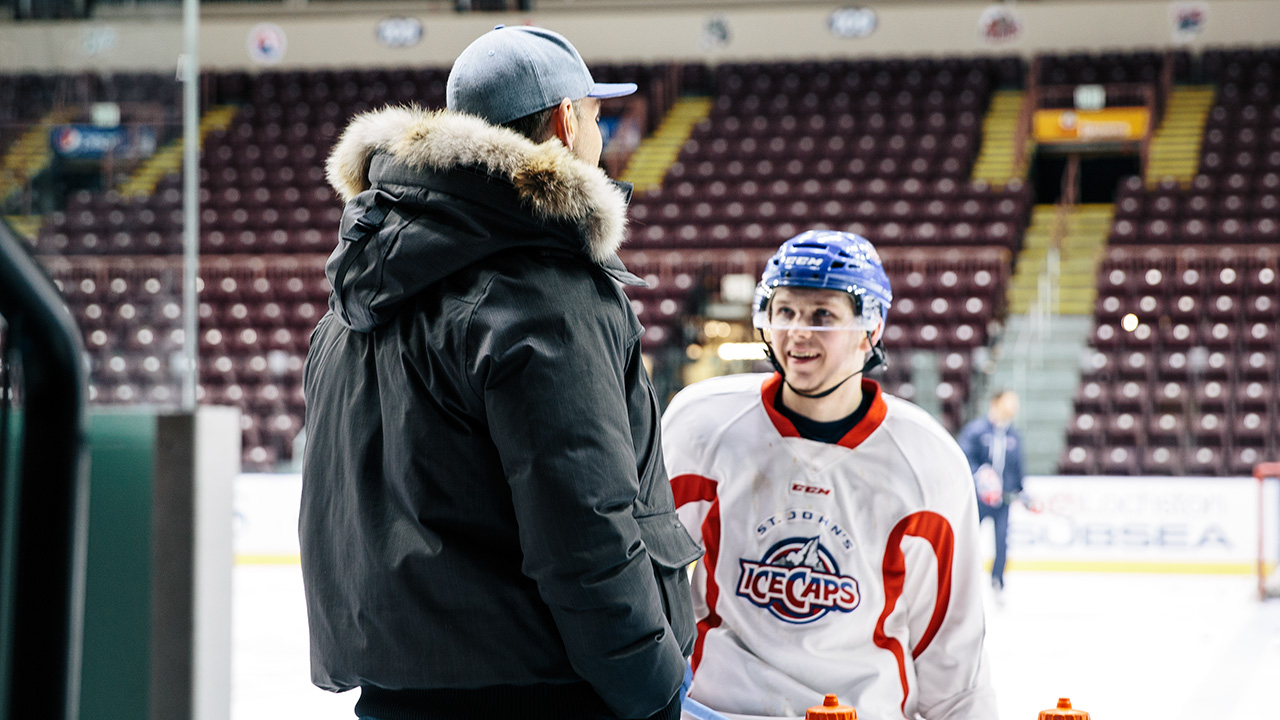 1:30 p.m., JOHN SCOTT'S APARTMENT
There is no real evidence that John Scott lives here, aside from the massive shoes at the entrance and the wooden cribbage board on the island in the kitchen.
And there's also that picture on the living room table. Some tell more than 1,000 words.
Scott wears his black and yellow NHL All-Star sweater, and he's on the shoulders of Brent Burns and Joe Pavelski, every guy looking like the happiest man on the planet, Scott looking slightly happier. It was snapped seconds after he was named the game's MVP, a glossy shot a fan gave him at a recent IceCaps game.
At the start of that weekend in Nashville, Scott had a meeting with NHL Commissioner Gary Bettman. "If we didn't want you here," Bettman told him, "you wouldn't be here."
Scott says he just stared at Bettman. "We're fine," he finally told him. "Don't worry, I'm not gonna do anything."
The whole weekend, Scott had guys he calls "handlers" around him at all times—NHL employees, since he had no NHL team and therefore no public relations representative. Asked in a pre-game interview what sweater he might wear for the skills competition, Scott said the IceCaps. He got a phone call from a lawyer five minutes later. "It was panic," he says.
His voice goes up an octave, to lawyer-tone: "Hey, John, just wanna touch base. Ummm, just so you know, just heard, we're trying to figure out this jersey thing."
"Alright, relax," Scott told him. "Maybe I'll just wear my IceCaps hat."
Back to lawyer tone: "Just want to relay this message, this is the NHL and we can't really do that."
Scott's laughing, remembering how the NHL "handlers" even made him turn his IceCaps T-shirt inside out for interviews. "I just kept doing stuff," he says, grinning. "I think they were worried I was gonna say something disparaging about the league, badmouth them or air what happened. But I was just there to have fun.
"For me, just to play with those cool guys… hanging out with Jagr was sick," he says. Scott bought a vintage Jagr Penguins sweater, and Jagr's was the one autograph he wanted. "We were captains, so we got to be around each other a little bit more. Every time they'd call the captains to centre ice I was like, he says, rubbing up against the wall, pretending it's Jagr, "'Hey, hey, hey, hey, Jags. We're cool, right?'"
Shortly after that photo on his dining room table was taken, Bettman handed Scott his winner's cheque and asked: "Are we still good?" Scott just smiled and said yes. Today, he points out: "I would still like to play in the NHL next year, if I can get a job in hockey."
There is a chance, though, that we already saw John Scott in an NHL uniform for the last time, on December 31. He was traded 15 days later. He wanted to "strangle" Coyotes GM Don Maloney when he found out, and his first thought when told he was being assigned to St. John's was "Fuck, where?" He'd never been east of Montreal. That day, Jan. 15, Scott took a screen cap of Arizona's record. They were second in the Pacific, with a winning record. He checked again yesterday, and since he left, they've gone 5-17-1.
"I want them to regret trading me," he says, "because I don't think they should have."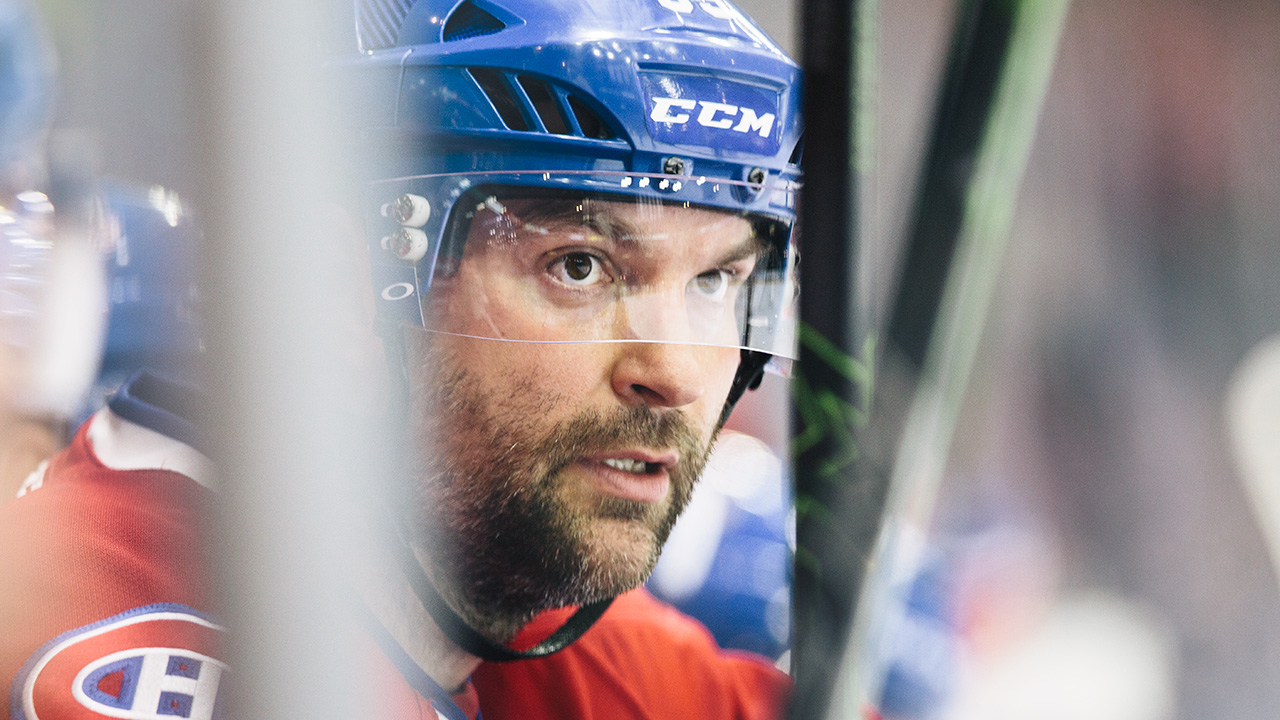 6 P.M., DINNER
It's so windy here at the Eastern-most point in North America that the trees on the drive up are nearly parallel to the ground, which John Scott points out from his shotgun seat. And since, after a quick stop at Cape Spear, we're going out for dinner and then to Christian's Bar for the Screeching In ceremony, Scott has replaced his warm winter coat with a light North Face jacket. He has no gloves and no hat. He is about to freeze.
The wind screams while Scott walks up the stone stairs, hiding his hands in his jeans pockets while posing for photos, lifting his shoulders and drawing his elbows to his ribs like you do when you're frigid. He runs up an icy hill, somehow not slipping in his running shoes, and he smiles with the lighthouse in the background while the wind blows the hood from his long-sleeved shirt up onto his head.
Photo shoot finished, Scott jumps back into the truck and rubs his hands together like he's fireside while the heat pumps out of the vents. "It's time for a beer!"
Back on Water Street, site of the morning breakfast, there's a fancy-looking restaurant that's relatively new in town. On the other side of the street, a pub that brews its own beer. It's Scott's choice, and he goes with Yellowbelly Brewery.
When the waiter comes over for the third time to take our order, Scott picks the Costa Rican pizza and the short rib, then apologizes for taking so long and explains, "I'm a Chatty Cathy."
You forget you're dining with an enforcer. As Holloway puts it, "For a big guy, most people think cave man. But he's incredibly articulate, he can talk about anything, and he's a guy you want to be around."
Scott is often told he's approachable and looked to as a leader, but figures,"It's because I'm big, and I have a big face."
The only real indications that his day job can get aggressive are his still slightly raw knuckles—"I'm 2-0," he says, of his dust-ups as an IceCap—and his crooked nose, which veers to the right. Point it out and he'll examine you for imperfections: "Hmmm, what can I find here?" He had a nose job in college, but he still can't breathe properly out of his right nostril. "If you could stick your finger up my nose, you could feel it where it's broken," he says, tracing the route like it's a zigzagging St. John's street. "It goes up, and it hits the place where it's broken and you have to go around the corner and up again. I'm gonna get it fixed after I'm done playing, just for my breathing and my sanity."
Scott has no idea when he'll be done playing. For a couple years now, he's been telling his long-time agent, Ben Hankinson, "You're gonna have a hard time finding me a team this year, I think I'm done." Hankinson's reply is always something like this: "I'll get you somewhere, Johnny, don't worry."
What the All-Star Game did for John Scott is not only make him a boatload of money and turn him into a household name and give him a ton of publicity and Instagram followers, but it took away the fear of life after hockey. "I think I have a lot more options," he says, sipping on a beer, with a slice of pizza in his hand. He'd explore being a TV analyst or the GM of a team. "I think I'm smart enough, and I have the wherewithal to do that. It definitely has opened some doors up."
In a couple minutes, he'll spot a few teammates at a nearby table and invite them to join us. Yes, he's having fun in St. John's, more than he thought he would. A month earlier he was playing in front of a sold-out NHL crowd, and now he's playing at the Mile One Centre, which doesn't even reach its 7,000-fan capacity most nights. "I was not pumped, initially," Scott says. "But this is not a bad situation, as far as hockey goes."
His future in the game depends on what team will take him, either in the AHL or NHL, and whether it's a good set-up for Danielle and his daughters. "I would like any NHL market, honestly. It's not like I'm gonna turn down a one-way. Beggars can't be choosers. I can't be picky."
Either way, if Scott has played his final game in the NHL, he left a mark. He stopped reading about himself weeks before the All-Star Game, but his dad kept telling him his "feel-good" story was everywhere, like a gift to the NHL.
"And then I was gone," Scott says, smiling. "Greatest gift to the AHL."