Last season, the Toronto Maple Leafs' top power play unit featuring Mitch Marner, Nazem Kadri, Morgan Rielly, Tyler Bozak, and James van Riemsdyk was one of the most dangerous five-man units the NHL has seen in the past decade. For every 20 minutes they were on the ice with the man advantage, they scored an average of 4.5 goals.
Marner was undoubtedly the engine behind the unit, generating 17.5 scoring chances for his teammates every 20 minutes, far more than the next most important playmaker on the unit in Kadri, who generated 10.8.
However, playmaking is only part of the equation. Arguably the second-most important facet of that power play's dominance was the net-front presence of van Riemsdyk, who is now a Philadelphia Flyer.
Sportsnet Tonight
Leafs still have a few jobs up for grabs
September 23 2018
The Maple Leafs will begin the season with newly acquired star centre John Tavares slotted into that net front spot on the power play. He requested that assignment despite not playing that position on the Islanders' power play — Anders Lee played the role there.
Looking at Tavares' puck skills, hand-eye coordination, and finishing ability, it doesn't seem like a bad fit. Anyone who remembers his junior career can instantly recall he played this position for Team Canada at the World Junior Hockey Championship, and scored a highlight reel goal against Slovakia where he was stopped, recovered the rebound in midair, then batted the puck in.
Based on skills and reputation, it's hard to imagine Tavares as a downgrade, but digging into the data here shows how much van Riemsdyk excelled in this specific role.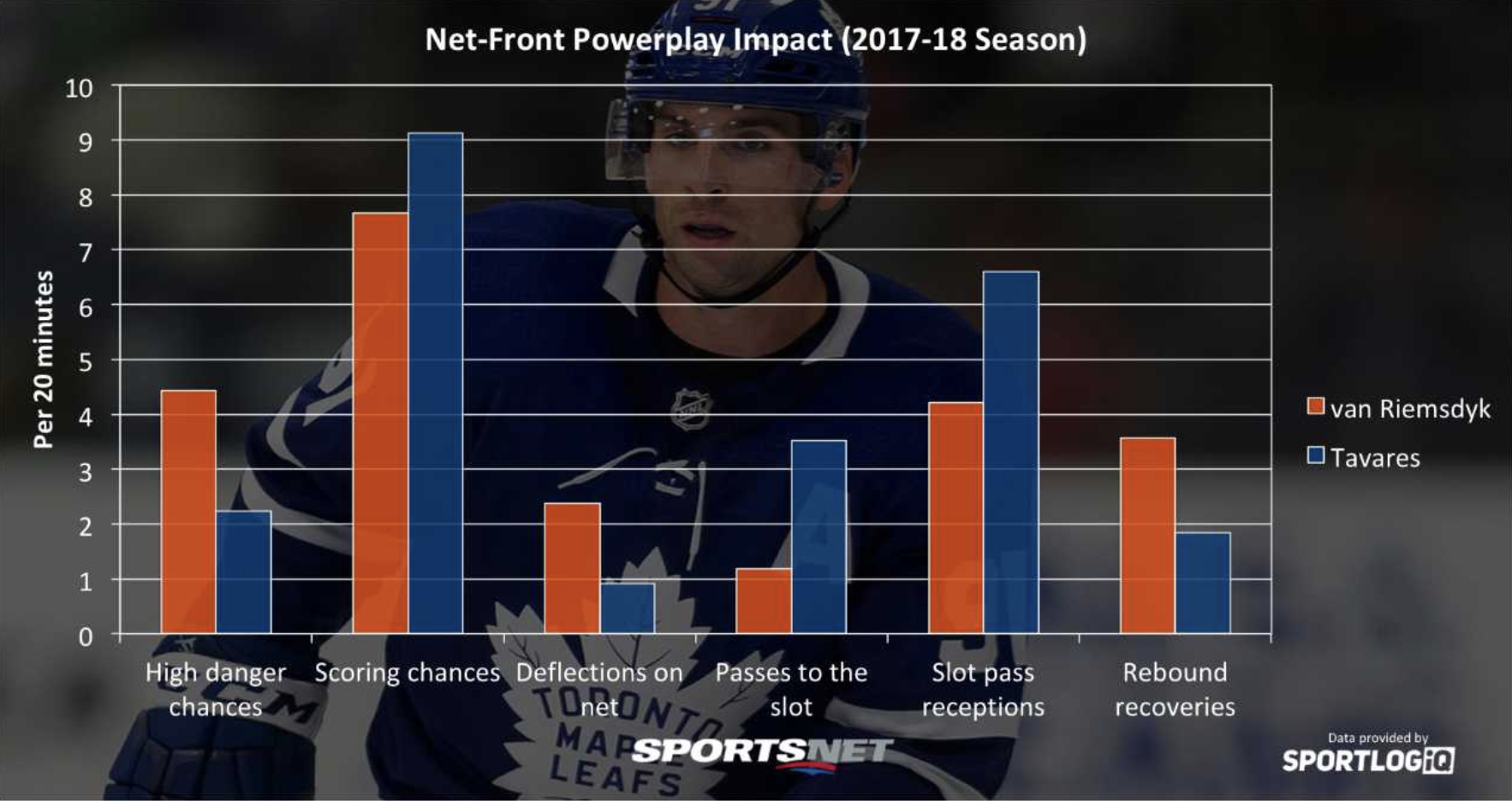 Among players who played at least one shift per game on the power play last season (~60+ minutes), none recorded more high danger chances, deflections on net, or recovered more rebounds than van Riemsdyk.
The level of shot quality van Riemsdyk got not only inflated his own shooting percentage, but if he wasn't able to cash in immediately goaltenders often found themselves in recovery mode and unable to control the puck, which led to even better secondary and tertiary chances. This inflated the shooting percentage of the entire unit.
Tavares, meanwhile, recorded more overall scoring chances on the power play than anyone in the NHL, but they were mostly the result of high slot sniper-type shots. He was also a very talented playmaker who could find teammates in the slot if he was roaming around a bit.
Just by changing his PP role on the Leafs, Tavares would see his high danger chances, rebound recoveries, and deflections rise, while his high slot chances and involvement in passing plays would drop. But the question I have about this utilization is whether or not it's the best use of Tavares' talents.
Senior Writer Ryan Dixon and NHL Editor Rory Boylen always give it 110%, but never rely on clichés when it comes to podcasting. Instead, they use a mix of facts, fun and a varied group of hockey voices to cover Canada's most beloved game.
There's no doubt he has a hunger and an ability to score, but Tavares is also an extremely skilled and extremely underrated playmaker, so slotting him at the net front may rob Toronto's power play of that versatility. It also puts him more at risk of being hit by point shots, though the Leafs depend on those far less than most teams.
Perhaps with other high-end playmakers such as Marner and Auston Matthews on the ice, it won't matter as much to lose some of Tavares' versatility, but I do wonder if Matthews would be better at the net front.
Matthews shoots from closer to the net than Tavares on average, and not just on the power play. He also boasts superior numbers in both engaging and winning puck battles, so in theory Matthews should be a bit better at gaining those pucks down low and shooting from in tight. If the two switched places it would open up Tavares to play the role he's always excelled at.
Matthews doesn't yet seem to have a defined role on the power play two seasons into his career, as he's mostly been a second unit fixture and not seen much power play success. We know he's among the most dangerous shooters in the game, so putting him in a high-percentage position with several layers of secondary shooters should set him up to succeed.
I don't believe there's really a wrong answer here for the Maple Leafs; they have an embarrassment of riches to stack together on this unit. We haven't even mentioned RFA William Nylander, who happens to be a high-end point producer in his own right and will be a factor when he returns.
However, even though all these star players look impossible for other teams to stop, it is unlikely the Leafs' top power play unit will be quite as deadly as it was last season, when it converted on 25 per cent of its opportunities.
That isn't to say it won't be good, but there was a special combination of pieces last season that worked perfectly off of each other. The loss of van Riemsdyk is far more important than most believe, and this will be shown by his absence on the top PP unit.