John Tavares and the New York Islanders have helped produce a glut of talented forwards in recent years, only to watch them leave for greener pastures once they're ripe.
It must be tough for Tavares, a generational centreman, to see his wingers and teammates leave once they hit free agency or via trade. The fruits of his and his team's labour have scattered across the league. As hard as it's been for another centreman, Sidney Crosby, to find the right wingers, he's been fortunate in being able to keep them around, whether it be Chris Kunitz and Pascal Dupuis or other straight-up-and-down-the-ice players.
The following is a look at the contracts awarded to some of Tavares's linemates, their success or failures elsewhere, and what's left on the tree for the other Captain Serious.
This one is personal for Tavares. Him and Matt Moulson found quick chemistry when paired together and Moulson recorded three 30-goal seasons playing alongside #91.
But after just 11 games in the 2013-14 season in which Moulson scored six goals, he was dealt to the Buffalo Sabres and later the Minnesota Wild at the trade deadline. He then re-signed with the Sabres in the off-season for $25 million over five years.
"Yeah, I certainly miss him," Tavares said in 2014 after the trade.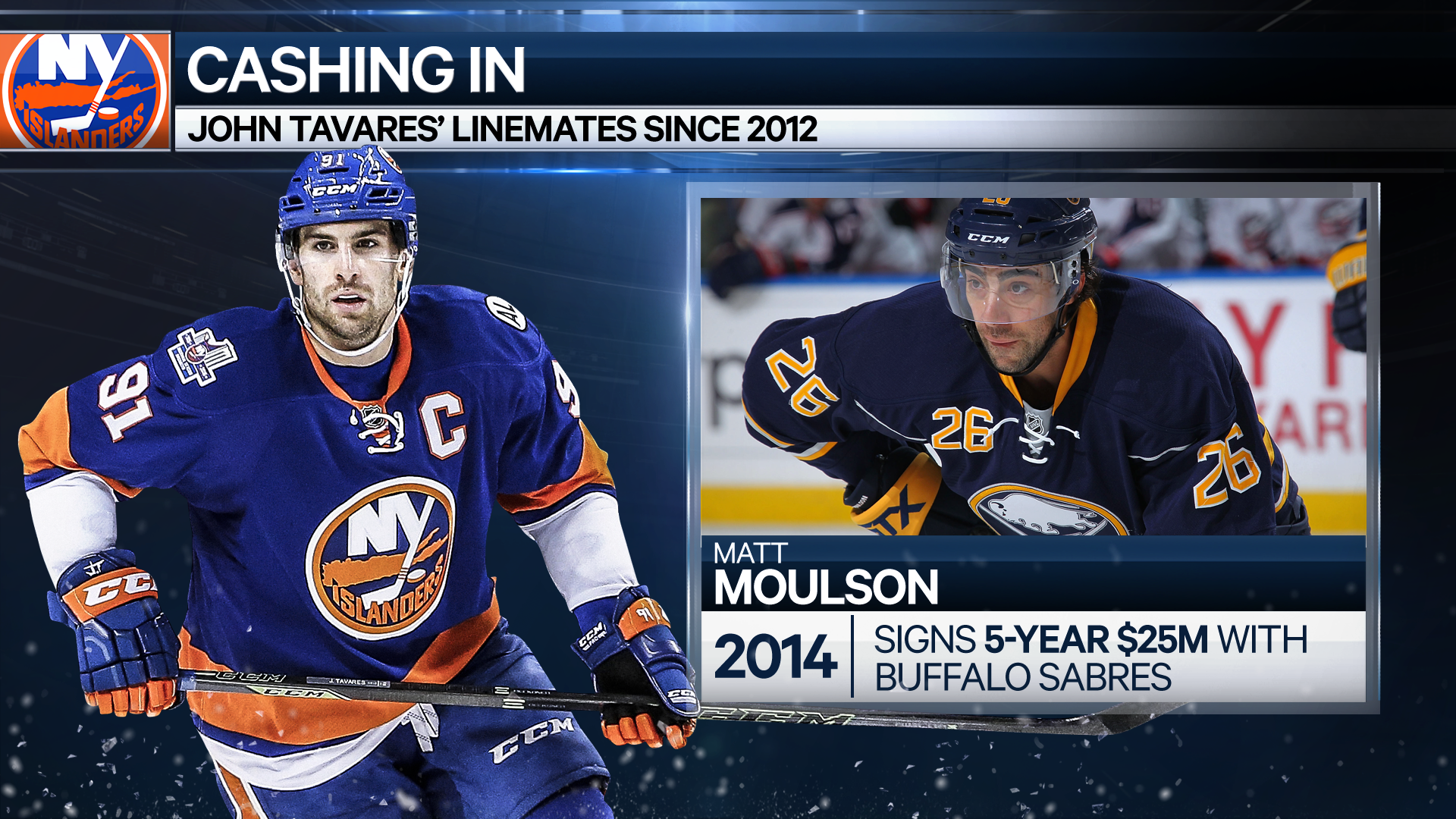 Moulson has scored just 42 goals in 227 games since leaving Long Island. Though, he does have four goals in five games this season.
The trade out of New York, by the way, was Moulson and two draft picks for the rental of Thomas Vanek, who is now a member of the Red Wings.
A homegrown talent drafted seventh overall in 2006 by the Islanders, Kyle Okposo picked up where Moulson left off. He reached a career high in 2013-14 with 27 goals and has put up 69, 51, and 64 points the past three seasons. However, after winning a playoff round for the first time since 1992-93, the Islanders neglected to re-sign Okposo who then also signed with the Sabres for seven years at $6 million per season.
The lack of contract chatter around the Islanders and Okposo prior to his departure was eerie. Can't Tavares ever have a consistent running mate?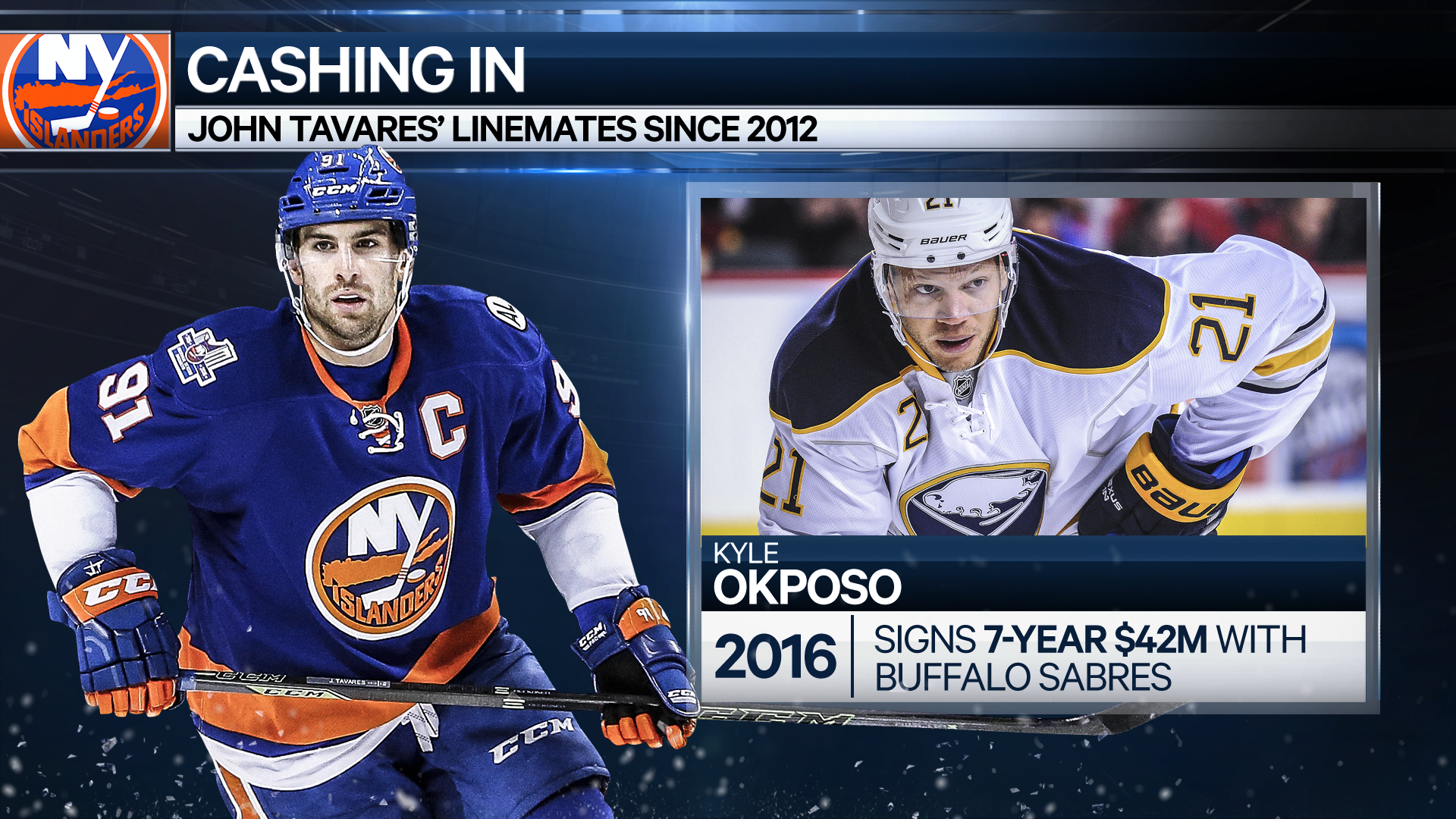 After being drafted in 2001 by the Anaheim Ducks, P.A. Parenteau finally played his first full season in the NHL in 2010-11 with Tavares on the Island. He put up 38 goals and 120 points over two seasons before bolting for Colorado to join the Avalanche who signed him to a four-year, $16-million contract.
Parenteau was a career minor-leaguer prior to joining the Islanders but has since recorded respectable numbers wherever he's gone, including the Avalanche, Canadiens, and Maple Leafs. He signed a one-year, $1.25-million deal with the Devils for 2016-17.
This one actually stuck. A ninth-overall draft choice of New York in 2008, Josh Bailey already has 563 NHL games to his name but only 94 goals. Still, he was able to parlay that into a five-year extension with the Islanders in 2013 worth $16.5 million. He scored 12 goals in 81 games last year.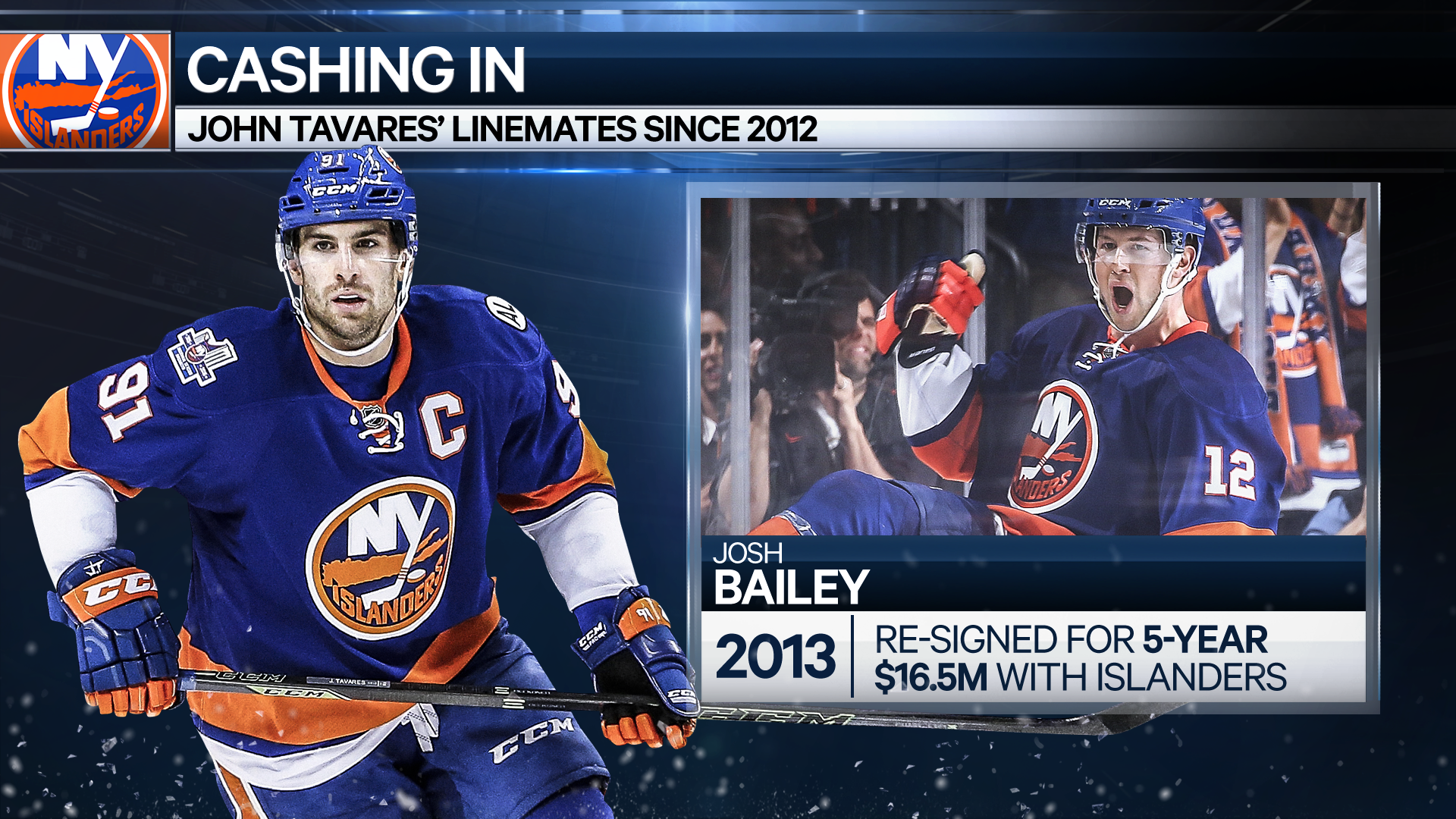 According to Left Wing Lock, Bailey and incoming free agent signing Andrew Ladd have spent the most time on Tavares's line this season. The Islanders are 3-3-0 to start 2016-17, having scored 18 goals in six games. Bailey has just one, Ladd is yet to score, while Tavares has potted three.
New York got a bit older and slower in the off-season, signing Ladd and Jason Chimera to seven- and two-year deals respectively.
The cupboard is emptying in Brooklyn with J.T. still in his prime. Where are the Islanders headed in the long-term? Who should play on Tavares's line and what types of forwards succeed at his side? And will they still be there once chemistry is found?
It's a situation that must have Tavares shaking his head. Here's hoping he eats for free, though, when his old friends come to town.