Jonathan Bernier was drafted in 2006 to be a star goaltender. Eight years later, it hasn't happened, and in Toronto the pressure is only building.
By Arden Zwelling in Toronto
Photography by Norman Wong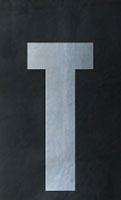 he gravity of the situation didn't hit until Jonathan Bernier got home. He'd been at Pierre-Le Gardeur hospital in Lachenaie, Que., for two days, which didn't seem that long in the grand scheme of things, considering his fiancée, Martine, was a week past her due date and his son, Tyler, was taking his sweet time making an exit. When the couple first arrived Friday morning, the doctors told them Tyler's stubbornness meant it was time to induce labour. They came back that night around 8 p.m. and the contractions started three hours later. The next afternoon, Martine was given an epidural, but shortly after that Tyler's heart rate began dropping with each contraction, a frightening development that necessitated a quick Caesarean section to make sure Tyler came out before anything else went wrong. And he did—at 6:30 p.m. Saturday night, all 6 lb. of him. The emotions calmed a bit after that, and Bernier could finally relax, staying with Martine until Sunday night, when they left after the most intense 48 hours of their lives.
That's when it finally hit. At the hospital, everything's monitored. There are nurses. Doctors. People who can help. But once you get home, you're on your own. All you know is all you know. That's why, when Bernier pulled his Porsche into the driveway of his home in Terrebonne, a suburb just north of Montreal's Rivière-des-Mille-Îles, he turned around, looked at little Tyler sleeping in the back seat and thought to himself, "Oh, this is real. We're in for one now."
He really is. This is the most important year of Jonathan Bernier's life. A year that has already shifted who he is as a man. And one that could soon shift who he is as an NHLer, -as the most important player in the most tortured, hockey-mad, overreactive city in the league—as the goaltender for the Toronto Maple Leafs.
There are few jobs in hockey that come with as much pressure and as many demands as his. It isn't lost on Bernier that since two-time Vezina Trophy winner Ed Belfour left Toronto in 2006, the Leafs have qualified for the post-season exactly once (losing in the first round in crushingly heartbreaking fashion, in case you forgot) and, in the process, have marched a long line of doomed goaltenders to their crease, from Andrew Raycroft to Vesa Toskala to Jonas Gustavsson. Bernier's being asked to put an end to that. To be impeccable, to seize the Leafs' net, and, if he wouldn't mind, to help bring an end to hockey's longest Stanley Cup drought.
And he's fine with that. He really is. He asked to be moved from his last team—not necessarily to here, but to anywhere—so he could have a chance to be a No. 1 goalie in the NHL. So he could do what he's been dying to do since he was a teenager. But every time he thinks he's making progress, something gets in the way.
When Alain and Lyne Bernier bought the big, long freezer for the unfinished basement of their Saint-Vincent-de-Paul home, it was white and smooth to the touch. When they tossed it years later, it was black and covered in dents—the damage left by young Marc-André and Jonathan, who spent many a winter's night downstairs, chased inside by the frost and snow, firing puck after puck. "Our parents weren't too happy about it," Bernier says. "That thing took a beating. But it never stopped working."
They took shots on the ice, too, where Marc-André, four years older than his brother, was a strong forward with a great shot and Jonathan was a quick-skating defenceman. Jonathan never thought of being a goalie until he was seven and the regular goaltender on his Laval Senators couldn't make it to a game. Bernier's coach asked him if he would try it out and a league convener named Yvon Chartrand set him up with an old pair of brown Cooper rental pads that didn't quite fit but were good enough. Chartrand expected to get them back from Bernier the next day. But he didn't see them again until the end of the season.
Soon, Bernier had his own set—white-black-and-blue Vaughns—and when he wasn't adding dimples to appliances or waging epic neighbourhood road-hockey games with the boys on his street, Place Soucy, against the ones from Rue de Limoges one block over, he was on the ice, facing hundreds of wristers fired by coaches from varying depths, honing his reflexes and reactions. By the time he turned 15, he was one of the most-scouted goaltending prospects in the province, a lock to be an early pick in the Quebec Major Junior Hockey League draft. The Lewiston Maineiacs, who had been watching Bernier for years, were selecting eighth in the draft and were so sure Bernier would be gone by the time they picked that they didn't have a name tag prepared for him. "We were shocked he was still available," says Ed Harding, one of Bernier's coaches in Lewiston. "His composure and his poise at that age were off the charts. You could tell he was going to be a very, very good goaltender. The total package."
The Berniers never took hockey as seriously as the families of most future NHLers. They took summers off to rent cottages on Lac des Deux Montagnes, and the boys spent their days boating around the lake and water skiing instead of playing summer hockey. Alain, an electrician, and Lyne, a businesswoman, raised their children without television or the Internet and never bought in to the aggressively competitive culture of minor hockey in Canada. When Lyne took Jonathan to his games, the parents of other children would be so loud and intense that she would leave the stands and watch the game from a corner of the arena by herself.
But in Lewiston there was an expectation to be thinking hockey with every meal you ate, every decision you made, every breath you took. Bernier—who barely spoke English at the time—struggled with his time management at first, not eating right, getting enough rest or booking adequate time for school work. He was billeted with a French-speaking family, which helped with the off-ice adjustment, and he was playing behind a starting goalie, Jaroslav Halak, who was three years older than him and had already played professionally in Slovakia. "Jonathan just sat back and soaked everything up from Jaro," Harding says. "He learned so much. He grew very quickly." Bernier took over as the team's starting goalie the next season when he was just 17 and put up a 2.70 goals against average and a .908 save percentage in 54 games, more than he'd ever played in a single season. A year later, he led the team on a 16-1 run through the playoffs on their way to the Maineiacs's first-ever QMJHL championship and a spot in that year's Memorial Cup.
The L.A. Kings drafted him in the first round in 2006, and Bernier made the team as a 19-year-old a year later, starting four of L.A.'s first six games. With the exception of his first career start—a 4–1 Kings victory—they did not go well. Bernier let in 16 goals as the Kings slid to 1-5 to begin the season and ultimately sent their young goalie back to Lewiston for more seasoning. "I can't lie—that was a really tough thing for me," Bernier says. "I had really high hopes of staying with that team." To make matters worse, as Bernier toiled in junior, another Jonathan was emerging—Jonathan Quick. The then 21-year-old was called up during the same season that Bernier had started for the Kings and got into three games, impressing enough that when the Kings needed a goalie the following year after the mid-season trade of incumbent starter Jason LaBarbera, they called up Quick instead of Bernier. Quick went on a tear, posting a 2.48 GAA and a .914 save percentage in 44 games, staking his claim to the starting job and burying Bernier with the Manchester Monarchs in the AHL, where the Kings left him for two full seasons. "I was really rattled. I didn't want to be there," Bernier says. "I was pissed. I was like, 'I know I can play in the NHL. I want to play in the NHL.'"
He played a pair of phenomenal AHL seasons (including a ridiculous 2009–10 when his nine shutouts and .936 save percentage led the league) and reached a point where the Kings couldn't justify leaving him there any longer. So in 2010 they made him their backup, and Bernier got to watch some other guy do the job he thought would be his. And the other guy did it well. Quick never loosened his grasp on the starting role and finished second in Vezina voting in 2011–12, leading the league with 10 shutouts. The Kings won a Stanley Cup that year, with Quick starting every game of the playoffs while Bernier watched from the end of the bench. And just two weeks after they won it all, the Kings signed Quick to a 10-year contract extension, sealing Bernier's fate. It wasn't long before Kings GM Dean Lombardi got a call from Bernier's agent informing him of what he had already known for some time—his backup goalie wanted out.
Meanwhile, in Toronto, discontent grew. Maple Leafs GM Brian Burke wasn't long for his job, and his assistant, Dave Nonis, was being primed to take over. One of Burke's biggest failings in his tenure with the Leafs was his inability to find a stable No. 1 netminder. James Reimer, a fourth-round pick from a Manitoba town of 2,750, fell into Burke's lap when he emerged in 2010–11, but his inconsistent play and history of head injuries left him an unreliable option. Nonis watched this happen from Burke's side, and less than a week after he found himself sitting in his former boss's chair, he placed a call to Lombardi asking about his backup goalie.
Nonis had watched Bernier in person a year earlier at the World Championships in Slovakia; Nonis was GM of the Canadian team and added the then 22-year-old to his roster mid-tournament. (Ironically, Bernier was brought in to take Reimer's spot as Canada's top goalie.) Nonis bid aggressively for Bernier, knowing that other NHL teams would soon be circling, but Lombardi was reticent. Bernier was the GM's first-ever draft pick with the Kings, and even though Quick had cemented himself as the team's goalie of the next decade, Lombardi was loath to trade a commodity he felt had top value for anything less than that. Even though he'd told Bernier he would move him by the trade deadline, Lombardi reneged, and Bernier was left to toil on the bench, frustrated to no end, posting a starter's numbers—1.88 GAA and .922 save percentage in 14 games—as a backup.
By the summer of 2013, Lombardi had told Bernier he would trade him by the draft and didn't want to break a second promise. He gathered as many offers as he could, doing due diligence with nearly every team in the league, but the best one was still the first he'd ever received—Toronto's.
Kings assistant GM Ron Hextall called Bernier as soon as the deal was closed and told him he was about to see his name blow up on Twitter. Nonis called soon after to welcome him to Toronto, and then Bernier sent a thank-you text to Lombardi. "Dean was good to me. He was a great GM. Everything I had in L.A., winning the Cup, all of that was because of him," Bernier says now. "But I had to leave. I wanted to become a No. 1."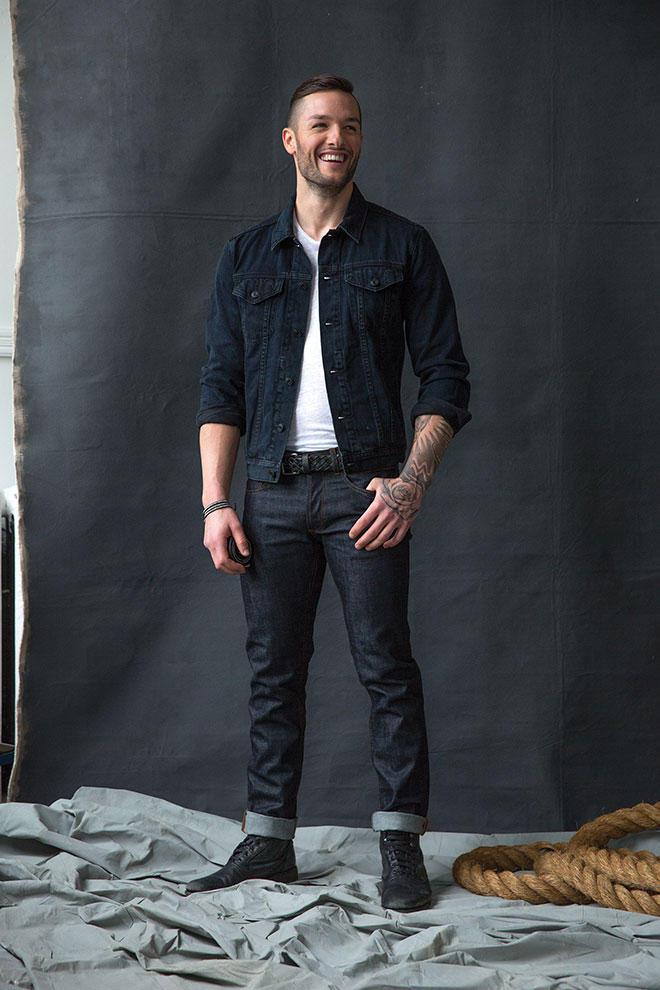 Last year, during Toronto's final home game of the season, a contest against Winnipeg they really needed to win, the Leafs were down 3–2 in the second period and earned a power play. It did not go well. Toronto attackers were trapped in their own end and, as the man advantage wore on with little offensive opportunity, the crowd became surly. Bernier, done for the season with a knee injury, was in the Leafs' dressing room, watching the game on TV. But suddenly the noise from the television started to feel a little too real, like it was all around him. Like it was closing in on him. The fans were so loud in their avalanche of boos and discontent that it was literally reverberating through the walls. "It's a great city when you win but it's a lot of pressure when you don't," says Bernier, who can still hear the boos. "That was the first time I ever felt that. I could feel how angry fans were when we were on the ice. It was such a different vibe than earlier in the season."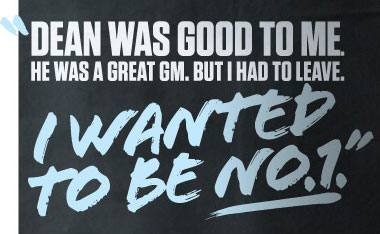 Right—earlier in the season, when the Leafs had success and sat in second place in the Atlantic Division on March 13, thanks in no small part to Bernier's heroics. In spite of a mostly apathetic approach to defence from the guys in front of him, he'd won the starting job from Reimer easily while facing 40 shots or more an absurd 13 times in 55 games. He faced an average of 34 shots per 60 minutes—the highest in the NHL among goalies with more than 36 games played and the second-highest rate in the past decade among goalies to play at least 40 games in a season. Over the past 20 years, only three goalies have faced that many shots in that many games and managed a save percentage of .920 or higher. Bernier was one of them, at .922. And his save percentage only got better when the Leafs had a lead (.925) or when the game was tied (.937). He raised his game when his team needed it most.
He was damn good. But in his highly anticipated return to Los Angeles on that March 13, Bernier aggravated a pre-existing hernia and was forced to sit out five games, all losses, as the team began a demoralizing slide out of a playoff spot. Bernier returned briefly (after less than two weeks off resting an ailment that would eventually require off-season surgery) and won a key game against Calgary, drawing some air into the Leafs' lungs. But two nights later, Bruins forward Patrice Bergeron was pushed into Bernier by a Leafs defender and landed on the goaltender's knee, severely spraining his MCL and forcing him to watch his team fritter away their season from the dressing room, as the boos bled through the walls.
Bernier isn't the type to let something like that get to him. Perfectly zen in times of stress and coldly calculating on the ice, he's not an easy man to rattle. He can be shy with the media and he isn't one to take over a room, but in private, when he can sit back and stretch his legs, running his hand through the waves of black hair he keeps brushed back on his head, Bernier is calm, patient and thoughtful. He stretches endlessly during practices, and when Maple Leafs head coach Randy Carlyle rolls down the retractable projector in the Leafs dressing room for film study, Bernier sits on the floor so he can keep stretching. He looks like a leopard lying in tall grass, waiting patiently for things to develop.
He doesn't think he could've been the hero to save the Leafs' season, but he admits it was torturous to watch his team collapse without him down the stretch. "Mentally, it was tough. For everyone. You could feel that guys were pissed off. The energy wasn't the same in the room," Bernier says. "When I came back from the hernia I was so ready to go. I wanted to help. Especially because we'd lost five while I was out. And then I'm two games in and I'm starting to feel pretty good and then boom, I get hurt. It was so tough. Especially because it's my first year—new city, new team, new system, new coaches. I knew I had to prove that I could be the guy."
That was the plan for 2014–15 as well. Reporting for camp—in a contract year, no less—healthy and determined to hold on to the starting job he felt he'd earned last year, Bernier was nearly flawless in the pre-season and started the Leafs' first two games.
He lost them both. And that was all it took for any lingering goodwill to be undone. Bernier didn't look his best, and the Leafs were 0-2, and Toronto is a crazy place, so Reimer started the next two games—both Leafs wins—and the one after that as well. It was the first time in his Toronto career that Bernier had dressed as the backup for three consecutive games. The Great Maple Leafs Goaltending Debate had reared its ugly head once again. Reimer joked with reporters about dusting off his card of prepared responses to media questions. Carlyle did little to shed light on the situation, both publicly and privately, trying in vain to play the issue off as a media invention. And for Bernier, it felt like he was back at square one. "I fought hard to get this job last year," Bernier says, "and this year I'll have to fight even harder to keep it."
Really, you can look at it in a couple of ways. You could say that being in a murky No. 1-ish role for the Leafs is a step up from being the clear backup for the Kings. Or you could say that at least in California Bernier knew where he stood. Either way, he can't seem to escape this uncertainty about his role that follows him everywhere he goes. He's confident it will work itself out, that if he's patient and works hard, good things will happen. He sounds believable when he says it. But what must be utterly conflicting for Bernier, as he plays his fifth NHL season putting up No. 1 stats and being treated like he's no one's No. 1, is that he both asked for this and he didn't. He wanted out of Los Angeles; he wanted an opportunity somewhere else. But all he really wanted was to play. "I've always been that guy. Ever since I was 16 and I was the backup in my first year of junior, I've been thinking that's not what I want to be. I don't want to be on the bench, I don't want to be that guy that no one talks about," Bernier says. "To me, it's always been about being the No. 1. I want to be the best every year."
The first shot Bernier faced in this, his most important season yet, was one he saves 99 times out of 100. A nothing flick of the wrist from relentless Canadiens winger Max Pacioretty at an atrocious angle that somehow slid through a barely puck-sized gap under Bernier's pad. That one time he doesn't save it just so happened to come around. Then, in the third period, with just 43 seconds to go in one of those tie games Bernier does so well in, Tomas Plekanec threw a puck toward the crease that was sailing wide of the net until it hit the skate of a Leafs defenceman and deflected in. It was that kind of night.
After the game, Bernier got in his matte black Mercedes G-wagon and pulled out of the ACC, heading north to his financial-district condo. It was a Wednesday night, so the drive was relatively painless, but the sidewalks were still busy, lined with fans in blue and white, spilling in and out of bars on the first night of their annual winter obsession. Bernier did this drive a lot last year, sometimes at peace with how he had played and other times fuming over mistakes. Nights like these, when everything that could go wrong did, were always the worst. He'd get home in a foul mood, watch clips of his game and lie awake most of the night, replaying goals he let in, reads he missed. But this year is different.
You'll never see it, but inside his mask, Bernier has inscriptions dedicated to some of the most important people in his life. There's "GP" for his grandfather Armand and "GM" for his grandmother Georgette. "YC" for Yvon Chartrand, the man who rented him those brown Cooper pads all those years ago and was like a second grandfather to Bernier before he died in 2005. And the most recent addition: "TY" for his infant son. That's whom he was thinking about as he drove home, and that's who was waiting for him when he got there—along with Martine—lying in his crib, recognizing the familiar face and smiling when he saw it, blissfully unaware of the pressure his dad's under. His family is something so much bigger than the game, bigger than his anxieties, something to help him turn the page. While some things in Bernier's career have been frustratingly stagnant, becoming a father has changed a lot. It feels like progress.