When you look up and down the Carolina Hurricanes' roster, you probably wouldn't expect that they've been one of the five best teams in the NHL over the last 20-plus games of the season. That turnaround has made people wonder if the Hurricanes will even be sellers at the deadline, but even if they aren't, they have a decision to make with the face of their franchise.
Eric Staal has been the guy for the Hurricanes since 2005, and while it's obvious that his game has taken a step down offensively the last couple years, the 6-foot-4 centre will have no lack of suitors when he hits unrestricted free agency in July.
The Hurricanes may want to retain Staal, but there have been constant rumblings that he may be moved at the deadline. Obviously this depends on what the Hurricanes can get in return, and his $8.25-million cap hit complicates manners a little.
With a cap hit that big, the question becomes how good is Eric Staal now? He isn't the player he was in his mid-20s for certain, his 1.35 points per 60 minutes at even strength is nothing special, but he's only two seasons removed from being one of the best point producers in the NHL. How far has he declined?
A relatively weak forward group in Carolina is a factor in this, but Eric Staal remains the most effective forward on the roster in terms of microstats. And he also leads the team as a whole in possession, rocking a spectacular 57.1 per cent Corsi, plus-5.4 per cent relative to his teammates.
Staal leads all Hurricane forwards in scoring chance generating plays, successful passes to the slot, controlled entries, possession driving plays, and is second in shots from the slot behind Jeff Skinner.
So if Staal is so effective offensively, why are his point totals so meagre? Part of it is definitely a lack of puck luck. Over the previous four seasons, Staal recorded points on 81.9 per cent of his teammate's goals while he was on the ice on average, a remarkably high level of involvement in his team's point production. This season, he's way down at 58.6 per cent. That could signify that Staal is less involved, but we know from microstat tracking that that's not true.
Staal is also scoring at his lowest shooting percentage since his rookie season, at just a 7.2 per cent. His scoring ability has dropped in recent years, as he's now about a 9 per cent shooter as opposed to the 11 per cent of his prime
That low shooting percentage isn't just bad luck though, which we can see from Staal's shot attempt locations.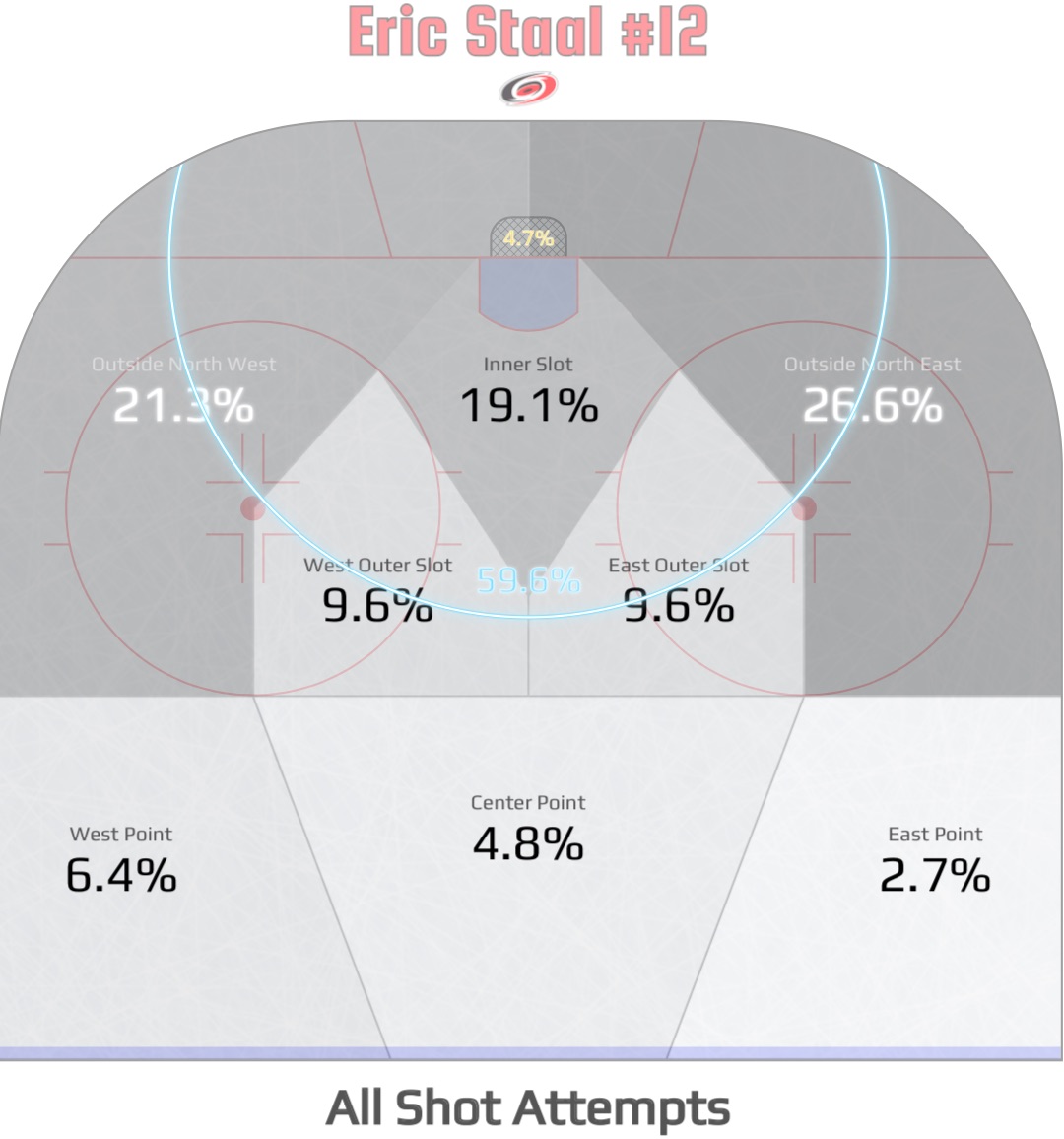 Staal is good at getting into the slot, and he shoots from closer to the net than most players do if you look at the blue-line that represents his median shot distance. However he shoots a ton from bad angles down low, which is a low-percentage scoring area.
So what is Staal at 31-years-old? It's unlikely that he's that franchise level first-line centre that teams are looking for, he won't get back to his point-per-game ways, but he's still a very, very effective forward in the NHL. Twenty goals and 50-60 points aren't out of his reach if put in the right situation, and his ability as a playmaker is severely underrated.
Despite his raw numbers looking less than impressive, Staal may be the best player available at the trade deadline.