BROSSARD, Que. — It was on Monday that both Geoff Molson and Marc Bergevin agreed that the focus of the Montreal Canadiens is more on the future right now than it is on the present.
Perhaps no person in the organization will have a greater influence on its future than new Laval Rocket coach Joel Bouchard.
It was on May 17 that Bouchard left as co-owner, president, general manager and coach of the Blainville-Boisbriand Armada of the Quebec Major Junior Hockey League and joined the Canadiens. The Montreal native accumulated 145 wins in 244 games over the four years he spent behind the Armada's bench. He also was instrumental in helping Hockey Canada assemble silver- and gold-medal winning teams at the past two world junior championships.
Bouchard had a successful NHL career, too, playing parts of 13 seasons with the Calgary Flames, Nashville Predators, Dallas Stars, Phoenix Coyotes, New Jersey Devils, New York Rangers, Pittsburgh Penguins and New York Islanders.
When we sat down with the 44-year-old this past weekend we talked about the experiences that led him to this new opportunity, about his coaching/life philosophy and how he developed it, about how he'll balance the dual responsibility of graduating players from the AHL to the NHL and keeping the Rocket competitive, the pressure he faces as a homegrown talent joining the Canadiens organization and more.
Sportsnet: A lot of people don't know this, but you had meningitis in the year 2000. How did it change your life?
Joel Bouchard: It was a really eye-opening situation for me. It hit me hard and affected me for a little bit.
But like I always tell people: it was the best gift I ever had. It changed how I think.
Sometimes the worst thing that can happen to you can turn out to be the best. I was a guy that lived a lot in the past or in the future. I was very anxious. When you're a young guy and you want to do well your mind is running and you want a lot of things that are out of your control, but your mind is running more than it should and you're not focused on just being task-oriented. I think that situation made me realize just to enjoy life and take it as it comes. How do you enjoy life? Live day-by-day. This reminded me to do that. Every day I'm reminded that it's Game 7. Every day we live is Game 7, meaning you can't control everything. You just have to live in the moment.
SN: How did you get into coaching?
Bouchard: When I was playing I always looked out of the corner of my eye on how teams were managed, how teams were running, and mindset and how the players reacted to some of the coaching decisions or GM decisions. I kind of really took note of that and how things were going.
Guys in the summer were always asking me to run practice; 'Hey Joel, can you run a couple of drills?' Or I was always the guy organizing teams for ball hockey tournaments and stuff like that. It just came naturally to me a bit.
SN: You have a reputation for being extremely intense. If we asked your Armada players if they liked you, what do you think they would say? Does a coach have to be liked?
Bouchard: I think they would say I was there for them.
They're young, and for me, I really enjoyed them. Of course everybody wants to be liked, but what I liked is that they never quit. If they didn't like what we did, they would have bailed out. But that never happened.
You know if your team is bought in by when they get to the finals or by when they're under siege. The thing with the Armada is, every year I finished I felt we maximized that group and they gave it their all. They didn't bail out when they had the chance; we were down 3-1 in some series and they won and they never went away from our direction. If I went left they went left and they never fought the direction. It was always a partnership, and that tells me they were happy.
And they know how I am. They know I'm intense, that I'm there — through them, over them, under them. I want to make sure they know that I'll be there for them 24-7, and that's important to me. And they never quit on me. Never on the team or on each other, either. They always went to the last drop every year, and that was pretty cool.
Senior Writer Ryan Dixon and NHL Editor Rory Boylen always give it 110%, but never rely on clichés when it comes to podcasting. Instead, they use a mix of facts, fun and a varied group of hockey voices to cover Canada's most beloved game.
SN: A friend of yours we spoke to said everything with you is black and white and that you won't play mind games with your players.
Bouchard: I won't. I'm not smart enough. And, as a player, I respected when coaches addressed things right away with me and cleaned it. And we have too much stuff to do.
I can't play hide and seek. And when I say what I have to say, it's done and we're moving on. It's not personal. It has nothing to do with, 'I don't like you.'
SN: You were owner, president, GM, coach of the Armada, so why leave all of that for a job in the AHL?
Bouchard: Well, because, what a challenge! How fun is this? It's the Montreal Canadiens organization and I get to work with Marc [Bergevin], who's been unbelievable to me.
I played with Marc for a little bit and it's easy. We talk and there's no fluff. It's easy and we can solve things in one minute. And big things and dicey things where we don't need to go to lengths. It's easy with him.
I'm 44, and other people can do junior too where I was. I'm very happy with how I left the Armada and the staff we left in place to fill in.
This is a hell of a challenge and I get to be with the Montreal Canadiens on the ice — working the rookie tournament and working with the kids in Laval.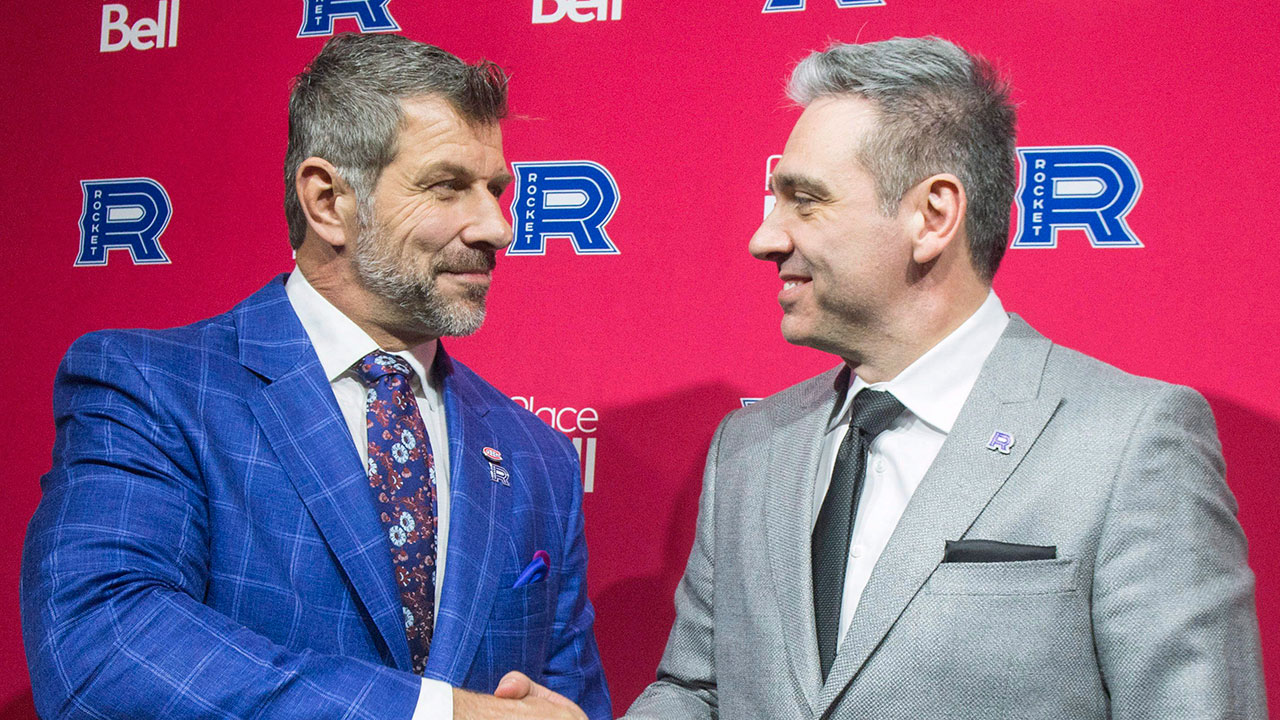 SN: People would accuse you of lying if you said you weren't thinking about the fact that you're also one step away from being in the NHL from this position.
Bouchard: People say a lot of things, but you know what? I'm not like that. I don't think like that.
And people will ask, 'Is it because you don't want to be in the NHL? It's okay if you want to be.'
I'm not saying I don't want to be in the NHL. I'm saying I don't go there, because it's the wrong thing to do. Same way I wouldn't suggest to a player to just be thinking about getting to the NHL because then he won't be focused on what he has to do.
If I'm not good, I'm not going anywhere. The reality is that I have to be good at what I'm doing, and that's why Marc and Geoff and everyone who believes in what I've done is giving me a chance. If my head is somewhere else…a player is not going to be good if his head is somewhere else, and it's the same thing for a coach, for a president, for a GM.
We have a job to do. I do a good job and good things will happen. It's not that complicated.
SN: How do you intend to approach balancing the objectives of graduating players to the NHL and getting your AHL team to the playoffs?
Bouchard: When the question was asked in the interview about how disappointing it might be for me to lose my best player the day before a big game because he's going to go play for the Habs, I said, 'What? Disappointing? Disappointing in what sense? One of the players I'm coaching gets to go play with the Montreal Canadiens, in the best league in the world, probably realizing a childhood dream to play in the NHL, and I'm going to be disappointed?'
What kind of human would I be if I was disappointed? I was that guy. I was that guy who was just waiting to get the call to go play in the NHL. So I know what those guys are feeling, and I'm happy the get the call. You know what? That's two pieces of good news; one kid is going up to the big leagues and another kid will get more opportunity and more ice time with us.
I played in the AHL a lot, and I know what it is. I know the mindset. You're one step away from the NHL, but it's a big step. For me, it's such a great way to be in hockey and get to work with these guys on that. It's something special.
But making the playoffs is the goal every year, and it should be in any league you play in. The day they will take the scoreboard away, I'll do something else.
Even if we're working with kids and trying to get them to the next level, you don't play to lose; you play to win.
We need to play the right way in order to win, and that's what will enable players to take the next step up.
Dimitri Filipovic provides entertaining and thoughtful dialogue about the game of hockey with an analytical edge. Not as nerdy as it sounds.
SN: Let's talk tactics. How do you approach the game?
Bouchard: I'm very, very simple. I'm not smart enough to be complicated.
There's a lot of layers to what all coaches do, but the basics are: When we have the puck, we're offensive. When we don't have the puck, we're defensive. And we need to be as good as we can on both of those.
I was telling the kids today, 'You want to be an NHL player? You gotta be good at a lot of things. You can't just be a one-trick pony. Nobody will know you're a great shooter if you don't check, if you don't play the right way, if you don't have good habits.'
So, for me it's all of those things. But simplified, it's: be good with the puck, be good without it, and that's good for players and it's good for teams.
SN: Are you running your system or [Canadiens coach] Claude Julien's?
Bouchard: We're working together.
We've had meetings with Claude, and Claude has been unreal. We have a lot of similarities. We want the guys to be comfortable when they come up, so it's a partnership.
My goal and my job is when a player gets called up, I want Marc and Claude to be able to say, 'Okay, we can play him. He's playing the right way. He's got the right habits. I feel comfortable putting him on the ice because he knows where to go and how we play.'
We need to work together and create something there so that happens.
Each week, Jeff Blair and Stephen Brunt tackle the most impactful stories in the world of sports and their intersection with popular culture. Come for the sports; stay for the storytelling and cigars.
SN: Who's assistant coach Daniel Jacob, for people who don't know?
Bouchard: Dan worked with me with the Armada. He's a graduate from McGill University as a player and as a coach. He played in Europe, he did the CBC show Making the Cut, he was invited to the Florida Panthers camp, he's a late-bloomer as a defenceman, and he's been with Hockey Canada working with the U17/U18 program.
They have only good words to say about him, and I know that because they always reiterate how much they like Daniel as an assistant in the program.
I like him. He knows how I work.
I'm a feel kind of guy. Not on preparation, but I'm last minute because I want to feel what's right for the group in the moment. I can turn to Dan and say, 'I'm winging practice today, bear with me,' and he can adjust and adapt very easily.
Dan's easy. He's low maintenance, he works hard, he knows what he's doing, and he's got an opinion.
SN: How did [recently retired NHLer] Alex Burrows end up on your staff and what does he bring?
Bouchard: Alex has been a guy that, when he first started in the pros, he reached out to me. We trained together, we skated together, and we always had a relationship.
When there were situations, he wasn't scared to call me and reach out, and he kind of liked the way I was thinking as a player. And when I shifted over to junior hockey, he was always supportive — coming to see the Armada and watching practice, and he practised with us and was training, and he and I were always having good conversations and seeing hockey in kind of the same way.
He always mentioned he'd like to be involved in hockey after his playing career and always said he'd like to work with me, and I was in the process of interviewing coaches and asked Alex if he'd be interested.
He said, 'I don't know what's going to happen, if it's going to be one year or two years,' so we had to hold the process for him. But he didn't turn out to have a deal with anybody at the time he was bought out [by the Ottawa Senators], and as soon as he got bought out he turned to me and said he was ready in his mind to do this right now and that he really wanted to do it.
We met, we sat down, and I told him that coaching is not like playing. But Alex is a warrior. He's been in the East Coast Hockey League, American League. He scored 35 goals in the NHL being a role player, being a hard-working guy. He's lived it all. What a great example he is for our guys, and he's a passionate guy.
He did his first team meeting yesterday, and he was awesome. He was so good. We cheered him on, the players were happy and they have a lot of respect for him. I think he's bringing a lot of freshness and joy to the game, and I'm lucky to have him.
SN: How has all your experience set you up for this new challenge?
Bouchard: There's not one player that's going to sit in front of me and say, 'You know, you don't really know what I'm feeling.'
I'm pretty sure I do. I was that guy not too long ago. I was a guy that was an all-star in the AHL and wanted to get called up. I was a guy that came up out of junior.
I was a healthy scratch in the minors one year because I sucked and I just wasn't any good, and I was a good player at the time. Two weeks prior I was at the all-star game and two weeks later I was a healthy scratch because I wasn't playing the right way; I was trying to do too much, I was forcing plays, and I was put in the stands, and rightly so.
Those are all factors and good experiences that make me understand these players.
And I was an NHLer. I got to play at the highest level, and I was able to be a dependable defenceman.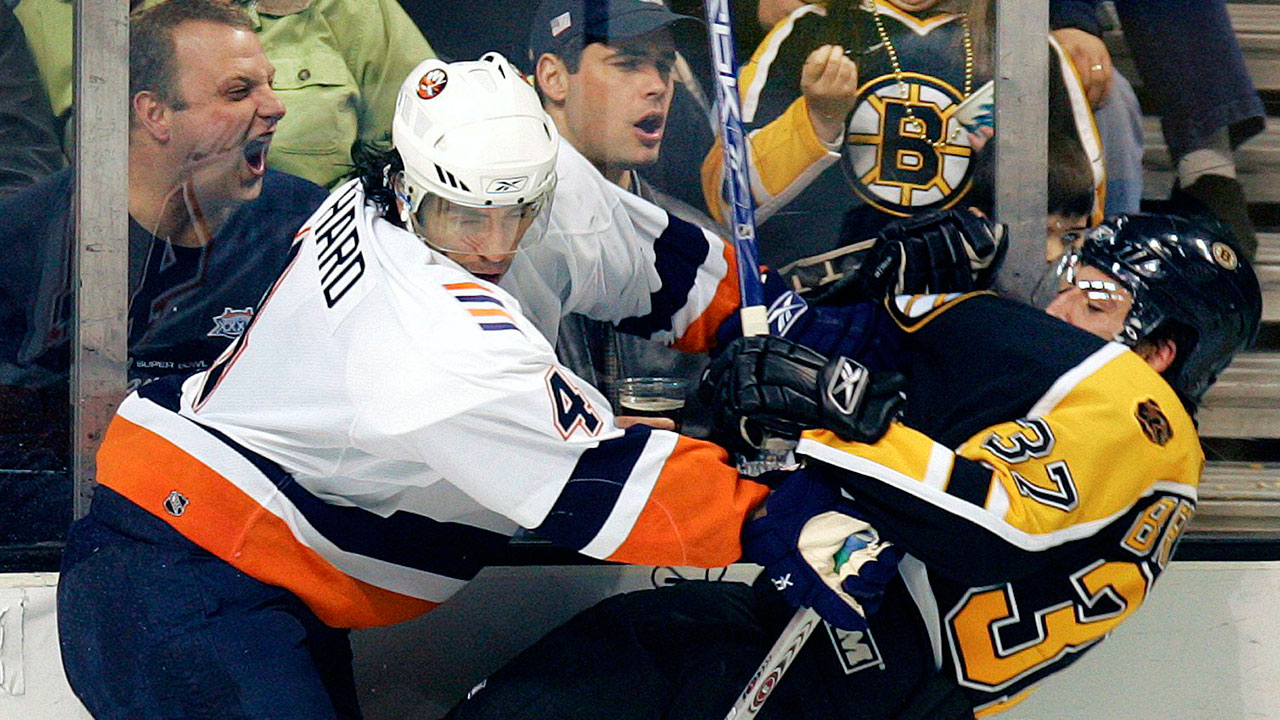 SN: How do you process wins and losses? Do they keep you up at night, or can you file them away quickly?
Bouchard: The result doesn't affect me. It doesn't bother me. It's about how we went about it as a group. The result is a bunch of little factors added up together. You can have a bad game and your goalie stands on his head, and then you're winning and you didn't play very well.
The way our players play — I keep that very distant from the result. But the result is there every time. Nine times out of 10 it matches up with the process.
There's a style of play and a mindset that gives you the best chance of winning, and I believe in that. Sometimes we can have the right mindset, being disciplined, but we cut corners and win 5-3 and I won't be happy. And I think to myself, 'Now I'm in trouble because we're going to trip next game.'
The players must know that it's wrong. But I have to say that with the Armada, that was the beauty — that we'd win a game where we didn't play great and we'd win the next game instead of guys being too cool and thinking it was good enough. Guys knew it wasn't good enough. I keep the guys honest.
I could come into the room and say, 'What did you guys think?' And they'd respond, 'Ah it's not good, I agree. It wasn't good at all. We won, but we didn't do enough. We managed this part of the game well, we did this well, but this wasn't good enough, and let's make sure we reset.'
So I really liked that.
SN: Why choose the pressure that comes with being a French Canadian coach in the Canadiens organization? Life could be easier in, say, Rochester.
Bouchard: I grew up 20 minutes from Brossard, 20 minutes from the Bell Centre, 20 minutes from Laval; I know what this is.
It's not like I'm coming from Mars. I know where I'm from. I'm from Quebec. I live here, I have a junior team here, have a company here, I've been on TV here, I've been between both benches in three years as a broadcaster with RDS; I think I'm fully aware of what the Montreal Canadiens represent for the population and what they represent to everybody.
So I didn't really think about avoiding pressure. I know what it is. It doesn't bother me. I never thought about it to be honest. Bring it on.