DALLAS — Let's call it the $100-million question: Does John Tavares truly want to test the NHL's lucrative open market?
We know he's going to listen to what a small handful of teams have to say during a series of meetings in Los Angeles early next week. The Toronto Maple Leafs and San Jose Sharks are among the invited guests at the table. Dallas, Tampa Bay and Vegas could find themselves there as well.
Looming ominously over the proceedings is the prevailing industry thought that Tavares is merely performing his due diligence before signing an eight-year extension to stay with the New York Islanders. The face of the franchise has maintained an active dialogue with general manager Lou Lamoriello these past few weeks. He's also a loyal guy who has seen the organization make a concerted effort this off-season to assuage concerns that they might never be in position to challenge for a Stanley Cup.
"There's been a commitment from ownership," Lamoriello said Saturday before walking off the draft floor. "They want us to be the best team in the NHL, and they gave me the authority to do that. The first decision was to get a coach, and in my opinion, we got one of the best ones in the NHL [in Barry Trotz].
"Now we have to convince our player that this is the best decision for him. But he has to make that decision."
[snippet id=3816507]
It's unclear whether the Islanders will be making a pitch of their own with Lamoriello stationed in California, but there's no doubt they occupy pole position a little more than a week out from July 1.
What the other pursuers need to focus on is the things they can offer Tavares to try and make him think twice. Money likely won't be a big differentiator — although the Islanders are the only team that can offer a guaranteed eight-year term, while Dallas, Tampa and Vegas can trumpet their favourable tax situations.
Each of the organizations would be wise to play up the indicators that point to them being contenders both now and in the future. Tavares has appeared in just 24 playoff games across his nine NHL seasons and wants to stop the cycle of having to watch the biggest games on TV every spring.
Lifestyle perks will get his attention. Conversation about anticipated usage, role and linemates could help him warm up to the idea of a new reality.
For Toronto, you'd have to think they'll deliver a presentation designed to appeal to his emotions. Tavares could easily be cast as the hero returning to his hometown to help get a team with a multi-generational Cup drought over the top. They could even promise him the captaincy, which would put him in position to be the one accepting that trophy if it ever happened.
Then there's the off-ice business opportunities that would be at his disposal in the world's biggest hockey market — something the Leafs spotlighted two years ago when Steven Stamkos was in this situation and they brought Canadian Tire CEO Michael B. Medline to their meeting during the free-agent interview period.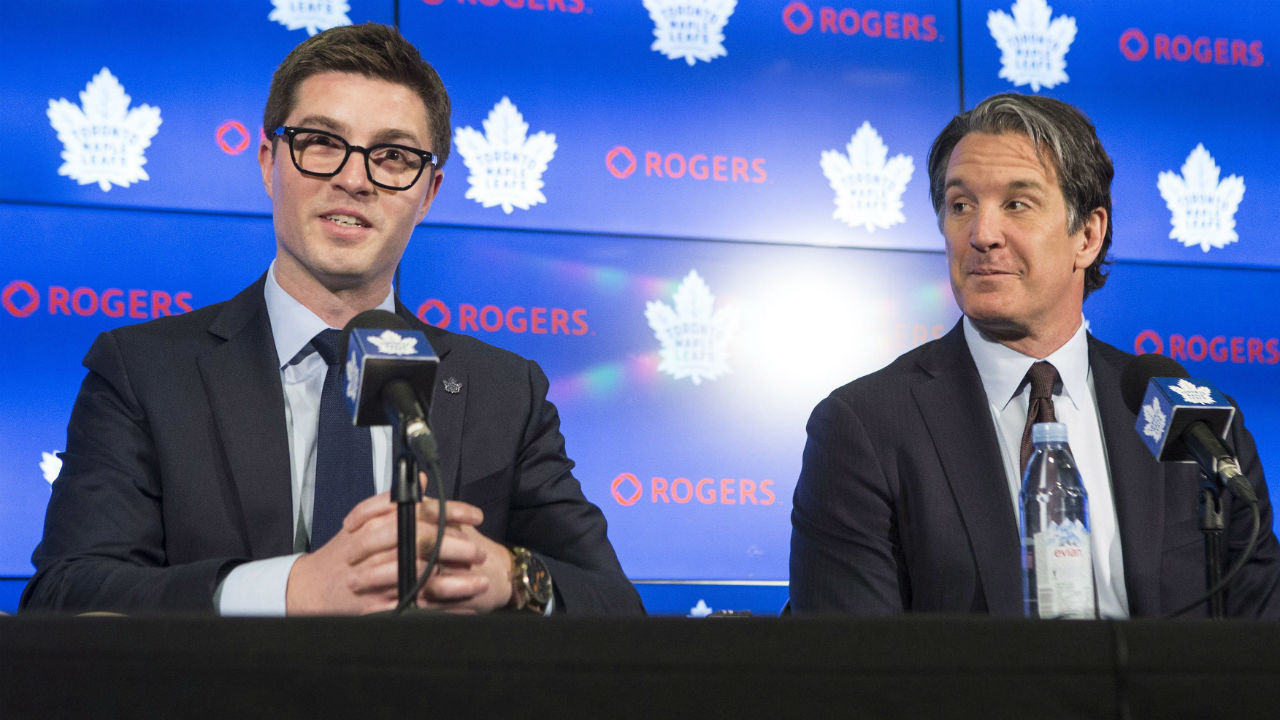 The team has had a lot of success in luring European free agents the last couple years and a common denominator in those decisions has been the pitch delivered by Mike Babcock. The Leafs head coach expects to play a role in the coming interview period as well, but doesn't think there's anything special that needs to be said to sell the merits of the organization during those meetings.
"The free agents right now? I think they know," he said.
Even with big paydays looming for Auston Matthews, Mitch Marner and William Nylander, the team won't be shy about using the $25-million at their disposal for 2018-19.
"We're confident right now with our cap situation that we can do really whatever we want to do at this point," said Leafs GM Kyle Dubas. "Nothing is going to stop us or hold us back, and that's how we'll proceed here through the entire summer."
The Sharks also have a boatload of cap space and a very good team. The Lightning would have to make other moves to bring in a large contract, according the GM Steve Yzerman, but they're already built to win a Stanley Cup.
Perhaps the biggest knock against the Islanders is their arena quagmire — with home games to be split between Nassau Coliseum and Barclays Center until a new facility at Belmont Park is completed. It's a tough setup for players.
[relatedlinks]
In discussing the virtues of Vegas, GM George McPhee pointed to how much the Golden Knights players enjoyed living close to their brand-new practice rink in suburban Summerlin. The Cup finalists have plenty of other things to sell, too.
"Why wouldn't you want to play there? It's a good team, good ownership, fantastic fans, sold out, beautiful facilities — game rink, practice rink," said McPhee. "It's an easy way to live. It's easy to get around, the weather's great, there's no state tax."
There's going to be a lot for Tavares to think about before making the biggest career decision of his life. Players of his ilk rarely even get this far into the free-agent process. Will he take it further?
The Islanders are prepared to wait patiently while he dips a toe in the water.
"I have no disappointment. No discouragement," said Lamoriello. "He's earned every right to make whatever choice he has. The most important thing is that we hope in the end that he's an Islander."
That's where it seems to be headed. But you never know.