TAMPA, Fla. — If you're the Toronto Maple Leafs, you can look at this a couple different ways.
You can look at the scoreboard and what is now an eight-point deficit to the Tampa Bay Lightning in the standings and feel frustrated. Or you can look at the fact you generated 49 shots against the NHL's best team and dominated a game in their building territorially.
It's not too often where you lose 4-1 and actually feel encouraged by what happened. But that's where the Leafs found themselves on Thursday night.
"I think you come in here and you never know if you're in a spot to play with the good teams until you play them. I thought we had a good account of ourselves," said coach Mike Babcock. "Obviously, the score is disappointing, but the way we played is not one bit disappointing."
Under the circumstances, it was one of their finer efforts of the season.
The Lightning are Stanley Cup favourites and have reeled off 11 wins in the last 12 games. They have depth and skill at every position. During Thursday's game, Jon Cooper had control of the matchups with last line change and yet the heatmap still wound up looking like this: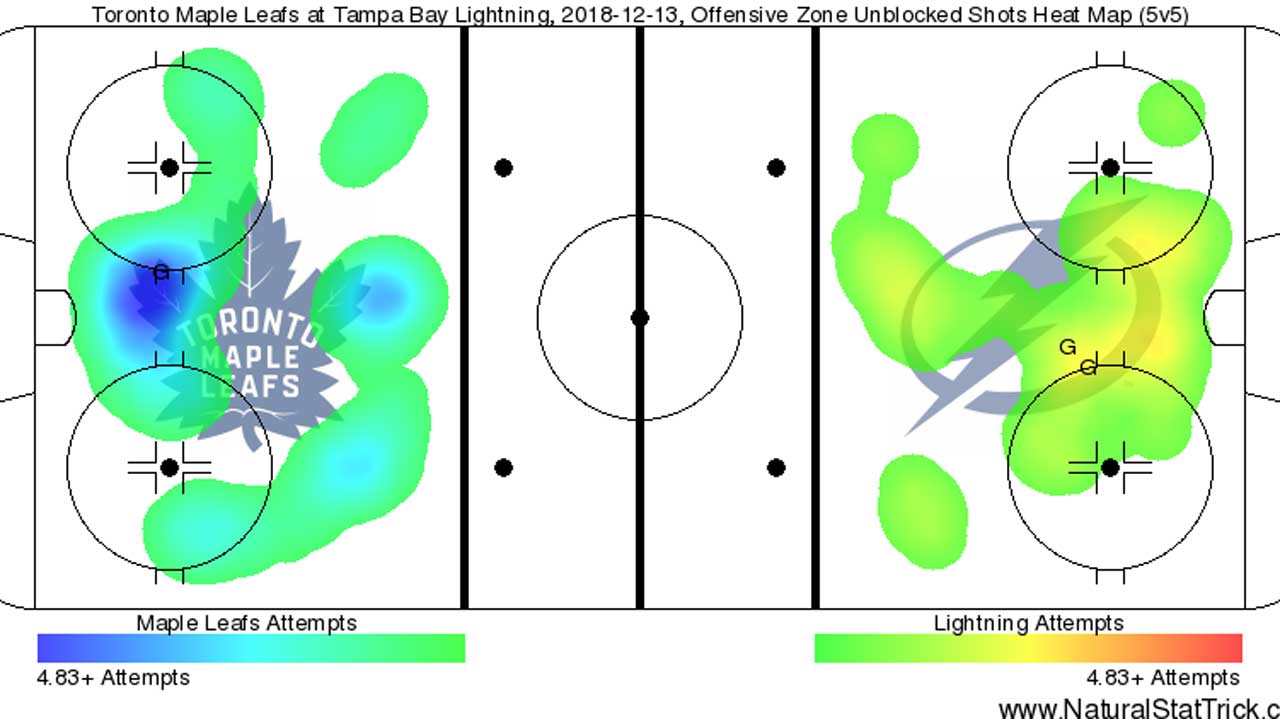 Toronto burned a blue hole in the area around the top of Andrei Vasilevskiy's crease — the area of the ice where goals come from. Were it not for several incredible saves by the six-foot-three goaltender with a gymnast's ability to dance around the blue paint, this would have gone differently.
"When you're that big, you take up that much room and you move that well, it's tough to score," said Leafs sniper Auston Matthews. "You've got to get guys in front of the net, but even when we did, he was able to stick a pad out or make a sprawling save and keep the puck out of their net."
Babcock had labelled this a night for gauging where his 21-10-1 team is truly at. "We're going to find out a lot here," he said beforehand. Then he saw each of this top three lines post positive shot differentials against the only team in the Eastern Conference that can match their forward depth.
The Andreas Johnsson-Matthews-Kasperi Kapanen line was on the puck all night and produced Toronto's only goal — a nice snipe from Kapanen after intercepting a Nikita Kucherov pass before the six-minute mark.
You could argue that Kapanen, now with 12 goals in a breakout campaign, has made a strong enough case to remain beside Matthews even when William Nylander gets back up to full speed after his long contract impasse.
"I don't have to think about that right now because I've just got to watch," said Babcock. "We'll just see what happens. The beauty of it as you get more depth you can move people around. In the past we didn't have as many movable parts. I think we'll have more movable parts as we go forward."
Against the Lightning, the Leafs second line produced 16 shots on its own — seven from Mitch Marner, six from John Tavares and three from Connor Brown. Nazem Kadri, the third-line centre, also had six shots on net and another that struck the post.
Even accounting for the two defensive breakdowns that led to goals by Tampa's Alex Killorn and Tyler Johnson in the final minute of the second period, Toronto produced a monster performance against the Atlantic Division giant.
"I like playing good," said Babcock. "The league adds up wins or losses, but the bottom line is you stay with the process and you do good things, good things happen over time. Some nights it doesn't go your way, you get on with it."
In this sport, the scoreboard occasionally lies.
Just as Toronto has won some games it probably didn't deserve when goaltender Frederik Andersen stood on his head, it's bound to lose the odd one like this.
It came with a little extra buzz inside Amalie Arena and stars all over the ice. The game lived up to its advance billing despite the 4-1 score, especially when you consider the number of Grade A chances for the Leafs, which included a power play in the second period where their top unit was in the offensive zone for the entire two minutes and produced eight shots.
"I feel like we possessed the puck a lot of the game," said Matthews.
"We put a lot of pucks on net, we drew a lot of penalties," added Tavares. "I thought we were really good on our forecheck and pressuring their D and causing turnovers and not giving them a whole lot."
It helps explain why there was very little evidence of outward frustration as players made their way to the bus afterwards.
They came to Tampa to see if they could handle a 25-7-1 buzzsaw and laid a building block of belief over 60 quality minutes. There are still three more meetings with the Lightning in the final 50 games and the possibility that a playoff series looms beyond that.
"I don't think you want to hang your head. I think you're obviously disappointed in the result," said Tavares. "We have high expectations for ourselves and tonight was an important two points, but it's a long season and we'll see these guys again."
If they repeat this performance, it's unlikely the result remains the same.
[relatedlinks]