TORONTO — John Tavares understands Alex Ovechkin's choice, but it's not one he can envision himself making.
Fans elected Ovechkin captain of the Metropolitan Division all-stars at this weekend's NHL All-Star Game in San Jose, but the league's reigning goals leader has opted to skip the spotlight in the name of more downtime.
As a league-enforced punishment for bailing out, Ovechkin and the Washington Capitals were given the choice to sit the star for either Wednesday's game in Toronto or the club's Feb. 1 home date versus Calgary.
Following Tuesday's dramatic 7-6 overtime loss — the defending champs' alarming seventh straight defeat, despite an Ovie hat trick — the Capitals announced that Ovechkin would suit up against Maple Leafs.
It never crossed the mind of Tavares, the Maple Leafs' leading goal scorer, to duck what will be his fifth consecutive All-Star Game and sixth overall.
"One day, I won't be playing the game anymore. I won't be around these all-star games. You go out there and try to enjoy it. San Jose is obviously a beautiful area, great location. So, I'll enjoy the downtime and also enjoy being around those players," Tavares said after Wednesday's morning skate.
"I try to look at it as, although there are a lot of demands when you show up for the weekend, being an all-star is a special recognition, and it usually means you're having a pretty good season. It's nice to experience it."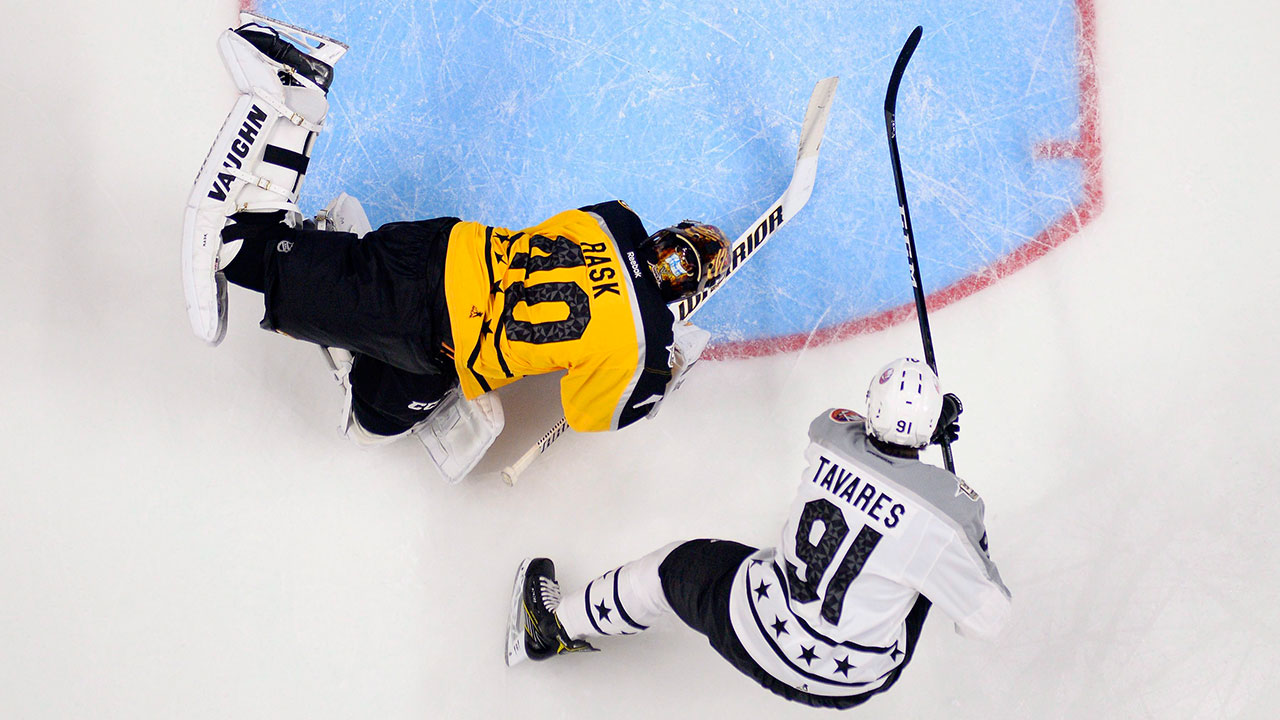 Tavares vividly recalls his first all-star invite, in 2012 to Ottawa, a city close enough to his hometown that a cadre of friends and family made the trek to share in the fun. He was just 21.
"I remember looking around the locker room kind of in awe. A pinch-yourself kind of moment, being around that type of talent," said Tavares, noting the thrill of meeting Ovechkin and Martin St. Louis in particular.
"At that point I was starting to get used to competing against them, but when you get to rub shoulders with them and see what makes them who they are, you certainly try to enjoy it."
He thinks fondly of L.A.'s NHL 100 celebration in 2017, when he and Ovie's Metro grabbed Wayne Gretzky as its emergency coach for the 3-on-3 tournament.
"That was the first time I really got to meet [Gretzky] and got to know him," Tavares said. "It was a game you didn't want to end."
Tavares still cherishes the personalized autographed sticks he keeps from Mike Modano and Paul Kariya ("just legends in my eyes") and now knows to pack a few extra twigs of his own now for the younger generation who want a baton. Even at his seventh go-around, Tavares will make the effort to get a sweater signed by all his fellow all-stars before he travels to San Diego for some deserved R&R over the bye week.
"They might be a pain to try to get on a weekend like this, but I know down the road I'll appreciate looking back on them," Tavares explained. "There's an appreciation for those battles you have against best the world. You take those moments to show respect to one another."
[relatedlinks]
May every 28-year-old be blessed with the perspective of Tavares, who can also rationalize Ovechkin's decision.
"The amount of hockey he's played the last 12 months has been quite a lot, and the level he's playing at again this season and certainly last year, I can understand what two or three extra days can do for you mentally and physically," Tavares said.
"He's also taken his fair share of criticism at times. What's impressive about him is, he's never let that deter from who he is as a player, but I think he's grown.
"When you're driven to get the ultimate prize, you'll do whatever it takes."
Tavares, too, has that drive — and that includes playing at a level where he continues to be invited to all-star games.
"You never know," he said. "Hopefully I'm fortunate enough to get a few more."