Fans of the Tampa Bay Lightning weren't very pleased when I broke down the chances Eric Staal has of winning the Hart Memorial Trophy as the NHL's most valuable player in 2017-18, and concluded that, while examining some of the top contenders, Nikita Kucherov shouldn't be in the running.
Kucherov still holds a slight edge on Evgeni Malkin for the league lead in points, though he is three points behind Connor McDavid's 56 at 5-vs-5, two behind Nathan MacKinnon's 41 for the most primary points at 5-vs-5, and five behind MacKinnon's 69 for primary points in all situations.
Still though, his offensive production is eye-catching and it's jarring to simply write him off despite that, but we have to look beyond raw offensive production in order to isolate a most valuable player for the award to mean something.
For a player to be the most valuable on their team, the impact while on the ice has to be uniformly positive.
Kucherov is not a one-dimensional player. In fact, when breaking down players for the position player ranking project, Kucherov was second-best among all right wingers over the last three seasons, and he ranked as a first-line winger offensively, defensively and in transition. That said, his offence has been the standout this season.
Luckily for Kucherov, my parameters for the Hart aren't the same as the voters, so he may get in there anyway, but I'd like to compare him to previous winners of the award using Corsica.Hockey to see how often players who haven't had a huge impact on team play can actually win the award.
We'll skip Carey Price because comparing a goaltender to a forward isn't relevant here.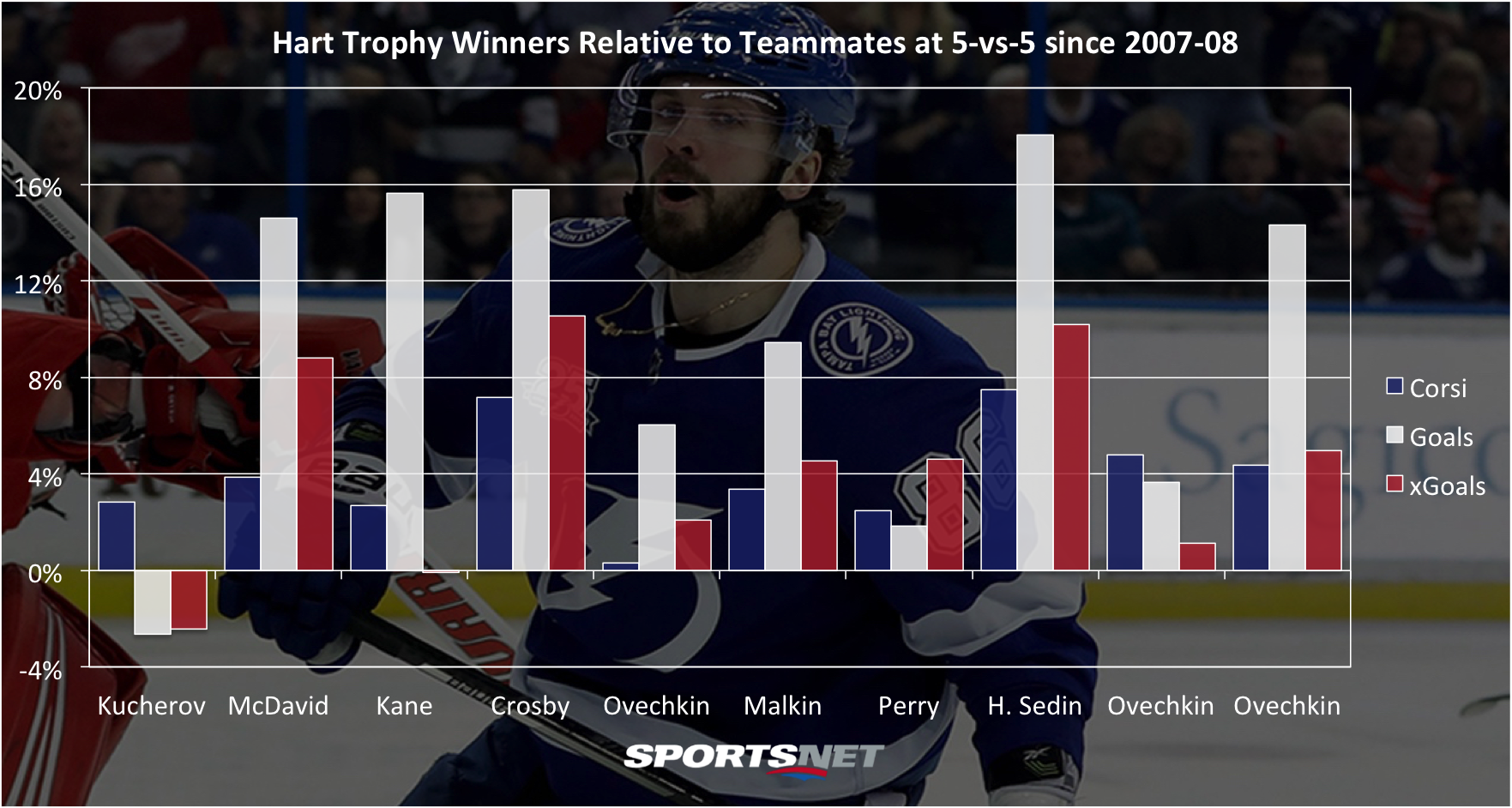 Looking at past Hart Trophy winners, Kucherov's season doesn't compare well at all as he's the only player to be negative in on-ice goals relative to teammates. Only Patrick Kane has been slightly negative in expected goals, and he had the advantage of riding an insanely high PDO that season to inflate his on-ice goal differential and even-strength production.
These are not in any way the only statistics that matter when you're judging the Hart Trophy, and you could argue that Kucherov is enough of a power-play weapon that he should still be in consideration. But for me, having negative team impacts in goals and expected goals is exclusionary for an award given out to a player who is supposed to be the most valuable contributor to the success of their team.
Focusing only on offence, Kucherov's season is one of the most dynamic of any player in the league, and if you see the Ted Lindsay Award for the NHL's most outstanding player to be something you could reward based on offence alone, I would disagree but see your point. However, that isn't the same as the Hart.
Kucherov is a phenomenal player having an excellent offensive season, but is he his team's most valuable player? I would say no.
[relatedlinks]