With just a couple of weeks left in the regular season, awards talk is ramping up. One of the biggest debates going on right now is whether or not Patrick Kane is a lock for the Hart Trophy. Despite leading the league in points by a significant margin, Kane hasn't been the highest scoring player in the second half, and we know that recency bias does impact voting.
There's also another wrinkle in the voting process and that depends on each voter's individual philosophy. Voters in the past have been hesitant to offer MVP honours to a player on a team that that misses the playoffs, with the most recent case being Jarome Iginla losing the Hart to Jose Theodore in 2002. Who was more deserving is up for debate, but the reasoning for many was that Iginla's Flames missed the playoffs, while Theodore's Canadiens scraped in.
This season, Erik Karlsson has been rewriting record books for defencemen, putting together a season that's closer to Bobby Orr than anything the league has seen, but his Ottawa Senators aren't going to make the playoffs. If voters can overlook that, and in my opinion they should, Karlsson is a shoe in for the Hart, but I will let others make that case.
What I want to look at is how Kane compares to other top forwards, specifically Sidney Crosby and Joe Thornton. Both Thornton and Crosby have led their teams to a surge up the standings in the second half, while Kane's Blackhawks have significantly fallen off.
Let's look at even strength point production to start, both for the season as a whole and since the calendar flipped to 2016.
It's a little surprising that despite his rough start, Crosby has now jumped ahead of Kane in even strength point production, but even crazier is that Crosby is nearly a full point better per 60 minutes in the second half of the season. Thornton is ahead of Kane in 2016 as well.
Clearly Kane is still ahead in overall point production, though that separation is due to power play scoring more than anything else. Those are still worthwhile points on the board, but how much power play points are valued compared to even strength points will depend on the voter.
Point splits are one thing, but what are those players doing to earn those points? Let's first look at season long offensive impact.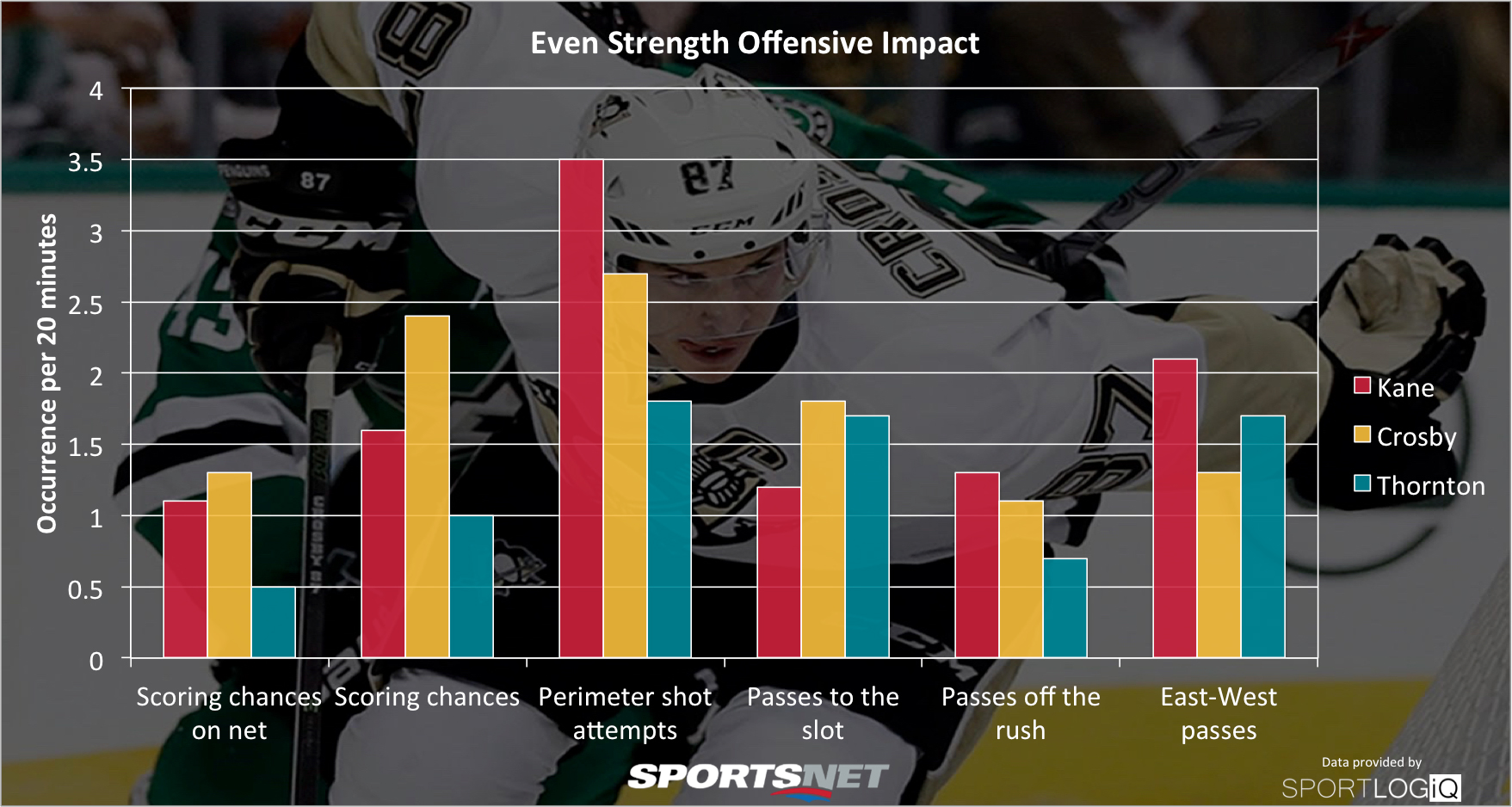 In terms of getting to the slot, Crosby is significantly better than both Kane and Thornton. He shoots more from the slot, and passes there more often as well. Thornton is much less of a shooting threat, but Kane is an excellent shooter.
Weirdly, Kane takes a ton of perimeter shots, either looking for rebounds or trying to sneak shots through traffic, but it's by far his most common tactic.
---
MORE: Bret Hedican talks Sharks, Thornton's Hart candidacy
---
Kane and Crosby attack more off the rush than Thornton, while Thornton and Kane are more effective at moving the puck East-West on the cycle than Crosby.
These numbers can change over the course of a season though; so let's look at how each player has performed in 2016.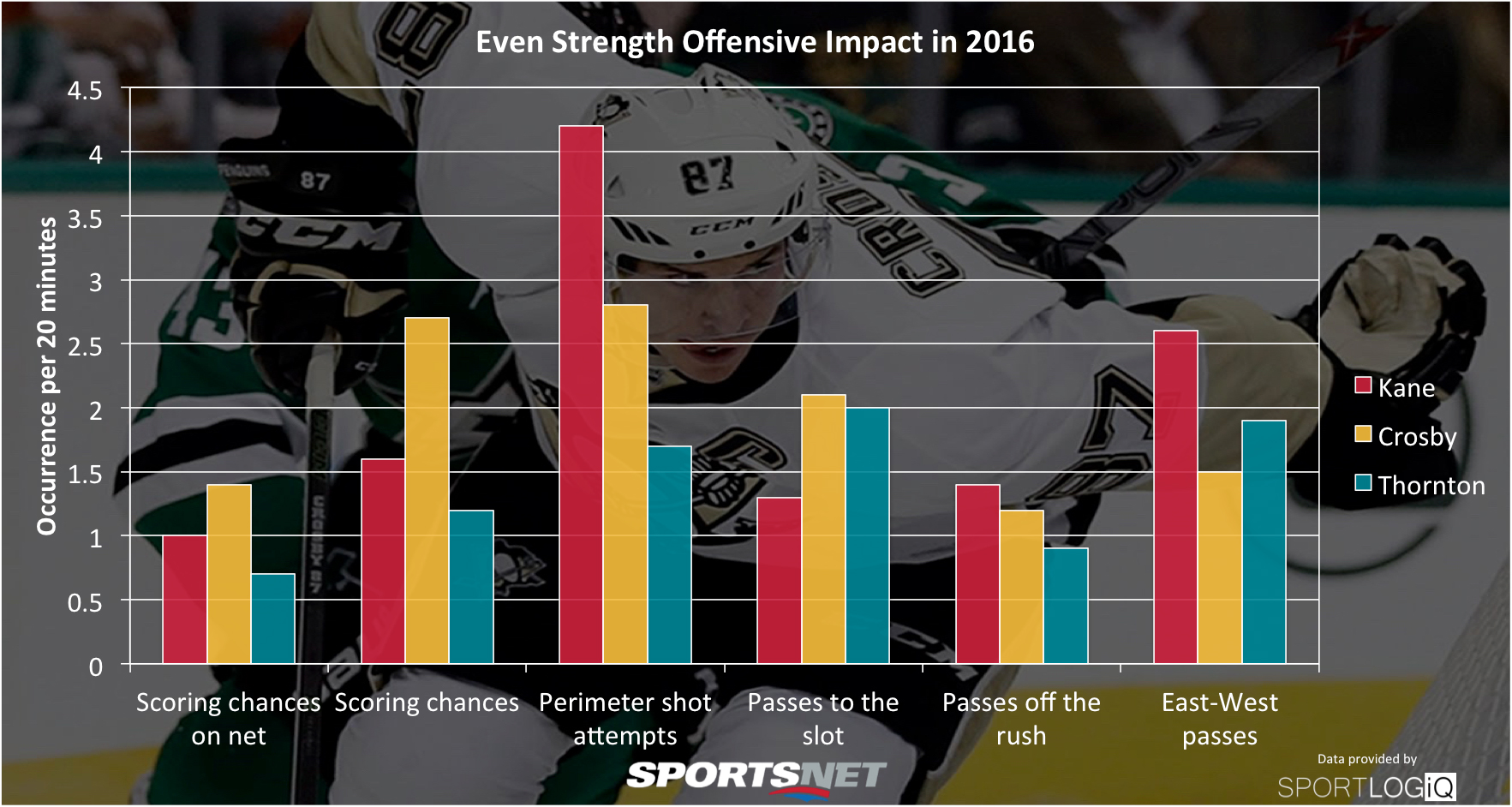 Crosby's slot area dominance has increased significantly – as has Thornton's – while Kane has stayed consistent there. Kane markedly increased his perimeter shooting and East-West passing.
It's interesting that despite hockey's disdain for so-called perimeter players, this one happens to be leading the league in scoring.
Should Kane win the Hart Trophy? He certainly has a good chance of doing so, but the competition has become much stronger as the season has gone on. Thornton lags behind the other two overall, but based on what Crosby has been able to do in the second half, and how each player's team has performed as the games get tougher, you have to think that Crosby can steal some votes away. Maybe even enough to win.