In his second NHL season Connor McDavid is battling for the Art Ross Trophy as the league's leading point getter, which has ignited the "Who's the best player in the world?" conversation again.
Whether or not McDavid is the best player in the NHL today, he's already the most dynamic, and arguably the most fun to watch. What's interesting, though, is that while he's tied for the NHL scoring lead, McDavid has actually been a little unlucky.
That sounds a little crazy to say, but while McDavid has been good enough to be a Hart Trophy contender he perhaps should be scoring more goals than he has so far.
At this stage in McDavid's career, we don't truly know what his shooting talent is, but after scoring on 15.2 per cent of his shots last season, he's down to 11.5 per cent this season with 24 goals in 70 games. That's solid, but it doesn't represent the shooting dominance McDavid has displayed this season.
While he's known more as an elite playmaker, over the past two seasons McDavid has been one of the NHL's most elite high-danger scoring chance producers. This season he has the second-most high-danger scoring chances in the NHL at 82, and the most at even strength with 75.
For a league average shooter, those kind of shots have a 22.8 per cent chance of becoming goals, which means that based on his high danger chances alone McDavid should have about 19 goals if he has a league average shot. So how many of those shots has McDavid converted?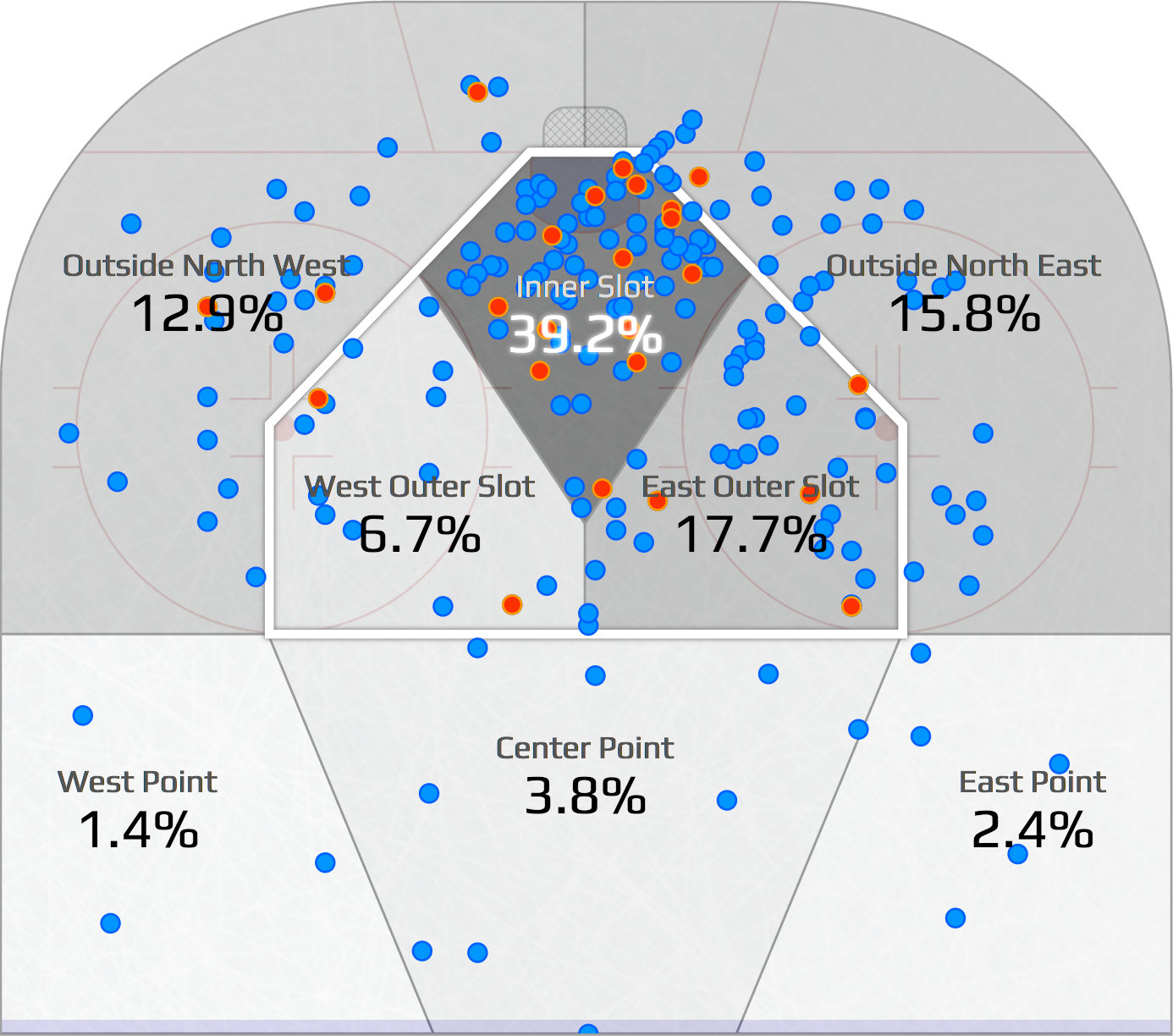 (Graphic captures percentage of overall shots taken from each zone, not percentage of shots converted.)
Looking at McDavid's shots on net (goals in red) we can see that he's scored 14 goals from the inner slot, five below expectations for an average shooter. Now if you believe McDavid is a below average shooter in the NHL that's your prerogative, but watching him play I'm going to go out on a limb and say he is a better shooter than an average NHLer.
What this means is that although this has been a great season for McDavid, it can't really be considered a breakout year. He's so excellent at creating high danger opportunities for himself that he is going to score goals at a much higher rate in the future.
Based on his shot locations alone, McDavid should be around 30-32 goals right now as an average shooter. This means if he's an above average shooter he should be hitting 40 regularly throughout his prime, provided save percentages around the league stay steady.
The weirdest part about McDavid's game, though, is that his tendency to get high danger chances hasn't translated to the power play, where he's almost exclusively used as a playmaker. If he ever decides to diversify his power play strategy in a similar way to Sidney Crosby he'll be nearly unstoppable.
As exciting as it is to watch McDavid today, the best version of McDavid has yet to come.