Lou Lamoriello resigned as president of the New Jersey Devils and was named the new general manager of the Toronto Maple Leafs Thursday.
Lamoriello had spent 28 years with the Devils franchise. The 72-year-old helped lead the Devils to the playoffs 21 times during his time there, winning the Stanley Cup in 1995, 2000 and 2003.
In early May, Lamoriello stepped down as Devils GM but remained president of the club as Ray Shero was brought in. Lamoriello said then that stepping down as GM was "100 per cent" his decision and added that he wasn't going anywhere.
"I have worked with Hall-of-Fame coaches, and players and a great staff, all of whom contributed to our success," Lamoriello said in a statement released by the Devils Thursday. "In the end, it's about the people which makes this decision so difficult."
The Leafs had been without a GM since Dave Nonis was fired in April after the Leafs missed the playoffs yet again and finished with the fourth-worst record in the league. In June, team president and alternate governor Brendan Shanahan told Sportsnet there was no specific timetable or deadline for the Leafs to name a full-time GM but that he was hopeful the team would have one in place by the start of the 2015-16 season.
In Toronto, Lamoriello will work with Shanahan, director of player personnel Mark Hunter, assistant GM Kyle Dubas and new head coach Mike Babcock.
Shanahan has known Lamoriello for years. In fact, Lamoriello was president of the Devils when they selected Shanahan second overall in the 1987 draft. He served as Shanahan's GM for the first four seasons of his NHL career.
"Lou Lamoriello created and defined what it meant to be a New Jersey Devil," Devils co-owner Josh Harris said in a statement. "His brilliance in shaping this franchise into one of the most storied and celebrated organizations in sport will make him a New Jersey Devil for life. He represented this organization, our current and former players, the state of New Jersey, and the greatest fans in the National Hockey League in a manner that exemplified character, class, and dignity."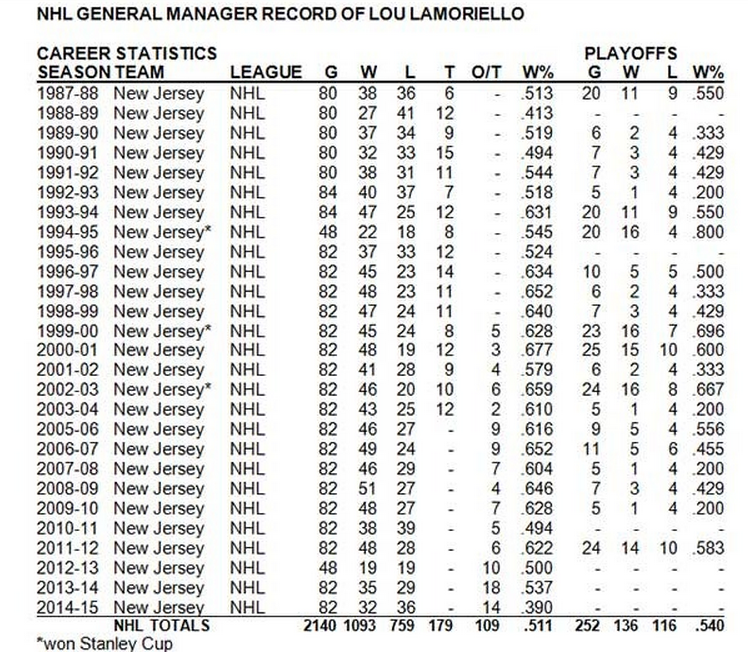 (Chart courtesy of Maple Leafs)
"Lou's record on the ice speaks for itself and as amazing as it is, it pales in comparison to his record as a human being," Harris added. "His passion, integrity and leadership over the last 28 years impacted the lives of thousands, creating a lasting legacy. I have been honoured to have worked with Lou over the last two years and I will forever consider it a privilege."