Editor's note: This piece was originally published prior to the 2016 NHL all-star game in Nashville. It is being re-surfaced with the game returning to San Jose this weekend for the first time since 1997 when MacLean was behind the bench for the Eastern Conference.
For a guy who coached fewer than 300 NHL games, Doug MacLean sure made the most of them.
Most fans remember MacLean as the man behind the bench for the Florida Panthers during their surprise — some might say miracle — run to the 1996 Stanley Cup Final.
I know I sure do. As a big Mario Lemieux fan at the time, I loathed watching the pugnacious MacLean and his scrappy group of overachieving veterans (looking at you, Dave Lowry) and teenagers (Hi there, Ed Jovanovski) upset my heavily favoured Penguins in seven games in that spring's Eastern Conference Final.
But how many of you remember that MacLean was also the head coach of the Eastern Conference All-Star team in back-to-back seasons, including a 1997 squad that is arguably the greatest collection All-Star talent ever assembled?
I didn't. At least not until recently.
About a month ago, I heard MacLean on Sportsnet 590 The FAN remark he had benched(!) Roman Hamrlik in the '96 contest. Benched a guy in an All-Star Game?
So off to hockey-reference.com I went, and I could not believe the other names on MacLean's All-Star rosters, especially in 1997.
Check out these names: Wayne Gretzky, Mario Lemieux, Mark Messier, Eric Lindros, Ray Bourque, Paul Coffey, Brian Leetch, Scott Stevens, Daniel Alfredsson, Dale Hawerchuk and Adam Oates.
His goaltenders that year weren't too bad either: Dominik Hasek, Martin Brodeur and John Vanbiesbrouck.
For those of you counting that's a combined 21 Art Ross Trophies, 18 Hart Trophies, 10 Norris Trophies, 11 Vezina Trophies and 26 Stanley Cups.
With a front row seat to so many legends, and two of the most famous goals in NHL All-Star game history (Bourque's game-winner in Boston in '96 and Owen Nolan's called shot on Hasek the following year in San Jose), I recently called up MacLean to pick his memory…
Here are some highlights from our chat about his two memorable stints behind incredible NHL All-Star benches.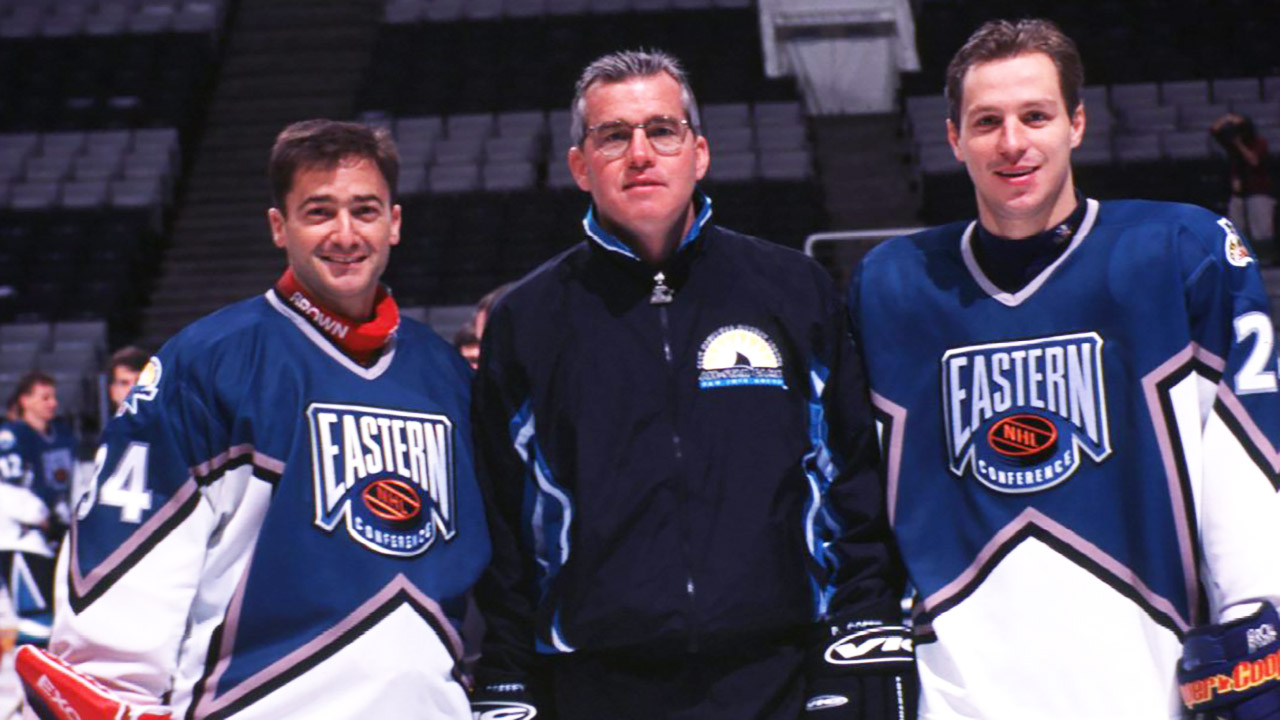 —–
In the fall of 1995, MacLean was a rookie NHL head coach with the Florida Panthers. With one game left before the NHL's Christmas break, MacLean's Panthers — then a third-year franchise — found itself atop the Eastern Conference with a 24-8-2 record. With one more win, MacLean would secure the right to coach the Eastern Conference at that year's All-Star Game in Boston…
MacLean: I never really thought about it until the night of the last game before the break. We were sort of fluctuating and the standings were tight, I think. I know it came down to the final game and if we won that game, I was going to coach.
It was a game against New Jersey at home. Jacques Lemarie was coaching New Jersey at the time. They had a pretty good team and we won that game at home, 2-1.
I never really thought much about it during the game, but after the game, they said, 'First star: Eastern Conference All-Star coach,' on the big screen so it sort of hit me then. My parents happened to be at the game so it was kinda cool.
—–
The 1996 NHL All-Star Game was scheduled to take place at the Fleet Center (now TD Garden) in Boston, on Jan 20. It was originally scheduled to take place in 1995, but the 1994-95 lockout led to its postponement. MacLean's Eastern Conference squad won the game 6-5 thanks to Ray Bourque's game-winner with 37 seconds left in the third period. It's considered by many to be one of the best and most competitive All-Star games of the past 25 years.
MacLean: It was so exciting because it was in Boston. It was an Original Six team, Scotty [Bowman] was coaching the [West]. I had worked with Scotty during my last year in Detroit. Scotty had come in and then Bryan Murray and I got fired and we ended up going to Florida. It was cool to coach against Scotty, a legend.
You get the itinerary and the team roster, so you have a little fun putting together the lines. I then looked at the roster and said, "Oh my God, look at the talent."
Imagine being a first-year NHL head coach and all of a sudden you're at the All-Star Game. It was a pretty bizarre feeling. It was like a blur the whole weekend.
—–
The East built a 2–0 lead after the first period thanks to goals by Eric Lindros and Pat Verbeek, while Martin Brodeur turned aside all 12 shots. Following a wild second period, the two teams entered the third with the East leading 4-3. Winnipeg's Teemu Selanne tied the game at 4-4 with 3:29 left in regulation, setting the stage for arguably the most dramatic goal in All-Star Game history.
MacLean: There was less than a minute to go when he scored that goal, which was really amazing to see. The place went nuts. I remember sitting in Columbus last year watching the All-Star Game thinking, 'Oh my god, how has it changed over the years.'
It was a really unbelievable, intense game. The guys really wanted to win the game. I hadn't experienced an All-Star game other than watching them before, but being on the bench in Boston, it was a tight, hard-fought battle. It was a real game.
—–
What made the '96 game so competitive? MacLean doesn't know for sure, but he did offer up a couple of possible reasons.
MacLean: Look, the winning team got $10,000. And I wanted the $10,000, let me tell you (laughs). I remember saying in both games after the second period, 'I don't know if you guys care about the $10,000, but I sure as hell care about the $10,000, so you better be playing hard if you want to play. I think they thought I was nuts.
I was looking forward to the cash and buying a new car.
—–
Just how serious was MacLean about winning in '96? Serious enough that he decided to bench then 21-year-old defenceman Roman Hamrlik and 37-year-old veteran Craig MacTavish, in the third period with his team nursing a one-goal lead.
MacLean: Hamrlik was a kid. He was the only selection from Tampa Bay because they had to have someone on the team. He really struggled in the game, so I walked down to [assistant coach] Lindy [Ruff] and said, "We're not playing him anymore."
Lindy looked at me and said, "You're joking, right?"
I said, "No, I'm dead serious."
Craig [MacTavish] was the commissioner's selection. It was a pain because I had my four lines and I was rolling them pretty good and I had to keep fitting him in. Finally, I went to him with 10 minutes left and said, "Craig, I'm not going to play you anymore. I'm just going to roll these lines (laughs)."
There was amazing goaltending in that game. We played a goalie in each period. I remember coming in after one period and going, "Boys, are you guys serious? Did you see the saves we had to make? He's trying and you guys aren't going to try?"
I don't recall guys not taking it serious. Expect maybe Hamrilik (laughs).
—–
In the spring of '96, MacLean led his Panthers to one of the most unlikely Stanley Cup Final appearances in league history. Along the way, the Panthers knocked off the Boston Bruins, Philadelphia Flyers and Pittsburgh Penguins.
The following season, after leading his team to a 20-8-7 start, MacLean earned a return trip behind the Eastern Conference All-Star team's bench, this time in San Jose. And with Wayne Gretzky now a member of the New York Rangers, MacLean would become the first man since Mike Keenan in the 1987 Canada Cup to have Gretzky and Lemieux on his bench.
MacLean: It was amazing having those two, and everyone else on that team. You'd like each of [Wayne and Mario] to have their own line, so I didn't really put them together. That was my mentality. I did call out [Gretzky, Lemieux, Messier, Bourque and Coffey] for the last shift which was kind of a fun thing to do. I don't know why it hit me to do it. They were at that time the five greatest players, maybe the five greatest players in the history of the game.
When you've got a Gretzky, Lemieux and a Messier and a Bourque, the guys on the team looked up to them. There were some young guys on the team too. Geoff Sanderson was on that team. [Daniel] Alfredsson was on that team too. He was a kid. Imagine what it was like for him to be playing with these icons of the game.
The young guys were in awe of the whole thing.
—–
If Lemieux was one of the biggest names on a legendary Eastern Conference squad in '97, than 28-year-old defenceman Robert Svehla surely was one of the least known. But not to Lemieux. During the Panthers playoff run the previous spring, MacLean relied heavily on the Czech Republic native, routinely putting him out against the opposition's top players, including No. 66.
MacLean: We had beat out the Penguins after a vicious, seven-game series with Mario Lemieux and Jagr… we just went after them. I felt bad about it. Well, no I don't (laughs).
Mario skated over to me after the series and said, "You did a great coaching job." He said that right to me on the ice and it was a pretty cool feeling.
Svehla came to our training camp in Florida [in '95] and I didn't even know him. He came over from Europe with very little fanfare. But as soon as he stepped on the ice, he was a beast for us, a horse. I remember in the playoffs he took a puck in the mouth, took 30-plus stitches, missed like two or three shifts, came back and the guys were like, 'Oh my God he's back on the bench.'
In that playoff run that we had, he was an absolute animal. To have him go head-to-head against Lindros. Head-to-head against Lemieux. He handled them. It was amazing, really.
But it was like that all year. I played him always against the best team's players. He put up points for us. He was physical… this was one of the most underrated players that's played the game.
He was a puck mover and a breed you don't see any more: A physical puck mover. That combination of physical and finesse.
—–
As for the 1997 NHL All-Star Game itself, MacLean's Eastern squad raced out to 10-4 lead with less than two minutes remaining in the second period. Then Owen Nolan scored an All-Star Game record two goals in eight seconds — we'll get to the 'called shot' in a bit — and suddenly the game was 10-6 entering the third.
MacLean: I just remember thinking, 'There's a chance I may not get my $10,000 (laughs).' And then I started going, "OK boys, we need to win this game."
Maybe some of them shook their heads at me like I was a little bit goofy, but I wanted to win the game.
—–
In the third period, John LeClair put the East in front 11-6 with 11 minutes left to play, but the Western Conference threw everything they had at Eastern Conference goaltender Dominik Hasek, out-shooting the East 21-11 in the frame. Hasek, who would win his first of back-to-back Hart Trophies later that summer, turned aside all 21 shots, but this one:
MacLean: I thought it [the point] was really cool. I really did. I know it was against us. There wasn't one guy that didn't say that was pretty cool. That shot has been shown thousands of times.
The other thing was Hasek was so good. He was so good in that game it was unbelievable. He took the game big-time serious. Big-time serious. I was excited about him going in there for us, because I knew he would be great. He's such a competitor.
—–
Throughout our chat, MacLean was his usual, animated self. He spoke with a genuine sense of pride, and even amazement, at his All-Star experiences.

MacLean: My son Clark, he was nine or 10 then, has a stick collection and he's got some from greats: Lidstrom, Lemieux, Jagr, Coffey. But Gretzky was his idol. [At the '97 game] I called (Gretzky's agent) Mike Barnett and said, "Is there any way Wayne could bring an extra stick so he could sign one?"
Mike said, "Sure."
I was in the office with [assistant coach Paul] Maurice and Gretzky came right in and said, 'I brought this for your son,' and he signed it.
Then Clark is running around the locker room the next couple of days as the water boy and the tape guy with them all in the room and then he's on the bench with me. It was among the most exciting thrills of my career in 22 years in the NHL.
Then after the game, Wayne took off his jersey and signed: "To Clark, your friend, Wayne Gretzky."
Both years I took the kids and my wife. It was just an amazing experience. Clark still talks about it. He's an agent in Chicago now.
—–
Although he won't be in Nashville, MacLean will have a rooting interest in the form of his friend and former pupil, Atlantic Division coach Gerard Gallant of the Florida Panthers.
MacLean: I talk to Gerard often. This is a guy I taught in high school. I coached him in Detroit as a player. I coahced him in Summerside in junior for a few games. I hired him to his first coaching job in Columbus and then he ends up with my Panthers. Is that weird, or what?
I'm really thrilled for him. It's pretty exciting.