GLENDALE, Ariz. – They will pour through the turnstiles, all of these faces from Auston Matthews's present and past.
His parents, Brian and Ema, and his grandparents, Bobby and Beverly. But also more distant relatives and friends and former hockey coaches and kids that now look up to the only guy who ever grew up going to Arizona Coyotes games before becoming a NHL star.
"Pretty much my whole family," Matthews said when asked who he expects to see during Thursday's much-anticipated visit to Gila River Arena. "It's probably going to be a packed house."
The Coyotes long ago surpassed their average number of tickets sold (12,867) for the Toronto Maple Leafs sole visit of the season. As of Thursday morning, they were still holding out hopes of reaching 17,125 – a sellout – with Matthews and Co. in town.
Matthews openly acknowledges that this is more than just another game on the schedule for him. He doesn't even mind all the hoopla that accompanies it.
"No, not at all," he said. "I love coming back."
His only other game here came last Dec. 23 and he was sent out to take the opening faceoff against Shane Doan, one of his childhood idols. The memory that most stands out in his mind about that night is seeing all of the signs in warmups and people wearing blue and white Matthews sweaters – something that is becoming increasingly common for every game he plays.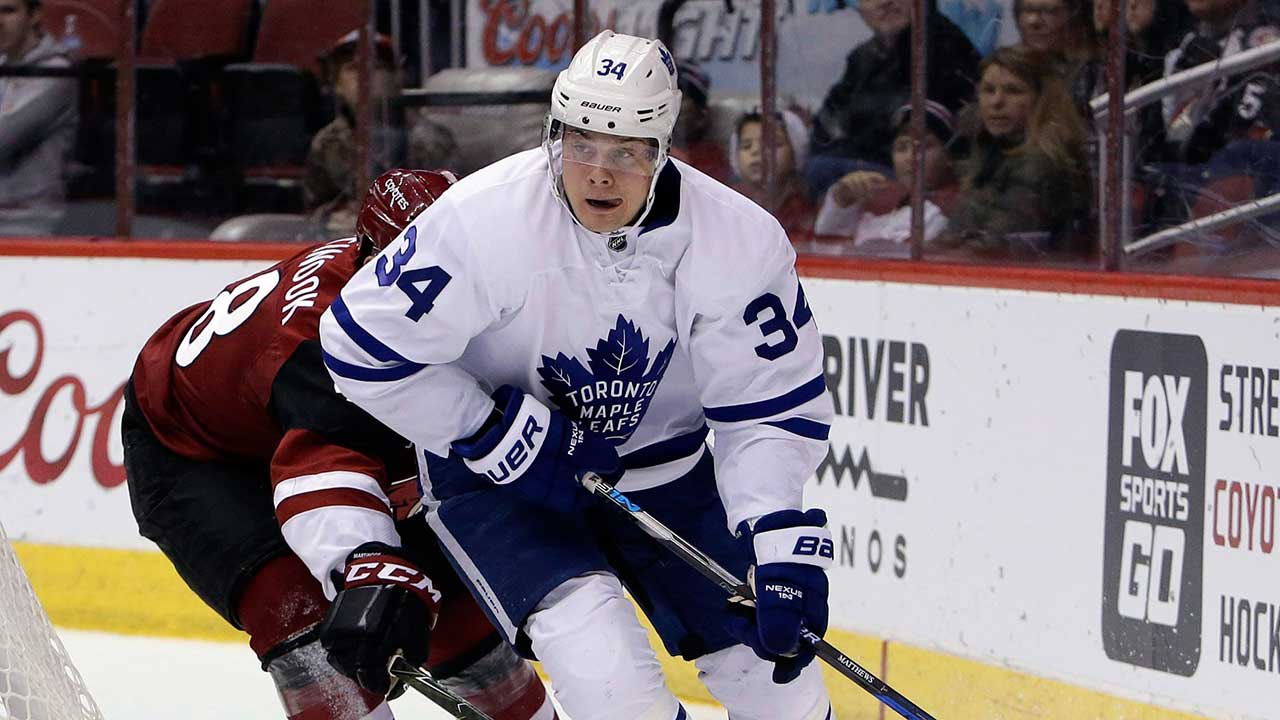 Matthews spent the Christmas break recharging his batteries at the family home in nearby Scottsdale, where his mother provided a steady stream of home-cooked meals while he enjoyed a break from the snow and cold in Toronto.
It's been a difficult second season despite the obvious growth in his game. He missed four games with a suspected back injury in November and six more with concussion-like symptoms earlier this month, returning with a goal and an assist at Madison Square Garden in a win over the Rangers right before the break.
Even while taking the NHL by storm – his 54 goals since entering the league are fifth-best during that span – Matthews has needed to learn some lessons along the way.
"I think you find that things are a little easy in the beginning or they're not as hard [as expected], and then the league adjusts and you kind of have to adjust back," he said. "So it's just kind of a constant battle. That's why it's the NHL, that's why it's not easy. It definitely motivates you to come to work every day and work hard, just so you can be better."
Want to livestream 56 Leafs games this season? See how you can stream this + over 300 regular season NHL games with Sportsnet NOW.
The expectations are rising around him. Matthews is playing about a minute more per game this season and the fortunes of the 22-14-1 Leafs rest heavily on his shoulders – just as they do for all marquee No. 1 centres.
In Matthews, veteran teammate Patrick Marleau sees a little bit of Joe Sakic because of his ability to deceptively make quick turns in the corner and how quickly he shoots the puck. But at six-foot-three, he's much bigger than Sakic and yet is still as elusive for opponents.
"For Matts to do it, being such a big body, is pretty special," said Marleau. "I think the way he handles the puck and can get pucks back. He stays on it. That's something you don't see at such a young age."
The fact he was raised here, far away from a traditional hockey hotbed, shaped his development. He didn't always play on teams growing up and focused instead on skills work with coach Boris Dorozhenko, who will watch Thursday's game from the same suite as Brian and Ema Matthews.
It wasn't until he arrived at the U.S. national development program a little more than four years ago that Matthews started being talked about as a star in the making.
"It's a bit surprising, but then, I think when you look at it in another way – where somebody has a passion and has a love for it then they'll do whatever it takes," said Marleau. "I think coming from a place where it's not common you know how much extra work you have to put in. I think that's probably helped him along."
Senior Writer Ryan Dixon and NHL Editor Rory Boylen always give it 110%, but never rely on clichés when it comes to podcasting. Instead, they use a mix of facts, fun and a varied group of hockey voices to cover Canada's most beloved game.
His life in Arizona and Toronto couldn't be any more different. There's the climate and the atmosphere, obviously, but for Matthews there's also the matter of privacy.
Here he is no different than any other 20-year-old young man – free to roam through the mall or go to dinner or play a casual round of golf without being bothered. During hockey season in Toronto, where he's quickly become the face of the franchise, every trip out of the condo has the potential to devolve into a swarm of selfie and autograph requests.
Still, he's handled life in the fishbowl about as well as anyone could. Leafs coach Mike Babcock credits his parents and his upbringing for making that possible.
"I mean it's like anything: If the team's going to be no good and you're not going to play good, it's going to be a tough place for you," said Babcock. "But if you're going to be good and the team's going to be good I think it can be an unbelievable spot. I don't know what it's like to be Auston Matthews, obviously, at his age with what he's going through right now, but I think it's got to be a pretty special place to be.
"His skillset comes with a burden in some ways, I guess, but on the other side of that's pretty special, too. I think a lot of people would like to be Auston Matthews."