In case you somehow missed it, the Toronto Maple Leafs have been just okay for the last little stretch, after being one of the top teams in the league for most of the first half of the regular season.
Unfortunately for Jake Gardiner, amidst a losing effort against the Colorado Avalanche, the focus seemed to narrow straight on him as the boo birds rained down whenever he touched the puck.
Although he was one of the few Maple Leafs who didn't finish as a minus player against the Avs, Gardiner did have a rough game, with a team-worst 22.22 per cent Corsi. And he struggled despite being kept far away from the dangerous top line run by Nathan MacKinnon — Gardiner played just 2:50 against them.
One game doesn't tell us much about Gardiner overall, and usually one bad game isn't enough to get any fanbase to boo a player. But there does seem to be a growing frustration with Gardiner in particular, which might have more to do with his brutal Game 7 performance in last season's playoffs than anything he's done this year.
Gardiner is an unrestricted free agent this summer, but considering the Leafs' cap situation and the fact they were willing to go for it with James van Riemsdyk and Tyler Bozak last season then lose them as free agents for no return, the same could happen with Gardiner this summer.
Gardiner's an interesting case because he doesn't really get the media criticisms that elite offensive defencemen do — he is generally accepted to be a good second pair defenceman, but not an elite one. So let's say the Leafs do lose him this summer: what would that look like?
Analyzing the previous three years of Gardiner's career, we can see where he ranks against the rest of the league using the ranking project I wrote up in September.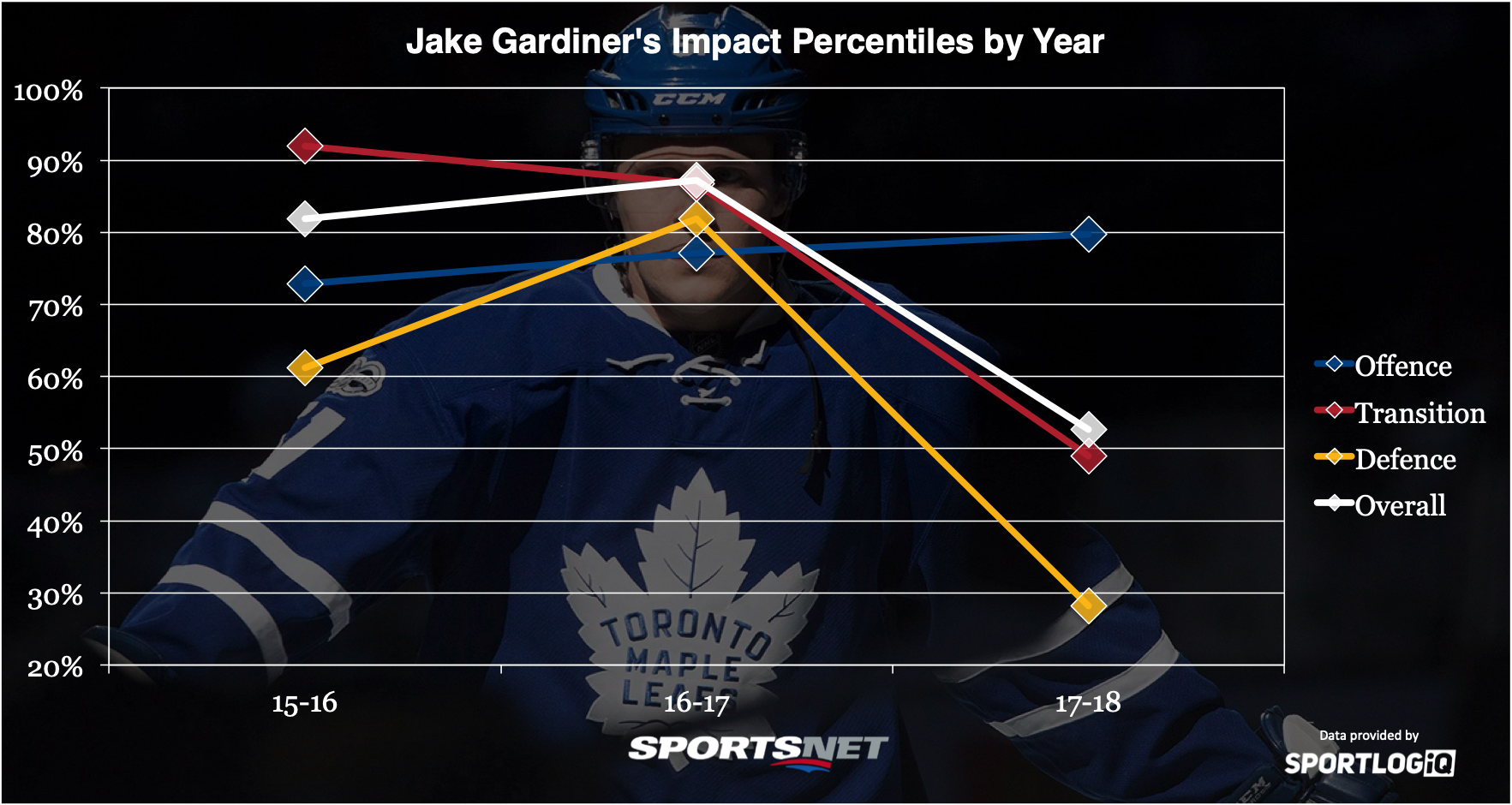 Looking at Gardiner's performance relative to peers at his position, last season was clearly not his best. The sample size I have for him makes it look like there's a severe downward trajectory, which can happen to a player in his late-20s.
However, one thing I think needs to be accounted for here is that Gardiner has been used very differently over the past couple years under Mike Babcock, more as an offensive driver than a key to transition. As a result, his offensive impact has been improving each of the past two seasons, but everything else is varying pretty wildly.
I think the gigantic drop in transition play can be at least partially laid at the feet of how the Leafs' style has changed as a team. As Toronto has added more talented forwards, the defence has had to carry the puck far less often, which cut down Gardiner's ability to make an impact in that area of the game.
That isn't to say he didn't struggle with puck movement last season — he did — but the extra focus on long passes and less on skating the puck up the ice has hurt him a bit. At the same time, it has had the opposite impact on Morgan Rielly's game by making him a little less risky with the puck.
Defensively, I think last season was just a bad one for Gardiner, and his true talent there is probably closer to his results from 2015-16.
In order to find out whether Gardiner's truly in decline, let's compare him to his teammates this year.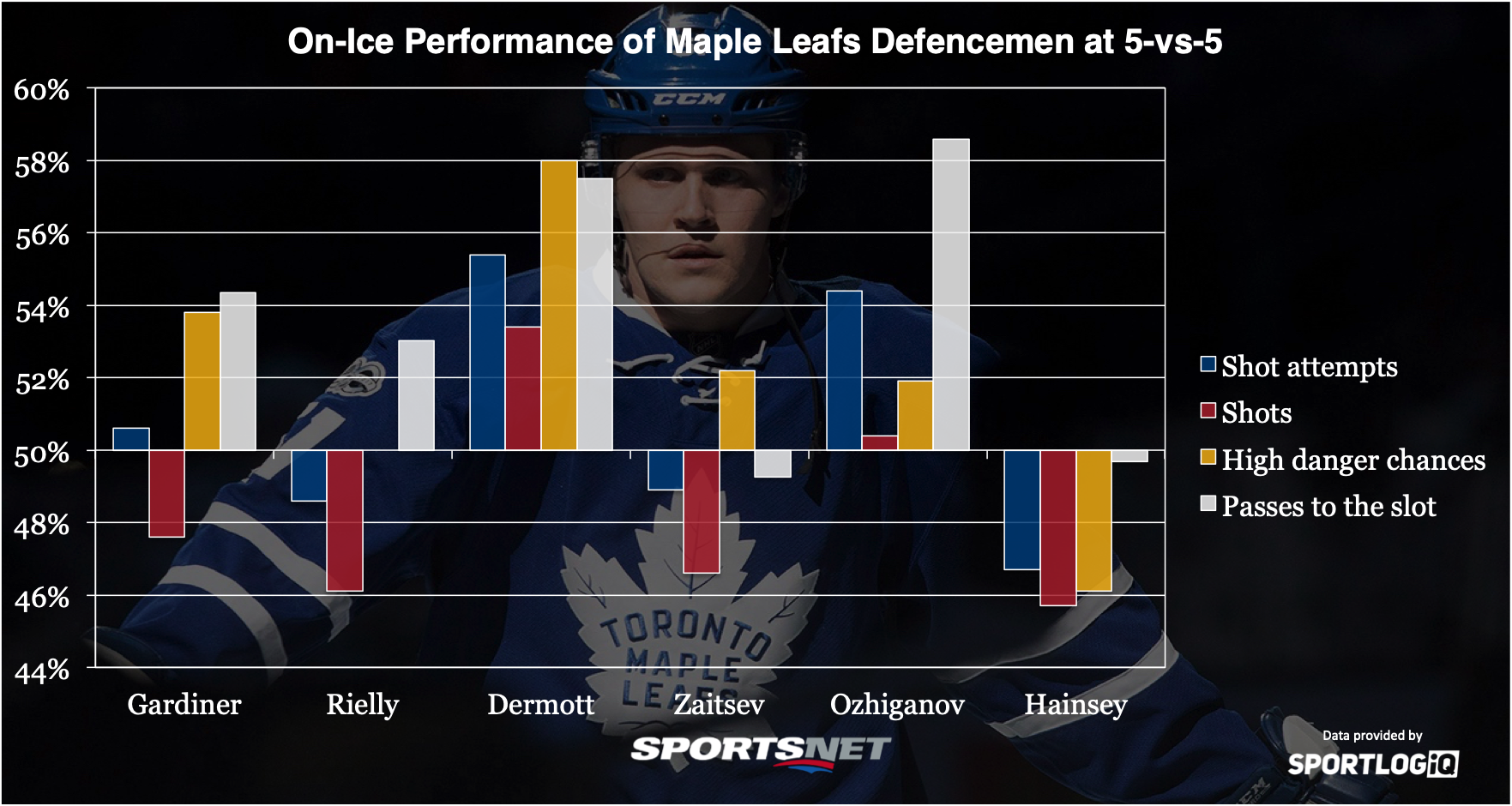 Looking at the regulars on the Leafs' blue line, one thing we have to keep in mind is that Babcock is a very aggressive line matcher with his defence pairings. Rielly and Hainsey have faced some of the toughest competition in the NHL over the past year, and the Dermott-Ozhiganov pairing is highly sheltered.
That leaves Gardiner and Zaitsev to take on the middle of opposition lineups and though the Leafs aren't exactly a great Corsi team, they dominate high danger chances and passes to the slot.
The heavy competition basically neutralizes the first pair, so it's up to Gardiner and the heavily sheltered third pair to make up the gap. And, with help from the forwards they play with, they do make up the difference.
The Leafs do get outshot with Gardiner on the ice, but they get slightly more of the shot attempts and way more of the high danger chances and passes to the slot. Considering Gardiner plays with Zaitsev you can fairly easily conclude that the Russian isn't the one pushing the play.
The Leafs have a few really promising prospects on defence, but even if one or two of them make it to the NHL next season they'll likely just take over Dermott's sheltered role. And since Babcock has been very slow to trust Dermott, is he even ready to take over for Gardiner in a much more challenging spot?
Gardiner isn't above criticism, but those who want to run him out of town might be more careful in what they wish for because he carries that second pair to a surprising amount of success in spite of the odd foible. It's worth noting that this season Gardiner has the third-lowest defensive zone turnover rate on the roster after just Rielly and Dermott.
Until Dermott can prove himself in heavier minutes, Gardiner remains the second-best defenceman on Toronto's roster. If they're forced to lose him to free agency, he may not be as easy to replace as some fans believe.